Phuket Gazette Sports: Salute, suspicions and sympathy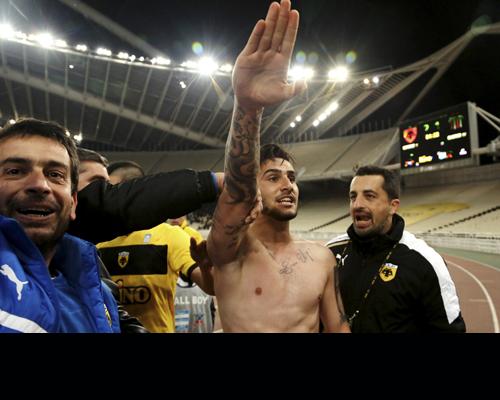 Katidis banned for rest of Greek season for Nazi salute
Reuters / Phuket Gazette
PHUKET: AEK Athens have suspended Giorgos Katidis for the rest of the season after the 20-year-old midfielder made a Nazi salute to fans during a game at the weekend.
The former captain of his country's under-19 side had already been banned from all international teams for life by the Greek Football Federation (EPO) for making the gesture after scoring the winning goal in a 2-1 Super League victory over Veria on Saturday.
"AEK have decided to leave the player out of the squad until the end of the 2012-13 season … thus imposing the worst possible punishment (we can)," the club said in a statement.
"Whether the player will remain at the club beyond this season will be judged in the summer after which time he will firstly have been given the opportunity to demonstrate in practice his behavior was the result of immaturity and secondly whether or not his possible reinstatement to the squad does not cause any negative effects within the club."
On Monday, Katidis asked to be dropped from AEK's first team and called his actions "totally unacceptable".
"I feel terrible for those I upset with the stupidity of my act," he said.
"I also understand fully the reasons for the decision made by the Greek Football Federation to which I owe a huge apology as it has helped me to get where I am in the professional game."
"I cannot turn the clock back but I want to clarify I am not a fascist or neo-Nazi or racist," he said. "I have a step brother from Puerto Rico and all my family are from the Black Sea and have experienced racism in the worst ways.
"There is no reason to look for excuses. I was completely wrong and I will pay for it with a lot of pain because despite being only 20 my career is now at risk.
"I sincerely apologise to my team mates and everyone involved with the club that I have insulted in not knowing exactly what I had done in my celebration. The fact I did not know what I was doing is no excuse," the midfielder added.
Katidis was heavily criticised by political parties and on Twitter and Facebook following the incident at the Athens Olympic Stadium.
Last Sunday marked the 70th anniversary of Greek Jew deportations in Nazi concentration camps in the Second World War.
Mourinho suspects problems with FIFA coach vote
Reuters / Phuket Gazette
PHUKET: Real Madrid's Jose Mourinho did not attend the FIFA Ballon d Or gala because he was warned by some of those who voted for him as coach of the year that their votes showed up as supporting other candidates instead.
"Am I sorry for not having gone to the gala? No. It was the right decision," Mourinho told RTP television on Tuesday in excerpts from an interview.
"One, two or three people called me saying they had voted for me but the vote showed up as cast for somebody else. So, I decided not to go," he said.
The Portuguese coach and former Barcelona boss Pep Guardiola lost the 2012 FIFA coach award to Spain's Vicente del Bosque at January's gala.
FIFA said in a statement: "FIFA confirms that the list of votes published on FIFA.com is accurate."
Lampard sympathises with Ferdinand after England U-turn
Reuters / Phuket Gazette
PHUKET: Frank Lampard understands Rio Ferdinand's reasons for pulling out of the squad for England's forthcoming World Cup qualifiers and said his former West Ham United team mate remains one of the best defenders in the Premier League.
Ferdinand's withdrawal from the squad on medical grounds on Monday has provided the main talking point ahead of Friday's match in San Marino, with British newspapers labelling the situation a "farce" and a "humiliation" for coach Roy Hodgson.
Premier League chairman Dave Richards joined the debate, saying Ferdinand's pull-out, a couple of days after saying he would join the squad, brought the game into "disrepute".
Lampard said he still relished turning out for his country but respected Ferdinand's decision to opt out because of the need to manage a long-term back complaint.
"I was sorry for him and the team. He's been in fantastic form so losing players of quality, I'm sorry for him but the important thing is now we're here we get the results we need," Lampard told a news conference yesterday.
"There are no personal issues, it's about results now. When you're 30 or more you have to maintain yourself differently," Lampard said at the team's headquarters in Burton.
"Rio has picked up a couple of injuries earlier in his career and he's kept on top of himself."
With Lampard's Chelsea team mate John Terry no longer available for England and several pull-outs on top of Ferdinand's U-turn, England are lacking experienced personnel in the centre of their defence.
England, who are second in Group H and face leaders Montenegro in a week's time, could do with Ferdinand's experience for the tough trip.
Lampard believes Ferdinand, who has 81 caps, could still appear for England again but insists the absence of several players through injury would allow others to step up.
— Phuket Gazette Editors
Keep in contact with The Thaiger by following our Facebook page.
Never miss out on future posts by following The Thaiger.
Police say Phuket school won't be charged for employing foreign teachers without a work permit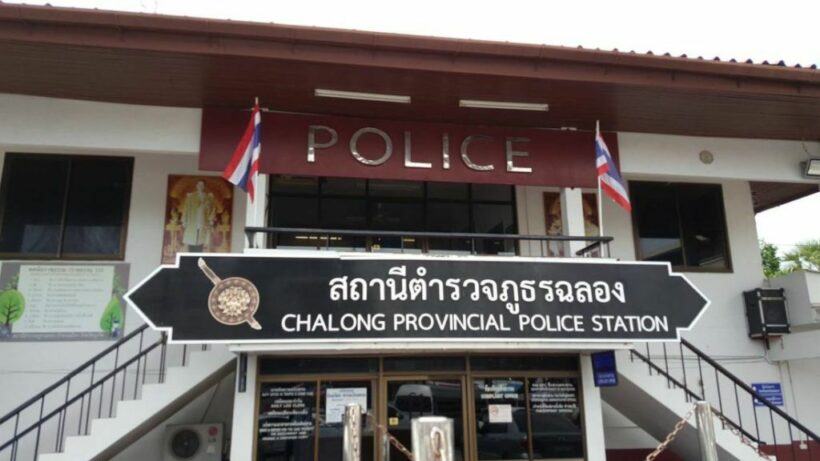 An international school in Phuket is not facing charges for employing foreign teachers without a work permit, police told the Phuket News. Back in November, 2 British nationals were arrested at the Palm House International School in Rawai in a raid by Phuket Immigration officers, acting on a tip that teachers were working at the school without a work permit.
The case was handed over to the Chalong Police. The department was also requested to investigate the school for suspected illegal hiring practices. When pressed by Phuket News reporters, the Chalong Police Chief Sarawut Chuprasit said the school officials are not facing any charges for employing the teachers illegally, without a work permit, and referred reporters to the provincial prosecutor.
"I have no reason to press any charge against the school at all. It is not right to accuse the school."
Many schools in Thailand, especially international schools, obtain work permits for foreign teachers and even pay the fees. It's also fairly common for foreign teachers to work without the proper documents, especially during the pandemic where travel restrictions make border runs nearly impossible.
Phuket News say police will not release the names of the 2 British teachers and will not give any additional information. They add that the provincial prosecutor's office will also not release information without a police case number or suspects' names. In a previous report, Phuket Immigration Deputy Chief also declined to identify the British nationals by name or age.
"Their visa status does not allow them to work or perform any form of business. They were arrested as they are suspected of working without a work permit."
SOURCE: Phuket News
Catch up with the latest daily "Thailand News Today" here on The Thaiger.
Keep in contact with The Thaiger by following our Facebook page.
Never miss out on future posts by following The Thaiger.
Phuket health chief urges "red zone" travellers to abide by quarantine measures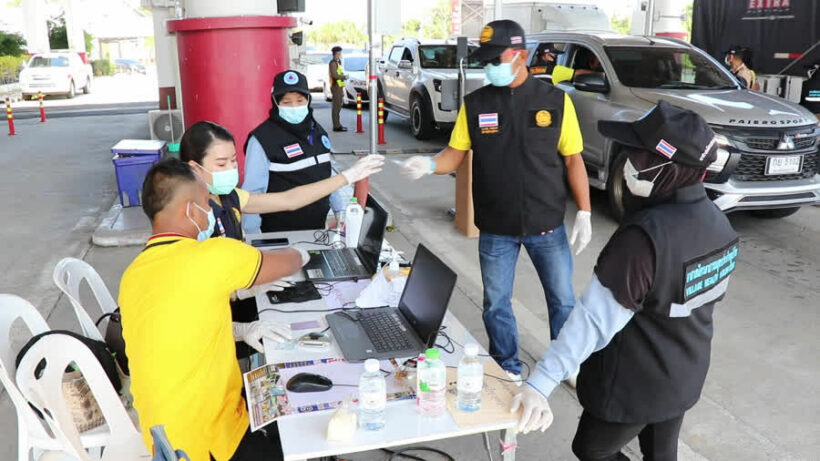 With Phuket's new disease control measures requiring those travelling from high risk areas to quarantine, the province's public health chief is now saying those at alternative state quarantine hotels won't be locked up in their rooms throughout their 14 day stay in isolation. He says guests can wander through certain areas of the hotel to have meals and do other activities.
Those travelling from "red zone" provinces are required to self-quarantine at a hotel or at their home for 14 days. People from areas classified as the "highest risk," including Samut Sakhon, Chonburi, Rayong, Chanthaburi and Trat, must quarantine and undergo a Covid-19 swab test.
The public health chief Thanit Sermkaew says there will be harsh penalties for anyone who violates the new measures and urges travellers to stay at their quarantine location, home or hotel, for 14 days. People who violate the order can be punished under the Disease Control Act, either under Section 51, which carries a fine up to 20,000 baht, or under Section 52, which carries up to a year in jail and a fine up to 100,000 baht.
"It would be great if visitors from the 'red zone' areas stay in their hotels, so we are asking for their cooperation. They do not need to stay only in their room. They are able to do activities within the hotel, such as having meals, swimming, yoga and other activities… Please do not go outside the hotel. That would be a good preventative measure in Phuket province."
Phuket Vice Governor Pichet Panaphong says hotels should "request" that their guests stay inside the hotel.
"Phuket officials have asked for the cooperation from operators to record the travel moments of guests before they arrived at the hotel and to request that their guests stay within the hotel area only, not to go outside of the hotel area."
People who completed quarantine in Bangkok and tested negative for Covid-19 do not need to quarantine in Phuket as long as they travel directly to the island immediately after being released.
SOURCE: Phuket News
Keep in contact with The Thaiger by following our Facebook page.
Never miss out on future posts by following The Thaiger.
Screening measures to enter Phuket, travellers from "red zone" provinces to self-quarantine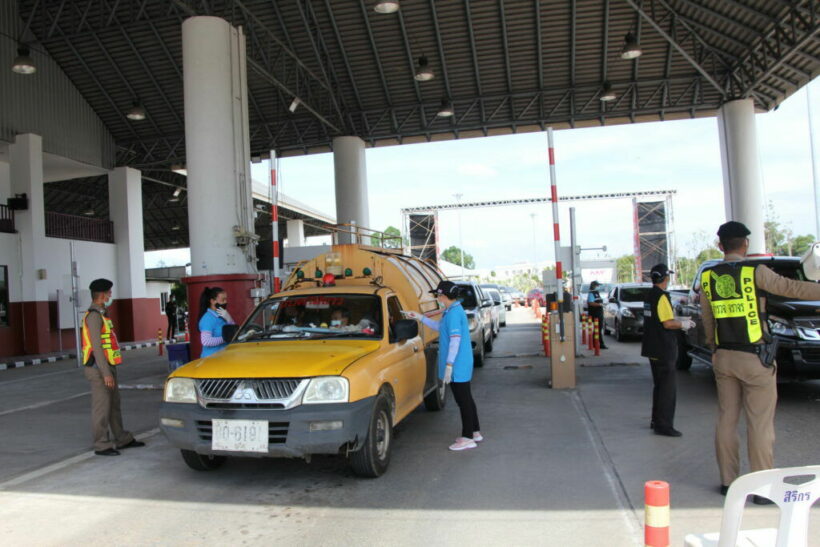 Phuket authorities have announced screening measures for those entering the island province, which includes requiring those travelling from 20 "red zone" provinces to self-quarantine for 14 days. Those travelling from "hotspot" and "high risk" areas are required to do a swab test. While measures were put into effect over the weekend, some people say nothing has changed.
The "required" self-quarantine, which is apparently monitored by the Mor Chana tracking app, might be more of a guideline than a requirement. Arrivees on flights from Bangkok to Phuket Sunday morning, just 24 hours after the new screening measures were imposed, were not required to self-quarantine.
The minimum required for all individuals travelling to Phuket is to 1) download the "Mor Chana" app on their smartphones and display them when the officer calls for inspection, and 2) register online through the website www.gophuget.com to inform officials of the travel details to Phuket.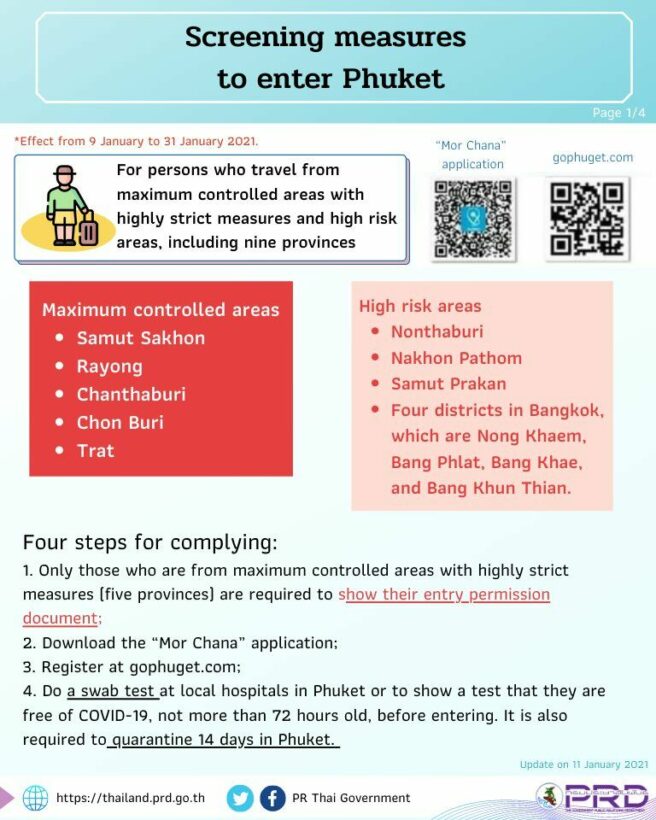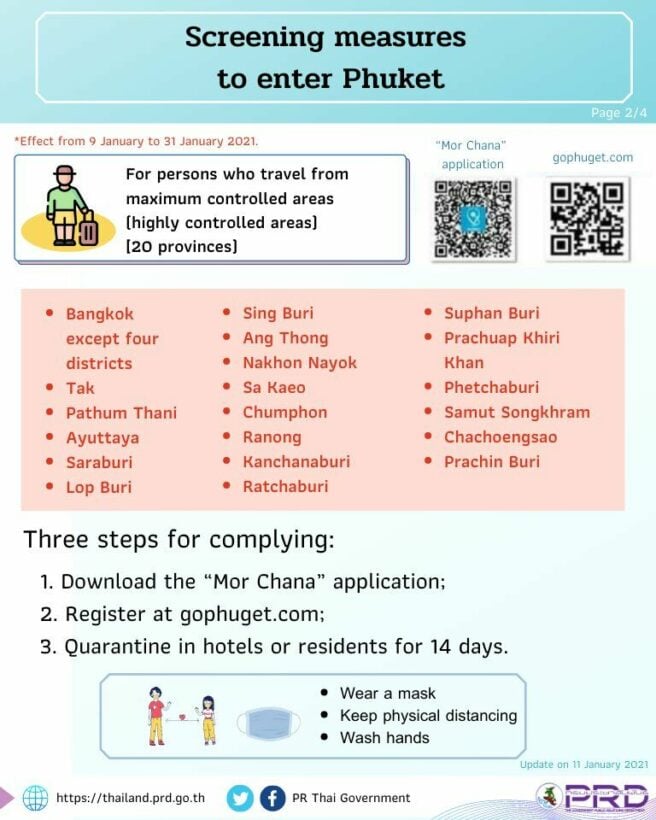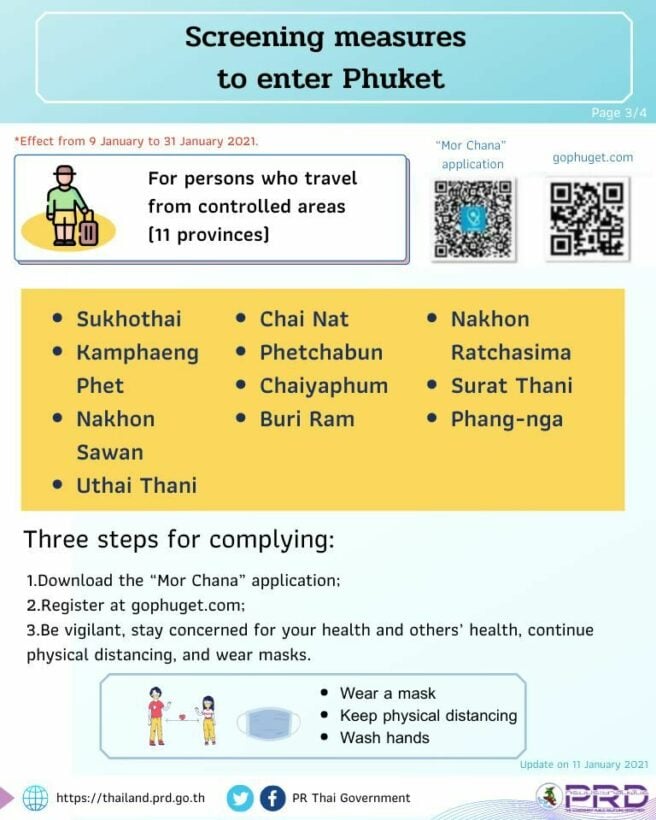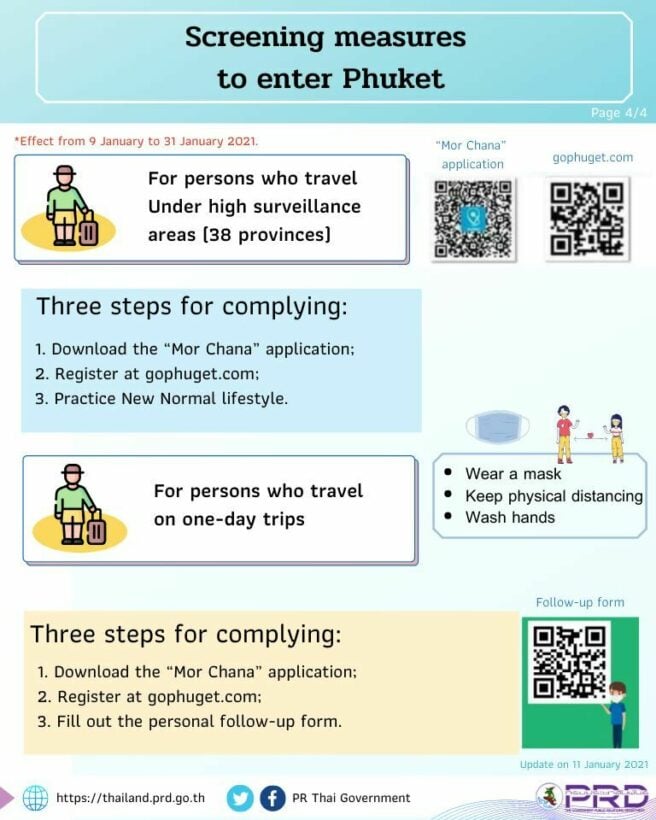 Catch up with the latest daily "Thailand News Today" here on The Thaiger.
Keep in contact with The Thaiger by following our Facebook page.
Never miss out on future posts by following The Thaiger.