Phuket Countdown to confusion
PHUKET: The Phuket Gazette has learned that Phuket has been named as the pilot province for a nationwide project that will eventually see all "countdown" traffic lights retrofitted to show Thai numerals instead of the more popular Arabic numbers currently used in most countries, including Thailand.
Deadline for completion of the 187-million-baht Phuket project is October 15.
The move is just the latest in a series of initiatives to increase the popularity of Thai numbers, which have largely been supplanted by their Arabic counterparts throughout Thailand in recent decades.
To reverse the trend, the Education Ministry in 2003 ordered all government schools to use Thai numerals in mathematics classes, and ministries now use them exclusively in official documents.
Last year, the trend began to catch on with the Department of Traffic Management, which approved and allocated the budget for the Phuket retrofit early last month, justifying the cost on the basis of the large number of traffic lights (112) in the province; the need to re-code the software used to control the countdowns; and the importance of preserving Thai culture.
News of the move has apparently received a mixed reaction.
Apart from the relatively high expense (approx US$52,000 for each of the imported devices), there is concern over the disruptions to traffic at the intersections where the work will be done, and the fact that this work has been scheduled for the rainy season when roads can be slippery.
The South Thailand Tourist Bureau notes that some of the many foreign tourists and expats on the island could have difficulty in reading Thai numerals. On an average day, the number of foreigners in Phuket is approximately 1.6 times the number of Thais, the bureau points out.
Contacted by the Gazette for comment, the owner of a popular Thai restaurant told this reporter, under condition of anonymity, that he fears increased exposure of foreigners to Thai numerals might "jeopardize the ability of local business owners to maintain secret double pricing schemes." Such schemes provide for one price for Thais and another (much higher) one for foreigners.
And some local politicians say that the introduction of countdown traffic lights in the last decade has done little to improve the ever-worsening traffic congestion on Phuket, which is also renowned for its appalling traffic safety record. Thailand ranks among the world's worst countries in terms of road injury and fatality rates, these politicians say, noting that much of the blame for this lies in the use of "foreign" [Arabic] numbers in the countdown boxes.
But Jason Siebert, a long-term expat from the Australian city of Cairns, told the Gazette that, "It won't make any difference because motorists here rarely stop at traffic lights. It just doesn't matter what kind of numerals are used."
In fairness to all motorists, Thai and foreign, the Provincial Roads Department has today announced a public hearing on the issue. "We want to give road users ample time to formulate and express an opinion," says Somboon Maisohnjai, chief of the department. "So the hearing won't be held until tomorrow, at 3:15pm, on James Bond Island."
The chief notes that tomorrow is April Fools Day. "So don't believe everything you read in the Phuket Gazette," he concluded.
— Mongmaihen Maidaiyin
Keep in contact with The Thaiger by following our
Facebook page
.
Drug party raided in Chiang Rai for defying public gathering ban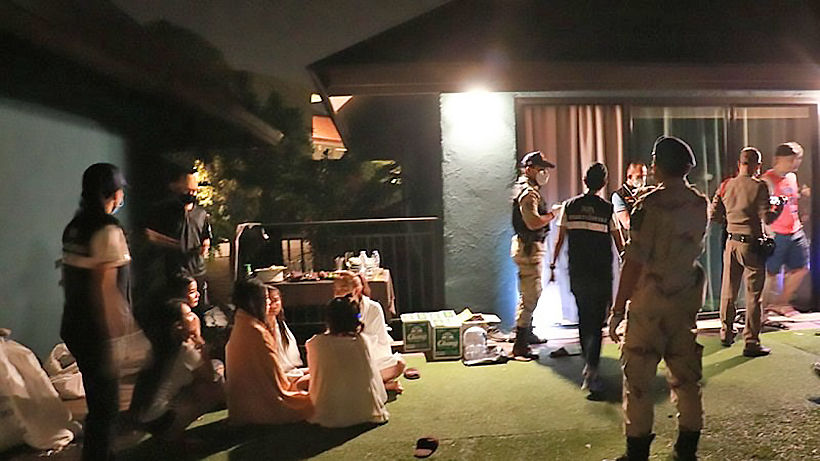 Authorities are cracking down and enforcing the ban on on public gatherings under the the state of emergency declared to fight the Covid-19 coronavirus epidemic last week. 22 people were arrested at a drug party in Chiang Rai yesterday for "gathering in defiance of the Emergency Decree". 10 men and 12 women between the ages of 20 and 30 were nabbed at a hotel in the province's main city district.
(Gamblers also arrested in Phuket, below)
The 22 were attending a pool party where alcohol and drugs such as ecstasy and ketamine were allegedly being sold. Police confiscated 237,000 baht in cash found in a bag, along with illicit drugs for evidence.
An initial investigation showed that a 24 year old man from Trat province in Thailand's east, on the Cambodian border, had been holding parties at the hotel since last Thursday. It's believed he started holding the parties because most public venues are unavailable during the virus scare.
Chiang Rai's governor says police raided the hotel in tambon Tha Sut after a tip-off.
Apart from drug charges, the detainees will also be punished for defying the Emergency Decree, which bans gatherings. The penalty is two years in prison and/or a fine of up to 40,000 baht. Chiang Rai has 5 confirmed coronavirus cases.
In a related development, 6 gamblers were arrested in Phuket near the island's Muang district yesterday.
The detainees were identified as 51 year old Natthawut, 55 year old Suwit, 40 year old Charoon, 48 year old Praiwan, 28 year old Natthapol and 39 year old Natthapong. No surnames were added to the report. Police say that while some were wearing masks to potentially protect themselves from the coronavirus, they were violating the Emergency Decree by sitting around a table to play the games. Gambling is officially illegal in Thailand, apart from the bi-monthly lottery.
SOURCE: Bangkok Post
Keep in contact with The Thaiger by following our
Facebook page
.
Jungceylon Phuket commences food ordering and deliveries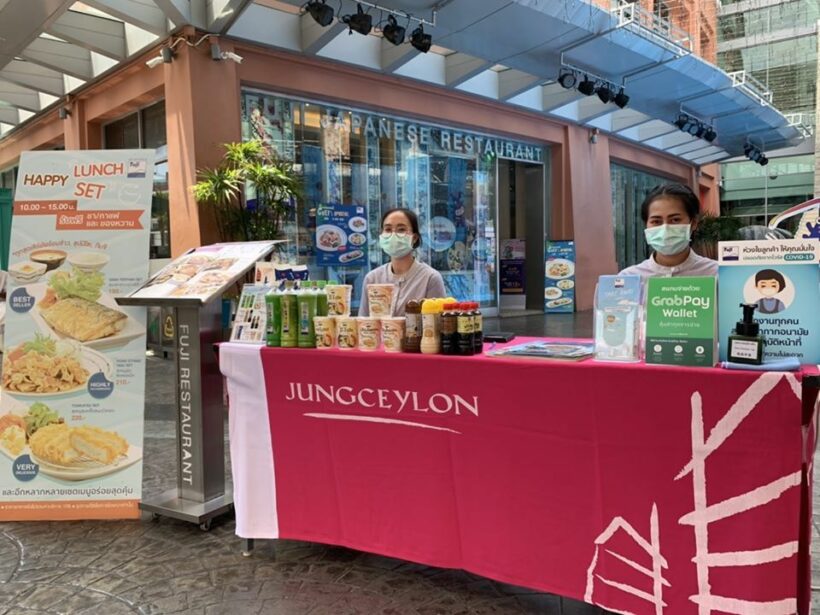 Jungceylon shopping mall, in Patong Phuket has established a 'food ordering & pick up' service point for all its restaurants and fast food outlets to increase convenience and safety for local residents in the Patong district. The mall is offering the service in partnership with 30 restaurants and chains, including…
AKA Japanese Restaurant, Baskin-Robbins, Dunkin 'Donuts, Four Seasons Restaurant, Fuji Japanese Restaurant, Haagen-Dazs, Jeffer Steak & Seafood, KFC, Kin Japanese Buffet Restaurant, Le Siam, MK Gold Restaurants. , On the table, Pizza Hut, Shabushi, Spice House, Starbuck's Coffee, Subway, Sushibox, Sweet Coconut, Sweet Mango, The Coffee Club, Wine Connection and Yayoi.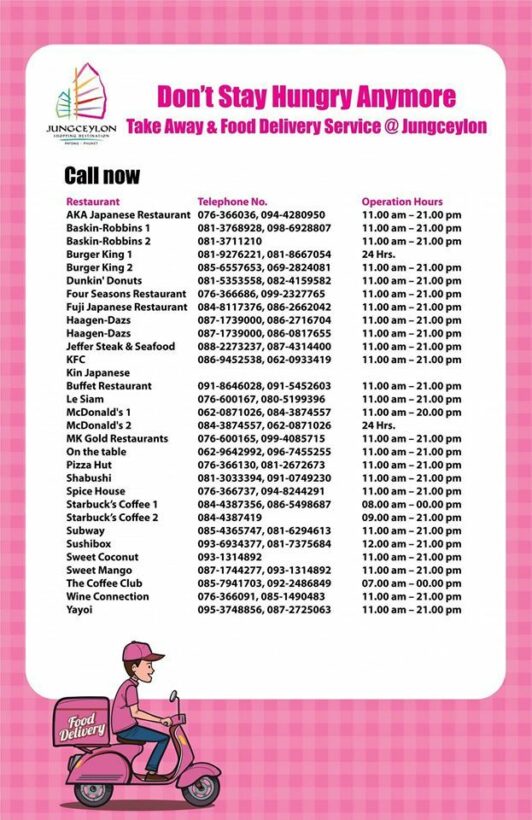 In addition, the mall is still open for necessities and services such as…
• Supermarkets (Big C Extra) from 09am – midnight
• Pharmacy (Boots and Watsons) from 11am – 9pm
• 7-Eleven convenience store, Burger King and McDonald's are also open 24 hours a day, for now
Measures to prevent exposure to Covid-19 are being implemented at Jungceylon.
For more information contact Juncylon on their web page HERE, or call 076-600-111
SOURCE: Andaman News Phuket
Keep in contact with The Thaiger by following our
Facebook page
.
Phuket reports 9 new coronavirus cases (Tuesday)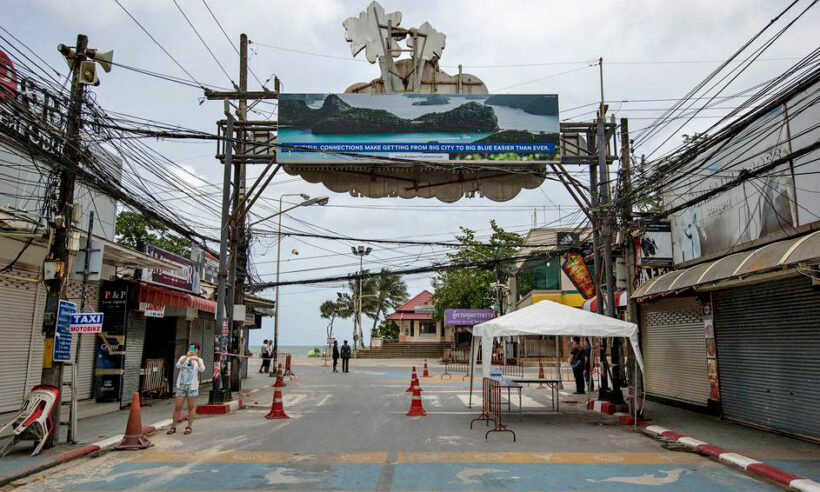 Local media outlet Newshawk Phuket today reported 9 new cases of the Covid-19 coronavirus on the southern resort island of Phuket, bringing the total to 26, up from 17 yesterday.
• Case 18 is a 33 year old Thai woman, a waitress at Soi Bangla in Patong district. She fell sick on March 16.
• Case 19 is a 56 yeaar old Frenchman who arrived in Phuket Mach 15 and fell ill on march 18
• Case 20 is a 25 year old Swedish air hostess who arrived in Phuket on Friday.
• Case 21 is a Thai woman, aged 35, who "had contact with foreigners." She became ill on March 20th
• Case 22 is 26 year old Thai woman, also believed to have caught the disease at Soi Bangla Bangla, and also became sick on March 20.
• Case 23 is 27 year old Thai dancer at Soi Bangla Bangla. She fell sick on March 22.
• Case 24 is a 28 year old Thai man, a bouncer in Soi Bangla, who became sick on March 19.
• Case 25 is a Thai woman, aged 62, who recently traveled to Switzerland and got sick abroad. She returned to Thailand to seek treatment.
• Case 26 is a Frenchman, aged 62, a golf teacher who recently traveled to Germany and Spain.
SOURCE: Newshawk Phuket
Keep in contact with The Thaiger by following our
Facebook page
.