Officials under fire for allegedly issuing illegal Phuket land documents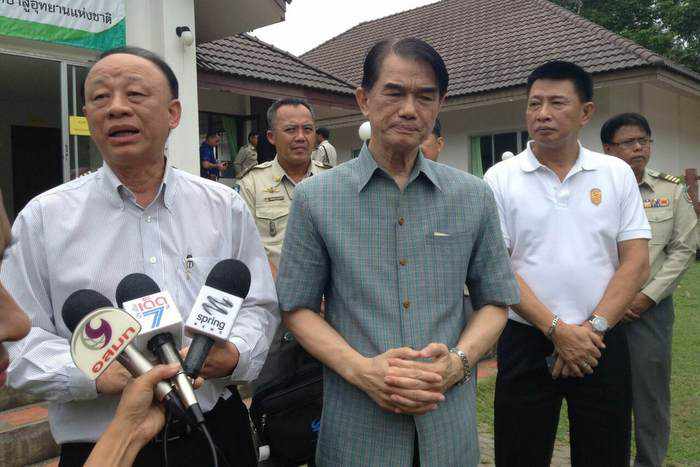 PHUKET: More than a dozen officials suspected of illegally issuing land titles in Phuket are now under investigation by the National Anti-Corruption Commission (NACC), confirmed an NACC official on Saturday.
"Sirinath National Park officers filed complaints with the Thalang Police. We then received a list of 16 officials that work for various government departments," explained Prasart Pongsivapai of the NACC's standing committee investigating Sirinath National Park land encroachment.
"These officials are under investigation for illegally issuing land titles. We will not name them until the investigation is complete."
Mr Prasart added that the investigation was far from over, and that his officers would need help from other government bodies to finish it.
"There are more witnesses that need to be questioned, and more information that needs to be collected from several departments, including the Department of Special Investigations [DSI]," Mr Prasart said.
"Anyone that has been accused may cooperate by providing us with information needed for the investigation. If they help us track down the big fish, their charges could be reduced."
NACC officers are also investigating 16 companies, resorts and landowners that have been accused of using illegally-issued land documents to prove land ownership.
"Officers at the Land Department are determining whether or not land titles have been illegally issued," said Nipon Chotibal, acting director-general of the DNP.
However, the DNP has already challenged the Land Department's ruling on several documents.
"The Land Department reported that eight of the accused have legally issued documents. The eight include Phuket Peninsular Spa and Resort; Central and City Development; Landstate; Pavilions Beach Resort; Layan; La Colline villa development; Baan Farang resort; and landowner Suchada Sangsuwan," said Mr Nipon. "However, according to our investigation, the land titles associated with these businesses and individuals were illegally issued"
"We won't let this go. We will work closely with the Land Department and review all the evidence they have in order to establish the truth."
Earlier this year, Sirinath National Park and DNP officials found the signature of a park chief accused of illegally issuing land titles on documents provided by Baan Farang (story here).
Then, in July, officials and military personnel inspected the site of abandoned Peninsular Phuket Spa and Resort. DNP director at the time, Samak Donnapee, alleged that the resort's Chanote was originally a SorKor 1 for two rai that increased in size to six rai when it was upgraded to a Chanote (story here).
The DNP and Land Department can agree, however, that land titles were illegally issued in five of the 16 cases currently under investigation.
"We have evidence proving that land titles were illegally issued to Three Dolphins, which owns Trisara Resort; Pullman Phuket Acadia, and Nai Thon Beach; Pinnacle Cape; and landowners Surachai Laosaichua and Chomchanok Suthamma," Mr Niphon said.
"For example, Three Dolphins originally submitted a NorSor 3 Kor of 37 rai for an upgrade to a Chanote title. However, when the land was issued a Chanote, it was for 99 rai – not 37 rai. This is why we believe it was wrongfully issued."
This is not the first time Trisara Resort has come under fire regarding its Chanote title.
In 2012, a team of officers from the Royal Forest Department (RFD), Chiang Mai office, came to inspect the boundaries of a resort, north of Layan Beach (story here), and found that the land title in question had been issued after 1964, the year the DNP stopped issuing Chanote titles for land in that area.
The legality of documents in the remaining three cases has not yet been determined, said Mr Niphon.
Narong Rathamarit of the NACC has urged officials to stay focused on the mission to take back protected and public land.
"Officials have been letting people use SorKor 1 titles to justify commercial endeavors for a long time. Sooner or later, if this continues, our forest will be gone," Mr Narong said.
The NACC, in charge of the mission, will continue to work closely with the DNP, Land Department and DSI to conclude investigations into each of the 32 cases, so that they can reclaim as much land as possible, confirmed Mr Prasart.
— Kritsada Mueanhawong
- Legacy Phuket Gazette
Dead dolphin washed ashore at Surin Beach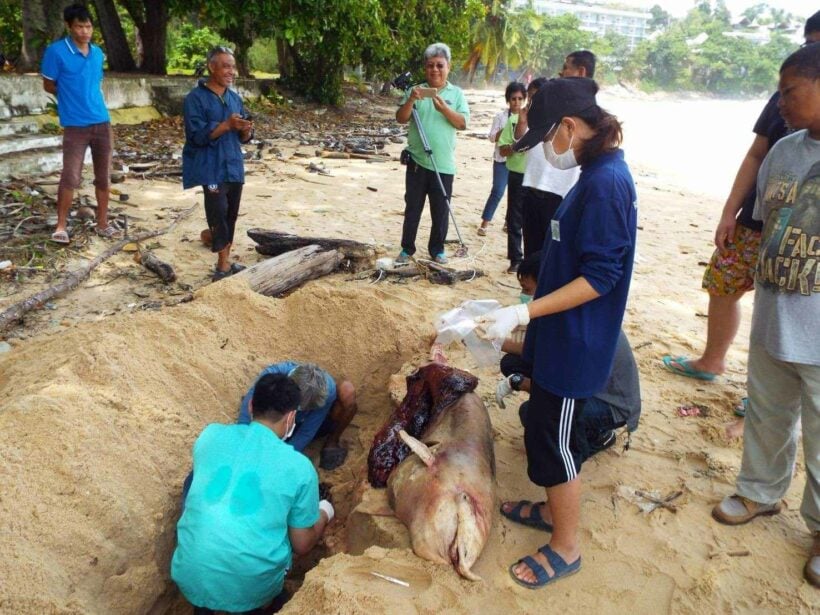 A dead dolphin, 1.26 meters long, has been found on Surin Beach this morning (June 20).
Officials at  Cherng Talay Tambon Administration Organisation (OrBorTor) were notified that the dolphin had been washed up on Surin Beach in Cherng Talay.  MaAnn Samran, chief of the Cherng Talay Tambon Administrative Organisation (OrBorTor) headed to Surin beach to head the inspection with officials.
Khun MaAnn says, "scratches were found on the dolphin's skin. The dolphin also had a very bad smell. Officials at  the Phuket Marine Biological Centre (PMBC) have been notified."
PMBC officials say, "The striped dolphin is 1.26 metres long.  The dolphin was already rotting and starting to decompose. There was no use in taking it back to the centre. We collected some tissue from the dead dolphin to investigate the cause of its death.
The dead dolphin has been buried by staff members of the Cherng Talay OrBorTor."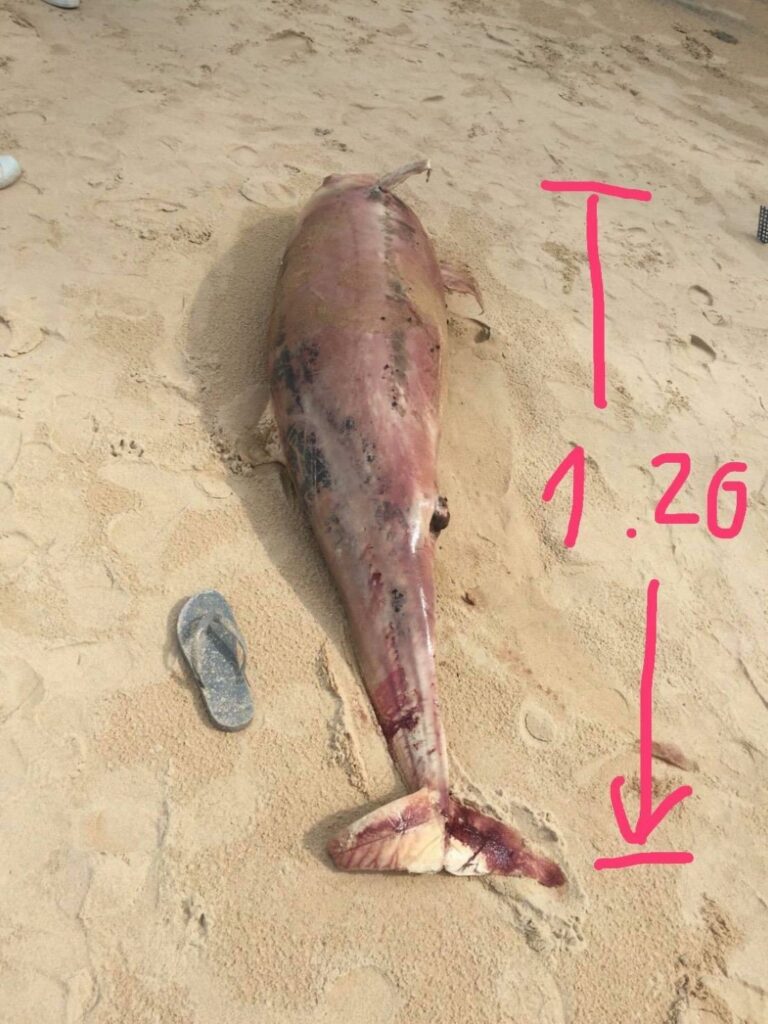 Monkey update: Rassada locals say returned monkeys happy to be home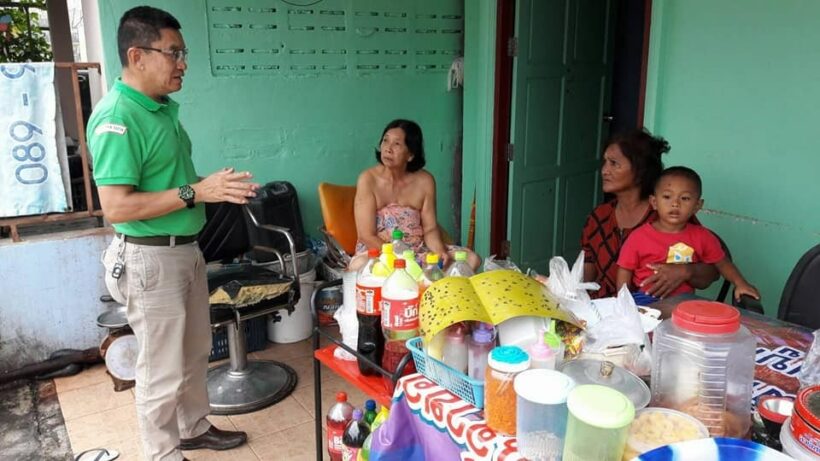 Tha Chin locals in Rassada say they're satisfied with the way the monkeys were captured last Friday (June 15) while locals say sterilised monkeys at Soi King Kaew in Rassada can get back into their groups now that they're been released into their area.
Yesterday (June 19) Pongchart Chouehorm, the Director of the Natural and Wildlife Education Centre at Khao Phra Thaew Non-Hunting Area in Thalang visited locals at Soi Tha Chin in Rassada after 38 long-tailed macaques were caught at Soi Tha Chin in Rassada last Friday (June 15).
Read more HERE.
Khun Pongchart says, "There are some monkeys in the mangrove forests which haven't been captured. We spoke to locals about garbage management, especially what they're doing with leftover food. This garbage has to be kept away from the monkeys."
"Also they mustn't offer food to those monkeys. This is to prevent monkeys learning to wait for food from humans which might cause more trouble in the future. "
"Locals at Soi King Kaew in Rassada says that the sterilised monkeys were released back to Soi King Kaew in Rassada on Monday (June 18) and are back to their groups and settling in well."
Read more HERE.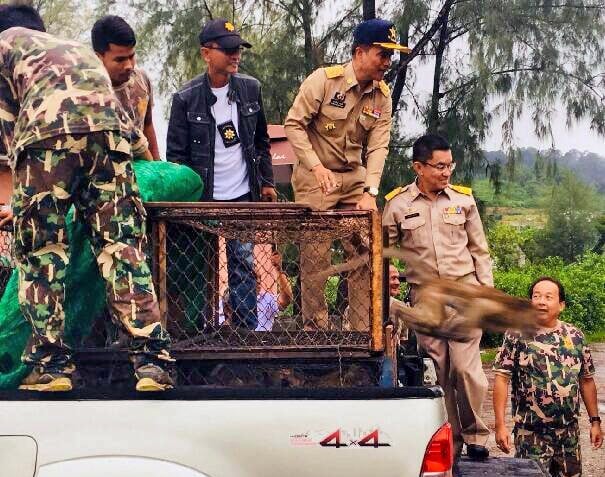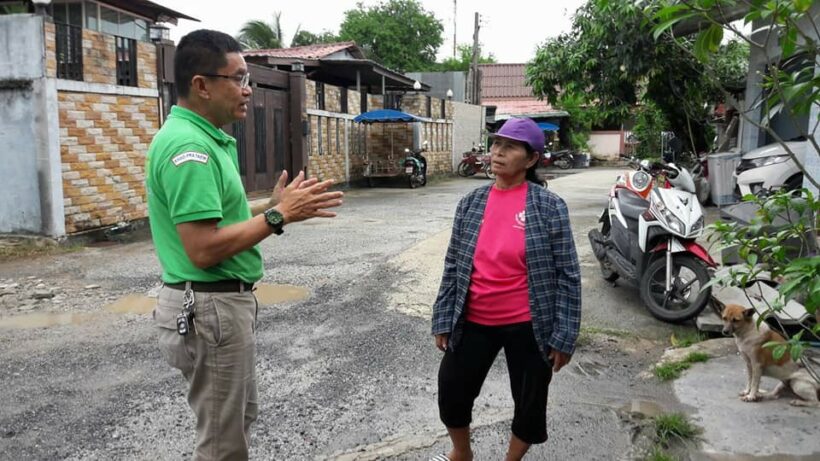 French expat rescued off Phuket, jet-ski and parasail ban remains in force today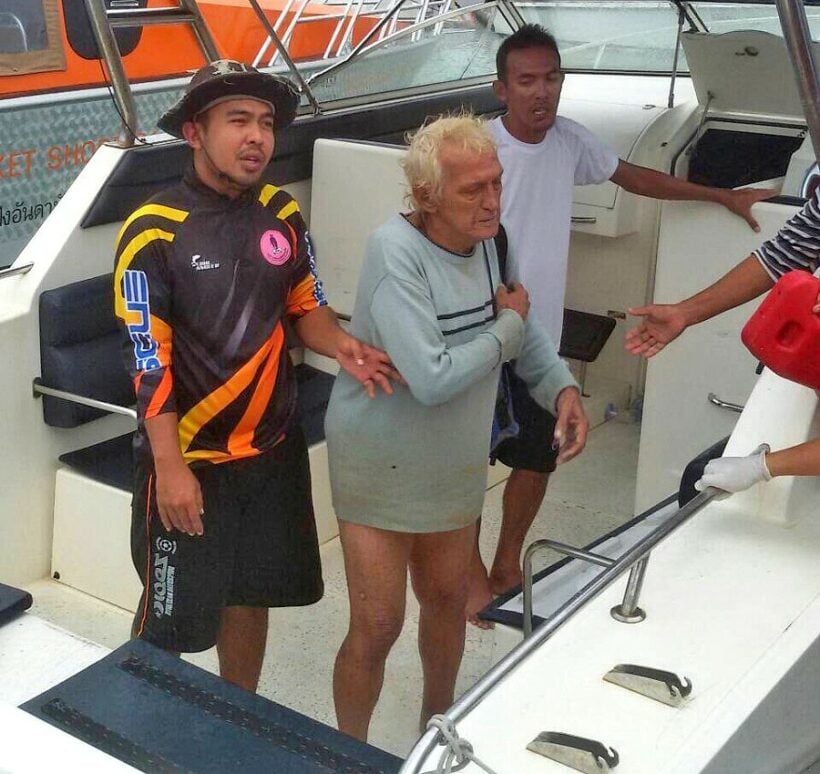 A French expat on a dinghy has been rescued in Ao Yon, Wichit yesterday (June 19) while the Phuket Marine Office has announced that jet-skis and parasails will remain beached until today (June 20).
Maj Eakkachai Siri of the Phuket Tourist Police was notified at 1.30pm yesterday that a French man, 78 year old Claude Gasca, had been rescued off the coast of Cape Panwa.
Maj Eakkachai says, "Mr Gasca disappeared after took off from Chalong  Pier on a dinghy on Monday (June 18) night heading to his sailboat name 'Striana' which was moored off Ao Yon beach. "
"Yesterday (June 19) his Thai wife,  Montatip Tongkhao, said she was unable to contact him. So she called the police. The search was lunched by the Royal Thai Navy Third Area Command (NAC3)."
"At 5.30pm yesterday, we were notified that Mr Gasca had been found safe by a friend and taken back to Chalong Pier. He was taken to the Mission Hospital as he was very weak."
"Mr Gasca told us that after he had retired, he lived in Phuket with his Thai wife. Every day he travels in his dinghy to his sailboat in the sea. On Monday night there were very strong winds and waves. The dinghy was washed ashore and got stuck in a mangrove forest."
"His friend, who was on another boat, had rescued him. His mobile phone was soaking with water. So he cannot contact his wife."
The chief of the Phuket Marine Office has ordered authorities at all ports and piers, as well as the boat operators, to be careful heading out to sea, including today (June 20).
Read more HERE.
However some Jet-skis and parasail operators still operated their services during the inclement weather. The Phuket Maine Office has announced a ban of jet-ski and parasails rides from yesterday until today.
"Legal action will be taken against anyone who breaks the law", says the Chief.