Phuket
Officials under fire for allegedly issuing illegal Phuket land documents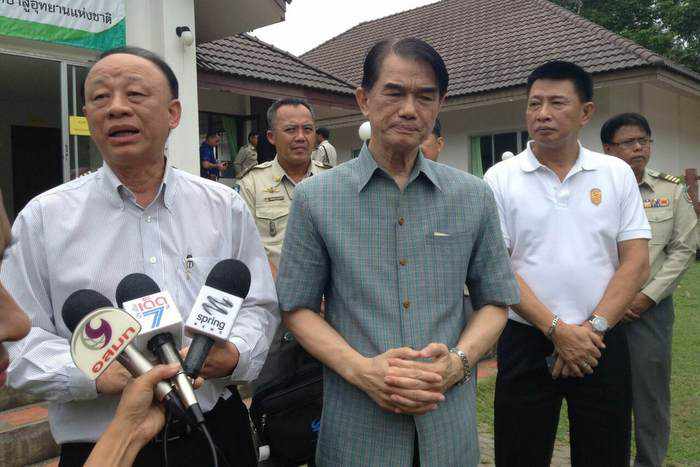 PHUKET: More than a dozen officials suspected of illegally issuing land titles in Phuket are now under investigation by the National Anti-Corruption Commission (NACC), confirmed an NACC official on Saturday.
"Sirinath National Park officers filed complaints with the Thalang Police. We then received a list of 16 officials that work for various government departments," explained Prasart Pongsivapai of the NACC's standing committee investigating Sirinath National Park land encroachment.
"These officials are under investigation for illegally issuing land titles. We will not name them until the investigation is complete."
Mr Prasart added that the investigation was far from over, and that his officers would need help from other government bodies to finish it.
"There are more witnesses that need to be questioned, and more information that needs to be collected from several departments, including the Department of Special Investigations [DSI]," Mr Prasart said.
"Anyone that has been accused may cooperate by providing us with information needed for the investigation. If they help us track down the big fish, their charges could be reduced."
NACC officers are also investigating 16 companies, resorts and landowners that have been accused of using illegally-issued land documents to prove land ownership.
"Officers at the Land Department are determining whether or not land titles have been illegally issued," said Nipon Chotibal, acting director-general of the DNP.
However, the DNP has already challenged the Land Department's ruling on several documents.
"The Land Department reported that eight of the accused have legally issued documents. The eight include Phuket Peninsular Spa and Resort; Central and City Development; Landstate; Pavilions Beach Resort; Layan; La Colline villa development; Baan Farang resort; and landowner Suchada Sangsuwan," said Mr Nipon. "However, according to our investigation, the land titles associated with these businesses and individuals were illegally issued"
"We won't let this go. We will work closely with the Land Department and review all the evidence they have in order to establish the truth."
Earlier this year, Sirinath National Park and DNP officials found the signature of a park chief accused of illegally issuing land titles on documents provided by Baan Farang (story here).
Then, in July, officials and military personnel inspected the site of abandoned Peninsular Phuket Spa and Resort. DNP director at the time, Samak Donnapee, alleged that the resort's Chanote was originally a SorKor 1 for two rai that increased in size to six rai when it was upgraded to a Chanote (story here).
The DNP and Land Department can agree, however, that land titles were illegally issued in five of the 16 cases currently under investigation.
"We have evidence proving that land titles were illegally issued to Three Dolphins, which owns Trisara Resort; Pullman Phuket Acadia, and Nai Thon Beach; Pinnacle Cape; and landowners Surachai Laosaichua and Chomchanok Suthamma," Mr Niphon said.
"For example, Three Dolphins originally submitted a NorSor 3 Kor of 37 rai for an upgrade to a Chanote title. However, when the land was issued a Chanote, it was for 99 rai – not 37 rai. This is why we believe it was wrongfully issued."
This is not the first time Trisara Resort has come under fire regarding its Chanote title.
In 2012, a team of officers from the Royal Forest Department (RFD), Chiang Mai office, came to inspect the boundaries of a resort, north of Layan Beach (story here), and found that the land title in question had been issued after 1964, the year the DNP stopped issuing Chanote titles for land in that area.
The legality of documents in the remaining three cases has not yet been determined, said Mr Niphon.
Narong Rathamarit of the NACC has urged officials to stay focused on the mission to take back protected and public land.
"Officials have been letting people use SorKor 1 titles to justify commercial endeavors for a long time. Sooner or later, if this continues, our forest will be gone," Mr Narong said.
The NACC, in charge of the mission, will continue to work closely with the DNP, Land Department and DSI to conclude investigations into each of the 32 cases, so that they can reclaim as much land as possible, confirmed Mr Prasart.
— Kritsada Mueanhawong