Milo the orangutan dies after stroke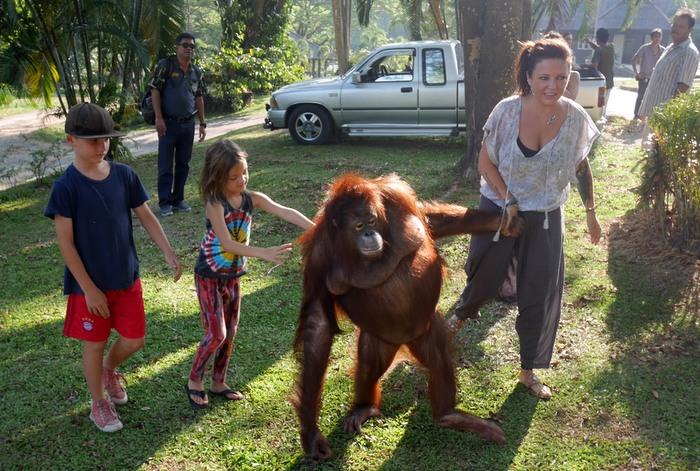 PHUKET: Milo, the beloved orangutan saved from captivity at the Phuket Zoo, passed away last night, Warapong Kosarat, a veterinarian at the Pasupalun Livestock & Wildlife Hospital confirmed.
The 13-year-old orangutan disappeared from the Phuket Zoo ahead of a raid on the facility in February (story here).
Khao Phra Thaeo Non Hunting Zone officers then discovered her trapped in a locked cage, after she was allegedly released into the jungle (story here).
Milo was immediately transferred to the Phang Nga Wildlife Nursery Station, where she was receiving medical care while waiting for approval from the Department of National Parks (DNP) director to be moved to the Khao Prathap Chang Wildlife Sanctuary in Ratcha Buri, which houses a number of orangutans.
She was expected to be moved there later this month, until her health deteriorated suddenly.
In a Facebook post, Vicki Kiely, the local animal-rights activist who helped spearhead the push to free Milo from the Phuket Zoo, said she died somewhere between 8pm and 9pm last night.
"I know she was suffering greatly, and obviously gave up her long battle with her stroke last night," Ms Kiely's post reads. "I did all that I could for her. I loved her more than life. I put so much on the line to get her her freedom, and to show her love and compassion.
"She was my friend and brought a great joy to both my life and my childrens', even in her dark days as prisoner in the Zoo… we struck a bond that I will never forget, and her spirit and personality will be with me forever.
"I wish that she could have fought more, but I think the illness was too severe for her to recover."
Milo's case has brought exotic animal smuggling and exploitation in Thailand to the limelight as conservationists such as Edwin Wiek, founder of Wildlife Friends Foundation of Thailand (WFFT), battle to free these animals.
In February, more than 12,000 people signed a petition organized by Change.org, calling for 'Help for Milo' (story here).
— Kongleaphy Keam


Read more headlines, reports & breaking news in Phuket. Or catch up on your Thailand news.

Taxi motorbike driver found dead in Phuket room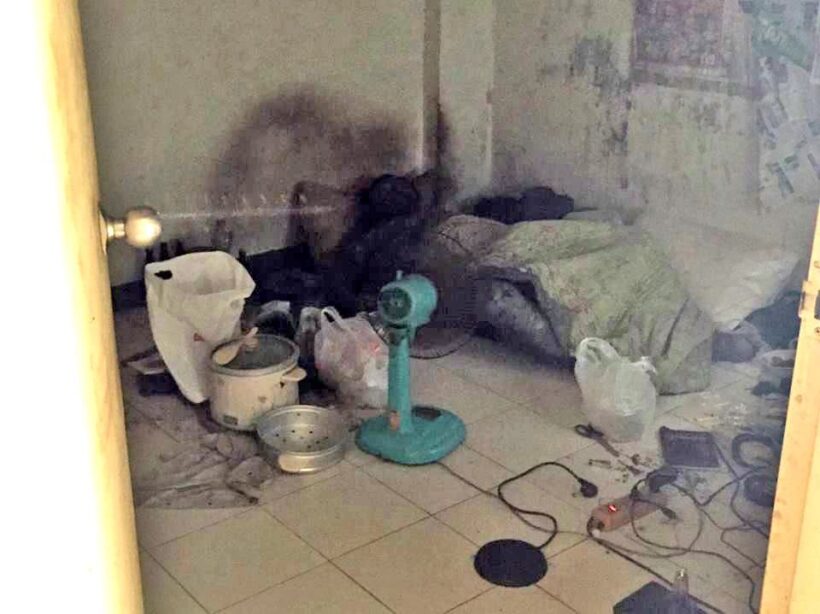 A taxi motorbike driver has been found dead in a room in Thalang today.
The Thalang Police were notified about the incident at the National Housing Authority in Thalang around midday today.
Police and rescue workers arrived to find the body of a man who was identified as 39 year old Toemorn Suwan. Nearby they found empty bottles of whisky.
There were no signs of a struggle found on his body. Police believe that Mr Toemorn died at least four days before his body was found. His body was taken to the Thalang Police Station.
Mr Toemorn's father told police that his son was a motorbike taxi driver in Patong. He lived alone and liked to drink whisky.
On Sunday he injured his knee so didn't go to work. His family came to visit him at his room. But today they tried to contact him but there was no answer.
Police are continuing their investigation.
Kata Rocks Superyacht Rendezvous 2018 – Raises the bar again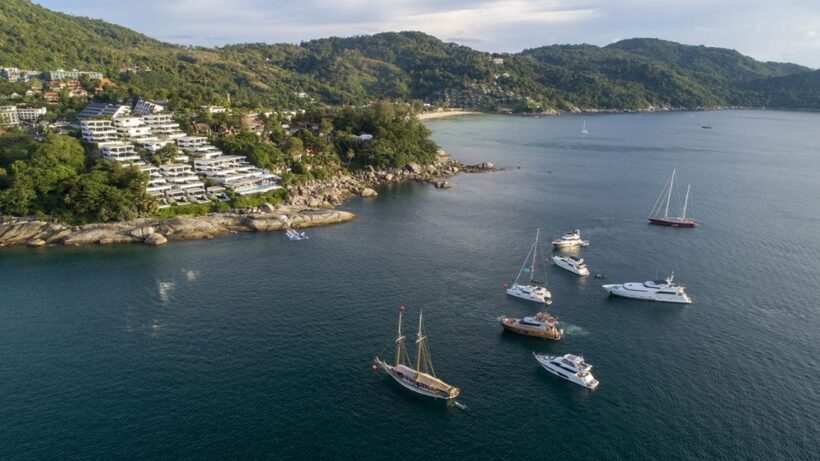 Kata Rocks Superyacht Rendezvous 2018 (KRSR 2018) was, again, a leader in superyacht events in Asia. This year's event has been hailed as an outstanding success both in terms of the strength of the yachting brands on display and the relaxed and productive business atmosphere.
Over 350 invited personalities, including local and international VIP guests, major trend-setters in yachting and luxury partners attended the KRSR 2018 that celebrated the superyacht lifestyle with lavish events, private gourmet dinners and luxury guest experiences.
"I'm very proud of our team who created the best KRSR yet. It is really gratifying to create a relaxed fun environment where this industry's leaders in Asia can genuinely get down to business." said Kata Rocks & Infinite Luxury CEO Richard Pope.
"We were also delighted to add Oceanco this year. We feel they are an ideal fit for the KRSR 2018 as they are perfectly aligned with Kata Rocks' spirit of innovation and luxury." 
Oceanco Group Marketing Manager, Paris Baloumis agreed, "Oceanco is very pleased to have supported the Kata Rocks Superyacht Rendezvous as the sponsor of the Owners' Dinner as it helps us get to know both the region and the people much better.
"The KRSR promotes Phuket and all the essential advantages it has as a world-class cruising destination: beauty, luxury, diversity, Thai culture and charm plus the infrastructure to support superyachts."  
As always, the KRSR 2018 guest experience included lavish cocktail parties, gourmet dining and meaningful press announcements. 
Royal Huisman and Berret-Racoupeau Design made waves with its KRSR launch in Asia. They teamed up to produce custom-built multihull superyachts, both power and sail, that redefine luxury catamaran design from the waterline upwards. 
Camper & Nicholsons Asia Chairman, Mr Lester Lam said, "The KRSR is a unique opportunity where owners and enthusiasts interact at well-organised events and casual gatherings. Southeast Asia is truly uncharted grounds, and KRSR has shown everyone the region's potential."
New initiatives focused on sustainability were also prominent at the KRSR 2018. SeaKeepers Society was on hand to raise local awareness of the current situation of the world's oceans to protect, conserve, and restore where possible. Torqeedo also promoted a green ethos at the Rendezvous with its water-based electromobility, sustainability, and clean energy with its all-electric and solar powered ribs and tenders. 

This year the KRSR 2018 fleet featured another spectacular gathering of superyachts including MY Xanadu, MY Nymhaea, SY Aphrodite, SY Dallinghoo Schooner and MY Sanook to name just a few.
All joined in the annual KRSR superyacht fleet cruise up Phuket's sun kissed west coast to feast on a champagne beach BBQ at The Surin Phuket. It proved hugely popular for the third consecutive year, with participants enjoying beautiful weather, epic cuisine, and water activities. 
The Oceanco Owners' Dinner was very well attended by Asia's more prominent superyacht owners and prospective buyers, while the inaugural Captain's Dinner with Benetti and Hemisphere Monaco helped promote Southeast Asia and encourage more captains and owners to visit Phuket and the region. Other highlights include the Royal Huisman and Campers and Nicholson opening night cocktail party, Hemisphere Monaco Gin Party, Northrop & Jonson Brunch on-board MY Xanadu, and the Media Champagne Brunch by Benetti. The media brunch was attended by top international and regional luxury lifestyle and yachting media.
Michael Howorth, superyacht journalist and presenter with Superyacht Radio, said the KRSR far transcends what can be achieved at boat shows. "For those who see the KRSR as a Monaco Yacht Show held in tropical Phuket, it's time to think again. It is Asia's most promising and rewarding superyacht event that allows yacht owners, both actual and potential, to meet with captains, managers, builders and brokers while mixing and mingling in a relaxed fun filled environment."
The opening party was inspired by Phuket's unique Peranakan heritage and Sino-Portuguese heritage of old Phuket Town. While the KRSR Charter Season Opening Party brought the Rendezvous to a close in grand style, celebrating the start of Phuket's yachting season with a Mediterranean lifestyle theme enjoyed by all. It is one of the most important dates on Phuket's maritime calendar and delivered another fantastic evening of hip entertainment and cool sounds for the VIP guests in attendance.

Popular singer Eka Liu performed a lively set on a stage set up in the middle of Kata Rocks signature 35- metre infinity pool. It provided an ideal showcase for SeaJet's high-performance state-of-the-art jet watercraft as it circled the pool during her masterful performance. 
The KRSR smartphone application made its debut this year and helped participants enjoy fuller and richer experiences at this year's Rendezvous. Yachting brands were curious how the app will help shape the future of superyacht event management and technology in years to come. 
The success of this years' KRSR 2018 reflects Infinite Luxury's development strategy launched three years ago to place Phuket on the global superyacht map. The KRSRs' position as the definitive superyacht event is Asia is secure through its invitation selection process for attendees, sponsor's events, exclusive owners and captains' dinners, plus ongoing public relations and marketing initiatives organised throughout the year. 
It is perfectly positioned to remain a major and proactive player in the development of the industry, permanently hoisting the colours of international superyachting in Phuket, the heart of Southeast Asia.
Next year the Kata Rocks Superyacht Rendezvous is scheduled for December 12 to 15 2019.

Two youths arrested over bag snatching in Phuket Town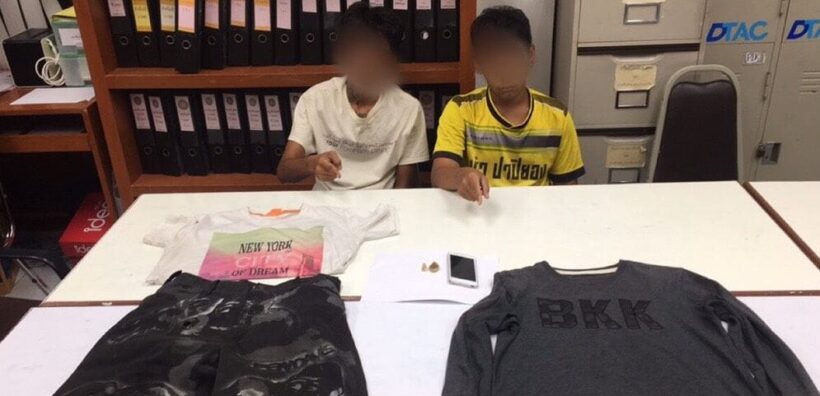 Phuket Police have arrested two suspects after they snatched a bag containing cash and a mobile phone from pedestrian in Phuket Town.
Phuket Police have arrested 19 year old Chanatiip 'Lip' Samartkit from Phuket and a 15 old boy from Nakhon Si Thammarat. They were both arrested at a rental room in Rassada, east of Phuket Town.
The arrest follows police being notified on Sunday that two suspects had snatched a bag from a pedestrian walking on Bangkok Road in Phuket Town. The bag contained 10,000 baht cash and a mobile phone. The two suspects sped away on a motorbike.
Chanatip told police that they were searching for victims along Bangkok Road as they don't have a job and have no money.
They were both taken to the Phuket City Police Station to face legal action.