Phuket
Mass worker brawl delays Phuket airport expansion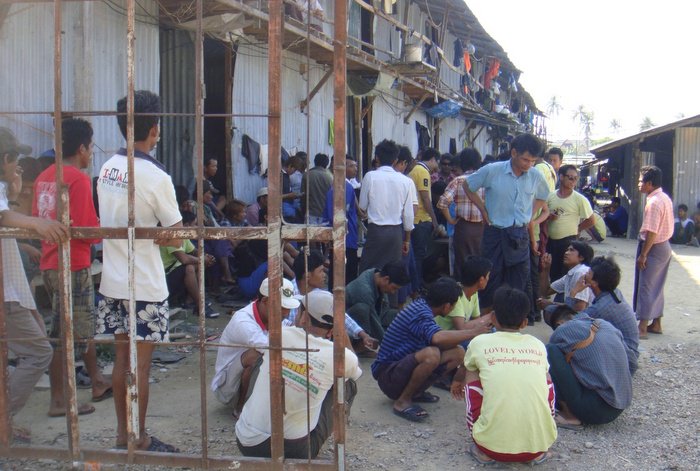 PHUKET: Work on the Phuket International Airport expansion project was delayed yesterday due to a gang brawl between construction workers from Cambodia and another group from Myanmar on January 1.
The fight took place in the workers' camp, about 300 meters from the PTT aviation fuel warehouse, which is located about two kilometers from the airport.
The melee left more than 10 people injured and seven housing facilities torched.
The company responsible for the ongoing airport construction, Sino-Thai Engineering and Construction Public Co Ltd, has changed its work schedule due to the fight.
"That night [January 1] it was necessary for the foremen to move about 120 workers, both Myanmar nationals and Cambodians, to another camp about four kilometers away," said Somboon Champathong, who operates many of the on-grounds businesses in the camp.
"The Myanmar workers are more aggressive than the Cambodians; this is not the first time they've had problems."
There was also a fight between the two groups on December 30, Mr Somboon said.
"We have to choose one group of them to work here. It is impossible for them to work together," Mr Somboon said.
"The foremen have agreed to move 30 of the most active instigators out of the area, but this isn't going to work. Things will get bad again. The problems are beyond us."
One of the Cambodians told the Phuket Gazette that police arrived at the camp to help relocate some of the people on January 1.
"However, the Myanmar workers didn't stop. There were so many of them attacking us. They burnt down seven of our houses, leaving 14 of us roofless."
"We would be glad to be transferred to a different work site."
The Gazette has confirmed that police will increase the frequency of their patrols at the camp to help prevent further violence. Military personnel stationed at Phuket International Airport will also keep an eye on the situation.
Completion of the airport's 5.7-billion-baht expansion project has already suffered a series of setbacks, and is now not expected until at least mid-2016 (story here).
The expansion aims to increase the facility's capacity to 12.5 million passengers per year.
— Thawit Bilabdullar