Love for the game of tennis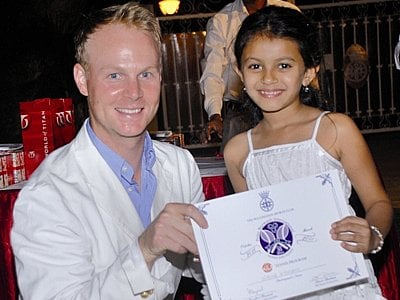 PHUKET: Travis Bertram, 30, from Seattle, Washington, USA, is the new tennis director for Thanyapura Sports and Leisure Club (TSLC). Having come through the ranks at leading tennis management company Peter Burwash International, Travis will develop TSLC's new tennis academy. Speaking to the Phuket Gazette, Travis talks about his profession and hopes for tennis in Phuket.
What drew you to tennis?
My mom and dad played tennis in the 80s. My dad and my younger brother got into it after a trip to John Gardiners Tennis Ranch in Carmel, California. They started watching Wimbledon and the professional game caught my interest. I liked the variety of styles the players had because it reminded me of snowboarding and how each snowboarder has their signature style.
When and where did you start playing tennis?
I started playing tennis the summer before my 20th birthday in 2000. I started playing in a local park with my dad and brother in Seattle. Then we joined a small indoor club. Then took lessons from a college tennis player attending the University of Washington.
Did you play any other sports?
My dream was to be a professional snowboarder. I was certified at Whistler Mountain in Canada to be a snowboard instructor at the age of sixteen. I enjoyed all sports growing up – basketball, soccer, Tae Kwon Do. But I was really into snowboarding and skateboarding. I fell while snowboarding and dislocated my shoulder and hip and was told not to participate in any sports because of the nature of my injuries. I had to be really careful.
What was your first competition win?
My first tennis tournament win was in mixed doubles in college. My friend and I won the open division. I always enjoyed mixed doubles because of the male/female dynamic and thought it was great that there was a fun way to play mixed sports.
When and how did you catch the coaching bug?
I started teaching tennis after less than a year playing. I met a coach I liked, finally someone who would teach me the one handed backhand (everyone tried to get me to play two hands). He was the the former women's coach at the University of Washington. He liked my work ethic during our lessons and hired me to string rackets and sell tennis merchandise at his shop.
The summer after I started playing I helped him run a summer junior camp. I moved to attend school at WWU and got a job at the local tennis club stringing rackets and booking courts. Eventually I became certified as a tennis instructor to teach at that club during college. After graduating I wanted to stay with tennis, but as a coach. I discovered PBI and made it though their rigorous interview and 450 hour training program. During my training I worked with an ATP and WTA coach for a month while we trained some of the top ITF junior players coming to play in the prestigious Easter Bowl tennis tournament.
After training I was sent to Carmel California to the Carmel Valley Ranch where I was Head Pro. I loved being there with the pros and our company President, Peter Burwash. Peter is a great mentor to me and has accelerated my professionalism. I appreciate his trust.
Together we worked with amazing players, including several top juniors I was coaching. After CVR I became Director of Tennis at The Ritz-Carlton, Half Moon Bay in California.
I also worked at the Four Seasons in Costa Rica and in Punta Mita Mexico for holiday seasons. I then became the Executive Junior Tennis Director at the Willingdon Sports Club in Mumbai, India, from October 2010 to Aprrl 2011.
I am now director of tennis at Thanyapura.
Any memorable matches you have played in or been coach for?
Many memorable matches but it's always the ones you lose that you learn from most. Winning is such a fleeting moment. Two that stick out. I had to play my best friend in the quarter finals of an open tournament. I had never beaten him. With a swollen shoulder and ankle I lost to him 6-4, 6-4. I only lost by four points but it will be my most memorable because I fought hard, pushed my injuries aside and used my tactical skills to push the match when I could have defaulted.
The other memorable match was with a 14yr old boy I was coaching. He was a top 50 player in the US and after traveling with him to many tournaments in sketchy rural areas he made it to the semifinals of a big tournament. He lost to his opponent and disregarded the strategy we had agreed upon, which was not to hit hard and flat from the baseline because that's what his opponent liked.
We agreed that he would use his more crafty skills to lure the player into running and defending because he was a big kid. After this match he and I began to develop more trust and he ended up being a top 20 player in the US after all was said and done.
What are your hopes for Tennis in Phuket?
The hope for tennis in Phuket is to run a successful program at Thanyapura. Our goal is to satisfy the needs of our members as far as lessons and programming goes. I want tennis to be one of the social hubs of the club. The hope for junior tennis is for the kids to learn how to enjoy tennis first and have fun. From there we will get avid players that are thinking of a competitive future in the game. Obviously I will be hunting for talent but it has to be the child that wants it first.
Have you seen any future talents so far in Phuket?

Loads of talent already. We have several players that can become very talented in the game if they wanted to be. I am really impressed with the athleticism of all the kids. We had several kids that had never touched a racket at the beginning of the month and now they are already playing points. It's one of the fastest progressions I've seen. The children of athletic parents are the ones I'm keeping my eye out for.

How important are tennis acadamies for the sport?

Crucial for the growth of the game. Sadly there are only a few good tennis academies out there in the world. The academy environment is key because of the element of competition. For juniors playing tennis, they not only need to train hard but they must learn a variety of subjects from stroke production to strategy as well as basic knowledge of the game. The big thing, though, is to compete against their peers. For a future professional athlete this is vital to their mindset.
Any plans for competitions here?

Loads of plans. We already have two ITF tournaments on the books and plan to have several local tournaments during the year.
When did you arrive in Phuket?

I arrived in Phuket on July 1st with my wife Kelsey.
What do you think of Phuket so far?

We came to Phuket in April this year to see the site and fell in love with Phuket. We love Thai people and dig their laid back style. Thai food is our absolute favorite, so it's a treat to get into the local street markets. Thanyapura is such a huge highlight, though when I go to work I feel like a kid going to the playground. It's so cool to be in an environment like Thayapura's because it's really a haven for athletes and I'm excited to share what I've learned.
For more information on Thanyapura Sports and Leisure Club's tennis academy visit: — Neil Quail
Phuket News

Join the conversation and have your say on Thailand news published on The Thaiger.
Thaiger Talk is our new Thaiger Community where you can join the discussion on everything happening in Thailand right now.
Please note that articles are not posted to the forum instantly and can take up to 20 min before being visible. Click for more information and the Thaiger Talk Guidelines.