Jet-skis under control: Phuket police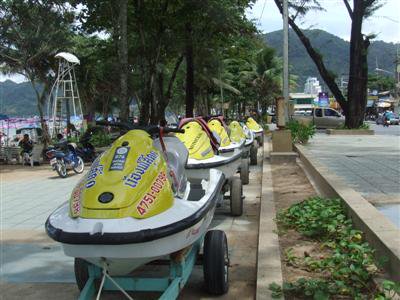 PATONG, PHUKET: A much-vaunted mandatory insurance scheme aimed at ending disputes between jet-ski operators and tourists in Phuket will be in place by November 16.

But Patong's top cop says: "We've already solved the problem."

Kathu Police Superintendent Grissak Songmoonnark said the police have set up a committee of experts to adjudicate in disputes, deciding who should pay for any damage done to jet-skis.

Early last month, Phuket Provincial Police Commander Pekad Tantipong announced plans for a six-person committee to deal with issues related to the jet-ski rental industry.

The committee now has at least 10 members, including foreign police volunteers, Phuket Jet-ski Association officials and jet-ski garage representatives, Col Grissak said.

The scheme has been up and running for a month-and-a-half, he said.

Whenever there is an accident or some damage found on a jet-ski, it is brought to the police box on the beach road.

Police make a report, then two or three members of the committee inspect the vehicle and talk to the parties involved, Col Grissak explained.

The committee members set a fair cost to fix the jet-ski, he said.

"Since we started the committee, there have been no problems," he said.

Col Grissak said some foreign embassy officials, such as the Koreans and Australians, had thanked him for setting up the scheme.

By November 16, when all jet-skis will have to be insured, a variety of other measures would be in place, he said.

Aside from the committee, 12 officials from the Patong Jet-ski Association will be assigned to ensure jet-ski operators obey the rules and have the correct paperwork.

The three-and-a-half kilometers of Patong Beach will be divided into 12 zones, with each official assigned to one zone.

Colored pontoons will mark the zones.

A single jet-ski rental contract from Patong Municipality, written in English, Chinese, Japanese and Thai, will be used by all operators, Col Grissak said.

Patong Beach Jet-Ski Association vice president Nucha Pethvimon said his organization was making sure Patong's 167 licensed jet-skis had their paperwork ready in advance of the insurance roll-out.

"About 120 of them are ready to be insured right away. The rest are having problems, such as the real owners' names not appearing on documents.

"The owners of those jet-skis will have to go to the Marine Department to get the details right," he said.

From November 16 onwards, any jet-ski not displaying an official sticker from the Ayudhya Insurance Company proving it has been insured will earn its owner a 10,000 baht fine.
— Atchaa Khamlo
Keep in contact with The Thaiger by following our
Facebook page
.
Never miss out on future posts by
following The Thaiger
.
Phuket tops travel destination list of cheapest hotel prices – Dertour 2020 Price Index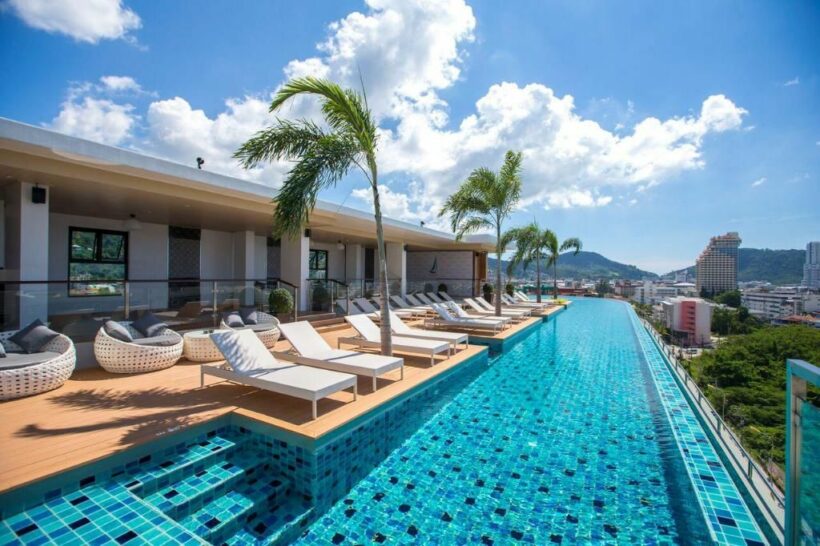 Phuket tops a list of the cheapest travel destinations with a 1 night stay at a hotel costing on average less than $30 USD, according to a study by the German travel company Dertour. Phuket is going through what some say is a "crisis", certainly a current tourist vacuum. The island province largely relies on income from foreign tourists, but with travel bans over the last 7 months, hotels and other businesses in the tourism industry have been at a loss.
For domestic tourists, Phuket currently offers a serene, peaceful tropical stay where you'll have a lot of the island to yourself. There are plenty of daily flights to the island, but all from domestic locations at this stage – the international terminal remains closed.
Along with being listed as hotels with the lowest price, Phuket also made the top 5 cities with the largest price drop from 2019 to 2020, according to Dertour's 2020 Accommodation Price Index. The company studied hotel prices for 75 popular tourist destinations around the world. Bangkok was just above Phuket at the fourth city with the largest hotel price drop. Bangkok hotel prices dropped by 34.6% while Phuket's hotel prices dropped by 33.8%.
Prices will continue to be low, CEO DER Touristik Central Europe Ingo Burmester says…
"Travel itself will be cheap in 2021… Although it has been a challenging period, we have seen a great deal of interest in domestic travel. We also predict a major catch-up effect for Mediterranean destinations, European trips and long-haul routes in 2021 as soon as travel restrictions are lifted."
Phuket ranks as the destination with the cheapest accommodation prices at an average price of $29 USD, according to the list. Average prices for 3-star hotels are $26 USD and an average of $54 USD for 5-star hotels.
Bangkok followed, ranking fifth on the list of cities with the lowest hotel price at an average of $43 USD per night. 3-star hotels in Bangkok average at $30 per night and 5-star hotels average at $93 USD.
Top 5 destinations with the lowest price in accommodation
Phuket: Average of $29 USD per night
Delhi: Average of $34 USD per night
Kuala Lumpur: Average of $36 USD per night
Bali: Average of $36 USD per night
Bangkok: Average of $43 USD per night
Top 5 destinations with the largest price drop in accommodation
Amsterdam: Dropped by 51.6%
San Francisco: Dropped by 39.2%
Vancouver: Dropped by 37.1%
Bangkok: Dropped by 34.6%
Phuket: Dropped by 33.8%
To read Dertour's full report, click HERE.
Catch up with the latest daily "Thailand News Today" here on The Thaiger.
Keep in contact with The Thaiger by following our
Facebook page
.
Never miss out on future posts by
following The Thaiger
.
Man arrested after allegedly slicing a man's face with sickle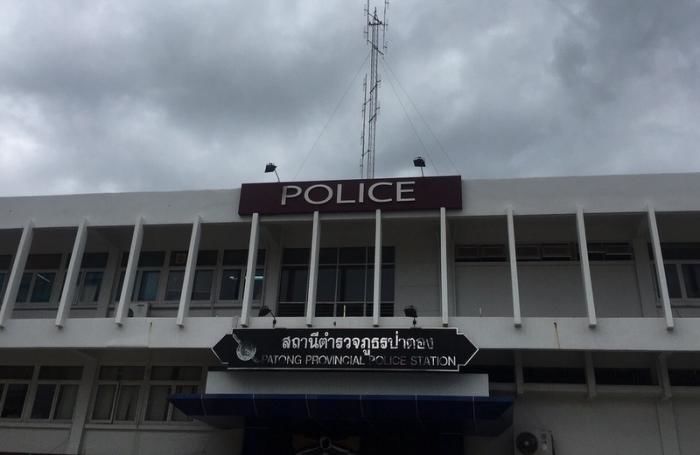 A man was arrested on charges of grievous bodily harm after he allegedly sliced his friend's face with a sickle, causing a gash about 25 centimetres long.
3 men, identified as Saeng, Ta and Rop, had been drinking at a shanty in Phuket's Rassada district where Rop lived. An argument broke out over money. A bank transfer was apparently made, but no one received any money, according to Rop as he related the story to police.
The men didn't come to an agreement and ended up going to bed. Ta stayed awake and slapped Saeng twice while he was falling asleep, Rop says. Saeng then got up, grabbed the sickle and swung the hooked blade across Ta's cheek, Rop says.
Reports don't go into detail about Ta's condition, but photos of the scene by the Phuket News show a significant amount of blood on the concrete floor.
SOURCE: Phuket News
Catch up with the latest daily "Thailand News Today" here on The Thaiger.
Keep in contact with The Thaiger by following our
Facebook page
.
Never miss out on future posts by
following The Thaiger
.
PM to visit Phuket on Monday as island's economy lies in tatters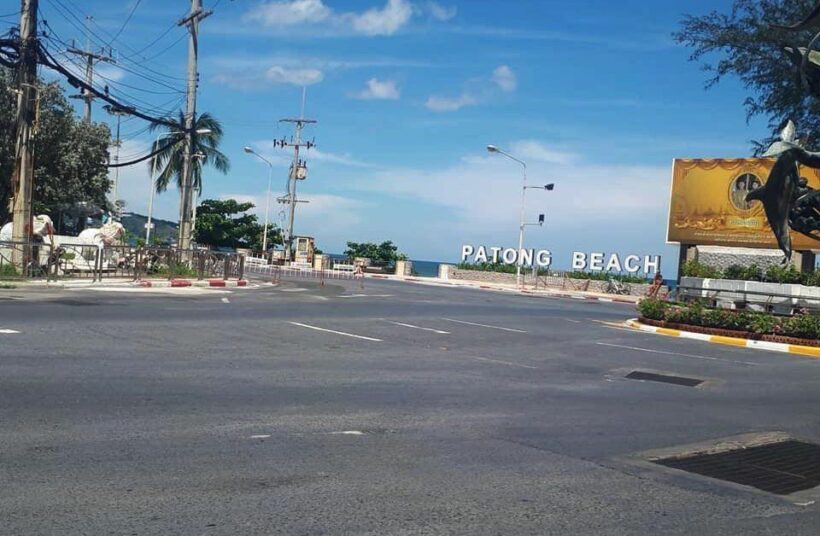 PM Prayut Chan-o-cha is to arrive in Phuket on Monday, where he will meet with local business leaders and discuss proposals for reviving the southern island's devastated tourism sector. It's understood a representative of Phuket's Old Town area is to put forward an idea for promoting the historic centre as a tourist destination.
Since borders were closed in late March, in an effort to protect the country from the Covid-19 pandemic, Phuket's tourist revenue has plummeted to practically zero, with countless businesses shuttered and thousands of jobs lost.
In addition to hearing suggestions from local operators on how to revive tourism on the island, the PM will also listen to requests for additional help from central government. The much-discussed Phuket Model never materialised, despite being seen at one point as the pilot project on which a wider re-opening of borders would be based.
While hotel occupancy in the province has increased from a pitiful 13.4% in June, September's rates were still woefully low, at just 30%. This is despite a stimulus package introduced by the government in an effort to boost domestic tourism.
SOURCE: Nation Thailand
Keep in contact with The Thaiger by following our
Facebook page
.
Never miss out on future posts by
following The Thaiger
.