Islanders look to trek the Elephants after Stallions rein in Phuket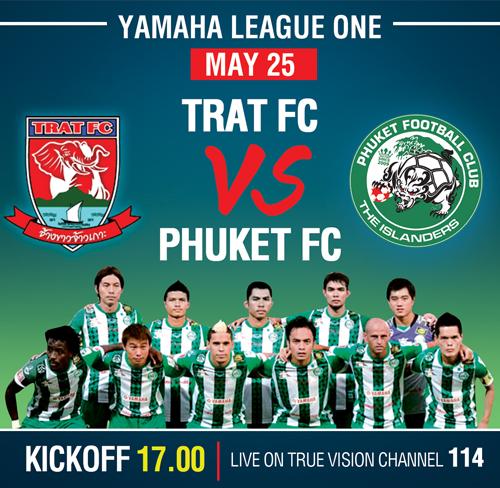 PHUKET: Hungry for a win, Phuket FC are on the road this weekend, having bused it up to the area near the Cambodian border to take on Yamaha League One (YL1) newcomers, Trat FC tonight.
The match, to be played at Trat city's Central Sports Stadium with a 6pm kickoff, will be broadcast live on Siam Sports cable channel 114, and is both sides' 12th match of a 34-fixture season.
Fans in Phuket can catch all the live action on the big screen at Nok Sanarm Sports Cafe, across the street from Surakul Stadium on Wichit Songkhram Road.
Additionally, loyal Phuket FC expat supporters club the "Mushy Peas" will meet at Washy's at the Tropical Sands Guest House in Rawai, where the match will also be aired on the big screen.
Going into the match, Phuket are in 5th place of the 18-team YL1 league, while their opponents, Trat, nicknamed the "White Elephants" are in 10th.
Trat FC were promoted from the second division, having finished runners up (behind champions Ayutthaya FC) in the AIS Division 2 promotion playoffs last year.
Of the last five matches, both sides have claimed six points – winning one, drawing three and losing one. The team that both sides lost to was top-of-the-table Air Force United.
Unfortunately, Phuket's leading scorer, Brazilian striker, Luiz Eduardo Purcino (6 goals), better known as Dudu, will be benched due to a leg injury he picked up in last week's match against Rayong (see below), with the club's Facebook announcing that Dudu will not play.
Fans need not panic, as Brazilian midfielder Judinho, Japanese defender, Yusuke Sato veteren Ivorian defender, Nenebi, as well as speedy Thai striker Chana Sonwiset, were all confirmed to be on the bus to Trat.
Other YL1 matches scheduled this evening, May 25:
14 Royal Navy vs 3 Bangkok @ GorMor 5 Stadium in Satahib
1 AirForce vs 15 Rayong Utd @ Thuptemee Stadium, Rangsit
8 BBCU vs 9 Nakhon Pathom Utd @ Army Stadium, Bkk
13 Si Racha vs 16 TTM FC @ Suzuki Stadium
and for Sunday, May 26:
12 Khon Kaen vs 6 Korat @ OrBorJor Stad Khon Kaen
4 Sing Tha Reua vs 2 PTT Rayong @ Pat Stadium in Klong Toei
18 Rayong FC vs 7 Krabi @ Rayong Sports Stadium
11 Gulf Saraburi vs 17 Ayutthaya at OrBorJor Saraburi Stadium
Phuket FC reined in by Rayong Stallions
The island's soccer team, Phuket FC, let a two-nil lead at home slip away in a 2-2 draw against Yamaha League One (YL1) rivals, Rayong FC, last Saturday evening in Phuket Town.
The match, both sides 11th of the 34-fixture YL1 2013 season, was played in front of a crowd of 2,753 (not counting several hundred children and youth admitted for free), at Phuket's Surakul Stadium on Wichit Songkhram Road.
The crowd, dominated by green, red and black-shirted home fans, also included a contingent numbering in the dozens of yellow and blue clad Rayong fans, who had bused it down from the Eastern Seaboard province the previous evening.
Rayong is a 13-15 hour bus ride, about 1,000 kilometers from Phuket.
Going into the match joint 5th (with BBCU) in the 18-team league, Phuket – players, fans and staff alike – were expecting nothing short of victory against newly promoted, (and bottom of the table) Rayong, nicknamed the Wild Horses.
Following the less-than-spectacular opening exchanges, the Islanders took the lead in the 30th minute, through a spot kick by midfielder Geoffrey Doumeng.
On the other side of the pitch, Korean striker Kunsik Choi proved somewhat of a nuisance for Phuket's defenders, but Ivorian stalwart Nenebi Slyvester, along with dependable Japanese defender Yusuke Sato were able to eliminate any real threat for hometown-hero keeper, Kamphon.
Phuket's leading scorer, Brazilian striker Luiz "Dudu" Eduardo failed to threaten Rayong's backs or their keeper, Phuket native Leuchar Jantawong, who was once a reserve Phuket keeper.
The home fans' mood was high as Phuket went in to the half time with a lead of 1-0.
In the second half, Dudu was subbed for what appeared to be a minor injury, and replaced by Georgian forward, Giorgi.
The substitution proved to be a smart move, with Giorgi doubling his side's lead just seven minutes into the second half; an unmarked Giorgi converted a beautiful cross from Doumeng, sending the fans into a frenzy; victory seemed
almost certain at that point…almost.
The Wild Horses went on the attack and the home side had no choice but to adapt to a defensive formation to ward off a determined Rayong side, who dominated possession.
The visitor's attacking front finally paid off in the 73rd minute with a goal by Cameroonian defender Henri Walther, who converted a well-placed corner kick to score from his position in the center of the area.
Phuket were unable to retake control of the match, but held on to their lead up to the end of 90-minute regulation.
To the dismay of home fans, the equalizer came three minutes into the five minutes allocated for injury time, through Rayong's Nattawut Khamrin.
Positioning himself at the end of a perfectly-weighted cross into the area, Nattawut diligently penetrated a tired Phuket defensive line, prompting the visitors' bench to explode as though they had just won the World Cup.
Phuket dug deep trying to find a last minute winner, and an on-target shot by Doumeng, who was subsequently voted Man of the Match, looked promising, but it went straight into the gloves of Rayong's Phuket-born keeper, Leuchar.
The single point might as well have been three points as far as the away supporters were concerned, with fans lighting red celebratory flares in tribute to their second-half comeback.
Despite a mood of defeat overcoming the disappointed home fans, the draw and its point did ensure that Phuket remain in fifth place, now with 18 points, seven points behind league leaders Air Force United.
Other YL1 results from last weekend are as follows:
Air Force Utd 2 – 1 Saraburi
PTT Rayong 0 – 0 Khon Kaen
Bangkok FC 3 – 1 Si Racha
TTM 2 – 1 BBCU
Nakhon Pathom 5 – 2 Rayong Utd
Ayutthaya 2 – 2 Trat
Korat 5 – 0 Royal Navy
Krabi 1 – 0 Singtharua
Keep checking our online Phuket Sports pages or join our Facebook fan page for the latest local, national and international sporting news.
— Steven Layne


Read more headlines, reports & breaking news in Phuket. Or catch up on your Thailand news.
Immigration police interview Phuket's 'seasteader'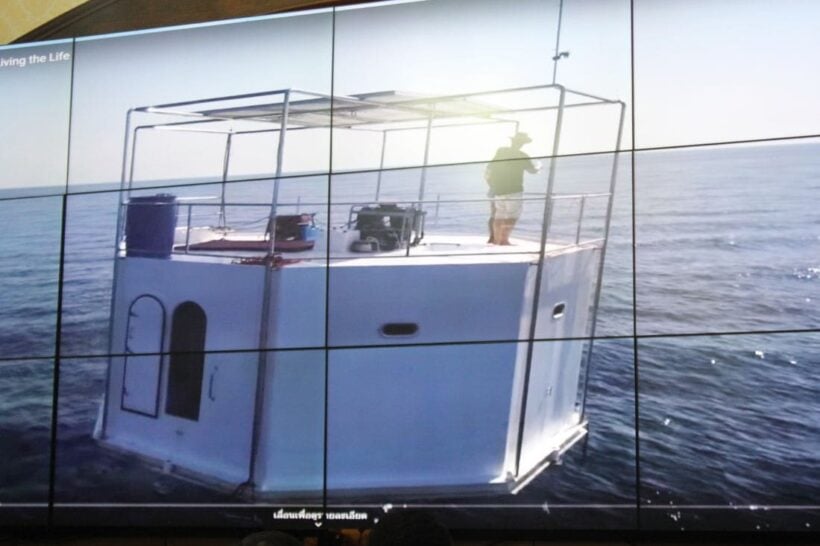 Immigration police says they've have questioned the American bitcoin investor who was involved in the setting up of the "seasteading" structure off the coast of Phuket and is facing criminal charges related to the waterborne homestead.
Chad Andrew Elwartowski and his Thai girlfriend, Suprenee Thepdet (aka Nadia Summergirl), launched their seastead project on February 2 off the coast of Phuket along with the company 'Ocean Builders'.
The structure is located to the south east of Koh Racha Yai, approximately 22 kilometres from the mainland. The Royal Thai Navy and Phuket Maritime personnel boarded the structure last Sunday insisting it violates the law and poses a navigational hazard.
Elwartowski posted on his Facebook on Tuesday that he and his partner were in hiding and feared for their lives, as they were being hunted down by the authorities. He later deleted the post.
On Wednesday, Immigration police revoked his visa and put him on a blacklist following the legal suit.
Meanwhile the The US Embassy in Bangkok says they're providing consular assistance to Mr Elwartowski who is  accused of violating Thailand's sovereignty by building the structure off the coast of Phuket.
"The Embassy is providing all appropriate assistance and understands Elwartowski has engaged an attorney," according to Robert Post, the US Embassy Public Affairs Officer.
Meanwhile, Phuket deputy governor Supoj Rotreuang Na Nongkhai was preparing information to present to the embassy if it required a further explanation.
While Elwartowski has claimed that his waterborne homestead (seastead) is outside Thailand's maritime boundaries, Thai authorities have insisted that its existence violated Article 119 of the Criminal Code because Thailand's territorial rights were disturbed.
"The harm was done because they had sent an invitation seeking people to set up [additional] structures and so far 14 people [have shown an] interest to join," he explained.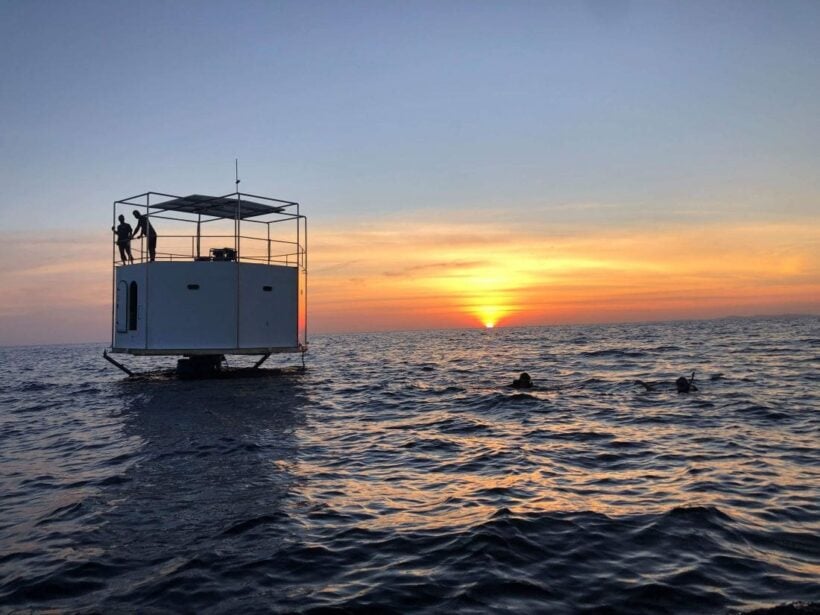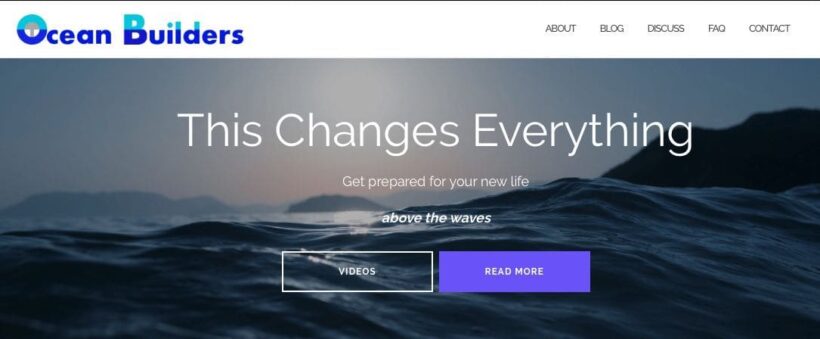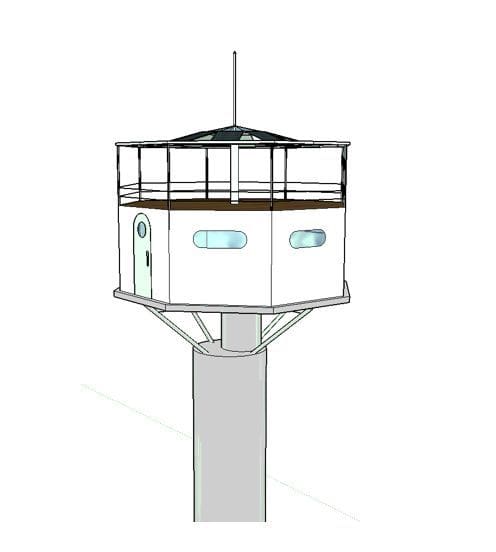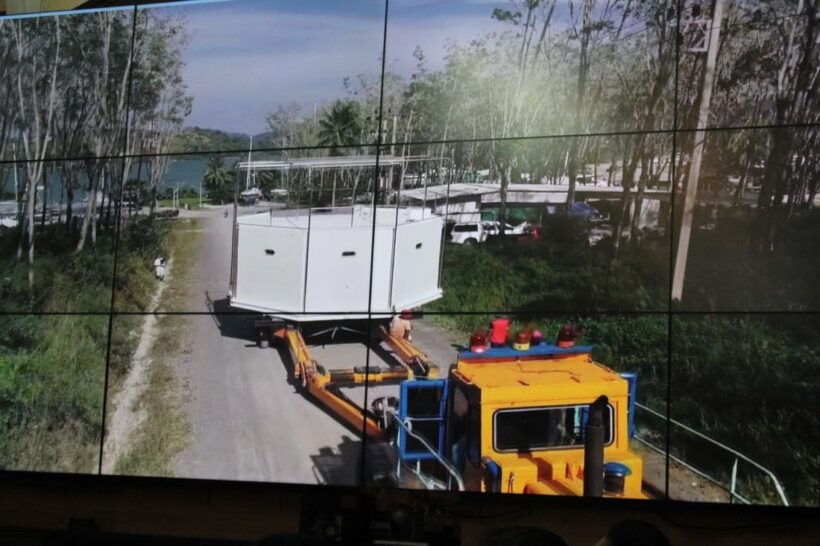 Prawit instructs the Royal Thai Navy to take action against the Seastead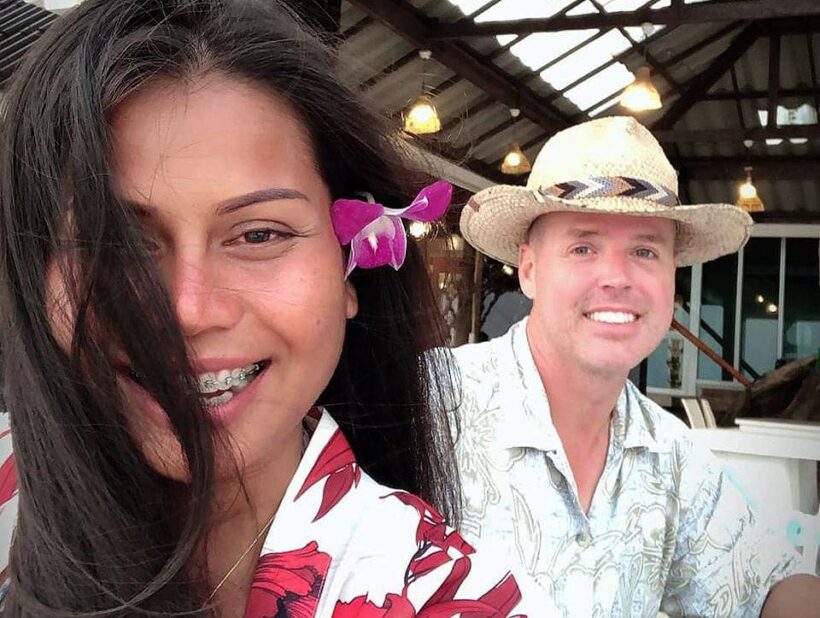 PHOTO: Chad Elwartowski and Nadia 'Summergirl' – in the centre of a Seastead storm
Deputy PM, and Defence Minister, Prawit Wongsuwan has ordered the Royal Thai Navy and security agencies to take action against the planned seasteading settlement on the Andaman Sea off Phuket "in accordance with international standards of practice and to ensure the protection of Thai natural resources."
American Chad Andrew Elwartowski and his Thai wife, Nadia 'Summergirl', had, along with 'Ocean Builders' erected a 'seastead' as part of his ambitious plan to build a sovereign seasteading settlement on the high seas about 22.2 km south- east from Phuket's Racha Island.
Thai authorities, however, say the structure will block a shipping lane and deemed the project a "threat to national security", prompting the Thai Immigration Bureau to revoke the non-immigrant visa of the Detroit resident and add his name to a blacklist as police search for the couple.
Defence Ministry spokesman Lt-Gen Kongcheep Tantravanich says that General Prawit, in his capacity as Defence Minister, will consult the law to determine whether the sovereign seasteading community, planned by the Ocean Builders Company, constitutes a violation of Thai law regarding natural resources protection because the project is located in Thailand's exclusive economic zone.
Thai PBS has incorrectly named the man's nationality as French. Mr Elwartowski is American.
More information about the Seastead project and 'Ocean Builders' HERE.

Give your stretch marks a makeover – the tattoo solution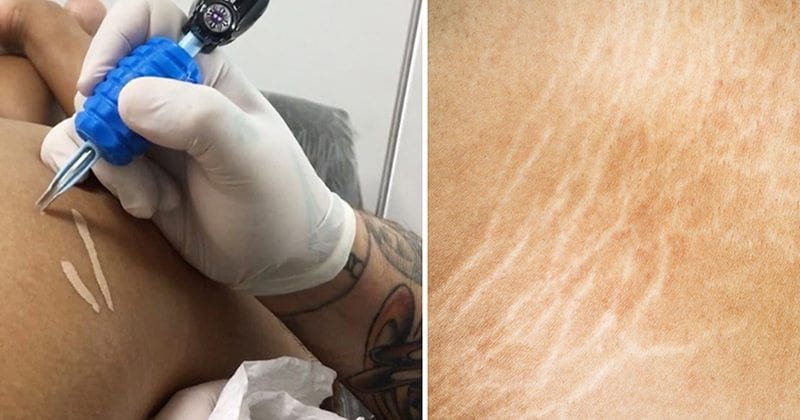 Stretch marks, we've all seen them and many of us have a few. Both men and women can be affected. But Inked In Asia has a possible solution.
Stretch marks are a natural indication that your body is growing and changing. It can be said that it's your body's way of 'celebrating' your growth – many would disagree.
They are part of many people's lives so why not turn them into works of art with a stretch mark tattoo. Stretch marks are nothing to be ashamed of so let's give them a tattoo make-over.
When elastin fibers and collagen tear during weight gain, pregnancy or even puberty, the skin's color and texture is damaged forever. Stretch marks can fade from when they first appear, but they might leave behind mildly indented streaks that won't return to the original smooth skin.
Some treatments and creams can help by improving the colour of the stretch marks or promoting collagen growth, but there is no true way to get rid of these unsightly blemishes. Trying to get damaged skin to fill out and return to its original colour is very difficult, even for the best dermatologist.
A new trend is the covering up stretch marks with tattoos. Now a normal 'cover up tattoo' consists of going over an existing tattoo with new ink, adding or completely changing the original tattoo.
But there's another solution to those that want a more subtle approach which can be used to disguise some stretch marks.
The technique of matching the skins natural tone by mixing tattoo ink, is more of an art than a scientific process. People's skin has a dynamic range of colours from reds, yellows, browns and greys and getting the exact tone needs expert evaluation and technique. The tattooing then begins, hiding and disguising stretch marks and giving confidence back to clients.
Click HERE to contact Inked In Asia's Tattoo Studio to arrange a FREE consultation appointment and discuss your stretch mark tattoo make-over.