Phuket Food: Discover the delights of durian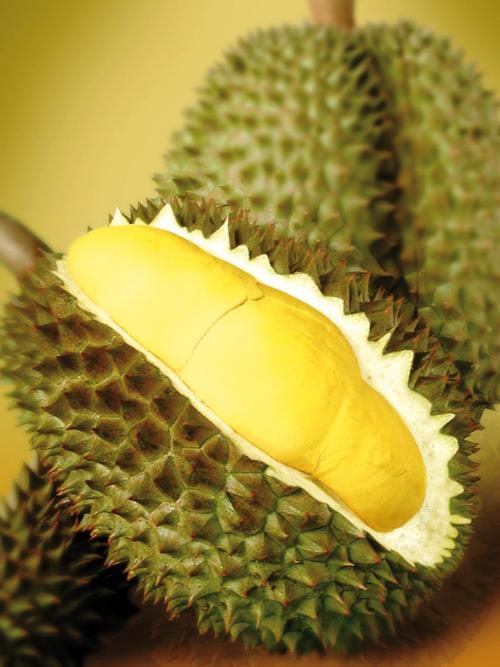 PHUKET: The ineffable flavor of the durian has been a source of intense debate among locals and visitors to Southeast Asia for centuries. There have been countless attempts at describing the fruit's pungent smell and unique taste; it has been likened to roast almonds, rotten onions, old gym socks and even turpentine.
While everyone has a different way of describing it – all seem to agree that there is nothing else quite like a durian. Its fans call it the 'King of Fruits'; its detractors say it's revolting and akin to "eating sweet strawberry blancmange in a lavatory". Love it or hate it, tasting this exotic wonder-fruit is an essential experience for anyone who comes to Thailand.
Phuket's second annual Durian Festival, being held at Thanyapura's DiVine Restaurant, is a celebration of the beloved fruit and a tribute to its many culinary qualities. The festival is the brainchild of DiVine Restaurant Food and Beverage Manager Sereymony Or, who first struck upon the idea of showcasing durian dishes to guests while he was working at a hotel in Cambodia.
"When we did it there, we only had durian in a few dishes, but now we are using durian in almost all our dishes. The chef is very creative," he said.
"When I came to Phuket, I saw that no other restaurants where using durian, so I saw the opportunity to show people the quality of Thai durian."
Mr Sereymony said that many chefs are intimidated by the fruit's reputation and fearful that guests will avoid dishes that incorporate it.
"We want to try to make everybody understand its not that bad to eat durian. It's not a difficult food to eat."
"Traditionally, people believe that durian can only be used for dessert, but we wanted to show that it can be used in many different ways," he said.
DiVine Restaurant Director of Kitchen Operations, Sathaporn Boodmeechai, is a durian-lover and wants to banish any negative perceptions that surround its consumption – his inventive and extensive festival menu aims to do just that.
When Mr Seremony suggested the idea of the Durian festival, Chef Sathaporn immediately took up the challenge and began experimenting with new ways to integrate durian into a range of dishes.
In order to minimize the strong smell of the fruit, Chef Sathaporn came up with the novel idea of using it unripened. In its unripe state, it has a much milder taste and can be used in a similar way to traditional ingredients like potato, green papaya and eggplant.
To incorporate the infamous taste of ripe durian, without overpowering the other ingredients, small amounts of the ripe flesh has been blended into drinks, sauces and vinaigrettes to create subtle new flavors.
"We tried many types of durian, some were very sweet and some less sweet. For many of our dishes we used the less sweet variety and selected ones that were not too young, but also not too ripe," said Chef Sathaporn.
The Phuket Gazette visited DaVine Restaurant recently to sample some of chef Sathaporn's creations, which fuse high-quality ingredients with in a multitude of forms of the fruit, to put a twist on some of the restaurant's classic dishes.
Upon arrival, we were served an infused soda, a refreshing introduction to the complex taste of the ripe fruit, before we moving on the much more subtly flavored dishes. Next came a plethora of delicious starters, including chili shrimp tacos with durian salsa, Thai style salad with durian, and crisp, spicy durian samosas with papaya chutney.
The highlight of the starters is the tuna tartar with durian, roasted capsicum and coriander salsa. The melt-in-the-mouth cubes of raw tuna are perfectly married with the coriander and contrasted by the crunchy-fresh texture of finely cut fruit and vegetable salsa.
Soon, a series of impeccably presented Thai and western style dishes arrived, running the full gamut of meat varieties including duck, beef, chicken, crab, scallops and fish. The pan-fried sardine stuffed with durian and pineapple with sweet chili sauce is a delight, the oily sardine flesh is perfectly cut by the sweetness of the stuffing, creating a perfect balance.
The roasted duck curry with young durian, longan, apple and basil highlighted our champion ingredient's potato-like properties, but when you bite in to a piece, you can still detect a hint of the creamy texture that ripe flesh is famous for.
The durian gnocchi with scallops and durian scented mushroom cream was the perfect combination of ingredients, covered in a rich and creamy sauce to make a hearty dish.
After grazing on the many plates on offer, all so inviting that it is impossible not to try each one, it's time for dessert. This is where the taste of the ripe fruit shines, in a selection of crepes, tarts, cakes, puddings, and even macaroons, all featuring the sweet, complex, rich and more-ish flavor of durian. The durian ice-cream is to die for; it has a hint of coconut, and perfectly compliments any of the delicious desserts.
Finally, we are invited outside, where fresh durians of many varieties are cut open and served to complete this ultimate durian experience.
Experience the unique taste of Asia's 'King of Fruits' at the Durian festival at DiVine restaurant, Thanyapura, May 25-31 from 6:30 to 10pm. Food is served buffet style and the cost is 780 ++ baht per person.
Keep checking our Phuket Lifestyle pages for the latest happenings from across the island. Join our Facebook fan page or follow us at @PhuketGazette.
— Mark Knowles

Join the conversation and have your say on Thailand news published on The Thaiger.
Thaiger Talk is our new Thaiger Community where you can join the discussion on everything happening in Thailand right now.
Please note that articles are not posted to the forum instantly and can take up to 20 min before being visible. Click for more information and the Thaiger Talk Guidelines.