Phuket
Haiti fundraiser in Phuket tonight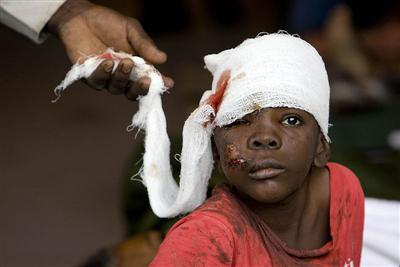 PATONG, PHUKET: The Phuket Chapter of the Thai Red Cross Society is holding a large fundraiser for victims of the Haitian earthquake in Patong tonight.
From 6pm until midnight, performers from Phuket FantaSea and Simon Cabaret will take to a stage set up by the beach at Loma Park. There will also be a fashion show staged by the local chapter of the Business and Professional Woman's Association of Thailand and other entertainment.
A booth selling T-shirts will be set up to raise money for the relief effort in Haiti, where at least 170,000 lives were lost in the January 12 earthquake.
In Phuket Town today, students from local schools could be seen collecting donations in front of local businesses.
The proceeds will be turned over tonight to the Phuket Chapter of the Thai Red Cross, which is chaired by Thaisika Praisa-ngop, wife of provincial governor Wichai Phraisa-ngop.
Gov Wichai will announce the total amount raised at the end of the night.
Among donations already handed over to the Red Cross were 60,000 baht from Satree Phuket School and 100,000 baht from the Kusoldharrm Foundation, which runs a network of volunteer rescue workers on the island.
The event will be broadcast live on NBT Channel 11 and Radio Thailand from 9pm to midnight.
— Kitima Pornmongkhonwat