Phuket
French jet-skier hits German swimmer in Phuket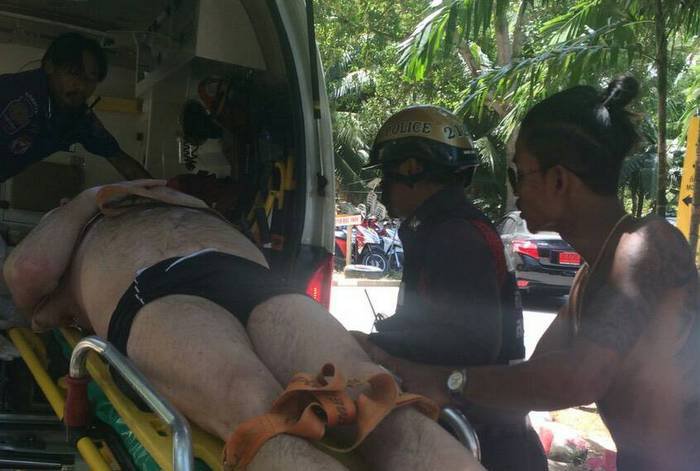 PHUKET: A Frenchman riding a jet-ski struck a German swimmer in Phuket Saturday afternoon, rendering him unconscious.
Chadd Attard, 20, hit Erich Heim, 55, about 200 meters from the shore of Paradise Beach, south of Patong Beach.
A lifeguard immediately responded and was able to bring Mr Heim to shore, said Lt Col Anukul Nuket of the Patong Police.
Mr Heim received first aid at the scene before he was taken to Bangkok Hospital Phuket for further treatment.
"It is actually illegal for the jet-skis to be driven from Patong Beach to Paradise Beach. They are not allowed to be in that area – especially because there are no buoy lines set up to divide jet-skiers from swimmers," said Col Anukul.
"The jet-ski rental operator, Suriya Chukaew, told the group of French tourists not to take the jet-skis outside of the Patong Beach area. Perhaps they misunderstood. It's the ocean, not the road, so leaving the area probably happens sometimes."
Mr Attard was charged with reckless driving causing injury. Police are visiting Mr Heim in hospital today to establish whether or not he wants to press further charges, said Col Anukul.
"Mr Attard will not be allowed to leave Thailand until the case is settled. We are holding his passport," Col Anukul confirmed to the Phuket Gazette today.
"The jet-ski involved in the accident is licensed and legal, so the owner is not involved in the investigation."
Last month, a Chinese tourist was killed in a jet-ski accident, after he drove the machine into an anchored yacht off Phi Phi Don island (story here).
Prior to the Chinese national's death, opposition to jet-skis was mounting in Phuket. Several close calls involving jet-skiers nearly hitting swimmers on Surin Beach – a beach where jet-skis are banned completely – led Phuket Marine Office Chief Phuripat Theerakulpisut to threaten banning them on Bang Tao Beach, from where they were being ridden down to Surin Beach.
"I have ordered the Bang Tao Jet-Ski Club not to allow jet-skis to operate on Surin Beach, as it is a no-jet-ski zone. I have also reiterated to other jet-ski operators on the island what I've said with regard to breaking the rules," Mr Phuripat said in November (story here).
"If jet-skis are seen on Surin Beach again, I will take the issue to Governor Nisit and ask him to revoke the licenses of all jet-ski operators in Phuket."
Despite several other jet-ski mishaps and infractions, no such bans have ever been issued by Mr Phuripat, despite a strong push from Governor Nisit and the hospitality industry of Phuket to rein in jet-ski hooligans (story here).
— Thawit Bilabdullar