Fishball seller in hostage drama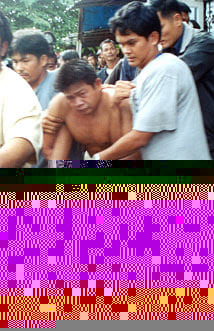 PHUKET TOWN: Police this morning rushed a knife-wielding man and ended a four-hour hostage siege in Soi Hutchana Nivet, near the abandoned Phya Thai hospital. The hostage drama began at about 6:30 a.m. when, it is alleged, Tiem "Tia" Srisuktham, 34, from Srisaket, first bludgeoned his nephew, "Ta", 23, also from Srisaket, with a heavy iron bar, then killed him by slashing his throat, in the home they shared at 28/31 Soi Hutchana Nivet. Police told the Gazette that after the killing, Tia went to a house across the road, knocked on the door and asked for a drink of water. He soon became involved in an argument with one of the occupants, Somchat Kamchu, 28, who received minor cuts to his back when Tia became violent. Hearing the altercation, Somchat's wife Wantana came downstairs holding the couple's two-year-old son. Tia grabbed her and the child, holding them at knifepoint. Somchat managed to persuade Tia to release the child. Tia then dragged Wantana to an upstairs bedroom. Neighbors called the police and the house was rapidly surrounded by about 30 officers led by the Phuket Provincial Police Commander, Pol Maj Gen Kongphol Suwannaraks, and Phuket Town Police Superintendent Pol Col Paween Pongsirin. Tia warned that he would kill Wantana if any of the police came too close. As the crowd of spectators, fueled by coverage of the siege on local radio, swelled to about 200, Governor Pongpayome Vasaputi also arrived, at about 8 am. After talking with Tia for about an hour, Gov Pongpayome told reporters that Tia had told him that he wanted to die. Tia added that if the police did not kill him, he would kill Wantana. The Governor said that Tia was high on ya bah, and admitted to having taken a great deal of the drug over the past couple of weeks. He had been very agitated at the beginning of their conversation. But as time went on he calmed down somewhat, and it appeared as if the drug was wearing off. The chief negotiator in the hostage siege was Pariyat Saengthat, a psychologist who works for the Provincial Government and at Wachira Hospital. "I asked Tia what he wanted, and who he would like to talk to," she said later. She said that Tia was depressed, and seemed obsessed with his childhood; when he was young he had been small ("Tia" means "short") and was often bullied by other kids. Pariyat said that Tia blamed his nephew for his addiction to ya bah, and that this was one of the reasons he had killed him. He told her that he knew he had killed his nephew, adding that he felt he deserved to die for it. Eventually, as the ya bah wore off, Tia, becoming calmer and, looking tired, picked up a glass of water that had been brought for him. As he did so, he put down his 25-centimeter knife. Seeing this, six police officers hurled themselves into the room and swiftly overpowered him. As some of the crowd tried to attack Tia, he was rushed under tight police guard to an ambulance, in which he was taken to Phuket Town Police Station for interrogation. Wantana, escorted out of the house covered in a blanket, appeared to be unhurt, but was taken to Bangkok Phuket Hospital for checks.


Read more headlines, reports & breaking news in Phuket. Or catch up on your Thailand news.
Indian tourist rescued from a near-drowning at Patong Beach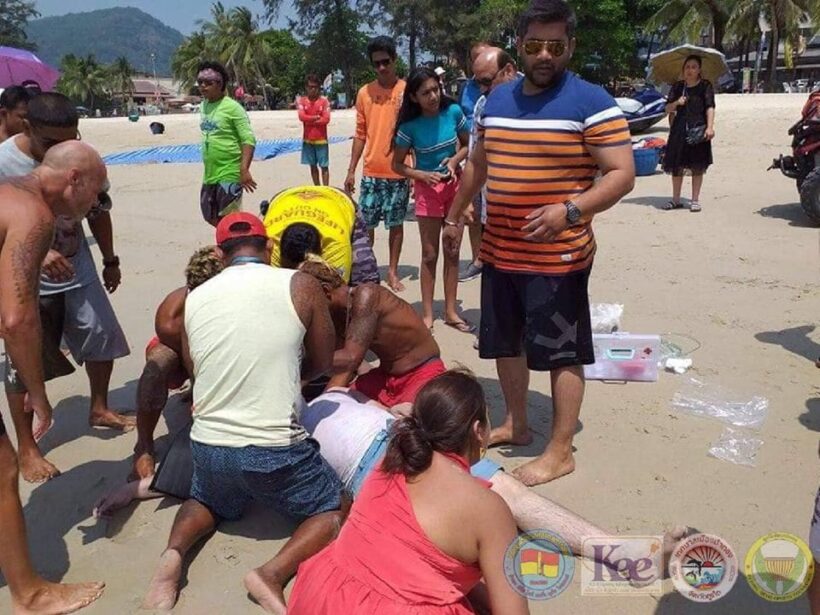 PHOTOS: Patong Surf Life Saving
An Indian tourist has been rescued from drowning after getting into difficulty while swimming at Patong beach yesterday.
Patong Surf Life Saving report that around 1.30pm at Patong Beach an Indian tourist was spotted in the water, choking and fighting to stay afloat.
Lifeguards dived in and brought him back to the beach. He was not breathing and his heart has stopped beating by the time they got him back to shore. Lifeguards urgently applied CPR.
Mr Jhamnani's heart started to beat again and he became conscious. He was taken to Vachira Phuket Hospital where he is now recovering.
Well done to the team at Patong Surf Lifesaving. I think you can expect a visit from a grateful Indian tourist in a few days.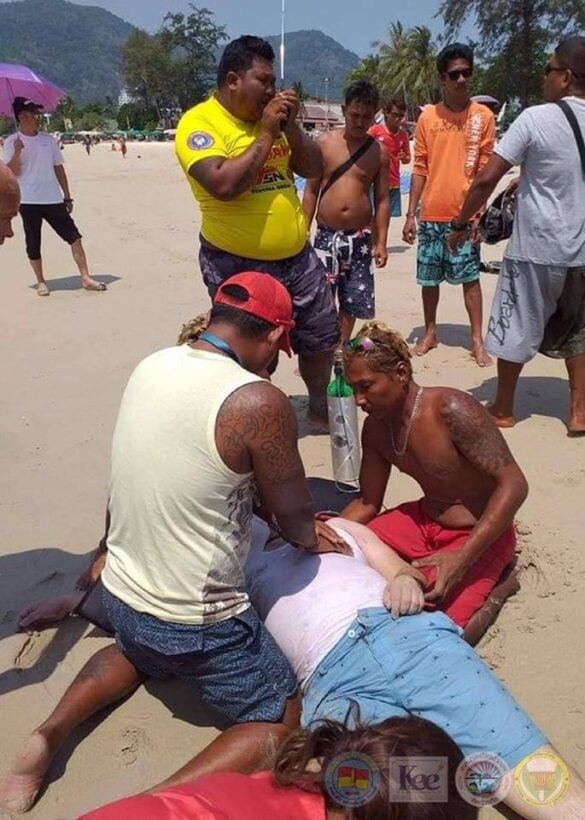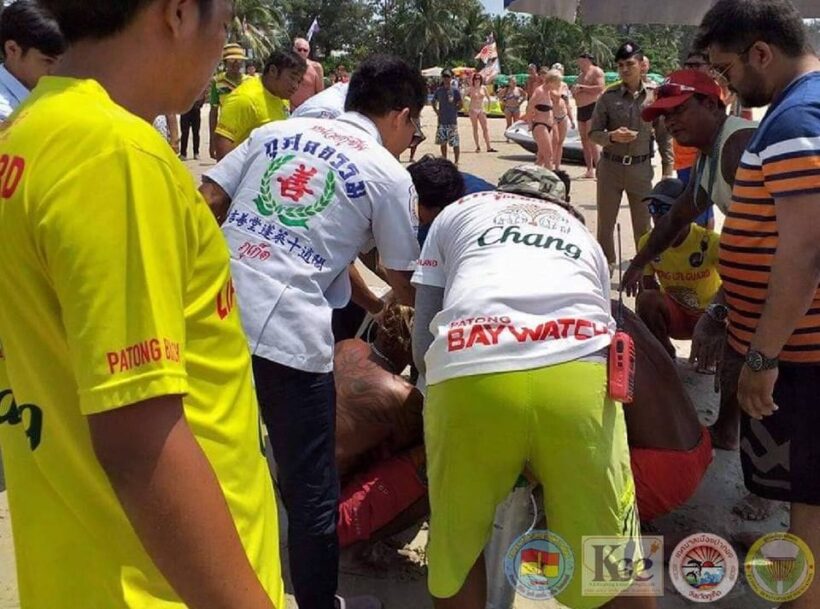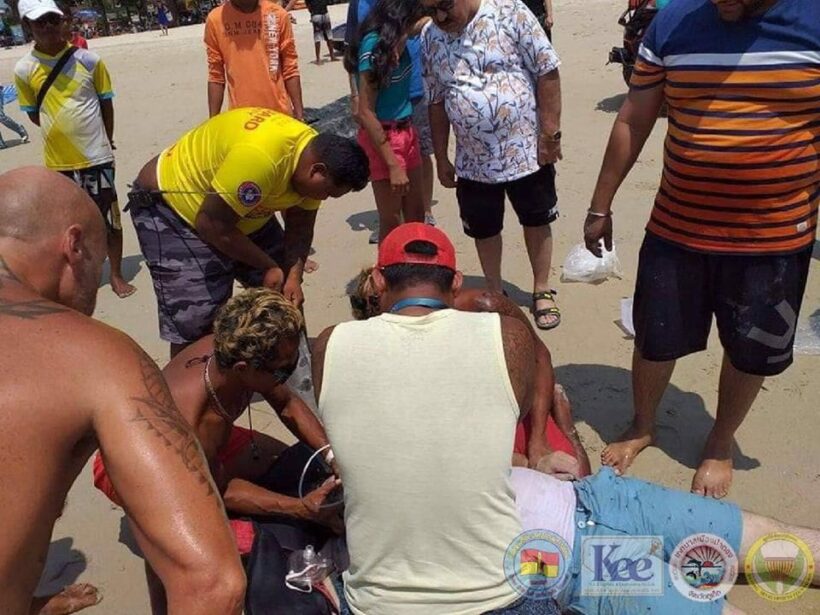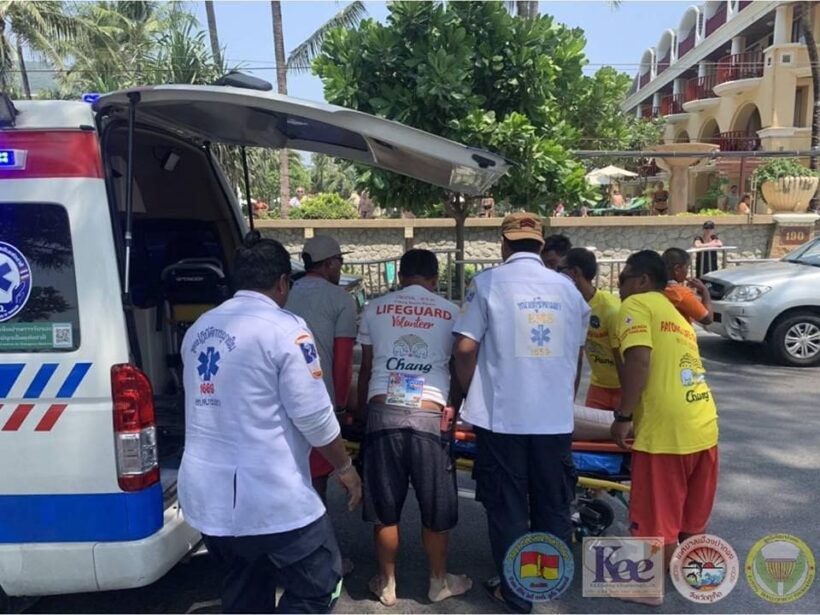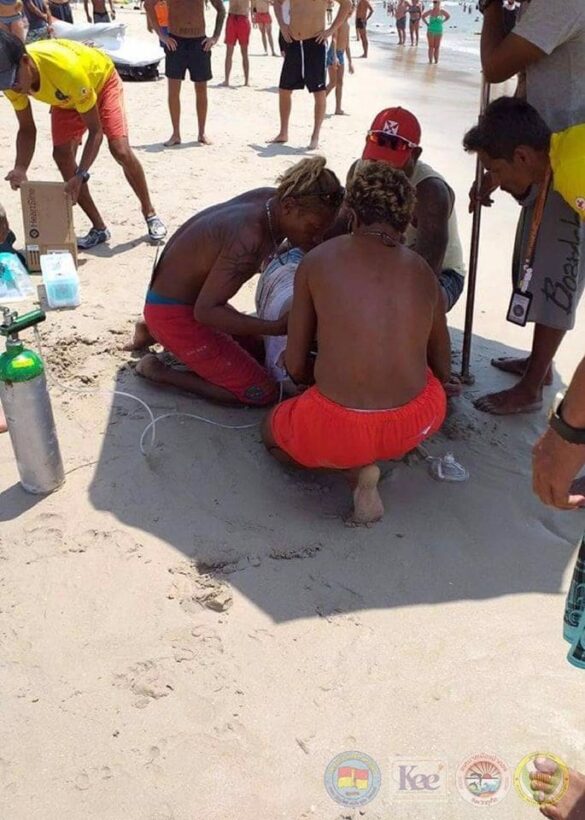 Polish man charged after threatening people with a gun in Patong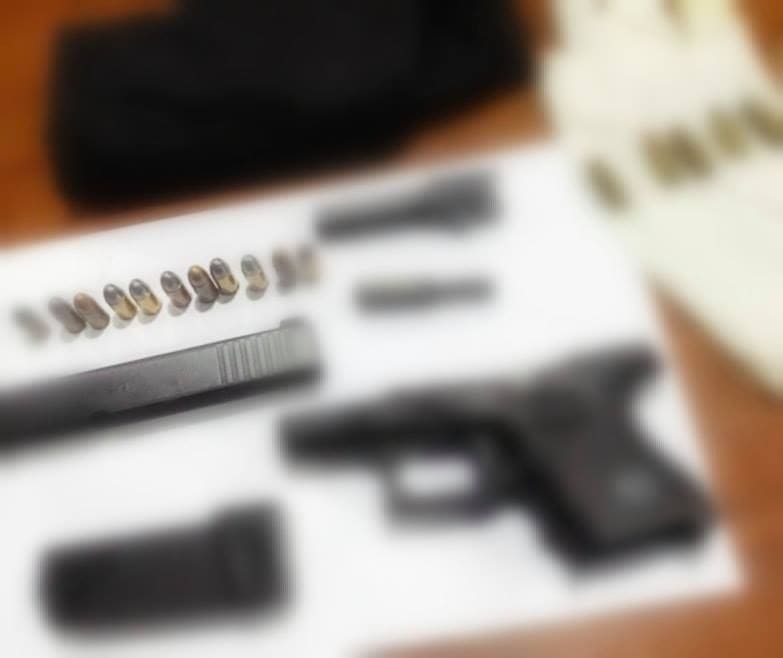 PHOTOS: Patong Police
A Polish man has been charged with carrying a gun in public in Patong, Phuket.
Patong Police report that at 6.20pm last night (Tuesday) they were notified that a man was using a gun to threaten others at a hotel on Pisit Koranee Road in Patong.
Police headed to the hotel to find the Polish man. He denied any knowledge about the gun. Then Police questioned his Thai wife. She took police to a room where she gave the gun to police.
The Polish man has now been charged with illegal possession of gun and carrying it in public without a permit.
Phuket kratom-cooker robs pharmacies – VIDEO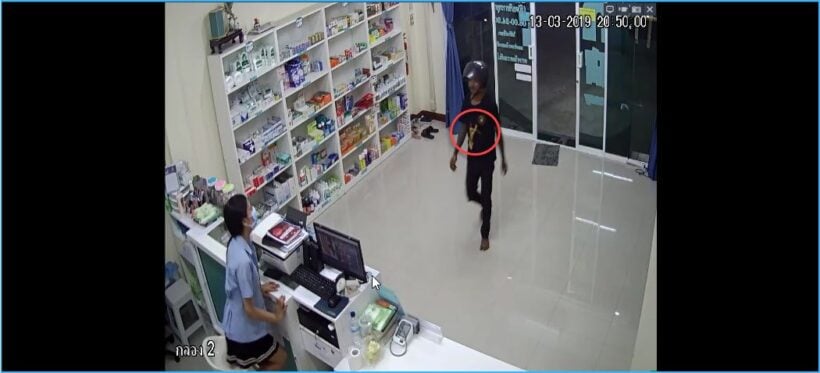 Phuket police yesterday have arrested a thief while he was cooking up a batch of kratom. He had earlier robbed pharmacies in Chalong, Phuket.
Chief Investigator of the Phuket Provincial Police Col Prawit Engchuan says, "Yesterday we have arrested 25 year old Rattaphon Pales at a house in Chalong. Police seized 0.45 litres of liquid kratom."
"On Monday night Chalong Police were notified that a man had robbed a pharmacy in Chalong (video below) with a knife. He stole 30,000 baht cash and sped away on that occasion."
"We have continued the investigation and arrested a suspect while he was cooking liquid kratom at his home."
"He had robbed the same pharmacy last week and another pharmacy in Vichit. In total he has stolen about 50,000 baht in cash."
"He was taken to Chalong Police Station where he was charged with illegal possession of Category 5 Drugs and theft."
PHUKETPhuket police have arrested a thief while he was cooking kratom after robbing pharmacies in Phuket.

Posted by The Thaiger on Tuesday, March 19, 2019