Phuket
Driver leaped from truck moments before explosion, flip-over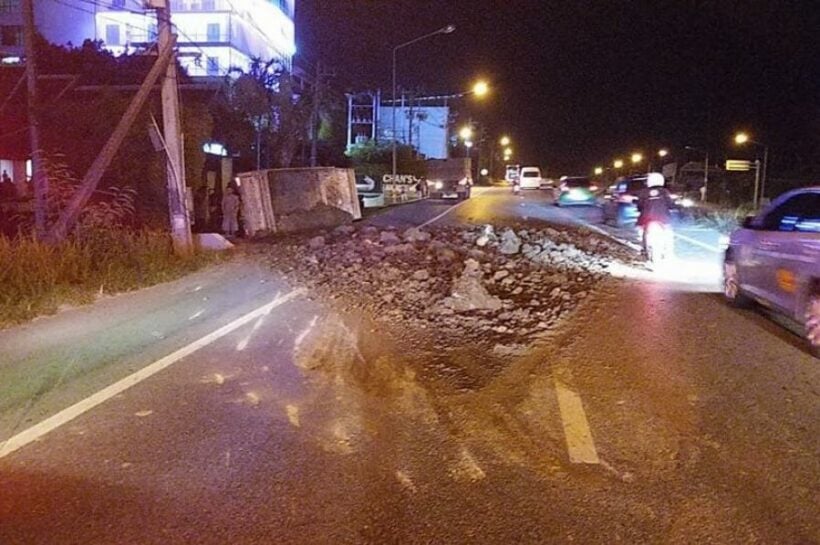 PHUKET: A truck driver narrowly escaped death or serious injury by scrambling out of his truck before a wheel explosion flipped it over on the bypass road yesterday evening, causing a major traffic jam.
"The incident occurred on the northbound side of the road near the Pornthip souvenir shop at about 7:30pm. We found the truck flipped over with a full load of soil spread all over the road. The soil was being transported for Phuket 89 Service Co," said Lt Col Sakchai Chunyong of the Phuket City police.
"Rescue workers were there helping to manage the traffic so as to avoid passing through the soil, and we immediately coordinated with Phuket 89 Service staff to move the soil and the truck off the road," he added.
The traffic was very heavy at the time and it took about two hours to clear everything out.
"The truck driver, who demands not to be named, told us that he picked up the soil from a 'pond' on the bypass rd for transport to Baan Tha Rua in Thalang. Nearing the point of the crash, he felt that one of the vehicle's wheels was 'not going well'. So, he suddenly leaped out of the truck and then heard a loud explosion and the truck flipped over," added Col Sakchai.
"We have not charged the driver as no public property has been damaged and no one was injured," he said.
— Winai Sarot