Destination marketing: Heritage experts shed light on Phuket's cultural identity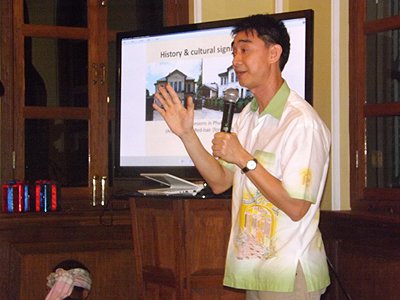 PHUKET: The American Chamber of Commerce teamed up with the Phuket PR Network last night to present a fascinating and most entertaining culture-preservation lesson at the Blue Elephant in the heart of Old Phuket Town.

The event was headlined by two heritage preservation experts, who gave captivating lectures about the importance of Phuket's cultural past, present and future.

Dr Yongtanit Pimonsathean, a distinguished architecture and planning lecturer from Thammasat University, shared his knowledge and insights into the origins and evolution of Phuket's Chinese-European architectural identity.

A specialist in urban environmental planning and development, Dr Yongtanit is recognized for his contributions and research in a vast number of cultural and heritage restoration projects throughout Thailand and Southeast Asia.

With concise chronological delivery, Dr Yongtanit highlighted significant influences on Phuket architecture throughout the last five centuries, from first exposure to European influence with the landing of Portuguese explorers in the 16th century at present-day Tha Reua in Thalang, leading in to the Sino-Siamese settlement establishments in Thalang, which later migrated inland to the less militarily vulnerable Kathu.

Dr Yongtanit shared his interpretation about how Malayan influences entered the mix, triggered by trans-oceanic intermarriage by statesmen, a defining catalyst for the identity of Phuket's "Peranakan" group.

Simplified locally as 'Ba Ba – Ya Ya', the mixed Chinese-Thai-Malay group thrived in Kathu, where a lot of the early and more traditional architectural styles can still be found today.

The center of that population ultimately migrated to present-day Phuket Town, which became the center of thriving commerce.

The professor highlighted how socio-economic evolution was reflected in the development of architectural styles, pointing out how as each generation got richer, the styles got more intricate.

Dr Yongtanit's speech was followed by a lively and most entertaining presentation by well known Associate Professor Pranee Sakulpipatana, who is also president of the Phuket Community Foundation and vice president of the Thai Peranakan Association.

Prof Pranee teased the crowd with her quick and easy shift to Southern Thai dialect, which she cited as one of the key defining points in the culture under discussion.

"The main and most obvious difference between the Phuket Peranakan and those in Malaysia and Singapore is language. Thai is our mother tongue, for which we owe a lot to General Pi [Field Marshall Piboon Songkran] who made it a strict directive in reaction to a threat of Communism during that time [mid 20th century]," she declared in perfect English.

Effectively using colorful visual aides, Ms Pranee invited a lineup of traditionally-dressed 'Ya Ya' ladies – spanning at least three generations, pointing out distinct variations in the bespoke Phuket dress designs of her models.

"In the old days, we didn't have banks to put all our money in, so we put it on our bodies and clothes as jewelery and decoration."

Wooing the crowd with effusive humor, Prof Pranee explained that the Ya Ya Phuket ladies on show were all missing one important key ornament.

"The real Phuket lady will also have a set of keys hanging from her hips…. This says [to her husband], 'So what if you love another woman; I got the keys'."

Ending her speech on a great note, Ms Pranee powerfully demonstrated the most important defining point of the Thai-Perankan identity.

"Ever since I was a young girl, this song has continued to remind me who I am," she explained before majestically filling the hall with a local variation of the Sunsern Phra Baramee tribute song to the Thai Monarch, King Bhumibol Adulyadej. She was given a standing ovation.
Keep in contact with The Thaiger by following our
Facebook page
.
Never miss out on future posts by
following The Thaiger
.
Woman arrested for abandoning newborn baby on a bench in Phuket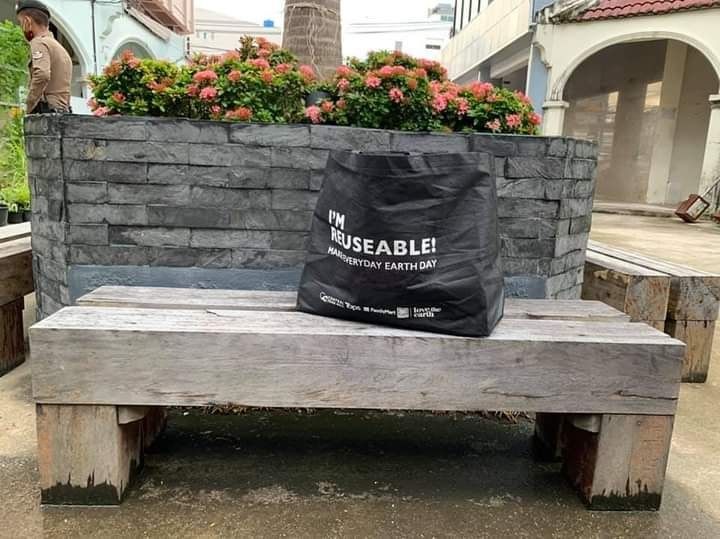 Police tracked down and arrested a Burmese woman who allegedly left her newborn baby on a bench in Phuket's Patong area last week. The mother faces charges of abandoning a baby.
The newborn was left in a reusable shopping bag on a bench behind a Krungthai Bank branch. A woman in the area heard the baby crying and found the newborn in the bag along with a bottle of milk, diapers and clothing. Police reviewed surveillance camera footage shows a woman, police later identified as Ei Ei Phyu, leaving the bag on the bench.
Police say the woman gave birth on September 9 at a local hospital in Surat Thani's Phun Phin district. Ei Ei allegedly took a van from Surat Thani to Phuket on September 22 and stayed with a friend in Patong. The early the next morning, she allegedly left her baby on the bench before boarding a bus back to Surat Thani.
Burmese workers in the Patong area told police Ei Ei used to work at a local Indian food restaurant before she moved to Surat Thani to work as a rubber tapper. Ei Ei allegedly told police she is not in the position to raise a child.
In earlier reports, police said the baby is healthy and does not appear to have any injuries.
SOURCE: Bangkok Post
Keep in contact with The Thaiger by following our
Facebook page
.
Never miss out on future posts by
following The Thaiger
.
Phuket police arrest 6 after finding large amounts of methamphetamine in raid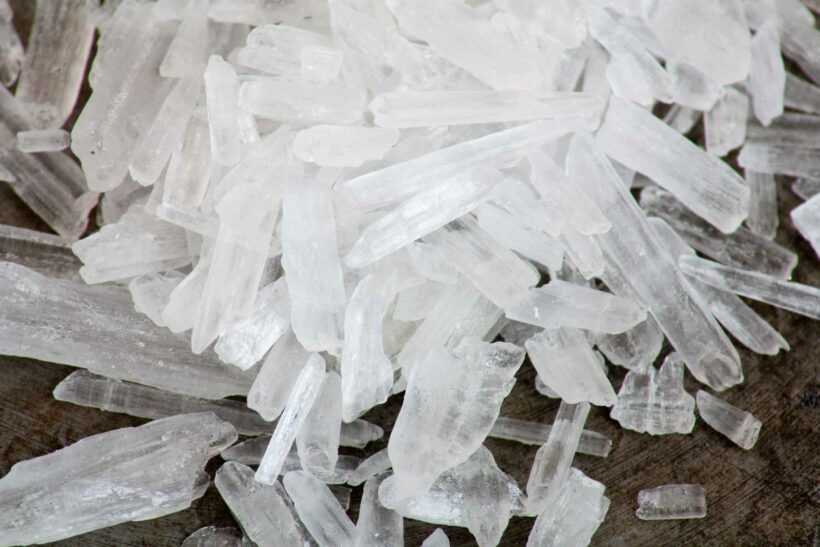 Phuket Provincial Police have arrested 6 people after finding large amounts of methamphetamine and other drugs during a raid. One suspect alone allegedly had 7.6 kilograms of crystal meth (ya ice) and over 12,500 methamphetamine pills (ya bah). 29 year old Surasak 'Bank' Wijit and 27 year old Panida 'Mei' Saeyang were arrested at an apartment car park in Soi Lookkaew, Moo 6, Rassada, in eastern Phuket, after they were found in possession of the drugs.
Police also found 2 mobile phones and a red Honda PCX, registered in Phuket, as evidence. Both suspects have been charged with posessing a Category 1 drug with the intent to sell.
Other suspects arrested at the same time include 36 year old from Chiang Rai, 42 year old Sarawut 'An' Srichanon, from Ranong and 31 year old Pornthep 'Iew' Thepchampa, who were charged with the same crimes in Chalong after police found more drugs in their possession. 33 year old Kamon 'Kung' Sae-ngow, was arrested as well after police found kratom juice and leaves at a house in Rassada. He was taken to Phuket City Police station and was charged with a Category 5 drug possession.
SOURCE:The Phuket News
Keep in contact with The Thaiger by following our
Facebook page
.
Never miss out on future posts by
following The Thaiger
.
Phuket Muay Thai fighter is the first Thai national to compete in UFC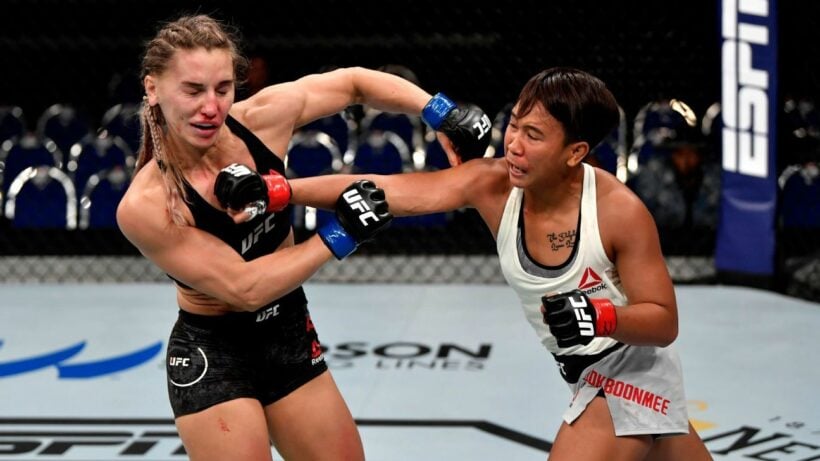 The upcoming Ultimate Fighting Championship Fight Night event in Abu Dhabi will feature Thailand's only national marking her third fight with the UFC, the world's largest mixed martial arts competition. 24 year old Loma Lookboonme, from Burirram in northeastern Thailand, will fight in the event on October 3, 2020.
Loma is a Muay Thai fighter who has adapted her MMA skills to fight in the UFC where she currently trains at the Tiger Muay Thai gym in Phuket. Loma qualified for the national team at the age of 19 and has fought in over 12 nations worldwide. She currently trains 6 days a week starting daily at 6:30am with a 3 kilometre run. In the UFC, she will be competing against China's Angela Lee who is the undisputed champion of the 52 kilogram fist weight category.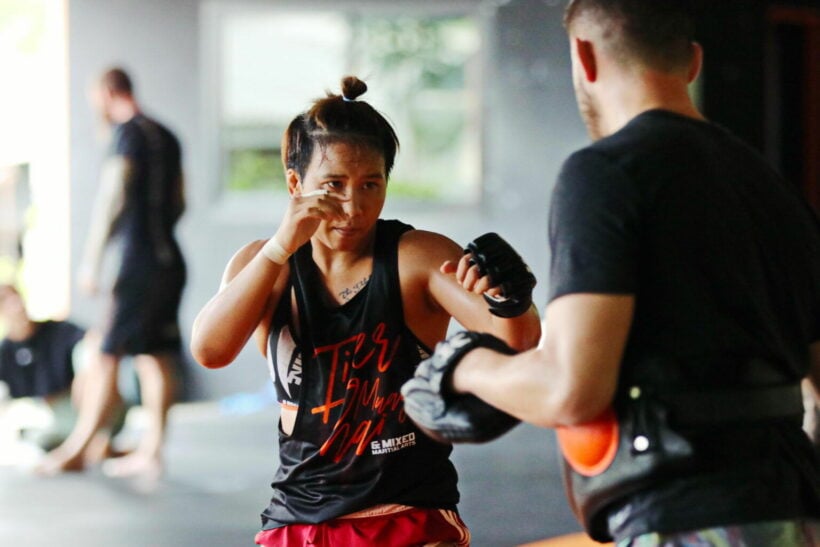 Loma's parents are former Muay Thai fighters and her 2 sisters currently compete as well. She reportedly started training at 8 years old after being inspired by her father, whom she describes as her "hero."
Like most Thais in such fighting sports, Muay Thai offers a way to rise out of poverty-and fighting for the UFC can be financially lucrative. But Loma says her only Thai sponsor is the gym where she trains, with the rest of her sponsors being from foreign brands. She says she is trying to get more Thai sponsors but feels that maybe she needs to win the UFC first before Thai brands notice her.
Loma lost her last fight and says her new opponent gives her nothing to lose. She says her goal is to get into the Top 10, but is not sure when it will happen. Loma says for now, it would be good to fight against someone in the Top 10 to help her prepare for her future.
FULL INTERVIEW: Thisrupt.co
Keep in contact with The Thaiger by following our
Facebook page
.
Never miss out on future posts by
following The Thaiger
.