Death plunge victim probably Korean: Phuket Police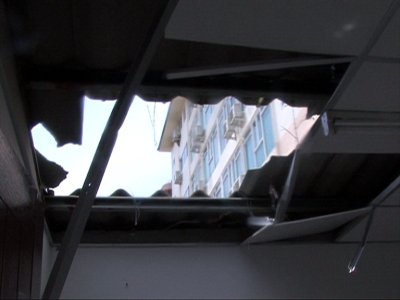 PHUKET: Police suspect that a woman who apparently fell to her death from a condo block in Wichit earlier today was Korean.
The body of the woman crashed through the corrugated zinc roof of a Burmese construction worker's camp at the base of the seven-story Pornsawan Condotel, located on Chao Fa East Road in Wichit.
The death was reported to Phuket City Police Duty Officer Yongyuth Krongmalai at 10:30am.
The deceased was light-skinned, wearing a pink blouse with a floral pattern and tight, blue denim shorts.
Her height was estimated at about 155cm to 160cm.
An initial inspection of the body led police to suspect she died of a broken neck.
The deceased also suffered severe facial trauma that caused many of her teeth to be knocked out.
The body was found with a diamond ring on her right-hand ring finger, a gold chain around her neck and a silver bracelet on her right wrist.
The corpse also bore a large tattoo of a sea dragon on the right shoulder.
Initial investigation found little else at the scene to help identify her; staff and residents questioned by police at the condo said they had never seen her before.
Management said the condo was popular with Koreans who took over one another's contracts, leaving little way of knowing the identities of all residents staying there.
Lt Col Yongyuth turned over the remains of the deceased to Kusoldharm Rescue Foundation workers.
It was too early to know from which floor or room the woman fell, he said.
It is also unknown if she jumped, was pushed or if she was killed beforehand and thrown from the building in an attempt to hide evidence, he added.
It is hoped that a medical examination of the body will determine the exact cause of death, he said.
Lt Col Yongyuth raised the possibility that the woman could be among the many young Chinese and Korean women smuggled onto the island by human traffickers to work in the sex industry.
Keep in contact with The Thaiger by following our
Facebook page
.
6 year old Burmese boy dies from bike-pickup truck crash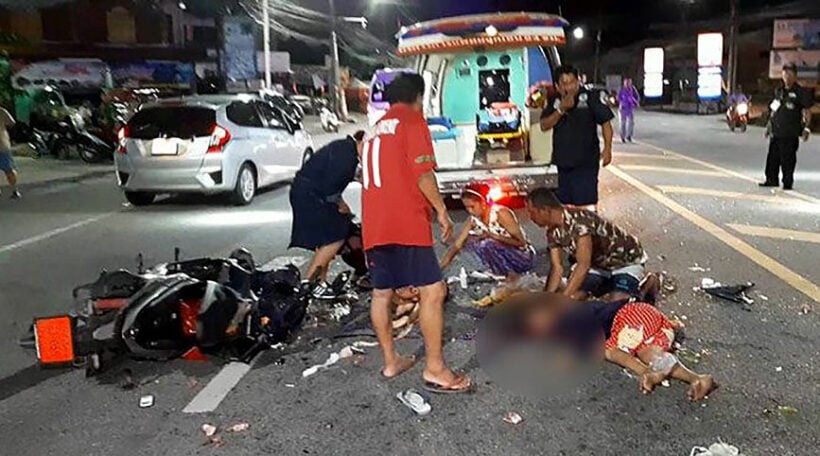 SOURCE: khaosod.co.th
A 6 year old Burmese boy has died following a motorcycle accident when his parents crashed the vehicle onto a pick-up truck earlier this week. He died in the intensive care ward at Vachira Hospital yesterday morning (Thursday)
The accident occurred on September 15 near Soi Pramote, Chaofa West Road, Chalong. The boy's father, 39 year old Thein Zaw, ended up with a head injury and his left leg was damaged. His mother, 39 year old Poehnin Phyu, suffered severe neck and head injuries and so did the boy. He was rushed to hospital in a coma but his mother was announced dead at the scene.
The father and son were rushed to Vachira Hospital in Samkong where the boy and his father received intensive treatment but the 6 year old succumbed to his injuries.
Witnesses told the police that they saw a Toyota Hilux Vigo pickup truck with Phang Nga number plates, driven by 39 year old Adit Pusuwan, heading from Phuket town towards Chalong circle. They told police they heard the loud noise of the pickup truck increasing speed before stopping at a 7-11 in front of Soi Pramote.
The driver was seen sitting in the car revving the engine with a loud noise. He headed into 7-11 before getting back in and then drove the car to the next U-turn and turned quickly. The motorcycle of the Burmese family was driving in the opposite lane and slammed into the side of the pickup truck.
After the accident, Adit waited for the police to arrive before being taken to police station for further questioning.
SOURCE: khaosod.co.th
Keep in contact with The Thaiger by following our
Facebook page
.
Could you be a digital nomad in Thailand?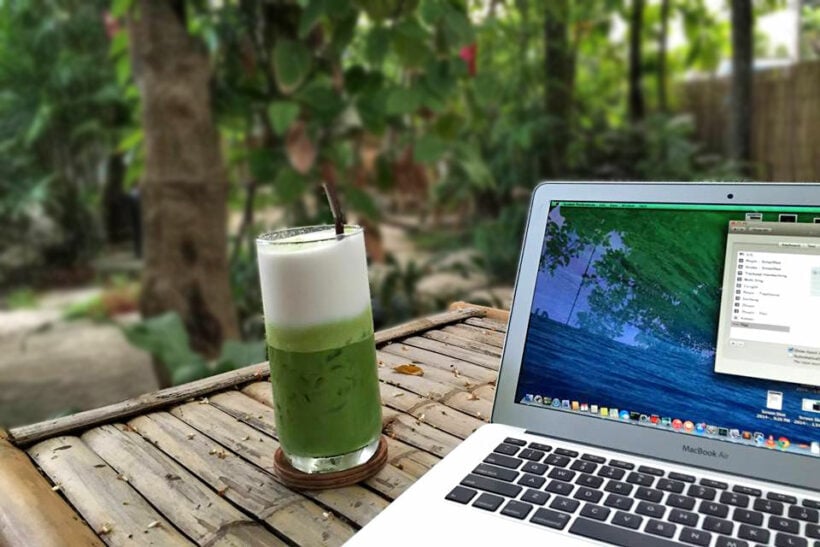 Are you a digital nomad? Working online wherever you can find a seat and wi-fi?
According to digital nomad websites, some of the most popular locations to work online around the world include Chiang Mai & Bangkok (Thailand), Budapest (Hungary), Belgrade (Serbia), Bali (Indonesia), Lisbon (Portugal) and Buenos Aires (Argentina). What do all these cities have in common? The main things is the low cost of living, a favourable climate, great scenery, cultural richness, communities of people who do the same job, and a quality quality of life for the travelling 'nomad'.
Thai PBS spoke to 41 year old Ozzi Jarvien, the pioneer of the digital nomads in Chiang Mai. He has spent more than a decade in the north of Thailand and recalls that in 2006, just before the harsh Finnish winter arrived, he wanted to work somewhere warmer, so he moved back to Bangkok. A few years earlier he had studied in an exchange program in International Business at Bangkok University. Then, returned to his home town in Finland. But in 2007, he relocated to the capital of the northern region of Thailand and established his own company, 'Iglu', a remote working community with three branches nationwide. Basically, he is the real deal in the digital nomads' world.
"The hardest part is to buy that one-way ticket. Just get the ticket and then everything else somehow sorts itself out, because it's much easier than most people think."
"Once they land here, it's easy to find an apartment, you'll never lack a place to stay. It's easy to find food and to find people to work with. I think people imagine that it's harder than it is. One big thing is that the internet is actually good and is everywhere. Even the mobile internet like 4G, it's better here than in lots of EU countries."
Having spent almost five years in Chiang Mai, the city that he loves, 37 year old Jengis Gonzalez is thinking about turning himself from a digital nomad into an expat. He used to work for giant e-commerce firm Amazon.com, which gave him the idea that there is an incredibly large online market in the US. Now he is working for a logistics company based in Chiang Mai, sending products from Thailand to the United States for e-commerce sale, primarily on Amazon.com.
He has some very practical advice for digital nomad wannabes.
"My advice would be, basically, 'have a plan'. I've met so many people who come here, thinking they're going to do something, then realising it's not working out and they don't have a plan B. So, they encounter a lot of issues, like what do I do now? I need to find a job or I need to go back home, or I should figure out a way to keep going'. So, I would say that it's a very risky thing to do".
"Don't hesitate to contact people through Facebook about Digital Nomad groups in Chiang Mai, which are very active. You can find many people doing the same job as you, so your questions will be answered."
29 year old Lilly has been a casting agent for movies for more than 10 years but finds 99% of her work is online these days so prefers to move around and travel, whilst working.
"I live the flexibility and the chance to travel and meet awesome people whilst earning the income to make it all possible. I hit all sort of hurdles along the way but love the adventure. Keep you mind open, make sure you DO work whilst you're travelling and the lifestyle can be great. I tend to move around south east Asia but always end up coming back to the magical island of Phuket."
The biggest problem of being a digital nomad is finding a visa to suit your needs. If you're a real nomad, and spending time in multiple countries and following the weather, the seasons or the festivals, then you can probably get by with tourist visas (although, officially, you're unable to work on a tourist visa). Being a digital nomad in Thailand you should read up about the visa options and see what is practical and will suit your lifestyle.
Read about the Smart Visa and digital nomad life HERE.
And The Thaiger even included them in our list of Top 10 types of expats in Thailand HERE.
ORIGINAL ARTICLE: Thai PBS World
Keep in contact with The Thaiger by following our
Facebook page
.
Police return four cars to victims of rental scam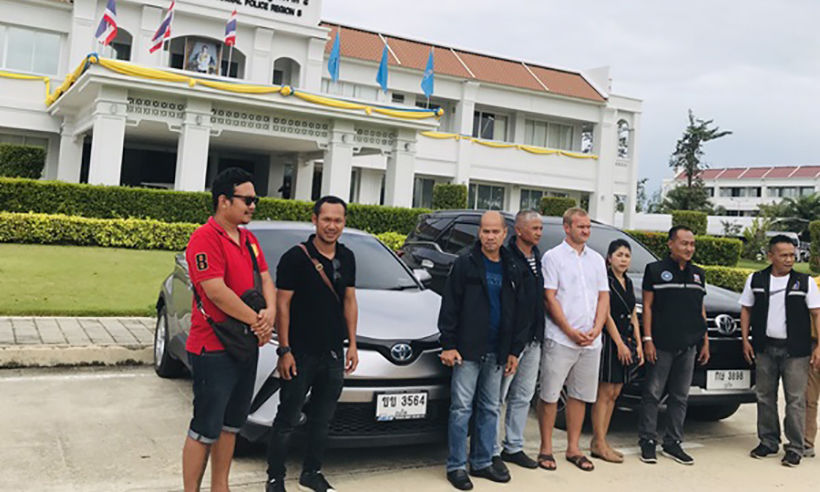 PHOTO: Phuket Hot News
Region 8 police have returned four cars to the victims following a car rental scam in Krabi and Phuket areas over recent months.
Earlier on September 17, 2 car owners from Phuket, Ratchadaporn Udomsuk, the owner of white Toyota Fortuner valued at 1,590,000 baht, and Anan Suwannachom who owns a black Toyota Fotuner worth 1,590,000 baht, reported to police that their cars had gone missing after they rented them out.
Police tried to track down a man named 'Dech' who rented the white Fortuner from Ratchadaporn. He then tried to pawn her car in Krabi. After that, a man named 'Dam' contacted her from Ao Luek, Krabi, claiming that if she still wanted her car back, she would have to pay him.
She agreed to pay him some remuneration at a petrol station in Ao Luek. Police was waiting until he showed up and then arrested the man. The officers found that Dam possessed a .38 mm gun with 5 bullets with him as well. During the arrest, police learned that the black Fortuner was also also located in the Ao Luek area as well.
Police returned the cars to the two owners on the following day as well as a grey Toyota CHR that was returned to Nikitin Evgeny from Russia, and a black Fortuner that belonged to Surotjana Suwanno from Phuket.
Police revealed that the four cars were part of a car rental scam that rents cars from people and then pawns the car in other provinces. There are still at least 20 cars under investigation in the same case.
SOURCE: Phuket Hot News
Keep in contact with The Thaiger by following our
Facebook page
.