Crash helmet saves minibiker at Phuket "curve of death'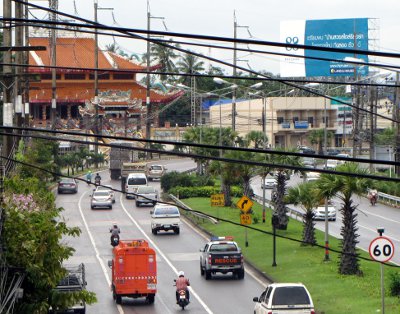 SPECIAL REPORT
By Thawit Bilabdullar and Orawin Narabal
PHUKET: A high-quality crash helmet is credited with sparing a "minibike" enthusiast from critical injury after he lost control and crashed at one of Phuket's most notorious traffic accident blackspots late last night.
News of the crash was reported to Phuket Kusoldharm Foundation rescue workers at 11:30pm.
At the scene, on Thepkrasattri Road northbound in Srisoonthorn, they found a 150cc Kawasaki minibike on the pavement, with 29-year-old local resident Noppon Petchluan lying on the median strip nearby covered with blood from multiple abrasions.
Conscious but only partially coherent, Mr Noppon was rushed to Thalang Hospital, where doctors discovered that his most serious injury was a fractured left arm.
Friends of Mr Noppon said they were out for a late night ride on their minibikes when they realized Mr Noppon had fallen off the pace.
When they went back to investigate, they saw that he had crashed and immediately called for help through the Narinthorn Andaman emergency call number: 1669.
A rescue worker at the scene said it was quite likely that the high-quality, full-face crash helmet Mr Noppon was wearing at the time likely spared him very serious injury, or possible death. He was able to walk away from the bike to the relative safety of the median strip, where he waited for help to arrive.
He later told rescue workers that he crashed while trying to dodge a hubcap that was lying in the middle of the road.
The site of the crash was just meters from where 15-year-old Kajonkietsuksa student Wanchai Saeksan died in a similar crash in early July. He was not wearing a helmet at the time.
CURVE OF DEATH
Local residents of the area are well-accustomed to the sound of sirens and sight of flashing emergency lights in the dead of night.
It was the same area where, just before dawn on June 30, three young Kusoldharm Foundation workers were badly injured when their rescue pickup crashed while responding to a police request for assistance with a drunken accident victim there.
The chain of events that night began at about 3:30am, when Thalang Police received a report of a motorbike accident just meters from where Mr Noppon crashed last night.
Chonthicha Chaikul, the 24-year-old owner of a beauty salon near the Tha Reua Shrine on Thepkrasattri Road southbound, told the Phuket Gazette after that incident:
"Witnesses told me the drunk man's motorcycle hit an electricity pole on the opposite side of the road. A few cars traveling close behind him had to stop suddenly, causing a chain reaction of collisions. After the accident, the man abandoned his bike and ran away, trying to hide from the police. They kept chasing him, so he ran across to the other [southbound] side of the road."
It was at this late hour that Ms Chonticha, who was watching television, heard the sounds of a commotion outside. Going out to her balcony, she saw police chasing the man.
"The drunken man tried to call people in the area for help; he was really drunk and definitely didn't want to be arrested," she said.
None of the local residents dared to open their doors for the man.
"Police were finally able to take him into custody and put him in their pickup, but he continued to resist and tried to get out of the car," she said.
"Police then called for the help from Kusoldharm Rescue Foundation. About 20 minutes later, I saw the Kusoldharm truck driving at high speed in the opposite [northbound] lane. When the driver saw people and police on the other side of the road, he slammed on his brakes. He lost control of the truck, which swerved up over the median strip, flipped, and finally landed in the southbound lane," she said.
The injured rescue workers, all attached to the Kusoldharm Foundation Mai Khao Unit, were identified as: driver Raywat Niyomna, 24; Chaiwat Lanonpaew, 29; and Montree Phonpakdee, 22, who was on one of his first rescue missions at the time.
All three were taken to Mission Hospital Phuket, then transferred to Bangkok Phuket Hospital in Phuket Town. Mr Montree had to undergo facial surgery and was still a patient at the hospital two days later, as was Mr Chaiwat, who required surgery for an injured shoulder.
Another veteran Kusoldharm rescue worker who arrived at the scene later said it was unlikely any of the injured men had been wearing safety belts, as it was not a standard practice in the rescue organization.
Thalang Police later identified the drunken motorbike accident victim as 27-year-old Pramote Tirattanaprathom. He was eventually sent to Thalang Hospital, then transferred to Vachira Phuket Hospital the following day.
COLLATERAL DAMAGE
Ms Chonticha considers herself lucky, as her home has yet to be hit by a vehicle at the accident-plagued curve. Some of her neighbors have not been so fortunate.
On May 26, a man crashed his black Isuzu Hi-Lander pickup though the guard rail and into the kitchen of one of her neighbor's homes at 2:30am. The homeowner, who declined to give his name, told the Phuket Gazette that the accident was the "last straw"; even though there were no injuries, he said he intended to abandon the property because so many accidents happen there.
Not all of the carnage in the area is a direct result of the curve, however.
Just two days after the Hi-Lander crash, a man presumed to have been drunk was struck dead by a truck in the same area.
Witnesses told the Phuket Gazette that the man was first seen trying to slow down drivers down on the northbound lanes of Thepkrasattri Road, between the shrine and the Yee Teng u-turn, the first turning south of the Heroines' Monument.
The man motioned drivers to stop, then climbed up onto the hoods of cars, one witness said. Angry, one motorist sped off, prompting the man to step off onto the median strip and then out into the southbound lanes, where he was run over and killed instantly by a fast-moving truck.
EVER PRESENT DANGER
The thing local residents fear most is that their dwelling could be the next obstacle in the path of an out-of-control pickup, six-wheel truck – or something even bigger.
"I am afraid that some day a car might hit my house, since it is located in such a high-risk area. Almost all of the accidents that happened around here are the result of speeding or drunk driving; they usually happen late at night. It's not very well lit here, and people might have problems with visibility, especially in the rainy season. I would say there is a serious accident here every other week at this time of year," said Ms Chonticha.
"One of my former neighbors moved away after her family members were injured by a car that plowed into their house three or four years ago," she added.
Somya Duangkerd, the 36-year-old owner of a pool equipment shop next to Tha Reua Shrine, told the Phuket Gazette that there are often rush-hour accidents in the area, but most of them are just minor "fender benders".
The more serious accidents tend to happen late at night and are usually the result of drivers speeding, drunk driving, falling asleep at the wheel – or some combination thereof, he said.
"I am afraid that some day a vehicle might drive into my shop. I am very lucky, however; I have been living here for two years and nothing has happened yet," he said.
ON GUARD
Mr Somya said he was satisfied with efforts by authorities to try to minimize the likelihood of yet another disaster, especially their installation of a heavy-duty guard rail that was erected following

Join the conversation and have your say on Thailand news published on The Thaiger.
Thaiger Talk is our new Thaiger Community where you can join the discussion on everything happening in Thailand right now.
Please note that articles are not posted to the forum instantly and can take up to 20 min before being visible. Click for more information and the Thaiger Talk Guidelines.