Close clashes at the top of the classes on second day of Phuket King's Cup Regatta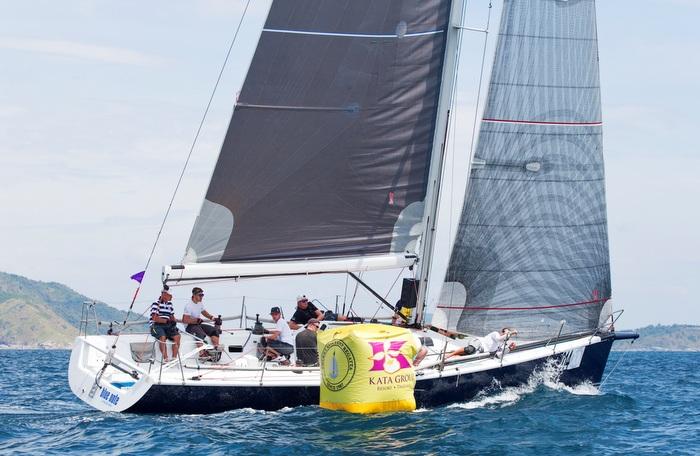 PHUKET: Following the King's Cup Regatta's beautiful sunshine and reliable winds on opening day, day two threw up a markedly different challenge demanding a very high work rate from sailors. The light wind did indeed betray yesterday's fastest runners at times, adding its own twist to the neck-and-neck finishes that are unfolding across almost all of the classes. This has been a great opening to what's shaping up to be an exceptional Phuket King's Cup.
Sarab Jeet Singh and the Windsikher II team kicked it up a notch from their two runner-up spots with an excellent victory in the third race of IRC0. The pack of Australian runners and riders challenging from behind could not match the team's performance in these light conditions. In race four, Raymond Roberts skippering Millennium Racing overcame its handicap to win ahead of Sarab's team in second; Windsikher II struck back in race five to comprehensively reclaim day two of the Phuket King's Cup Regatta.
Races three to five in IRC1 saw two Singaporean sail numbers jousting for top position; Blue Note and Rerefine, ahead of a dense and aggressive pack snapping at their heels. Matti Sep skippering Blue Note was quickest in race three, with just four minutes separating the whole fleet on elapsed times. In race four, they were runners-up behind Kenn Eyears skippering Rerefine. Blue Note took race five, again with close finishing throughout the Class.
Roland Dane's Jessandra II team was on great form to win again on day two in IRC2. They bested their closest rivals in race three, Japanese entry Karasu, although not by a huge margin. This one will remain extremely competitive until its last breath, with close finishes expected each day. Karasu raced well in the second and third races of the day, showing power and indomitable spirit – and benefiting from a handicap kinder to Karasu than its rivals.
In Premier Class it's a battle of the X55's with defending champions Pine Pacific making it look easy so far. Another win starts to cement the basis of their Regatta claim in the early stages, although there's more performance to come from rivals, perhaps.
Bareboat Charter Class comprises a fleet of 14 traditional shallow draft bareboat yachts, including four Japanese teams and seven Russian teams. Andrey Novikov skippering Alexa were quickest again in race two, with another Russian team, Isabella, coming in second place after being defeated by a heavy handicap. Race three went to Alexa too. The Regatta's most popular class is proving it can deliver the exceptional levels of competitive spirit and accessibility it was designed to promote.
Past champions Popeye (Ex Sailplane) won both races in Open Charter, calmly building up a nice early lead. Big Boy Sailing Team on the new charter configured J130 placed second, and third in race three.
The Royal Thai Navy entry, Thai Navy 1 skippered by Chief Petty Officer First Class Wiwat Poonpat, was victorious today in Modern Classic Class, marking a fitting tribute to the sailing prowess and inspiration of HM King Bhumibol Adulyadej. The Thai Navy sailors were exceptional, coming home in first place and remaining winners on corrected times following handicap correction in both races. Thailand continues to bloom as a natural home for fostering superb sailing talents, with the Royal Thai Navy, the Phuket King's Cup Regatta and its numerous supporting partners and sponsors dedicated to growing the sport of sailing in Thailand.
Cruising Class offed up a new winner in the shape of British-registered entry Rogue, skippered by Alan Hogg. Previous champion Lady Bubbly could only manage 9th in race 3 on a seeming uncharacteristically challenging day. The second race of the day was awarded to Mohawk skippered by Tony Byrnes.
There are only two boats competing in Classic Class this year, Vintage 6r4 yacht Selma and Japanese new build Umeboshi. Both boats finished today, with Selma a long way in front (on similar handicaps).
Firefly 850 Sports Class is a fleet of five past winners, and today it was Twin Sharks skippered by John Newnham who beat Hans Rahmann's Voodoo to the top placing for all three races. An extremely competitive (and fast) field will be trading blows all week, as attacks could come from a multitude of directions, but Twin Sharks looks to be rock-solid pacesetter so far. It will need a massive effort from Rahmann's crew if the British team are not to run away with things early. The 850's served up one of last year's most entertaining Class battles, with war continuing seemingly without interruption into the 29th Phuket King's Cup run.
John Coffin skippering Java won the Multihull Racing Class race 2, while Alan Carwardine and his Asia Catamarans Hurricane team claimed its second runner-up spot. Race 3 was all change, with Hurricane sailors achieving a much-deserved win. With Java in second, the top two challengers have emerged early on. Alan Carwardine's ACH crew took another second place in race 4, unable to match the outright pace of Java.
Among the Cruising Multihulls, Cruising Cats ranging from 38ft to 67ft competed in a very open field of entrants. Grant Horsefield skippering a boat named Arabella's Naked Dad took the win, with familiar King's Cup competitor Star Fruit in second. Japanese entry Minnie could not match their outstanding form from last year's Phuket King's Cup, but will likely come back hard to attempt to overcome their considerable handicap.
The new Performance Multihull Class consists of five new Corsair Pulse 600 yachts on only their second outing. Sudu3 skippered by Elizabeth Schoch won brilliantly in a class with no handicaps, leading to classic one-make series action – and absolutely no margin for error. Multihull Solutions H3O took race 3, with another tight finish at the conclusion.
Keep in contact with The Thaiger by following our
Facebook page
.
Never miss out on future posts by
following The Thaiger
.
Phuket told to prepare "response plan" in case of second Covid-19 outbreak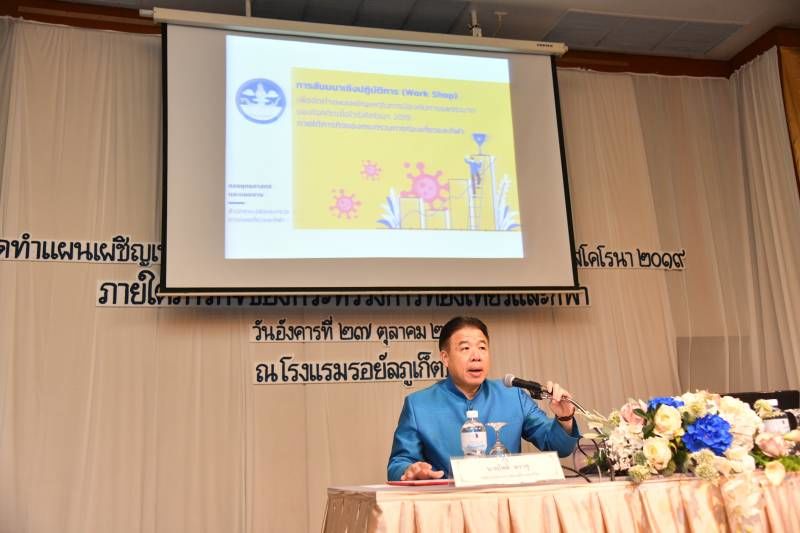 As Phuket awaits foreign tourists, city officials are told to prepare a "response plan" in case of a second wave of Covid-19. An official from the Ministry of Tourism and Sports held a workshop in Phuket today to discuss the risk of another outbreak as the country opens up to those on the Special Tourist Visa.
The ministry's permanent secretary Chote Trachu says now that the country is allowing tourists (who are required to quarantine upon arrival) an infection "may somehow slip through." He says a response plan needs to be in place in case this happens, adding that there should be corporation from the Ministry of Public Health and Ministry of Defense.
"If any tourists are found to be infected, the disease must not be allowed to spread among the people. There should be no panic, and public health officers will investigate the case. Tourist Police will track down the suspected person in an investigation with the Ministry of Public Health."
Chote says all provinces – not just Phuket – should have a response plan. Although tourists must go through a mandatory 14 day quarantine upon arrival, Chote says there are some cases where the incubation period for Covid-19 is longer than 14 days.
"There are a variety of cases. Sometimes, the infection does not show after 14 days, or even 15 or 16 days. Each situation is different."
Recently, a woman in Koh Samui tested positive for the coronavirus 5 days after she was released from a Samut Prakan quarantine facility. Traces of the virus were found on gym equipment the woman used at the quarantine, leading health officials to suspect she was infected before arriving to the island.
"We urge Thai people to not let their guard down. Everyone must wear masks, wash their hands and take care of personal hygiene. This will help prevent them from contracting the disease."
SOURCE: Phuket News
Keep in contact with The Thaiger by following our
Facebook page
.
Never miss out on future posts by
following The Thaiger
.
Approval sought for multi-billion-baht Phuket medical hub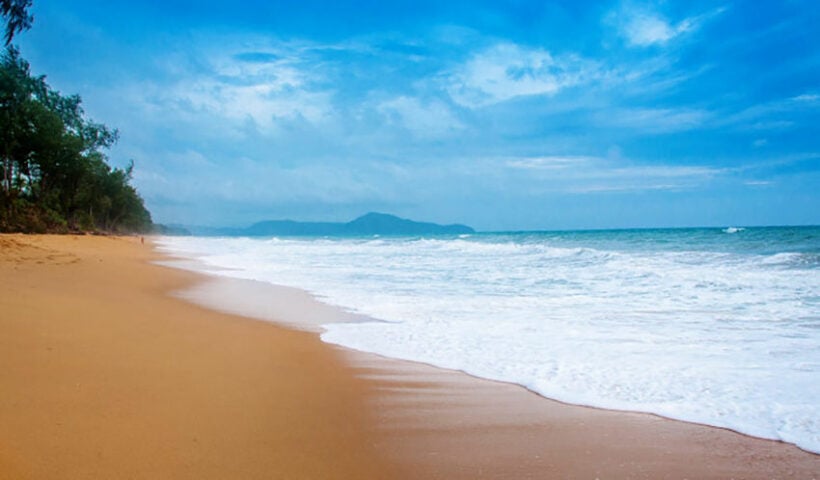 Industry officials are seeking the go-ahead for a project to transform over 140 rai of government land in Phuket into a world-leading medical hub. The project is budgeted at 3 – 4 billion baht, depending on which report you read. Kitkong Tantijaraswarodom, from the Federation of Thai Industries, believes the development of a medical and wellness hub in the sub-district of Mai Khao, north Phuket, will help revive the southern island's battered economy. Phuket has become increasingly reliant on a steady flow of tourists over the past 2 decades.
The southern division of the FTI covers Phuket, Krabi, Phang Nga, Nakhon Si Thammarat, Trang, Patthalung, Surat Thani, Ranong, Satun, Chumphon, and Songkhla.
"The FTI will ask the government to green-light the project during the scheduled mobile cabinet meeting on the island on November 3."
Kitkong says businesspeople in the south are anxious for the government to approve the project, which will provide both locals and foreign medical tourists with state-of-the-art medical care. The facility is expected to include long-term care, hospice and rehabilitation services, in addition to a dental hospital, sports therapy centre, and a medical training school for doctors, nurses, pharmacists and medical laboratory scientists.
The chair of the FTI's southern chapter is also calling on officials to provide small and medium-sized businesses with additional support, in the form of access to loans, in order to deal with cash shortages.
"In the short term, the FTI wants the government to help SMEs, especially those in the tourism sector."
SOURCE: Bangkok Post
Keep in contact with The Thaiger by following our
Facebook page
.
Never miss out on future posts by
following The Thaiger
.
Man's body discovered hanged in a Phuket Town apartment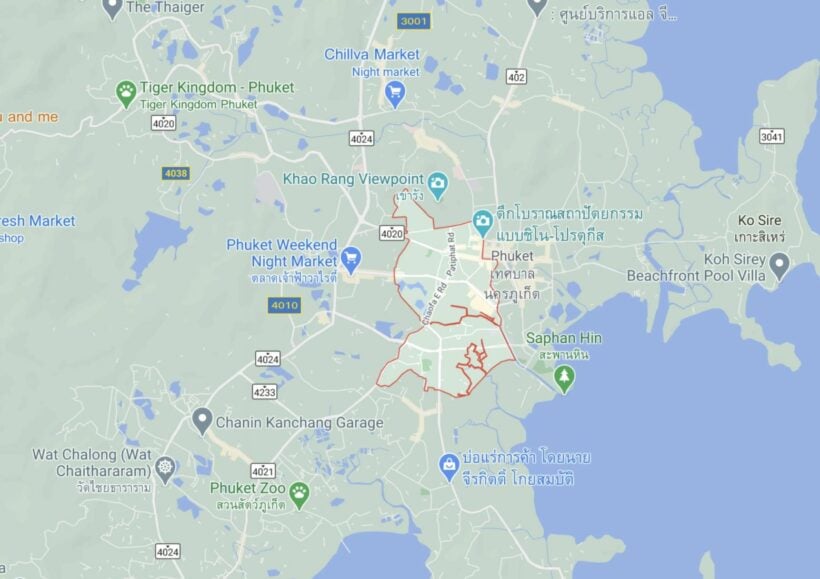 A man has been found hanged in Phuket Town apartment yesterday. Police are treating the cases as a suicide at the moment.
The man was found hanged from the apartment's ceiling fan. His lifeless body was discovered around 11am after neighbours complained to the manager about the smell coming from the man's room.
Police and the local Kusoldharm Foundation rescue workers attended the scene. Police later confirmed the incident happened in room on the 3rd floor of an apartment lock in Soi Phoonphol Soi 1, Talat Nuea in Phuket Town. Police said the man was 35-45 years of age and had a 29 year old girlfriend from Chumphon. He was paying 1,000 baht a month and had been renting the room for 2 months. Police estimate that the man had been dead for at least 3 days.
Police told media that the man had used, what appeared to be a dress, tied around his neck and then to the room's roof fan. The apartment manager told police that he had been late on on his recent rent, speculating that the man may have been suffering financial hardship.
The man's identity has not been released at this stage.
His body was taken to Vachira Hospital for an autopsy.
If you or anyone you know is in emotional distress, please contact the Samaritans of Thailand 24-hour hotline: 02 713 6791 (English), 02 713 6793 (Thai) or the Thai Mental Health Hotline at 1323 (Thai).
Keep in contact with The Thaiger by following our
Facebook page
.
Never miss out on future posts by
following The Thaiger
.