Phuket
Chuan denies Phuket MPs plan to defect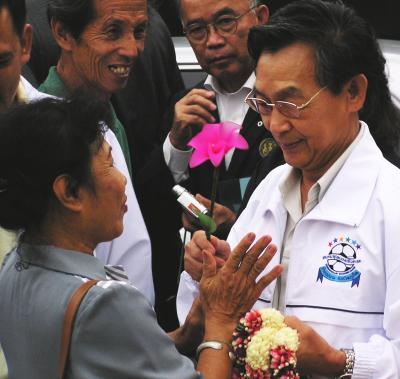 PHUKET: Former Prime Minister Chuan Leekpai has confirmed that Phuket's two members of parliament will stand as Democrat candidates in the upcoming general election, quashing rumors that one or both of them were planning to defect to the Thai Rak Thai party of Prime Minister Thaksin Shinawatra.

K. Chuan made his remarks yesterday while chairing the closing ceremony of the Cherng Talay Football League, at Cherng Talay School.

The league received prize money and cups from the island's two MPs, Chalermlak Kebsup and Suwit Sa-Ngiamkul, along with former Democrat party-list MP Anchalee Vanich-Thepabutr, who was recently elected President of the Phuket Provincial Administration Organization.

K. Chuan told a crowd of about 1,000 people at the tournament that the defection reports "come from someone in Thai Rak Thai spreading rumors to make people confused." These rumors had been spread far and wide by some TV stations, he added.

"I have asked both MPs about this and they have confirmed that they are still party members and will stand in the next election just as they did in the last one."

He admitted, however, that the Democrat Party has suffered from MPs defecting to other parties, particularly Thai Rak Thai.

"The [Democrat] party will bring in new blood as replacements [for the defectors]. The party's growth comes from new members replacing the old. The Democrat method is different from the other party, which prefers to buy MPs," he said. "The purchase of MPs is a bad sign in a democratic society."

He explained that the Democrats' strategy for the next election is to be the party whose members would not hesitate to check everything the government does, by keeping a very close eye on government policy.

However, he said, if the party wins the election, it will be perfectly capable of running the country.

"The Democrat Party can function as either government or opposition. If the other party thinks only about being in power, I don't think it will be able to check a government [headed by another party].

MP Chalermlak told the crowd that she had received no approach to join "the new party". Her counterpart in Election District 1, K. Suwit, did not indicate whether he had received an approach from Thai Rak Thai but, like K. Chalermlak, he confirmed that he would stand in the next election as a Democrat candidate.