Bin Laden killing: Phuket reacts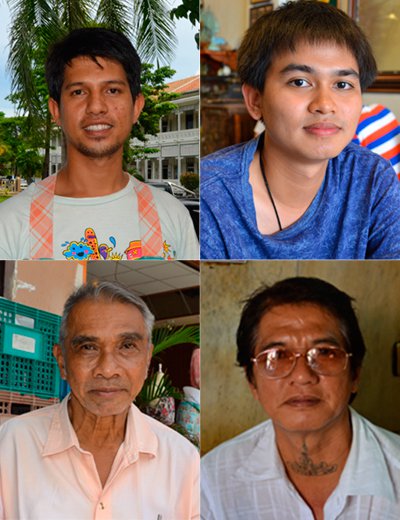 PHUKET: The announcement by the US government that its military force had assassinated Al Qaeda founder Osama Bin Laden on May 2 was greeted with celebrations in the US and Europe.
But what was the reaction of the man in the street half the world away in Phuket?
The Phuket Gazette set out earlier this week to see what Phuketians thought of the killing of the man who masterminded the destruction of the World Trade Center and the deaths of the thousands of office workers in it, on September 11, 2001.
Nasid Prasongpol, a 24-year-old drinks vendor from Krabi: There should have been some proof that he is dead, such as showing his body. And it is quite suspicious that they buried him at sea. They should have buried him properly.
I wonder why they didn't take him alive. They should have caught him alive and interrogated him, which could have yielded important information about other members of his organization.
In my opinion, it is also related to the upcoming election campaign for the presidency of the US.
Supak Sae-Wien, 29, a Phuket native and officer at Phuket City Municipality: I only "half believe" that bin Laden is dead. We have to wait for bin Laden's relatives or subordinates to confirm his death. [This has since been confirmed by one of his wives and relatives.]
I think it's about the votes. From what I have seen on the news, the popularity of Obama was decreasing.
Prasha Sarating, a 53-year-old company employee from Phang Nga: I am a Muslim and I feel a little sad about his death. The US government should not have captured him and killed him like this. It's not quite right.
They should have caught him alive and imprisoned him or punished him, or whatever. Then they could have asked him who else was in his organization.
Kulapak Towas, a 53-year-old building contractor from Bangkok: I think this will have no effect in Thailand. At most, it may affect the safety of the US Embassy in Bangkok. However, terrorism will not be gone. Even if the leader is dead, there will be someone else to continue their organization. But I think this will affect the price of oil, making it higher.
Watit Huabcharoen, a 21-year-old university student from Ang Thong: The death of bin Laden has no direct effect on us. The stock market is getting better because this news has brought confidence back, but terrorism is still there.
Even though bin Laden is dead, other members [of Al Qaeda] will take over as head. I expect Al Qaeda will seek revenge because their leader is dead. I think Al Qaeda will remain. It will not disappear easily.
Gowit Jantira, 67, sewing equipment vendor: From the news, I do not think bin Laden has been killed that easily. And I still wonder about the attacks on September 11, 2001 and other terrorist attacks, whether bin Laden was responsible or not. I think if bin Laden were dead, terrorism may stop because they will have no leader or someone to do the planning or money to support the organization.
Peerasit Jantira, 36, Phuket, sewing equipment vendor: President Obama would definitely lose credibility if it turned out bin Laden were still alive, so I do not think President Obama would risk his reputation on the announcement [unless he was sure].
If the US Government is trying to take the credit for killing bin Laden in order to seek approval from the international community, I can say as a member of that community that I do not feel anything or any increase in trust in the US government at all.
I think the terrorist organization will not end with bin Laden. There will be someone to carry on the tasks of the organization.
Jaran Saetan, a 52-year-old Phuket native employed by a Chinese shrine: I think if the news is true, American people should be more wary wherever they go. I think some of them may not want to travel into some Muslim countries for safety reasons.
As far as terrorism goes, I think it will continue because I think bin Laden would have chosen a successor to continue running the organization. He would have considered that he could die at any moment.
Editor's note: The above interviews were conducted before Al Qaeda yesterday confirmed bin Laden's death and vowed revenge.
— Janpen Upatising
Phuket News

Join the conversation and have your say on Thailand news published on The Thaiger.
Thaiger Talk is our new Thaiger Community where you can join the discussion on everything happening in Thailand right now.
Please note that articles are not posted to the forum instantly and can take up to 20 min before being visible. Click for more information and the Thaiger Talk Guidelines.