Phuket
BREAKING NEWS: Phuket Beach body thought to be Mark Robson's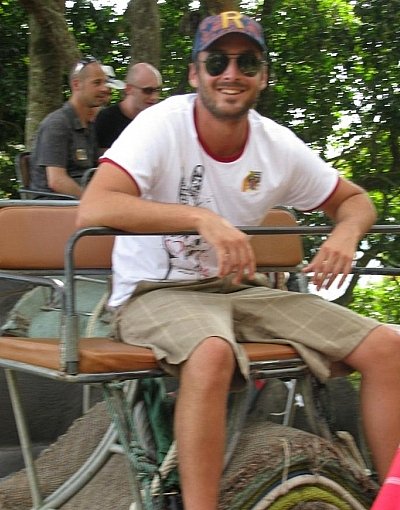 PHUKET: A body found strangled in Phuket late last month is almost certainly that of missing English teacher Mark Robson, who was reported missing by his parents recently.
The break in the case came yesterday when Phuket Tourist Police Foreign Volunteers Group Leader Frank Tomenson provided the media an updated photo of Mark sent to him by Keith Robson, Mark's father.
A Phuket Gazette news editor noted the resemblance between Mr Robson and images of the body recovered at Freedom Beach, which were too graphic to be published.
Realizing that the Freedom Beach body was recovered on January 25, just two days after Mr Robson's last known bank transaction, the Gazette news editor contacted Mr Tomenson to ask if police had looked into the possibility that the as-yet unidentified body could be that of Mr Robson.
They hadn't.
The Gazette sent the images to Mr Tomenson, who contacted the family and mentioned that a body had been found on January 27 that matched the description of their son.
Mr Tomenson was reluctant to forward the photos, but finally sent a single image at the family's request. The family now believe the previously unidentified body is that of their son.
Mark Robson, a dual British and South African national, was traveling on his British passport. Both the British and South African embassies are aware of the latest development.
The Phuket Gazette joins the Phuket Tourist Police Foreign Volunteers in offering its most heartfelt condolences to the family.
Mr Tomenson said the case has been the most difficult he has had to deal with in his six years with the force.
The Gazette notes that photos taken from the scene suggest the possibility of foul play, especially bruises on Mr Robson's back and the fact that he was found "hanged" in a sitting position.
— Stephen Fein