A heart lost in Seoul: an English professor struggles with life after love in Phuket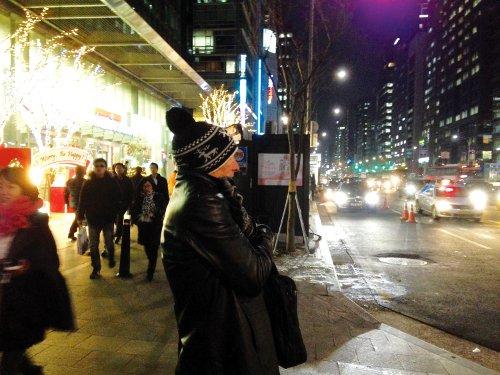 SPECIAL REPORT

PHUKET: In a cautionary, age old island tale, one known by many jaded and broken-hearted men on Phuket, Barry (not his real name) fell in love with a young Thai bar girl.
"It was early Spring, 2010, almost three years ago. Her name was Liz (not real name). I fell madly in love with this girl. Each second apart from her felt like months," Barry, a professor in English, wrote to the Phuket Gazette.
"We were inseparable. We spent every waking hour together – swimming, dancing, shopping, biking, exercising, traveling, fine dining – everything!
"Our love (seemingly) grew – second by second, hour by hour, month by month. I was completely convinced that I had finally located my soul-mate. The woman of my dreams. The one," Barry explained.
November arrived, as had a new motorbike for Liz, jewelry, perfumes, spa visits and "a treasure trove of sexy clothing". However, with November came a change in the direction of the winds. The couple decided that it was best for Barry to move to Seoul, Korea for work.
"Looking back, I recall being reluctant to make this move, but Liz was adamant of its merit for our future life together," he explained.
"The plan was that I would work in Korea and send money to my personal account at the Siam Bank. I began by sending around 60,000 baht per month. Liz would access the funds through a debit card. She convinced me that it would be better for her to save our money. The reason for this escapes me now. I was so madly in love with this girl, I rarely paused to question 'why'."
"Each and every day Liz sent me two, three, sometimes four messages exhorting her passion for me – her undying love for me. She talked of marriage, having my baby, and an immeasurable love for me… life was indeed grand.
"At least once a month I would traverse the streets of Seoul shopping for sexy underwear, fine jewelry, candy, shoes, exercise garments, plush toys and all manner of other goodies to send to Liz by courier. I cut out hundreds of little red paper hearts, writing 'Barry loves Liz' and 'Liz loves Barry' on each and every one," Barry wrote.
Though rarely getting to visit Liz, Barry began to notice a number of incongruities when he did make it back to the island – the type of evidence that should have served as more than just red warning flags.
Barry listed just a handful of the warning signs: "While making her bed one morning, a box of condoms fell onto the floor – not mine; answering the phone – a strange man's voice, and then a hang up; strange conversations emanating from a locked toilet; long disappearances during the day and at night.
"Frantically trying to hold onto Liz, while thousands of miles away in Korea – I began to increase the amount of money I sent. I began to send her 104,000 baht, and two boxes of goodies per month.
Then in August this year Barry asked Liz to marry him. She accepted immediately saying "I'm the luckiest girl in Thailand!".
Barry, now 58 years old, was elated.
"Returning to Korea, I booked myself into a tiny little room, with a tiny little bed, barely big enough for me to stretch my arms… no window, no air-conditioning, and no heat.
"I began to work seven days a week. I took extra jobs early in the morning and late into the evening. I started at 5:30am and was rarely home before 10:30pm. I worked all day Saturday and Sunday as well.
"I was so excited about our marriage!"
Taking no luxuries for himself, Barry explained that he was surviving on peanut butter sandwiches and watered down orange juice – he was transferring all the money he could back to Liz in Rawai as she saved up for what he thought would be their future together.
For two months Barry lived off of the dream of his life with Liz. They spoke over the phone "at least six times a day".
Each conversation ended with Liz saying exactly this: "I have only one plan Honey. We will get married in December. I will have your baby. We will make love all night," Barry said.
On November 20, Barry discovered that Liz had another boyfriend. "I discovered that she'd had this boyfriend for at least two years of our 'passionate' affair – maybe from the start. I discovered who he was and that he had a wife and family in Rawai.
"I was informed that he stopped by Liz's apartment every night at 9:00 pm – seconds after she had told me she was going 'beddy-bye'. These are irrefutable, verifiable facts," Barry wrote.
A deluge of stories came flooding in from friends and acquaintances still on the island.
"My heart began to shred. I confronted Liz on Skype. Me, shivering in my little room, jar of peanut butter in hand – even wearing a hat and gloves because of the lack of heat in my room. All my money having gone to Rawai three days earlier," he said.
"Liz said the man was only a friend."
Shortly after their Skype conversation, Liz made four trips to an ATM to withdraw the 104,000 baht recently sent from Korea by Barry. "I know what you're thinking – and you'd be right – 'How could I possibly be so stupid?' I was stupid.
"In the still clear recesses of my 'love sick' mind – I knew. I had been played. I had been played for a long, long time. I began to realize (albeit slowly) that Liz had never loved me. She had lied to me every day for 30 months.
"She lied to me about everything. I began to realize (as some of my Facebook acquaintances had forewarned me) that Liz had no intention of marrying me on December 21,' he wrote.
On November 21 Barry put in a call to Siam Bank from Korea, asking for a hold to be put on Liz's debit card.
"Later that day, I received my last phone call from Liz… she said only one phrase, in the angriest voice I have ever heard 'F**k off!' That was the last I've heard of her.
"This girl robbed me. As sure as she put her pretty hand in my pocket – she 'robbed' me. She robbed me of my money, my time, my health, my emotions, my self-confidence, my friends, my dreams, my future, and most importantly – she robbed me of my heart.
"I'm still shivering in my tiny little cubicle in Korea. Still scraping the sides of my Ligo peanut butter jar. Still watering down my orange juice to make it last longer.
"I have never liked Korea. I came here to build a life for Liz and I… I walk the streets in a daze. I had no time to make a single friend – my only goal was my life with Liz. I have never been so sad, so all alone, so disillusioned, so broken," Barry wrote.
— Isaac Stone Simonelli
Keep in contact with Thaiger by following our Facebook page.
Never miss out on future posts by following Thaiger.
Tourism officials slash Songkran travel expectations by half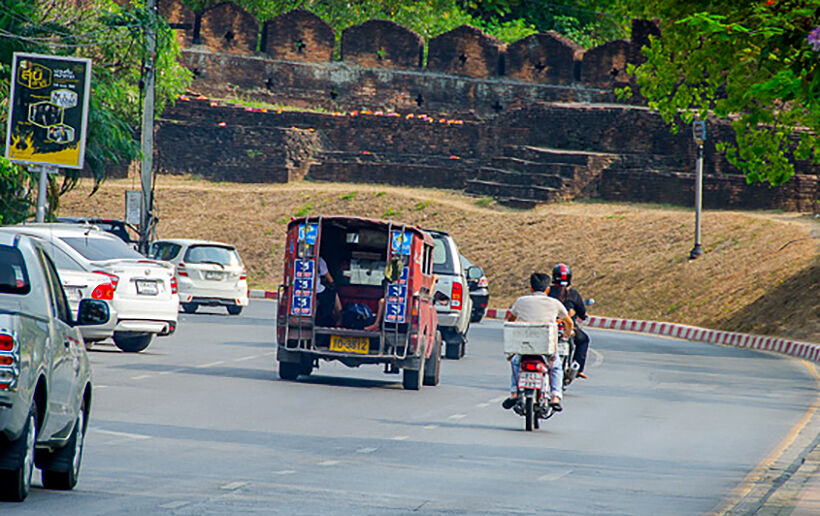 The TAT, ever the optimists regarding anything tourism related, even domestic tourism, predict that the Bangkok clusters that have emerged in the week before the Songkran break could reduce traffic and spending by up to half.
Today the CCSA is reporting 789 new infections and one additional death. 522 were local infections, mostly walk-ins to Bangkok hospitals, 259 were discovered through track and tracing. The remaining 8 were found in quarantine from overseas arrivals. In Phuket, another 17 cases have been reported today, taking the island's week total to 43.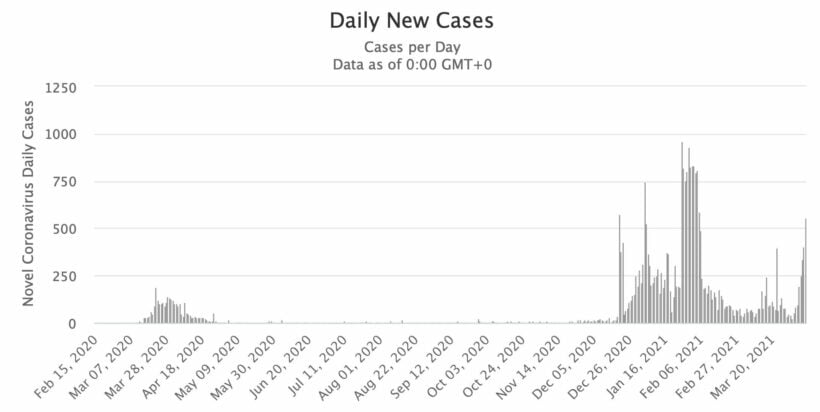 GRAPH: Worldometer figures for Thailand, up to April 9
A 68 year old man from Nakhon Pathom province died on April 4 but wasn't reported until today. The CCSA report that he died from Covid and "complications". 33 other former patients have recovered and been discharged.
Last week the TAT estimated 3.2 million domestic trips would circulate 12 billion baht for the Thai economy. But the Tourism Authority has now slashed their estimates by half after hotels, airlines and bus companies reported mass cancellations in the last few days. Other provinces are reporting less than 20% cancellations. Although this weekend will see a lot of travel, Songkran doesn't formally start until next Tuesday and the TAT expect there could be additional fallout as travellers decide to have a staycation for Songkran instead heading home.
Bangkok Post reports that 70% of travellers to Prachuap Khiri Khan and Hua Hin have already cancelled hotel bookings. Similar cancellations have been reported in Pattaya, Phuket and Chiang Mai. Many other provinces, particularly in the north east and north, are also enforcing quarantine on arrivals or additional paperwork to try and protect their provinces from any of the Bangkok clusters.
8 north eastern provinces rare now requiring 10 or 14 day quarantine periods for anyone arriving from areas where new clusters have been reported. Chiang Mai provincial officials say that tourists from Samut Prakan, Nakhon Pathom, Bangkok, Pathum Thani and Nonthaburi – basically Bangkok and surrounding provinces – must complete a 14 day mandatory quarantine or conduct a test for Covid when they arrive.
The reality is that the travel and quarantine changes are outstripping the ability to communicate them all. Anyone crossing into other provinces in the next few day, especially if you're travelling from Bangkok and surrounding provincial 'red zones' can expect some additional paperwork or a Covid test. Or even quarantine.
Keep in contact with Thaiger by following our Facebook page.
Never miss out on future posts by following Thaiger.
Phuket student protests and is flunked as "not loyal to the nation"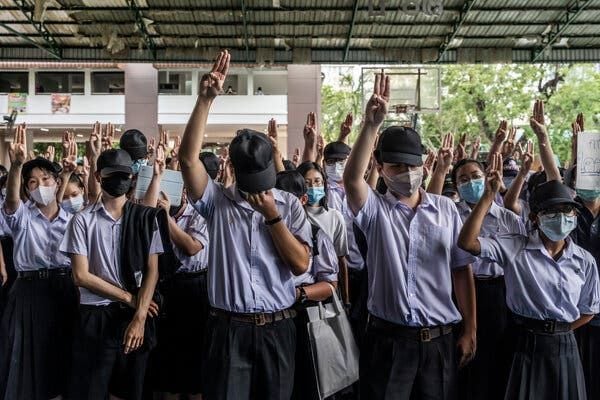 After participating in protests for student's rights, a Phuket student was barred from graduating 9th grade, moving from middle school to high school, charged with being "not loyal to the nation, institution of the monarchy". The student had advocated against mandatory uniforms and for student's liberties. He told reporters that the school started paying attention to his actions last year when he participated in rallies in solidarity with students across Thailand. The school's student affairs office received a copy of posts he made on social media encouraging others to join the cause. The school ordered a stop to his political actions, but he and his friends disregarded warnings and violated school rules when they handed out white ribbons to classmates. They received a warning from the student affairs office.
Student protests have increased after pro-democracy demonstrations surged in July last year, empowering many Thai people to speak out against injustices, including students' rights and liberties. People from schools across the nation have been banding together in solidarity to bring their issues to public light.
On graduation day, all the students were promoted into high school, except for the one student protestor, says the Bad Student protest group. The theme of the day focused on dedication to the monarchy, country and religion, and specifically how students should be obedient. The student said he has received support from friends, but his parents remain neutral and his teachers have been completely silent on the matter. He is frustrated that he was punished for his right to express himself. He plans on testing with incoming students to re-enrol in the same school, and if he is not accepted because of the disloyalty charge, he will pursue legal ramifications, suing the school for blocking his right to an education over the student's protests.
The student believes he needs to speak out to prevent school administrators from imposing on more students' rights. He advocates for diversity in schools and ending prejudices, with increased liberties and freedoms for students.
"Schools must teach children to be able to think by themselves, not force children to think like them. Schools should create opportunities for students to express their ideas more freely."
SOURCE: Prachatai
Keep in contact with Thaiger by following our Facebook page.
Never miss out on future posts by following Thaiger.
16 more Covid infections reported today in Phuket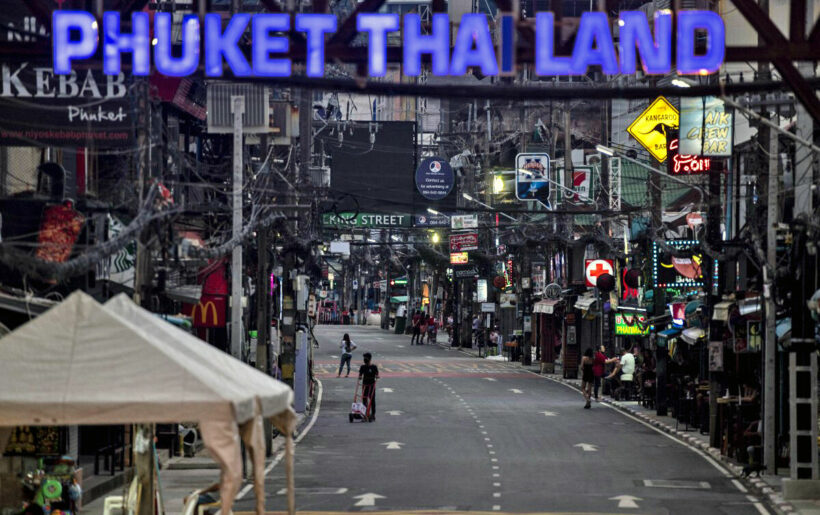 Phuket is reporting 16 more infections today. It follows visits from Bangkok and last weekend's Kolour Beachside parties that have resulted in a number of new Covid infections. The number of new infections has reached 26. But deputy governor Vikrom Jakthee says the province has been successful in containing the new outbreak "due to its quick response measures which now include shuttering bars and nightlife venues.
One of the confirmed cases is a male teacher from Headstart International School in Kathu who, after attending the parties on the weekend, was back teaching students on Monday and Tuesday. The school has sent a letter to all parents advising them of the situation and organising testing for anyone who may have come in contact with the teacher.
The closure order in Phuket comes just as the island province was expecting to get an influx of visitors for Songkran, the Thai New Year. Many bar and club owners were expecting some increased traffic during the holiday week. Phuket officials say they will explain to bar and club owners why they decided to close the venues during the critical week for business.
Vikrom previously cited the start of the island's Covid vaccine roll-out of Covid starting to head towards a herd immunity in time for the province's proposed July reopening to international tourists. But he admitted that the sudden appearance of the coronavirus on the island again will force officials to reevaluate the schedule for reopening. He also said that almost all cases were in younger age groups of people in their 20s and 30s.
"Today, the number of infected people reported in Phuket has reached 26, many are from entertainment venues. This figure is relatively high. It jumped from 10 to 26 cases. We will invite operators of entertainment places in for discussions."
Partygoers who went to any of the Kolour Beachside parties in Phuket last weekend are being asked to visit a local hospital for a Covid test. The parties hosted more than 3,000 people, drawing concern after a musician tested positive for Covid-19, having attended all 3 parties. The Phuket Provincial Government and Phuket Provincial Public Health Office released a statement yesterday advising all partygoers to get tested.
"Those who attended the Kolour parties from April 2 to 3 at Shelter Phuket Dance & Night Club in Patong, Cafe Del Mar Phuket in Kamala and Illuzion nightclub on Bangla Road in Patong are asked to get tested."
SOURCE: Bangkok Post
Keep in contact with Thaiger by following our Facebook page.
Never miss out on future posts by following Thaiger.