A decade ago: Trash, pies and assassinations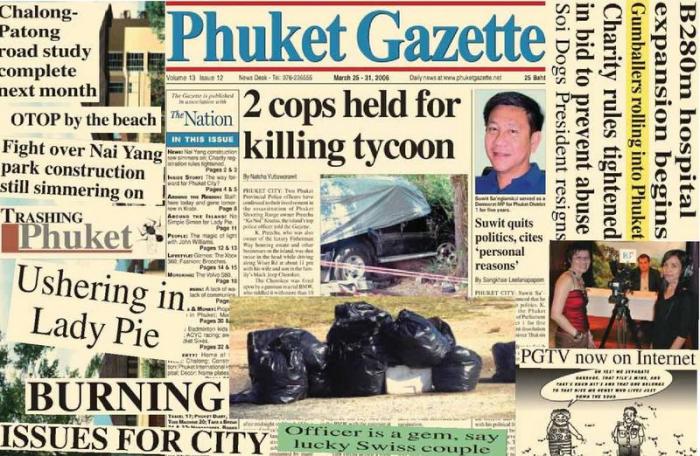 PHUKET: Mark Twain had it right when he wrote, "There is no such thing as a new idea. It is impossible. We simply take a lot of old ideas and put them into a sort of mental kaleidoscope. We give them a turn and they make new and curious combinations."
Sometimes, especially in Phuket, it doesn't seem that we even give the kaleidoscope much of a turn; so, it was of little surprise that there was nothing new when a plan to launch an eight-week column called 'Dumped in Paradise' was tabled at a Phuket Gazette editorial meeting this year.
What is perhaps at least poetic, was the timing; a similar column, 'Trashing Phuket, was launched in the March 25-31, 2006 issue of the Phuket Gazette – exactly a decade ago. Both environmental initiatives called / are calling on participants to pull out there cameras and send the Phuket Gazette their dirtiest photos. Hopefully, since we are past 'At last, the Internet works' – a headline from the Phuket Gazette ten years ago – we can redirect a little of our social media ranting toward productivity by digging into the stories behind the trashiest places in Phuket.
As the Phuket Gazette noted in the March 25 editorial: "Garbage is a serious and ever-worsening problem in Phuket [oh, we had no idea how bad it was really going to get], which is why the Phuket Gazette this week launches a new series, 'Dumped in Paradise', that highlights some of the more squalid examples of civic irresponsibility by inhabitants of the island."
So, let's celebrate (via citizen action and reporting) the re-boot of a not-so-new idea that can still bring a great deal of value to the island.
In no need of a re-boot, however, Phuket International Hospital went through yet another growth spell this week with the grand opening of its 900-million-baht medical tourism facility. The new building, which handles plastic surgery, anti-aging and skin care, boasts 10 operation auditoria and almost 70 patient rooms.
Just ten years ago, the hospital broke ground on their six-storey out-patient department building for a total of a mere 320mn baht. The expansion was to meet growing customer demand, the same reason the new facility was opened this year.
Of course, when it comes to customer demand, countless businesses on the island don't generate enough interest to stay open past their second low season; others become Phuket classics.
Just a couple of weeks ago, the Phuket Gazette sat down with the Lady of the Pies – Susan Usher. It is no wonder the Phuket Gazette was drawn to Susan, again – she and her pies are a Phuket staple. Just take a peek at page 11 of the March 25 issue, and you'll find that familiar smile.
"The tsunami washed the business into the Andaman Sea. But anyone who knows Susan would realize that it takes more than a cataclysmic event to stop her. Within two weeks she was back making pies," Sam Wilkinson reported for the Phuket Gazette in 2006. To the best of our knowledge, she hasn't really taken a break since.
But before we get too accustomed to these rose-tinted glasses, let's take a look back at page one: Two cops held for killing tycoon.
Two Phuket Provincial Police officers confessed to their involvement in the assassination of Phuket Shooting Range owner Preecha Kraitas, who was also the owner of the still-very-active Fisherman Way housing estate.
Mr Preecha was driving on Wiset Road at 11pm with his wife and son when a gunman riddled their Cherokee with 11mm bullets. The Jeep crashed into a minivan, then careened off the road and plowed into a tree.
Miraculously, his wife and child survived. But Mr Preecha did not. He had been shot in the head twice.
Such blatant assassinations of big-shots in Phuket appear to have mostly come to an end, leaving the wild-west mentality to those operating in Krabi and the teen 'gangs' on the island – then again, maybe we are just going through a dry spell. It was only five years ago that Phuket media man 'Ae Inside' was gunned down while sitting in morning rush-hour traffic.
Following that slaying, there was a long and convoluted case story that never came to a satisfying end. Similarly, the 2013 assassination of mother-of-two and human resources manager for the Hilton Arcadia Phuket Resort, Jintana Mahattanapak has also remained unsolved.
Though there are many things we would like to leave buried in the past, it is frightening how quickly the past loops back to the present on Phuket, and how rarely anything really changes, from good Aussie pies to mafia-style assassinations.
— Isaac Stone Simonelli
Phuket News

Join the conversation and have your say on Thailand news published on The Thaiger.
Thaiger Talk is our new Thaiger Community where you can join the discussion on everything happening in Thailand right now.
Please note that articles are not posted to the forum instantly and can take up to 20 min before being visible. Click for more information and the Thaiger Talk Guidelines.