A Decade Ago: Public transport strikes again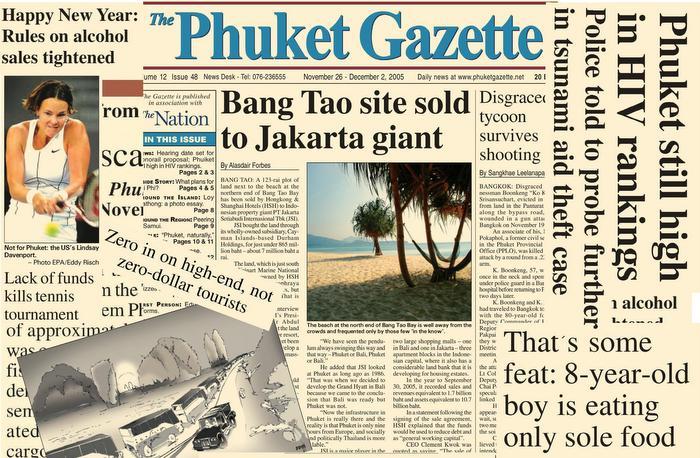 PHUKET: Frequent readers of the news are familiar with the 'long-awaited' lightrail project, whose tracks will guide dramatic change in the desolate Phuket public transportation landscape. Now what exactly does 'long-awaited' mean? Months? A year? Five years? A decade?
In this particular case, a decade ago seems most appropriate, as the topic dominates page 2 of the November 26 – December 2, 2005 issue of the Phuket Gazette. Though the originally proposed system would link the airport and Phuket Town with a west-coast route to Patong, only a whopping 80 people were expected to attend the first public hearing.
"Phuket's roadsides are lined with parked motorcycles and peddlers selling their wares, as well as tuk-tuks parked one after the other in Patong. There is no parking space. Phuket is an international city, so visitors have high expectations as to the quality of life and services they will find here," public transport expert Dr Tawatchai Laosirihongthong said at the time. Such a statement could easily be lifted and dropped into any cafe conversation on the island now – assuming the speaker has factored in the boom in private cars on the island following Thailand's first-car buyer scheme, which has resulted in endless bumper to bumper traffic during rush hour.
Tawee Homhuan, a committee member and engineer at the Phuket Public Works Office, said at the time that the number of people in attendance should in fact be closer to 800, but in his experience only a few dozen people would actually attend the hearing. However, once the actual work started on the project, hundreds turned out to protest its perceived negative impacts on their lives.
Such form of protest, of course, wastes time and money. However, the recent success of protests by the Rawai community in stuffing a movie museum construction plan that threatened a grove of trees at Nai Harn beach, is without a doubt a great success. The movie museum plan had gone through all community hearing stages. However, the impacts of the plan on the beach community were not fully understood until trees were marked for the ax with a great big 'X' on their trunks. Post-approval, pre-construction protests clearly remain a double-edged sword.
Jumping into the decade old column 'Time Machine' to take us back to the November 15-30, 2000 issue, one is faced with a startling revelation. The headline reads: Police to take softer line over traffic violations. Fast forward 15 years, and police are scrambling to curb drunk driving, speeding and a number of other traffic violations that are witnessed on Phuket's roads daily. However, fifteen years ago police decided that they would be issuing fewer tickets for traffic offenses.
This led to a 70 per cent decrease in traffic violation citations.
Lt Col Teeraphol Thipjaroen, deputy superintendent at the Phuket City Police Station at the time, said most offenders would be given verbal warnings. However, those who broke the law in ways that endangered other peoples' safety would still get tickets. Please remind me what traffic laws are put in place that aren't designed to ensure the safety of the driver, passengers and other motorists? Sadly, the relaxing of enforcement all stemmed from riots in the streets of Nakhon Sri Thammarat, after motorcycle riders went on a rampage over what they perceived to be excessively strict enforcement of traffic laws.
Well, there you have it Phuket… indifference to desperately needed infrastructure projects (at least the light rail project has the backing of Bangkok and is full-steam ahead now); protests for good causes (got to save them trees); and protests that have ultimately resulted in the deaths of thousands due to relaxed traffic policing unbelievable that it really took 15 years to realize this wasn't the best way forward.
— Isaac Stone Simonelli
Keep in contact with The Thaiger by following our
Facebook page
.
Never miss out on future posts by
following The Thaiger
.
Thai Airways to resume flights from Bangkok to Chiang Mai and Phuket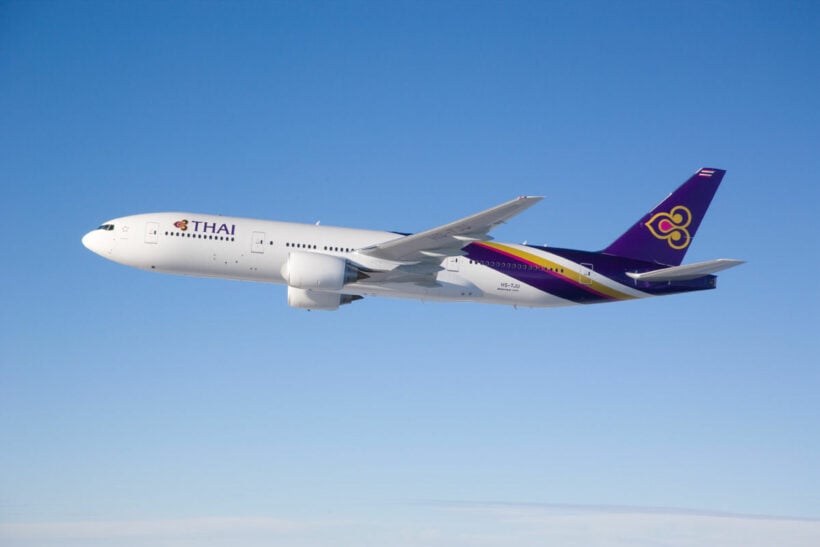 After nearly 9 months on the ground due to the coronavirus pandemic, along with problems balancing their accounts, Thai Airways will resume flights between Bangkok and Chiang Mai as well as Bangkok and Phuket later this month. The flights will start back up on Christmas day.
Flights from Bangkok to the 2 key tourist provinces have been grounded since April 1. Starting December 25, the airline will run 3 flights a week on both routes. A source told the Bangkok Post that the new schedules will run until at least February 28.
Thai Lion Air, Thai Air Asia, Nok Air, Thai Smile, VietJet Air and Bangkok Airways have returned to the domestic skies since July and slowly adding frequency to their routes.
In addition to resuming the domestic flights, the Thai Airways is relaunching some international flights from January 1 to March 27 including weekly flights to Frankfurt, London, Copenhagen, Sydney, Seoul, Manila, Taipei and Osaka. Flights from Bangkok to Tokyo will be available 3 times a week and flights from Bangkok to Hong Kong will be available every day.
Thai Airways has been tackling bankruptcy throughout the lockdown and trying to make up for more than 300 billion baht in losses. Since many flights were suspended due to travel restrictions, Thai Airways has tried to make money by business ventures on the ground, like a pop-up restaurant serving in-flight meals and selling off unwanted equipment from their warehouse. There also disposing of much of their older fleet, including all of their Boring 747-400s.
SOURCE: Bangkok Post
Catch up with the latest daily "Thailand News Today" here on The Thaiger.
Keep in contact with The Thaiger by following our
Facebook page
.
Never miss out on future posts by
following The Thaiger
.
97 police officers investigated for fiddling Covid-19 payments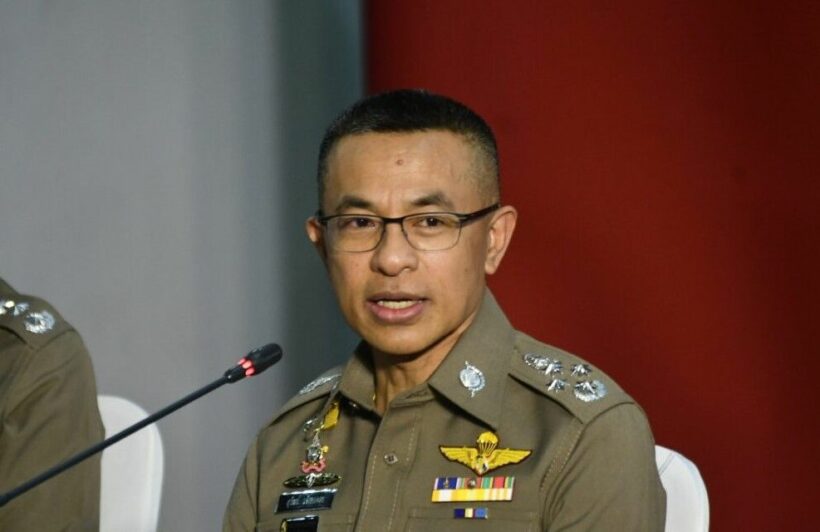 97 police officers, from 41 police stations, are currently being investigated for an alleged scam involving Covid-19 payments meant for officers who worked extra shifts during the crisis. The case was assigned by national police chief Suwat Jangyodsuk in November, when it came to light that some officers may have fraudulently claimed allowances meant for others.
In one incident, an officer responsible for transferring extra payments to police on the southern island of Phuket transferred the money to his own accountant instead. At the time, the transfer was dismissed as a mistake (in his favour), with the officer in question receiving a warning, and payments then made to the qualifying officers.
Wissanu Prasatthong-Osot from the National Internal Affairs Police says the investigation should reach a conclusion within the next 10 days.
"The result of the investigation should be ready in 10 days. Currently, 97 officers in 41 police stations ranging from non-commissioned to generals are under investigation for being involved in the swindle. The bureau aims to provide justice to all policemen involved. After the investigation concludes, the victims will receive their full allowance, while the offending officers will be punished under the law and disciplinary standards."
Nation Thailand reports that a full list of alleged offenders has been sent to Suwat, with Wissanu promising that none will escape prosecution.
"The National Police chief had also ordered the transfer of offending officers at the commander and sub-commander levels out of their areas as per the investigation procedures."
SOURCE: Nation Thailand
Keep in contact with The Thaiger by following our
Facebook page
.
Never miss out on future posts by
following The Thaiger
.
Thai-Chinese Chamber of Commerce to propose Guangzhou-Phuket tourism route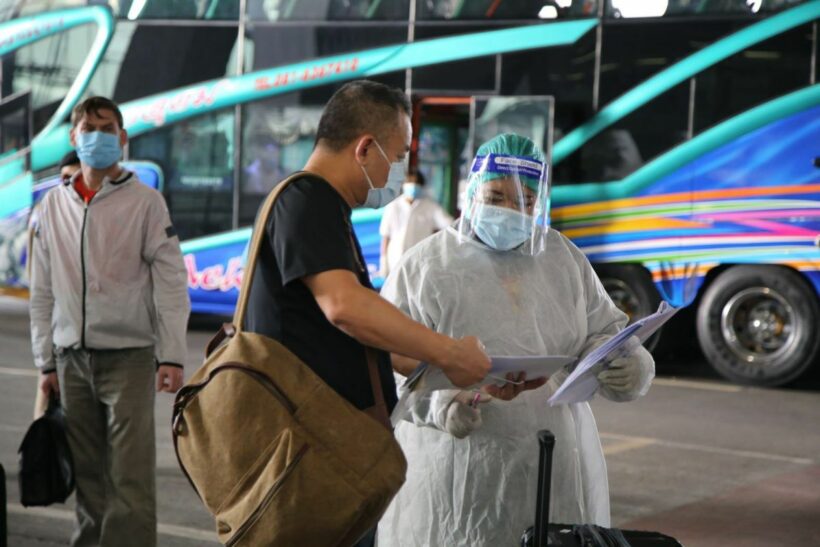 A tourism route from Guangzhou, China to Phuket could help the island province recover from the recession brought on by the pandemic and lack of foreign travel, according to the Thai-Chinese Chamber of Commerce. The president of the organisation, Narongsak Puttapornmongkol, says they plan to submit a letter proposing the route under a travel bubble scheme to the Centre for Covid-19 Situation Administration.
The Thai-Chinese Chamber of Commerce is proposing a travel bubble with around 20 cities in China with no recent coronavirus infections and considered to be at a low risk of spreading the virus. Travellers from Guangzhou recently entered Thailand on the new Special Tourist Visa. It was the second flight of international tourists since travel restrictions were imposed in late-March.
"We believe that the Travel Bubble and the quarantine reduction will resolve the tourism business, which is a huge economic opportunity to recover."
Once a vaccine is widely available, Narongsak suggests that those who wish to Thailand could also present their vaccination certificate or examination reports from the place of origin. He adds that the mandatory state quarantine period is likely to be reduced.
SOURCE: Pattaya News
Keep in contact with The Thaiger by following our
Facebook page
.
Never miss out on future posts by
following The Thaiger
.