A Decade Ago: Beach chairs and a B40mn blaze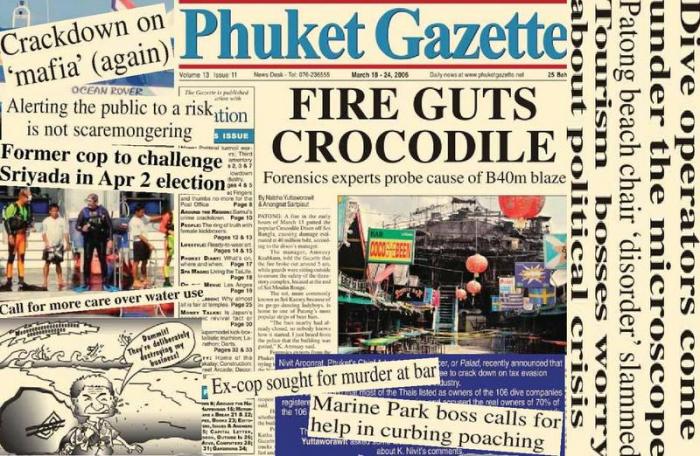 PHUKET: Fears that beach vendors' unrelenting attempts to retake the beaches will eventually wear down Phuket officials' willingness to enforce the 10 per cent zone and virgin beach regulations are well founded. Ten years ago, in the March 18-24 edition of the Phuket Gazette, we documented rental operators reneging on a deal – struck after the tsunami – between their representative organization and the Patong Municipality.
Ruling kingpin at the time, Pian Keesin, who passed away while under investigation for alleged mafia activity in 2014, explained that the agreement had been for a total of 2,300 beach sets, each consisting of an umbrella and two loungers, to be set out in two rows. However, due to the 'unexpectedly large number of tourists coming to Phuket', he agreed to be flexible and allow a third row.
"The government didn't want to have any beach chairs at all. But we proposed 2,300 sets because we thought that the tourists wouldn't come back for at least three years. But they're back in far larger numbers than we expected," explained a beach chair representative at the time.
Nonetheless, Mr Pian slammed the vendors for the disorderly setup, which was, in fact, blocking some tsunami evacuation routes just a year after thousands were lost to the waves. Clearly, Mr Pian's battle did not end up resulting in orderly beach chairs catering to the needs of tourists. Only a few years ago, the Gazette documented thousands of empty beach chairs dominating west coast sands and preventing tourists from setting out blankets as the vendors staked out 'their' territory.
Only time will tell whether or not the National Council for Peace and Order's campaign to 'clean up' Phuket's beaches will stick, or if it, too, will be worn away be the ever crashing waves of beach operators' greed.
The lead story of the issue, however, wasn't beach chair chaos. It was: 'Fire guts Crocodile – Forensics experts probe cause of B40mn blaze'. What leaps to mind faster than a flame to petrol is a much more devastating Patong disco blaze that occurred six years after the Crocodile was ashed. Unlike the Crocodile Disco fire, in which nobody was reported injured, the Tiger Disco inferno claimed four lives. The key difference in the blazes that consumed the two popular Soi Bangla buildings was the fact that Tiger Disco still had patrons and staff inside. It appears that any lessons that could have been gleaned from the gutting of Crocodile were clearly not heeded. We can only hope that the deaths of the four people at Tiger Disco has led those in charge of fire regulations at these night-life venues to make real changes, so that we will be unable to draw new parallels ten years from now.
Now, one industry that is teeing us up for parallel drives into water hazards is the dive industry. Recent diving deaths and serious injuries have led officials to consider what regulations, if any, should be set in place in addition to those already established by PADI, SSI, CMAS and other diving certification agencies. As a preemptive measure – to show the government that there are regulations in place and to push dive professionals to adhere to them – PADI held a seminar last week. Ten years ago, though, it wasn't diver safety that had the industry in hot water, it was tax evasion and Thai nominee shareholders.
Phuket's Chief Administrative Officer at the time, Nivit Aroonrat, complained that most of the Thais listed as owners of the 106 dive companies registered in the province were mere proxies and accused the real owners of denying Thais the right to work in the industry.
Some in the industry welcomed the crackdown, saying, "Dive companies should work harder at being good corporate citizens. There are still some dive shops that employ foreigners without work permits and there are many dive boats that are not up to Western safety standards."
Such concerns remain in the dive industry today – the Russian diving instructor who was maimed along with a fellow national under his care was charged for working without a work permit earlier this year. However, that isn't the government's central concern with the companies at the moment.
Where the dive industry, and Phuket's corals for that matter, will be in a decade is hard to tell. We can only get down on our knees and pray that there is better enforcement of regulations within the industry and better enforcement of laws to protect the coastal marine environment by the government.
It would be nice not to lose the industry's revenue stream to the coral bombies of Myanmar.
— Isaac Stone Simonelli
Keep in contact with The Thaiger by following our Facebook page.
Never miss out on future posts by following The Thaiger.
Phuket police confirm speed limit of bypass road after locals complain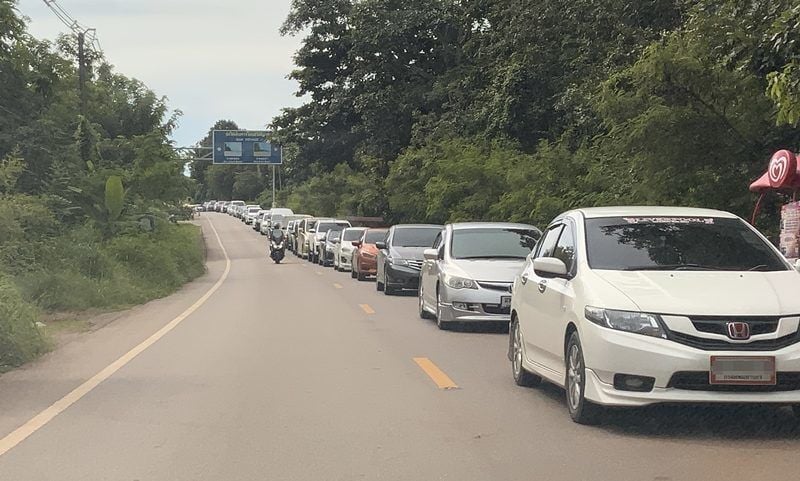 Phuket police are confirming the island's bypass road speed limit as 50 kilometres per hour. That is, despite years of back and forth between motorists and the law. The latest announcement comes after locals posted online copies of their speeding tickets, which showed the confirmed limit. The stretch of road, almost the only stretch of road where you could get a car up to 100 kph, has long been a speedway for cars, trucks and vans.
The reason they are complaining is due to the fact that they say they were under the impression that speeding tickets would only be given to those caught exceeding 100 kilometres per hour along the bypass. They say police have assured for years that this would be the case.
Phuket City Traffic Police Deputy Chief Rungrit Rattanaphakdee says that normally motorists are allowed to drive up to 80 kilometres per hour on municipality roads but the bypass road's speed limit is 50 kilometres per hour.
"Although drivers of private cars and motorbikes can drive not over 80 kilometres per hour on municipality roads in accordance with the Road Traffic Act B.E. 2522, all drivers must follow the 50 kilometres per hour signs installed along the bypass road."
But his interpretation of the law contradicts a statement in 2015 by former Phuket Highways Office Chief Samak Liedwonghat and Teerawat Liamsakun, who was Phuket City Police Chief at the time. Samak said back then, that the signs with a white background and red circle are advisory only. In other words, not mandatory. Teerawat also concurred with Samak, in 2015, by saying that the signs were advisory only but warned that drivers may have an accident if they don't comply with the advisory speed limit on the signs.
"Actually, speed is limited by law on this road [the bypass road] to 80 kilometres per hour in tessabaan (municipal) areas and 90 kilometres per hour in other parts. Our speed cameras are set to detect vehicles going faster than 100. Anyone caught going faster than that risks receiving a speeding ticket in the mail."
Now, Rungrit says the speed limit is mandatory but motorists would not be issued tickets by the speed cameras unless motorists' speeds were higher than 100 kilometres per hour.
Locals say they are still confused as they say Rungrit didn't respond as to why the motorists were being ticketed when travelling under 100 kilometres per hour as he maintains that fines are only given to those going over 100 kilometres per hour. The photos of the tickets showed most of those ticketed to be travelling at speeds of 90-99 kilometres per hour, which directly contradicts Rungrit's new interpretation of the law.
"….So far we have had tickets issued only to the drivers who drove faster than 100 kilometres per hour."
"The signs are there to remind drivers to drive carefully under the speed limit, as normally drivers drive very fast on the road, leading to accidents."
"We are trying to use technology to charge drivers' behaviour, so we use speed cameras and have tickets sent to their homes. As you can see, we never set up any checkpoint along the bypass road, except during the long holidays."
To be clear, Rungrit says the bypass road speed limit is 50 kilometres per hour, but you may be ticketed if your speed exceeds 100 kilometres per hour. That is, despite locals receiving tickets for going 90-99 kilometres per hour.
SOURCE: The Phuket News
Keep in contact with The Thaiger by following our Facebook page.
Never miss out on future posts by following The Thaiger.
UPDATE: Confusion over Covid-19 tests for visa extensions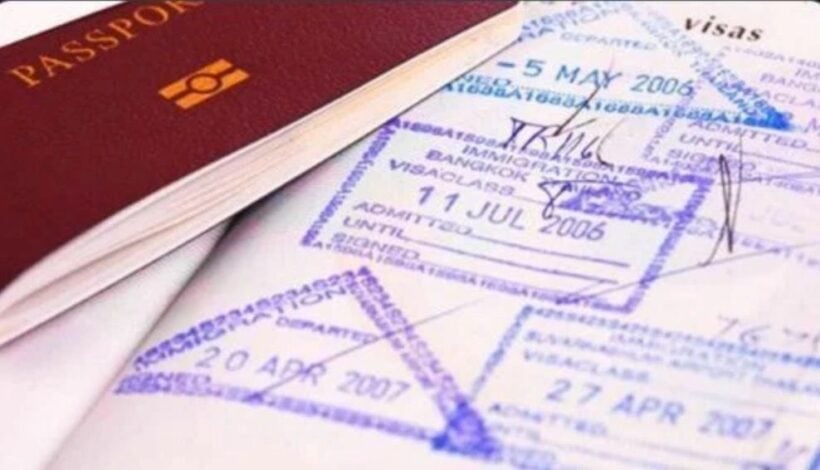 UPDATE: Khaosod English removed a story on Covid-19 tests for those seeking visa extensions and replaced it with the article "Immigration backtracks on plan to require Covid-19 test for visa extensions." They say the previous report sparked uproar among expats and immigration police spokesperson has since apologised for the misunderstanding.
Original article…
Confusion reigns today over whether Covid-19 tests will be required for visa extensions. While The Phuket News spoke with an immigration official who said "no… you don't need a Covid-19 test to extend your visa or apply for a work permit", Khaosod English wrote an article headlined "Covid-19 test will be mandatory for all visa extension".
The Thaiger also contacted a respected visa agent who said Covid-19 tests are, indeed, now required for applying for both visa extensions and work permits, even renewals.
The Thai Immigration Bureau has not made any official announcement regarding Covid-19 tests. Talk about Covid-19 tests for foreigners was brought up after a rule was published in the Royal Gazette last month, officially adding Covid-19 to a list of dangerous diseases, prohibiting those infected with any of the listed illnesses from entering the country.
Immigration Police Bureau spokesperson Archayon Kraithong told Khaosod English that proof of a negative Covid-19 test will be required for visa extensions, regardless of how long a foreigner has stayed in Thailand. On the other hand, Phuket immigration deputy chief Nareuwat Putthawiro told The Phuket News that Covid-19 tests will not be required for visa extensions or work permit applications.
"We do not require any medical documents for an application to renew a visa, because there are few foreigners' movements outside Phuket. Most of them live and work in Phuket, and have done so before the new wave of Covid-19… So they do not have to worry about it. Everything is still the same."
Medical exams are currently already required for most work permit applicants (including tests for Syphilis and Elephantiasis). A visa agent told The Thaiger that Covid-19 tests have been added to the medical examination requirements for work permit applicants. But, on the other hand, Phuket immigration says they DO NOT require Covid-19 tests for work permit applicants.
"We have not received any notices about Covid-19 requirements for processing applications to renew visas. If we do receive any such orders, we will let the public know."
It isn't the first time there has been conflicting statements coming out of different officials, in different immigration offices on different days.
SOURCES: Phuket News| Khaosod English
Catch up with the latest daily "Thailand News Today" here on The Thaiger.
Keep in contact with The Thaiger by following our Facebook page.
Never miss out on future posts by following The Thaiger.
Visitors to Phuket from "highest risk" areas must show Covid-19 test results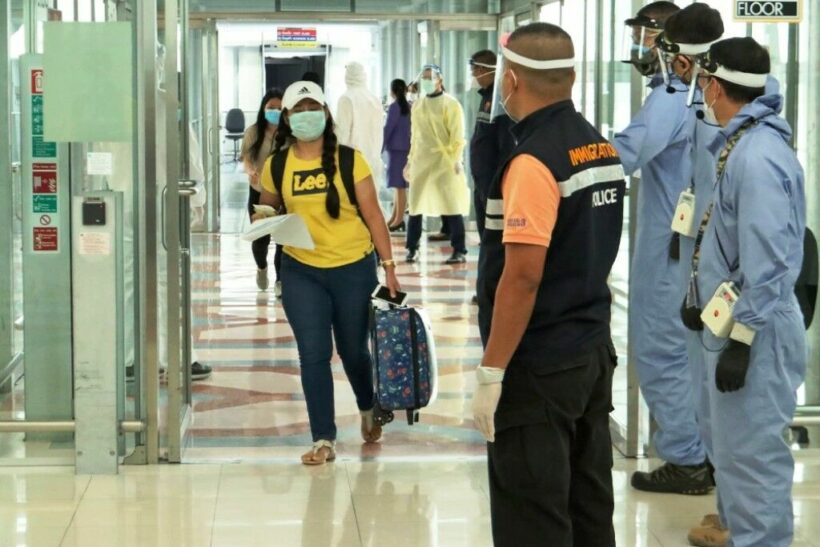 People arriving Phuket from the "highest risk" areas are required to take a swab test by the staff at emergency operation centres (EOC) or show the test result document endorsed by the EOC staff made within 72 hours of their arrival. The revised order is effective from now until January 31, according to the Phuket Governor.
Those people who are on a brief business trip to Phuket need to show certificates from their employers describing the reason and necessity of their trips. If they want to leave their accommodations, they have to make a request to the EOC and clearly explain the reason as well as the time and destination. Visitors are also asked to avoid going to the community areas to avoid crowded gatherings.
It is noted that the revised order by the governor has not been officially promoted by the Phuket office of the Public Relations Department. However, all visitors are still asked to register online via the Mor Chana contact tracing application and via www.gophuget.com according to the order re-issued on Friday.
SOURCE: Phuket News
Keep in contact with The Thaiger by following our Facebook page.
Never miss out on future posts by following The Thaiger.