Phuket
7 dead, 52 injured in Songkran road accidents in Phuket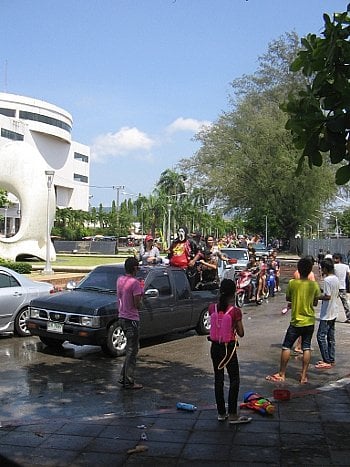 PHUKET: Seven people died and 52 were seriously injured in a total of 43 reported road accidents in Phuket during the 'Seven Days Of Danger' road safety campaign.
Six of the dead, a group of Burmese and their Thai driver, perished on Sunday when the overloaded pickup they were in lost control on a curve on the steep access road to the Mingmongkol Buddha image in the Nakkerd Hills.
That accident made the fatality rate much higher than last year, when just two people died over the same period.
However, the number of total accidents reported was down 28.3% year-on-year and the number of injuries requiring admission to hospital was also down by 18.6%.
A total of 60,000 cars were pulled over for inspections at police checkpoints set up around the island, with 4,207 people charged or fined.
The most common infraction was operating a vehicle without a valid license. Of 19,344 people asked to produce one, 2,597 could not.
Forty-five people were arrested for drunk driving.
The most dangerous days for accidents and injuries was April 13, when Songkran water play was at its height in Phuket. There were 11 reported accidents on the day but, remarkably, no deaths.
Nationwide, road accidents killed 271 people during the period , the national Road Safety Center announced today.
As of Sunday, 3,476 people had been injured in traffic accidents.
Public Health Minister Jurin Laksanavisit, chairman of the Center, said the number of road accidents during the Songkran holidays dropped by 9 per cent from last year, from 3,516 to 3,215 accidents.
The number of fatalities dropped by 25 per cent from last year or from 361 to 271.
The number of injuries also dropped by 9 per cent, or from 3,802 to 3,476 injuries.
Nationwide reporting by Phuket Gazette partner publication The Nation.
— Stephen Michael Fein