Phuket
62 year old man arrested in Phuket after killing his wife's paramour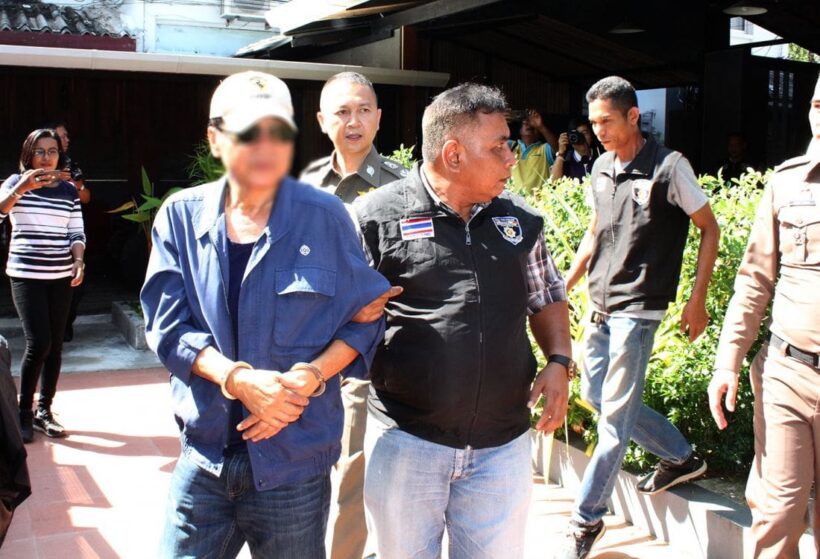 A 62 year old Thai man has been arrested in Phuket after shooting and killing a soldier who was his wife's paramour. The incident happened in Sa Kaeo Province on the Cambodian border.
On Friday, Wattana Nakhon Police in Sa Kaeo were notified of the incident at a restaurant in Wattana Nakhon District in Sa Kaeo.
Police and rescue workers arrived to find blood on the floor. 56 year old Lieutenant Samueanchai Pueadpean, a soldier from Burapa Command in Sa Kaeo, who had sustained serious injuries from gunshot wounds, had already been rushed to Wattana Nakhon Hospital where he was later pronounced dead.
Phuket Police tracked down and arrested 62 year old Utane Jitman, a restaurant owner, at a hotel in Rassada, following an arrest warrant which had been issued from the Sa Kaeo Provincial Court on October 26. The arrest warrant cited intent murder and illegal possession of firearm in the list of charges. Utane will now be transferred back to Wattana Nakhon Police in Sa Kaeo.
Utane tearfully told police that he was together with his wife for many years. He had launched a restaurant with his wife over the past two years. Utane was working away a lot of the time. When Utane called his wife saying that he was coming back, he says his wife said "you don't have to come back".
When Utane returned to the restaurant in Sa Kaew, where it was closed at the time, he discovered a car parked in front of the restaurant. He then found Lieutenant Samueanchai was in the bedroom upstairs with his wife.
He took a gun from the room and tried to shoot at Lieutenant Samueanchai but the gun misfired. Lieutenant Samueanchai then shot back at Utane. Utane then found another gun and fired back. This time his shots wounded Samueanchai, fatally.
Utane told police that he was going to surrender to police as he was afraid someone might try to kill him.