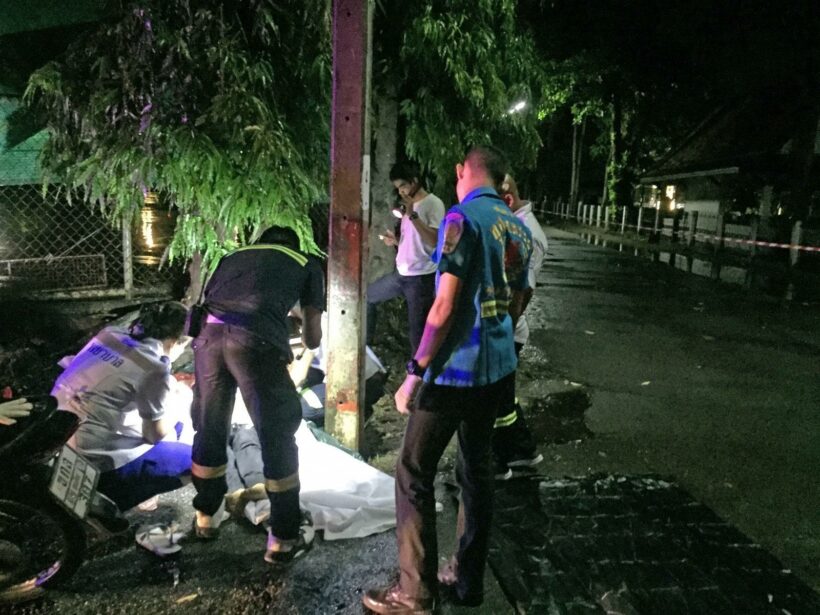 A school janitor has been beaten to death by a wooden stick early this morning (June 28). Police are hunting for the suspect.
The Phuket City Police were notified of the incident at Soi Sanamchai (near tennis courts) which is opposite the Phuket Provincial City Hall in Phuket Town at 3am.
Emergency responders arrived at the scene to find the body of 60 year old Suparp Meesen from Phuket, a janitor of a school in Phuket Town. He was laying on the ground. A motorbike had fallen on his legs. His face was covered with blood, his face had been bashed and left arm broken.
A one metre wooden stick was soon found 30 metres from Mr Suparp's body. Blood was found on the tip of the wooden stick. Mr Suparp's body was taken to Vachira Phuket Hospital.
A local resident who discovered the body told police that while she was walking in front of her house, she saw the body of Mr Suparp on the ground, covered in blood. She was very shocked after she realised the identity of the deceased as he was her neighbor. She noted to police that Mr Suparp is a quiet man that kept to himself but was always drinking alcohol.
At this stage police believe that the suspect probably knew Mr Suparp well. Police are continuing their investigation to find the suspect and are combing through the CCTV footage from cameras nearby.