Phuket Police hunting for suspect who bashed school janitor to death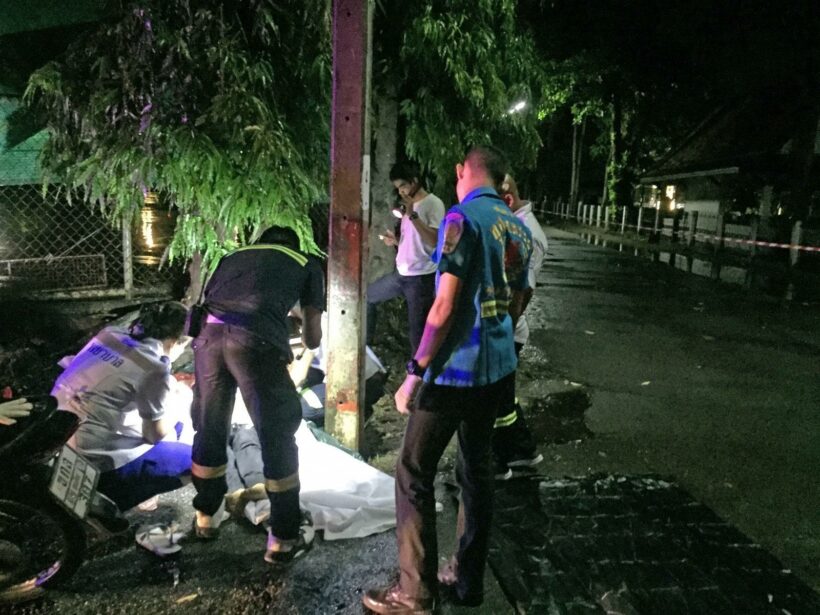 A school janitor has been beaten to death by a wooden stick early this morning (June 28). Police are hunting for the suspect.
The Phuket City Police were notified of the incident at Soi Sanamchai (near tennis courts) which is opposite the Phuket Provincial City Hall in Phuket Town at 3am.
Emergency responders arrived at the scene to find the body of 60 year old Suparp Meesen from Phuket, a janitor of a school in Phuket Town. He was laying on the ground. A motorbike had fallen on his legs. His face was covered with blood, his face had been bashed and left arm broken.
A one metre wooden stick was soon found 30 metres from Mr Suparp's body. Blood was found on the tip of the wooden stick. Mr Suparp's body was taken to Vachira Phuket Hospital.
A local resident who discovered the body told police that while she was walking in front of her house, she saw the body of Mr Suparp on the ground, covered in blood. She was very shocked after she realised the identity of the deceased as he was her neighbor. She noted to police that Mr Suparp is a quiet man that kept to himself but was always drinking alcohol.
At this stage police believe that the suspect probably knew Mr Suparp well. Police are continuing their investigation to find the suspect and are combing through the CCTV footage from cameras nearby.

PM calls for Thai Army's support on drought, security and tourist safety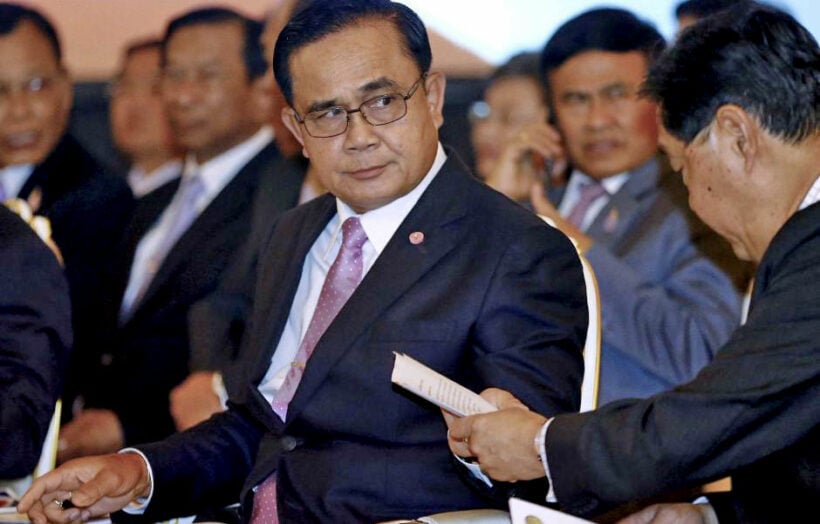 The Thai PM has chaired the first Defence Assembly session in his role of Minister of Defence, urging the armed forces to support the government's work in realising policies such as cybersecurity enhancement, drought mitigation, and tourist safety.
In the first Defence Assembly session, PM Prayut Chan-o-cha urged leaders of the armed forces and related departments to work in unison to support the government's policies, especially on cooperation with the Ministry of a Digital Economy and Society, the National Security Council, and other agencies, on the enactment of cybersecurity related bills. He called on them to come up with suitable responses to cybersecurity threats in the future.
The PM directed the armed forces to respond to natural disasters, particularly drought, and set up drought mitigation centers in affected provinces to work with related agencies.
Prayut then urged the defence agencies to implement measures to ensure tourists' safety in compliance with the government's policy promoting tourism as a means of distributing income to people in local provinces. He urged the Internal Security Operations Command, working with local government agencies and private firms, to create safety measures suitable for each area, especially in popular tourist provinces.
SOURCE: National News Bureau of Thailand
Australian bailed bikie boss refused entry into Thailand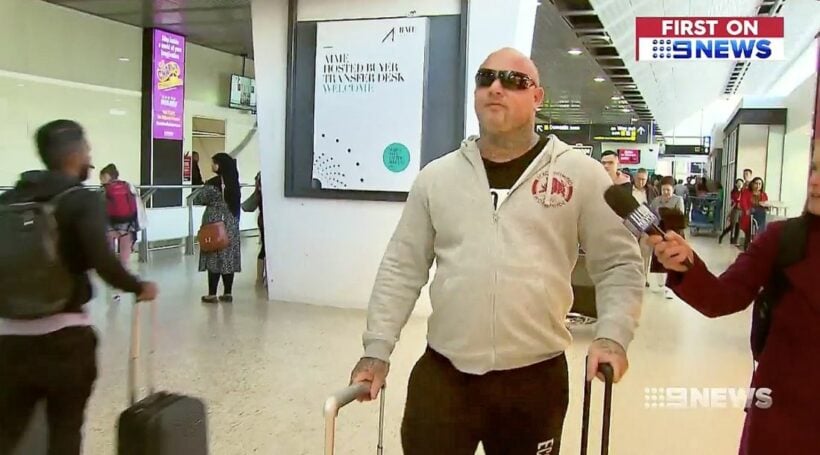 SCREENGRAB: 9news.com.au
The leader of an Australian outlaw motorcycle gang, Mick Murray, was turned around at the border in Thailand, despite his bail conditions allowing him to leave Australia for travel. The Comanchero bikie gang president, facing more than 100 fraud charges, had his bail conditions varied by the Melbourne Magistrates Court last Wednesday so he could travel to Thailand and Dubai.
Murray flew to Thailand on Thursday night, where he had planned to spend five nights, before a 10 day holiday in Dubai.
But he arrived back at Melbourne Airport on a Thai Airways flight about noon on Saturday after Thai authorities turned him around at Suvarnabhumi Airport in Bangkok.
Among other charges, he is accused of having associates falsify a loan application to a car-leasing company on his behalf and allegedly owes the Australian Taxation Office $1 million.
Although police failed to have the changes to his bail halted, Mick will have to stay put in Australia for the time being, arriving back at Melbourne's Tullamarine Airport on Saturday.
A spokeswoman for the Victoria Police says that the man had been refused entry into Thailand.
"This is a matter for the Thai authorities."
SOURCES: 9news.com.au | theage.com.au
11 die in early morning passenger van collision in Sa Kaew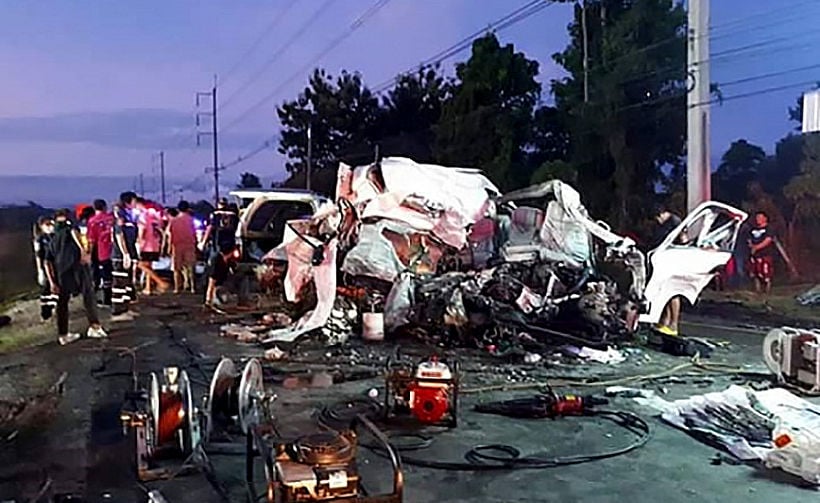 PHOTOS: The Nation
Eleven people have been killed and four others seriously injured after a chartered van carrying Lao workers collided with an 18 wheel truck in Sa Kaew province, east of Bangkok on the Cambodian border, early today (map below).
The Nation reports that they were travelling to the Chanthaburi immigration checkpoint to renew their visas.
Police suspect the Thai van driver, Sansern Sathongkhan, might have dozed off behind the wheel, and driven the passenger van into the opposite lane where it crashed head-on with the oncoming 18 wheel truck.
Police and rescue workers rushed to the scene at 4.15am on the Sakaew-Chanthaburi Road section of the highway near the entrance to the Wang Somboon District Office.
They found the dead bodies of the van driver and Lao passengers, many of whom were crushed in the wrecked van while others were flung out of the van with the force of the impact. Rescue workers were able to remove four seriously wounded people from the wreckage, including three Lao passengers and the truck driver, Subin Pengmoo, to rush them to the district hospital.
SOURCE: The Nation