Phra Phromsitti surrenders over alleged embezzlement of temple funds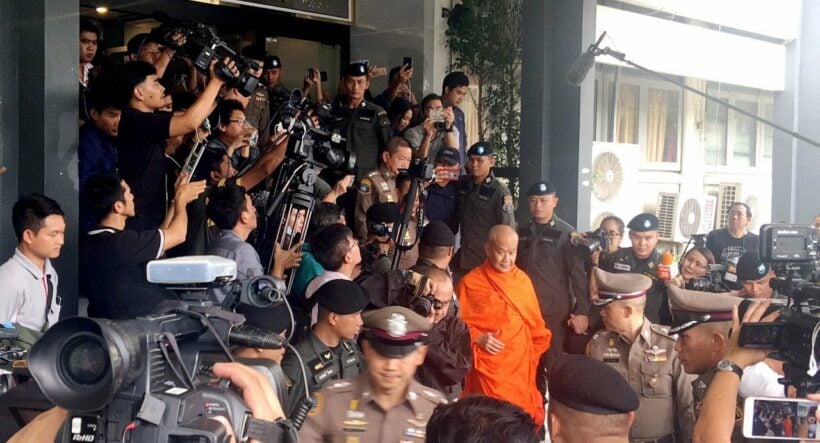 The former abbot of Wat Sa Ket has become the latest senior monk to become a guest of the Bangkok Remand Prison after surrendering to police yesterday.
Previously known as Phra Phromsitti (Thongchai Sukhayano), the former abbot had absconded for nearly one week before he contacted police.
"He claims he did not report himself to police earlier because he wanted to mark the Visakha Bucha Day," an informed source said yesterday. Visakha Bucha Day was on Tuesday.
A police source revealed that the monk's surrender took place after the Crimes Suppression Division (CSD) circulated a letter instructing immigration officials to detain three people close to the former abbot on sight.
According to the source, the CSD believes the trio – which includes a Laotian – might have helped the former abbot elude police last week.
On May 24, Phra Phromsitti was the only monk from Sa Ket Temple to elude capture during the police raid. The other monk on the run, Phra Phrommedhi (Chamnong Dhammajari), is the abbot of Samphanthawongsaram Temple. As of press time, the whereabouts of Phra Phrommedhi is still unknown. Five other monks implicated in the same scandal were arrested, denied bail and defrocked that day.
The National Buddhism Office has accused several senior monks of embezzling state funds for temples. The Sangha Supreme Council (SSC) – the country's highest body for monastic affairs – dismissed Phra Phromsitti, Phra Phrommedhi and Sam Phraya Temple abbot Phra Phromdilok (Euan Hasadhammo) as its members last week.
Yesterday, the Royal Gazette promulgated the King's royal command to strip the monks of their monastic ranks. Under this royal command, the four other implicated monks also lost their monastic titles. Even though the former abbot of Sa Ket Temple has already lost his monastic rank and left monkhood, he is still revered by many people.
A number of his followers gathered at the CSD yesterday to support him. The former Phra Phromsitti surrendered at Sa Ket Temple.
The monk was brought to the CSD where he was interrogated for three hours. He was expressionless as he left the CSD. Police asked for permission from the Central Criminal Court for Corruption and Misconduct Cases to detain him at a prison. The court granted the permission and decided to not grant bail to Phra Phromsitti. His lawyer had brought 1 million baht in cash for his bail plea.
62 year old Phra Phromsitti was ordained in 1976 and had been in monkhood until being defrockment yesterday. At the height of his monastic days, he was not just the abbot of Sa Ket Temple but also held several other important monastic positions.
A source said Thongchai plans to hold a press conference on the allegations against him in the near future. The ongoing police investigation suggested that Thongchai must have played a role in illegitimately funnelling more than 79 million baht from the Sa Ket Temple in recent years.
Some of the money reportedly went to a company that existed only on paper and was controlled by a woman who was close to a senior monk at the Sa Ket Temple.

STORY: The Nation
Keep in contact with The Thaiger by following our
Facebook page
.
Never miss out on future posts by
following The Thaiger
.
Approval sought for multi-billion-baht Phuket medical hub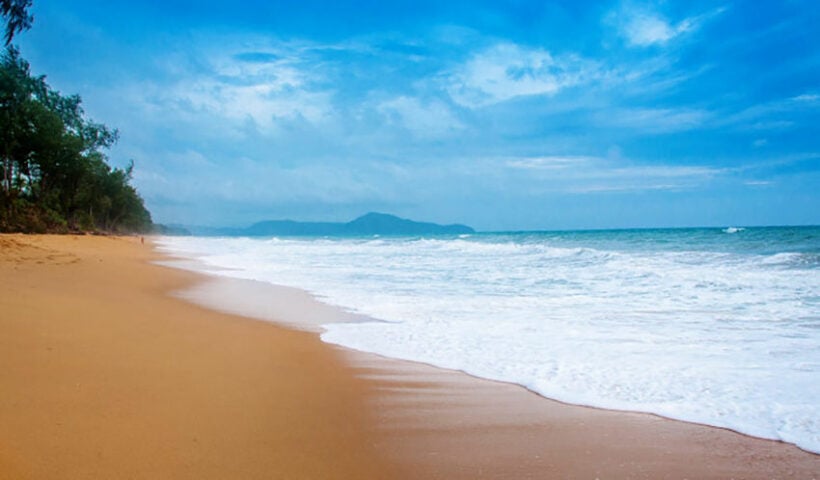 Industry officials are seeking the go-ahead for a project to transform over 140 rai of government land in Phuket into a world-leading medical hub. The project is budgeted at 3 or 4 billion baht, depending on which report you read. Kitkong Tantijaraswarodom, from the Federation of Thai Industries, believes the development of a medical and wellness hub in the sub-district of Mai Khao, north Phuket, will help revive the south's battered economy. The southern division of the FTI covers Phuket, Krabi, Phang Nga, Nakhon Si Thammarat, Trang, Patthalung, Surat Thani, Ranong, Satun, Chumphon, and Songkhla.
"The FTI will ask the government to green-light the project during the scheduled mobile cabinet meeting on the island on November 3."
Kitkong says businesspeople in the south are anxious for the government to approve the project, which will provide both locals and foreign medical tourists with state-of-the-art medical care. The facility is expected to include long-term care, hospice and rehabilitation services, in addition to a dental hospital, sports therapy centre, and a medical training school for doctors, nurses, pharmacists and medical laboratory scientists.
The chair of the FTI's southern chapter is also calling on officials to provide small and medium-sized businesses with additional support, in the form of access to loans, in order to deal with cash shortages.
"In the short term, the FTI wants the government to help SMEs, especially those in the tourism sector."
SOURCE: Bangkok Post
Keep in contact with The Thaiger by following our
Facebook page
.
Never miss out on future posts by
following The Thaiger
.
Bangkok air pollution predicted to reach "unhealthy" levels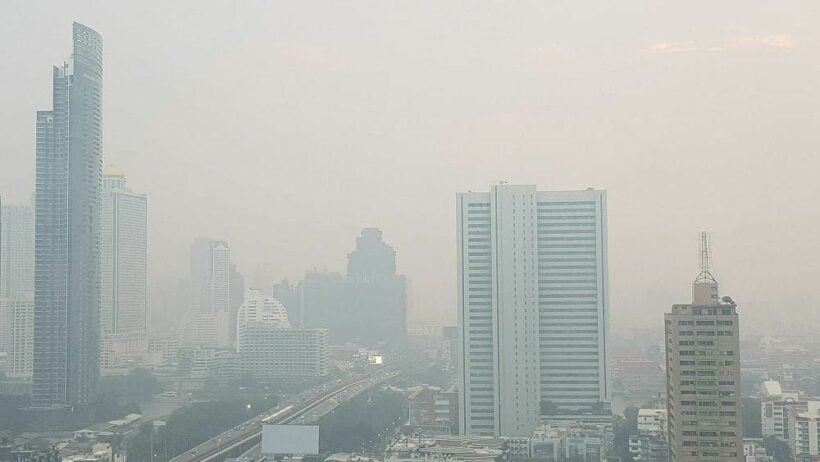 Bangkok's air quality improved during the lockdown period. In January, it was listed as the "third most polluted city in the world." By April, air pollution levels dropped down to a "safe" and "healthy" US Air Quality Index, or AQI. Now, forecasts predict Bangkok's air pollution will reach "unhealthy" levels.
Air with containing low levels of the air pollutant PM2.5 is considered "safe." PM 2.5 is fine particulate matter less than 2.5 micrometres in diameter. At high levels, it can be harmful to people's health. AQI is measured by the concentration of air pollutants. An AQI at 0 to 50 is considered safe, while 300 and up is considered dangerous.
0-50: Good
51-100: Moderate
101-150:Unhealthy for sensitive groups
151-200: Unhealthy
201-300: Very unhealthy
301-500: Hazardous
Just yesterday, Bangkok was listed as the 16th city with the worst air quality in the world on Air Visuals with an AQI of 108 with PM 2.5 at 38 micrograms per cubic meter (µg/m3). This morning, Bangkok's air quality was reported at a "moderate" level with an AQI of 95, according to Air Visuals.
Another website, through the World Air Quality Index project, reported the city's AQI at 129, a level that can be harmful to sensitive groups. Both websites forecast the AQI to increase by tonight to "unhealthy" levels that could be harmful to someone's health. Levels are expected to increase today to an AQI of 158 to 171.
The Pollution Control Department says the air quality in Bangkok fluctuates. While AQI was reported at a fairly high level yesterday, Bangkok has been between a "good" and "moderate" level with PM2.5 at around 20 to 42 µg/m3 detected by 71 air quality stations, according to the department.
The top 5 cities with the worst air quality, as of this morning on Air Visuals, are Delhi, India with 192 AQI; Shenyang, China with 186 AQI; Beijing, China with 174 AQI; Chongqing, China with 172 AQI and Chengdu, China with 167 AQI.
SOURCES: Nation Thailand | Air Visuals| World Air Quality Index project
Keep in contact with The Thaiger by following our
Facebook page
.
Never miss out on future posts by
following The Thaiger
.
Government planning new strategies to boost economic recovery
Energy minister and deputy PM Supattanapong Punmeechaow has outlined a number of strategies the government hopes will help the Thai economy recover from the Covid-19 fallout. The Eastern Economic Corridor, the special economic zone covering the eastern provinces of Rayong, Chon Buri and Chachoengsao, continues to eye foreign investors with a number of large infrastructure projects in the pipeline. One of those is a high-speed rail link between U-Tapao, Don Mueang and Suvarnabhumi airports. Also in the works is a 290 billion baht project to develop U-Tapao, with plans for a new, third terminal, and an aviation training centre, among other facilities.
Supattanapong adds that the Board of Investment is considering a range of incentives to encourage foreign investors to purchase property in Thailand. The government is considering offering permanent residency to those buying condos in the Kingdom, provided they don't mortgage, transfer, or sell the units within 5 years of purchase.
In relation to foreign arrivals, he says the government will clarify its plans on any further re-opening to tourists and investors, in addition to any potential reduction in quarantine. He adds that if the current 14-day period is to be reduced, this would only apply to those coming from countries considered "low risk" for Covid-19. It's understood the Public Health Ministry is working on categorising countries into low, medium, and high risk, in order to determine the new mandatory quarantine period for international arrivals.
Officials are also considering how foreigners can be encouraged to up their spending from the current average of 50,000 baht per person to 100,000 baht. Since the closure of Thailand's borders due to the Covid-19 pandemic, the country's tourism sector, once welcoming around 40 million visitors a year and generating 3 trillion baht in revenue, has been decimated.
Meanwhile, the government continues to target domestic tourists and residents through a number of stimulus measures, including a recently announced co-payment scheme aimed at boosting spending.
SOURCE: Nation Thailand
Keep in contact with The Thaiger by following our
Facebook page
.
Never miss out on future posts by
following The Thaiger
.