Pattaya tourist loses a leg in collision with pickup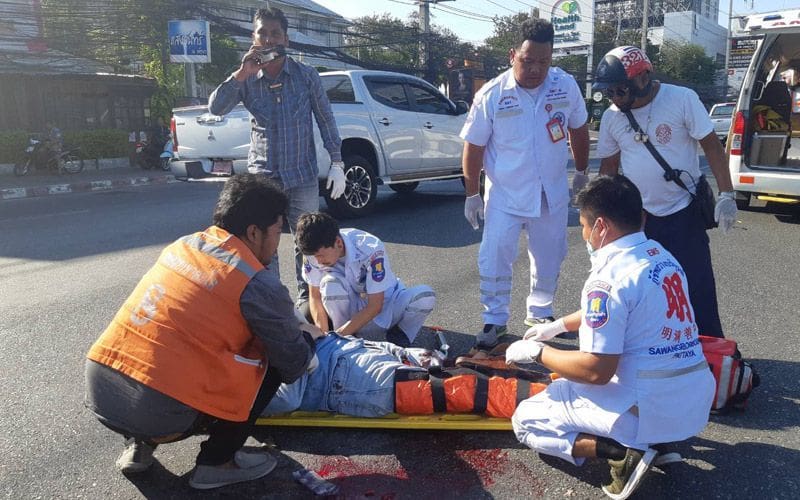 PHOTO: Naewna News
A 58 year old tourist from Kazakhstan has lost his leg in a collision with a pickup truck in Pattaya.
The Thai driver of the pickup told police that the tourist on a PCX motorcycle suddenly cut in front of him attempting to make a turn into a soi, resulting in a collision.
The Sawang Boriboon foundation medics treated Vsevolod Yun from Kazakhstan before rushing him to hospital. His right leg had become amputated as a result of the crash.
The incident occurred on Sukhumvit Road heading towards Chon Buri at the Soi Khao Talo intersection.
The Vigo driver , 55 year old Mongkhon Chupetch says he was unable to brake in time when the motorcyclist suddenly cut in front of him to head down a soi at the intersection.
Police are studying CCTV to verify the cause of the incident. They say that both vehicles had Chonburi number plates.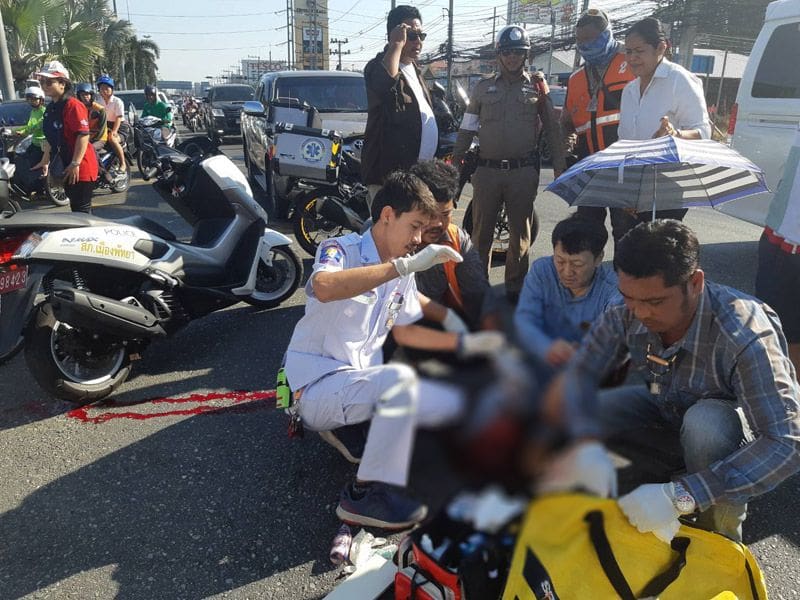 SOURCE: Naewna News
Keep in contact with The Thaiger by following our
Facebook page
.
Never miss out on future posts by
following The Thaiger
.
Bangkok Airways add 3 new local routes to their schedule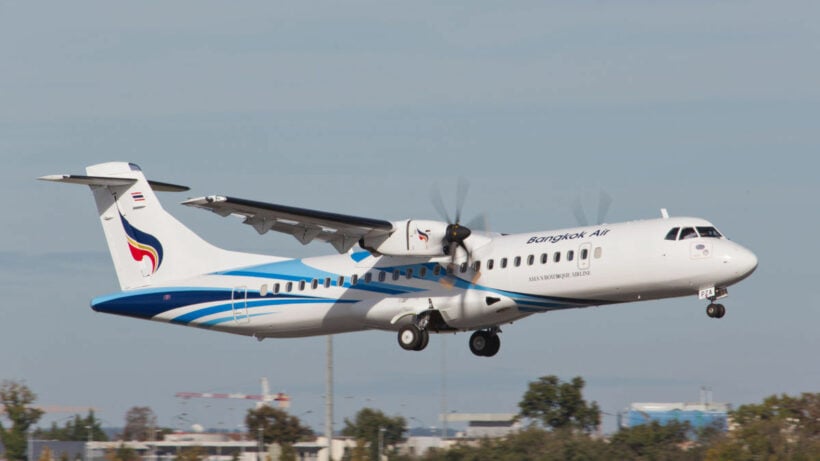 Some domestic routes are being added as local routes continue to expand. This time Bangkok Airways has announced it's resuming its Samui-Phuket, Phuket-Hat Yai and Phuket-Pattaya/Rayong (U-Tapao) flights.
The first additions to the schedule will be the Phuket-Samui flights resuming this Sunday, October 25, and the Phuket-Pattaya flights start again next Tuesday, October 27. The Phuket-Samui flights will be operating on Sundays and Wednesdays only on the airlines' ATR72 turbo prop regional planes, same as before.
A casual search on the Bangkok Airways website, for a return flight from Phuket to Samui on November 1, then back to Phuket on November 8 indicates the cheapest fare (promo) is 2,430 baht. Coming back, the cheapest fare we found, again labelled 'promo', was 2,630 baht. Bangkok Airways operate as a "full service" airline and don't compete with the country's discount airlines. But they operate these three routes exclusively – like it or leave it.
Bangkok Airways say that the flights will be operated "with the highest preventive measures and standards". Around the country the Civil Aviation Authority of Thailand have eased a few of the onboard restrictions, including the start of catering services which were originally banned under the initial flight rules when domestic routes started flying again at the start of July.
The daily direct services between Phuket and Hat Yai are also being operated on the ATR72 aircraft. The flight to Ha Yai leaves Phuket at 8.40am and arrives at Hat Yai at 9:.45am. The return flights leave Hat Yai back to Phuket at 10.25am each day. The route was very popular for the airline before the 'disruption' when airlines had their fleets grounded in April.
The service between Phuket and U-Tapao, linking the party city with the party island, will operate on Tuesdays, Thursdays and Saturdays, again with the ATR72. Phuket to U-Tapao will leave at 12.10pm and then from U-Tapao to Phuket at 4pm on the three days. U-Tapao is about a 50 minute drive from Pattaya and the airport also serves the greater Rayong area.
Keep in contact with The Thaiger by following our
Facebook page
.
Never miss out on future posts by
following The Thaiger
.
Pattaya residents accuse Greek expat of throwing sewage, threatening neighbours, and damaging property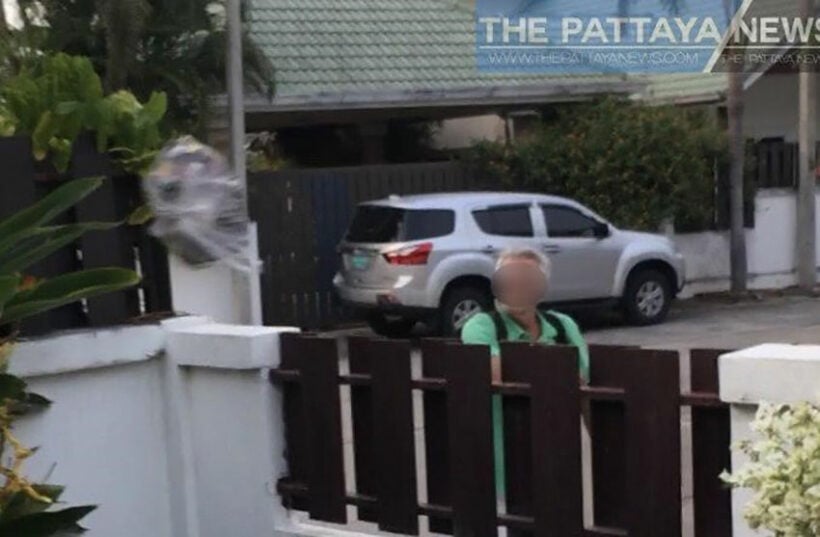 Residents of a housing estate in the district of Banglamung in Pattaya, have filed a police report against an expat they accuse of threatening and damaging behaviour. According to The Pattaya News, neighbours say the Greek national has threatened them, as well as "throwing sewage" at their homes, and damaging their fences. They add that, despite filing a police report about the man's behaviour, which has also been captured on CCTV, they feel nothing is being done.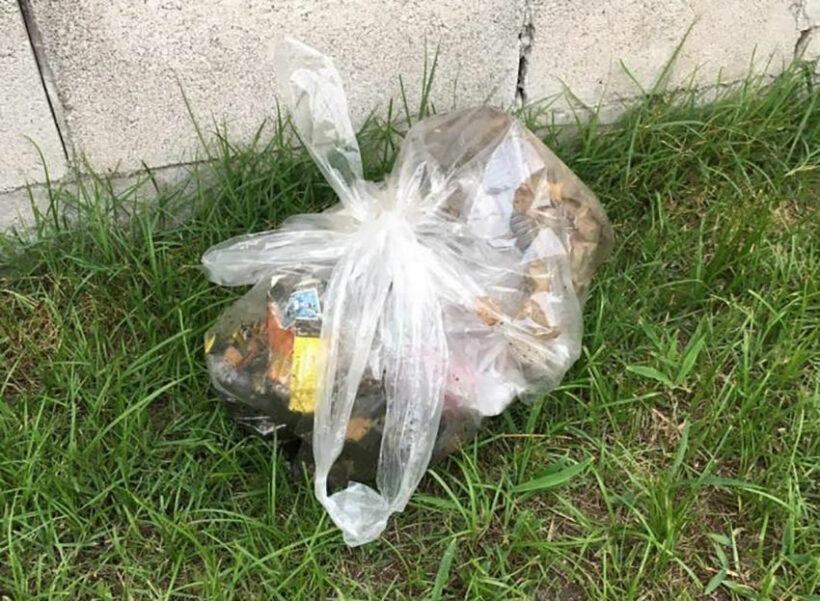 PHOTO: The Pattaya News
In the police report, neighbours say the man is from Greece and around 50 years old. They accuse him of destroying fences with a hammer, while threatening and screaming at residents. According to the report, he has also thrown bags of sewage and other trash over fences and onto other people's property. He is also accused of attacking a security guard and an elderly woman in the estate.
Residents say they are mystified as to why the man is acting this way, insisting they have done nothing to provoke such behaviour. The man's name has not been disclosed.
SOURCE: The Pattaya News
Keep in contact with The Thaiger by following our
Facebook page
.
Never miss out on future posts by
following The Thaiger
.
Pattaya bar ladies use YouTube to make money during pandemic – VIDEO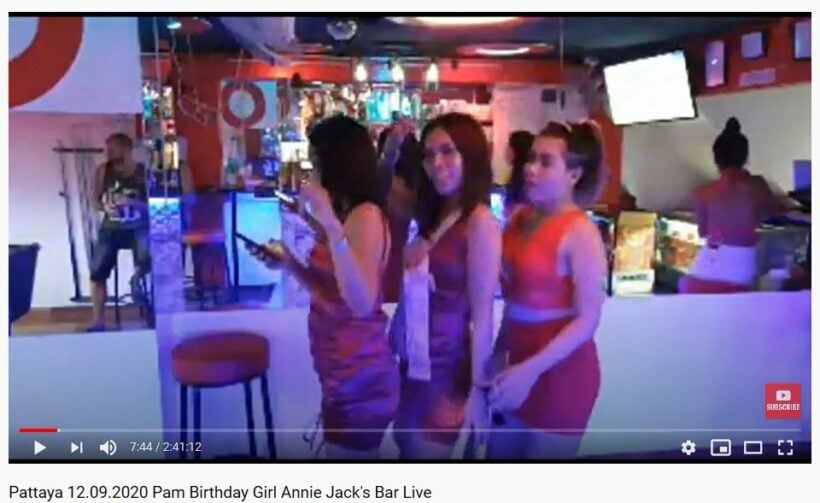 Can't visit the ladies in Pattaya? Just go to YouTube and type "Pattaya bar live" in the search bar. A number of videos and live streams will come up from various bars in Pattaya. The area was hit hard by the Covid-19 pandemic with a ban on international tourists, battering the local economy that heavily relied on foreign visitors. But it looks like many of the bars, that cater to foreign, male customers, are making money by reaching out to customers who aren't even in Thailand.
Many bars than now stream on YouTube list a link to a PayPal to allow customers to make a donation or buy a drink for one of the female bar staff. Some live stream at the bar, allowing the customers sitting at home in another country to connect with the bar staff, as if they were there.
Sweet Media, an account which started in March, posted a video of a pool party in Pattaya saying "nice to see the girls enjoying getting wet and letting their hair down at the pool party," with a link to donate to the "Next Thai Girls Pool Party fund" and another link to buy a lady a drink for 150 baht.
A Pattaya bar under the YouTube account "S3xy bar soi buakhao" has been live streaming for months. They started with just a few hundred views and now break a thousand. They have chatroom rules: "Be nice to the girls, the bar and all customers past, present and future."
Pattaya's Oh Bar joined YouTube in August. They have live stream videos at the bar as well as pre-recorded videos like "Beer Bar Lady Beach Volleyball." The women didn't play much volleyball and lined up on the beach, each in a different coloured bikini to stretch. They took some shots of holding the ball before passing it around in a circle. Another video is of "Beer Bar Lady Amy" studying English, showing the woman at a desk in her pajamas, flipping through a textbook for 8 minutes.
Oh Bar also did a video asking the bar staff "What type of customer do you like?" Here's what so of the Oh Bar ladies said …
"I like a man who takes care of me. I come to Pattaya to find man who support and marry me."
"I like old man. I think old man makes me good and takes care of me and my family."
"I like warm man. Good style. Takes care of me. Love me and friendly, comfortable… Marry me."
Catch up with the latest daily "Thailand News Today" here on The Thaiger
Keep in contact with The Thaiger by following our
Facebook page
.
Never miss out on future posts by
following The Thaiger
.