Pattaya
"If you resist arrest, you will be shot" – Chonburi police chief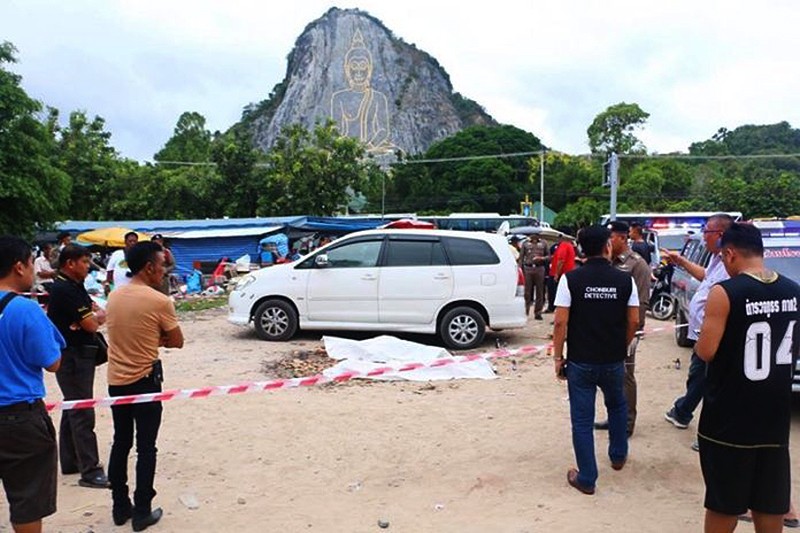 PHOTOS: THAI Rath
When we find you, and if you resist arrest, you will be shot."
Thai Rath is reporting that the head of the Chonburi police force has some strong words for the alleged Phuket-based mastermind behind the slaying of the the Buddha Mountain couple over the weekend.
Speaking after a re-enactment of the movement of the couple before the crime, Pol Maj Gen Nanthachart Suphamongkhon make clear his feelings when referring to Phuket millionaire "Sia Uan"…
"Give yourself up. If you try to flee we will hunt you down – you can be sure of that. When we find you, and if you resist arrest, you will be shot". ("Sia Uan" (Mr Fat) is the nickname of Panya Yingdang, a prominent Phuket businessman who allegedly owns two bars in the Bangla Road strip)

The chief also made an effort to reassure the public horrified by the execution style double murder in the car park at Buddha Mountain in Sattahip near Pattaya.
"The public can have faith in the Chonburi police. We will arrest them all. It will all be honest, above board and according to the law.
"The Chonburi police cannot be bought", he told reporters at Na Jomtien police station.
Earlier Daily News reported that 43 year old Sayan Srisuk was taken to six locations in Pattaya and Sattahip as part of the reenactment of his role in the crime. Earlier reports in other media suggested he was paid 20,000 baht for information concerning the whereabouts of the couple.

20 year old Paweena Namuangrak and her 21 year old friend Anantachai Jaritram, a waiter in Nakorn Pathom, were gunned down Sunday in a hail of bullets in front of shocked tourists at Buddha Mountain. They were on a tour of attractions around Pattaya as part of Paweena's birthday celebrations.
Paweena is believed to have had a relationship that she broke off with Panya who later sent her family one million baht even though they didn't want it. The parents of Anantachai said that their son and Paweena were not lovers.
Read more about the search in Patong yesterday for the alleged suspect HERE.
SOURCE: Daily News