"If you resist arrest, you will be shot" – Chonburi police chief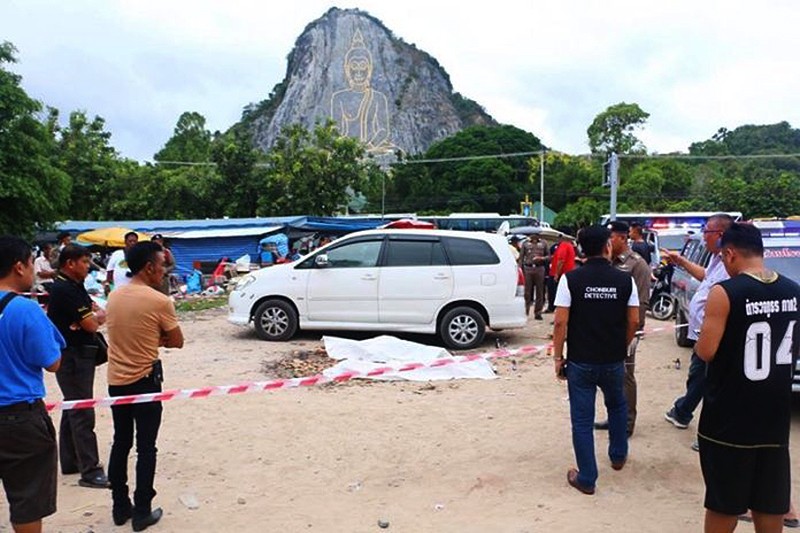 PHOTOS: THAI Rath
When we find you, and if you resist arrest, you will be shot."
Thai Rath is reporting that the head of the Chonburi police force has some strong words for the alleged Phuket-based mastermind behind the slaying of the the Buddha Mountain couple over the weekend.
Speaking after a re-enactment of the movement of the couple before the crime, Pol Maj Gen Nanthachart Suphamongkhon make clear his feelings when referring to Phuket millionaire "Sia Uan"…
"Give yourself up. If you try to flee we will hunt you down – you can be sure of that. When we find you, and if you resist arrest, you will be shot". ("Sia Uan" (Mr Fat) is the nickname of Panya Yingdang, a prominent Phuket businessman who allegedly owns two bars in the Bangla Road strip)

The chief also made an effort to reassure the public horrified by the execution style double murder in the car park at Buddha Mountain in Sattahip near Pattaya.
"The public can have faith in the Chonburi police. We will arrest them all. It will all be honest, above board and according to the law.
"The Chonburi police cannot be bought", he told reporters at Na Jomtien police station.
Earlier Daily News reported that 43 year old Sayan Srisuk was taken to six locations in Pattaya and Sattahip as part of the reenactment of his role in the crime. Earlier reports in other media suggested he was paid 20,000 baht for information concerning the whereabouts of the couple.

20 year old Paweena Namuangrak and her 21 year old friend Anantachai Jaritram, a waiter in Nakorn Pathom, were gunned down Sunday in a hail of bullets in front of shocked tourists at Buddha Mountain. They were on a tour of attractions around Pattaya as part of Paweena's birthday celebrations.
Paweena is believed to have had a relationship that she broke off with Panya who later sent her family one million baht even though they didn't want it. The parents of Anantachai said that their son and Paweena were not lovers.
Read more about the search in Patong yesterday for the alleged suspect HERE.
SOURCE: Daily News
Sattahip drug addict arrested and jailed after threatening wife and children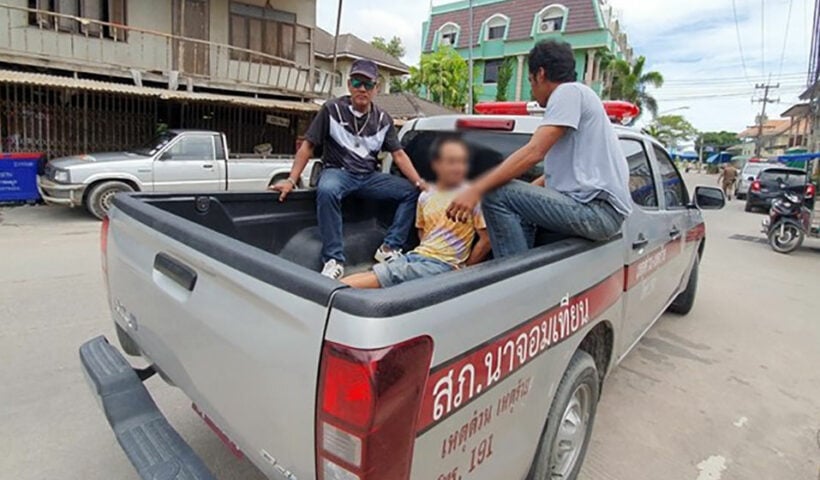 PHOTO: Pattaya Mail
Sattahip police have arrested a person with drug problems who allegedly threatened to kill his wife and two children. 39 year old Jarat Injom was found hiding in the bedroom of his Moo 4 village house where he had barricaded himself after 34 year old wife Sangwein Prasannet called police.
The wife told authorities she'd been married to Jarat for eight years and they had two children, aged 5 and 8. But for the past two years he has been addicted to crystal methamphetamine (ice).
She told police that he often acted crazy and aggressive but she had never sought help in the past. But today he threatened both her and her children with a knife, so she called police.
The man has been arrested and is currently in detention pending further legal proceedings.
SOURCE: Pattaya Mail
Indian and Pakistani rob foreigner on road trip to Pattaya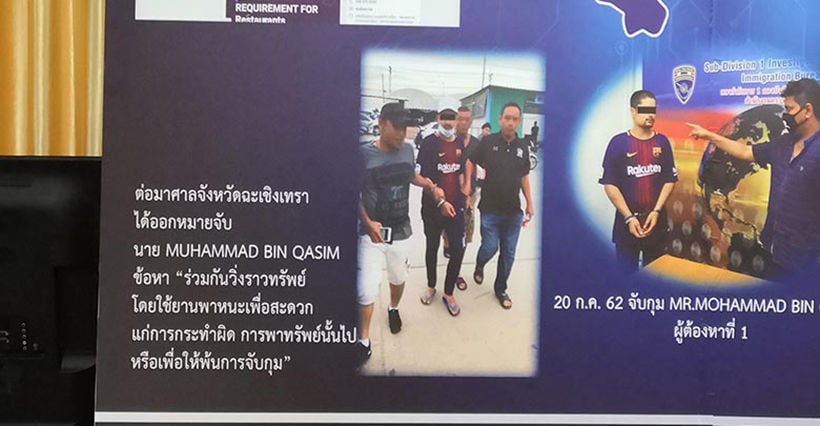 PHOTOS; INN News
The Immigration Police have arrested a pair of foreign criminals after robbing a fellow foreigner on a road trip to Pattaya from Bangkok. The two men made friendly contacts with their victims before arranging to meet and robbing them.
Mohammad, a man from Pakistan, and Kuldip, a man from India, have been charged with robbery. In this case the victim was another Indian who wanted to work in Thailand.
The traveller from India asked for help on a Facebook Page called Tesco Man Power PVT Ltd Thailand. This page aims to assist Indian citizens in Thailand and is a go-to blog for Indians working, retired or looking to work in Thailand.
The victim was contacted by the 2 suspects who made friendly overtures. After talking online for a while the man decided to travel to Thailand on June 25. The three met on Sukhumvit Road and agreed to travel together to Pattaya.
Things started turning sour during the road-trip. The suspects forced the victim to hand over his phone, and cash worth 100,000 baht. After they robbed him, they threw his luggage and passport out the car window before kicking him out of the car. The suspects then drove away leaving the man stranded in Nong Nan sub-district in Chachoengsao Province, basically the middle of nowhere.
Immigration Police contacted the Nong Nan Police to help investigate the case after the victim came in and reported what had happened to him. They eventually arrested Mohammad in a village in Samut Prakarn, south of Bangkok.
After arresting Mohammad, he told police more information that led to the arrest of Kuldip at a condo at Lad Krabang, Bangkok.
The pair will be prosecuted and deported back to their countries. Police suspect that the current victim wasn't their first victim falling for the same plan and ending up stranded somewhere between Bangkok and Pattaya.
SOURCE: INN News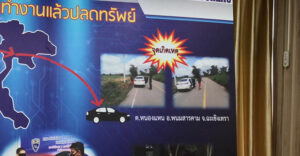 Pattaya bar owner arrested on human trafficking and prostitution charges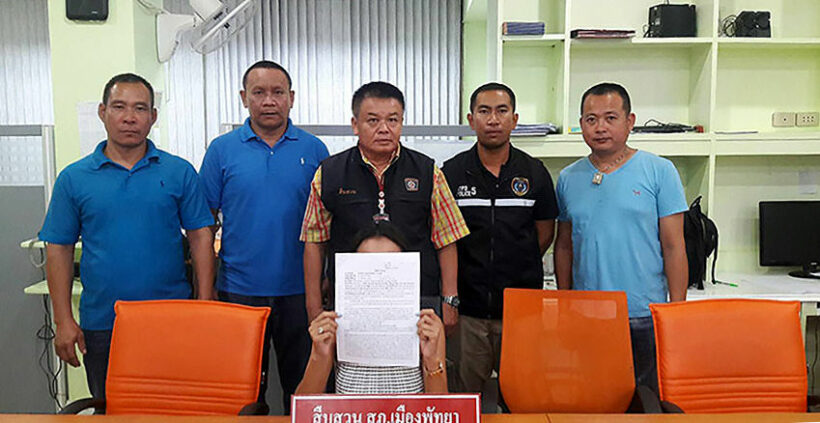 ORIGINAL PHOTO: INN News
A bar owner in Pattaya has been arrested on Saturday whilst on the run from police trying to arrest her over a string of human-trafficking and prostitution charges.
The Anti-Human Trafficking Division eventually arrested the 31 year old Pattaya bar owner, also known as 'Sudarat', 'Om Leelabut', and 'Nanthachai'.
Sudarat had an arrest warrant out in her name relating to human trafficking, seeking people persons to work as prostitutes, engaging underage persons between the ages of 15-18 to work work as prostitutes.
INN News reports that Sudarat also had charges waiting for her after owning a bar that "supports prostitution", including the sale of sexual services by persons over 15 years old but not exceeding 18 years old. In 2013 Sudarat and her foreign husband invested in a bar named "Sad Bar" which was providing prostitution services.
Police set up a sting by offering the "sale" of a person under 18 years old. But Sudarat evaded capture and continued hiding in the region. Sudarat was eventually arrested in a Chonburi restaurant and delivered to the Pattaya Police Station for formal charging.
SOURCE: INN News