Drunk British man with prosthetic arm responsible for Pattaya roadside crash – VIDEO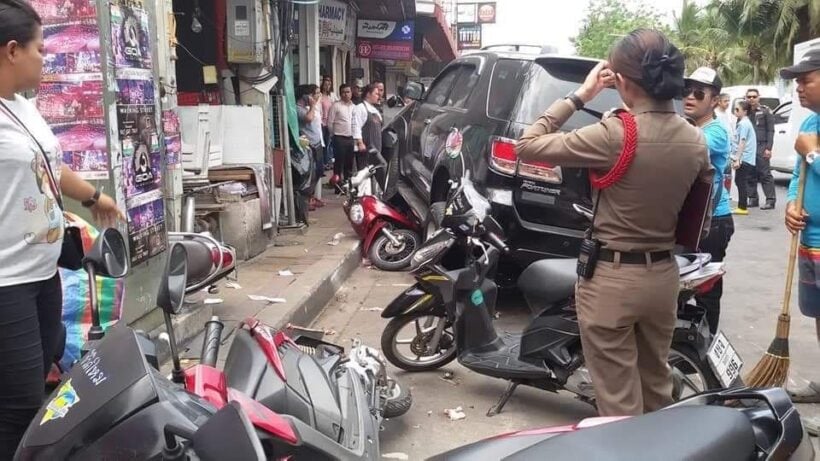 PHOTO: Sanook
An allegedly drunk British man, with a prosthetic arm, was responsible for yesterday's Pattaya incident when a black SUV plowed into motorbikes parked on the side of the road.
Read The Thaiger story HERE.
Sanook reports that the Toyota Fortuner that ran into the line of motorbikes, injuring many people along the way, was driven by a British man. 15 motorbikes and the back of a song thaew were damaged in the accident that happened around 11 am yesterday (Tuesday).
A 60 year old female tourist, a 65 year old male tourist and 40 year old Thai man were injured at the scene and taken to hospital.
The man was arrested by police and tested for alcohol. Both Sanook and The Pattaya News report that he "appeared drunk". They also reported that the man has a prosthetic left arm.
SOURCES: Sanook | The Pattaya News
!!!หนุ่มเมืองผู้ดีซิ่งฟอร์จูนเนอร์ พุ่งชนจยย และสองแถว ก่อนเสียหลักชนนักท่องเที่ยวบาดเจ็บสาหัส​เวลา 11.00 น. วันนี้ (26 ก.พ.) เจ้าหน้าที่ตำรวจ สภ. เมืองพัทยา จ.ชลบุรี รับแจ้งมีเหตุรถยนต์ชนกับรถจักรยานยนต์ บริเวณใกล้เคียงปากซอย 13/3 ถนนเลียบชายหาด ต.หนองปรือ อ.บางละมุง จ.ชลบุรี มีผู้ได้ รับบาดเจ็บ และทรัพย์สินเสียหายเป็นจำนวนมาก จึงพร้อมด้วยทีมกู้ชีพ รพ. พัทยาเมโมเรียล และ หน่วยกู้ภัยสว่างบริบูรณ์ธรรมสถานเมืองพัทยา ตรวจสอบและให้การช่วยเหลือ​ในที่เกิดเหตุพบรถยนต์ Toyota Fortuner สีดำ ทะเบียน กย-658 ชลบุรี ชนกับรถจักรยานยนต์ ก่อนพุ่งปีนขึ้นไปบนฟุตบาท โดยบริเวณใต้ท้องรถพบรถจักรยานยนต์จำนวน 4 คัน โดยมีนักท่องเที่ยวต่างชาติเป็นหญิงอายุประมาณ 60 ปี นอนอยู่บริเวณข้างรถยนต์ ในสภาพเลือดท่วมกายอาการสาหัส ส่วนบริเวณด้านหลังรถพบผู้ได้รับบาดเจ็บ เป็นชายไทย อายุประมาณ 40-45 ปี สภาพบาดเจ็บบริเวณแขนและขา ทั้งสองข้าง ไม่สามารถขยับตัวได้ ใกล้เคียงกัน ยังพบว่ามีนักท่องเที่ยวชาวต่างชาติเป็นชายอายุประมาณ 65 ปี ได้รับบาดเจ็บบริเวณแขนขวา​ตรวจสอบบริเวณโดยรอบพบรถจักรยานยนต์ที่จอดอยู่บริเวณข้างทาง ได้รับความเสียหายรวมทั้งสิ้น 15 คัน รถสหกรณ์สองแถวพัทยาถูกชนด้านท้าย อีกจำนวน 1 คันส่วนผู้ขับขี่รถยนต์โตโยต้าคันเกิดเหตุเจ้าหน้า ที่ได้ควบคุมตัวไว้ ซึ่งมีอาการคล้ายคนเมาสุรา ส่วนแขนซ้ายใส่แขนปลอมจากการสอบถาม ผู้บาดเจ็บ ทราบว่าระหว่างที่กำลังเลี้ยวออกมาจากธนาคาร ได้มีรถยนต์คู่กรณีที่แล่นมาด้วยความเร็วสูงพุ่งชนเข้าอย่างจัง ก่อนร่างกระเด็นไปกว่า 10 เมตร จากนั้นรถยนต์คู่กรณี ยังได้พุ่งไปชน ท้ายรถสหกรณ์สองแถวพัทยา จนยางอะไหล่หล่นลงมา และเสียหลัก พุ่งขึ้นไปชน รถจักรยานยนต์และนักท่องเที่ยวที่เดินอยู่บนฟุตบาทจนได้รับบาดเจ็บ เบื้องต้นทางเจ้าหน้าที่ได้คุมตัวผู้ขับขี่รถยนต์โตโยต้าทราบเพียงว่าเป็นชาวอังกฤษ อายุประมาณ 40-45 ปี เพื่อส่งพนักงานสอบสวนดำเนินคดีตามกฎหมายต่อไป

Posted by เดอะ พัทยานิวส์ The Pattaya News on Tuesday, February 26, 2019
Want more from the Thaiger family?
📱 Download our app on Android or iOS for instant updates on your mobile
📧 Subscribe to our daily email newsletter
👍 Like/Follow us on Facebook
🔔 Subscribe to or Join our YouTube channel for daily video updates


Read more headlines, reports & breaking news in Pattaya. Or catch up on your Thailand news.