78 year old Briton and wife seriously injured in bloody domestic dispute in Pattaya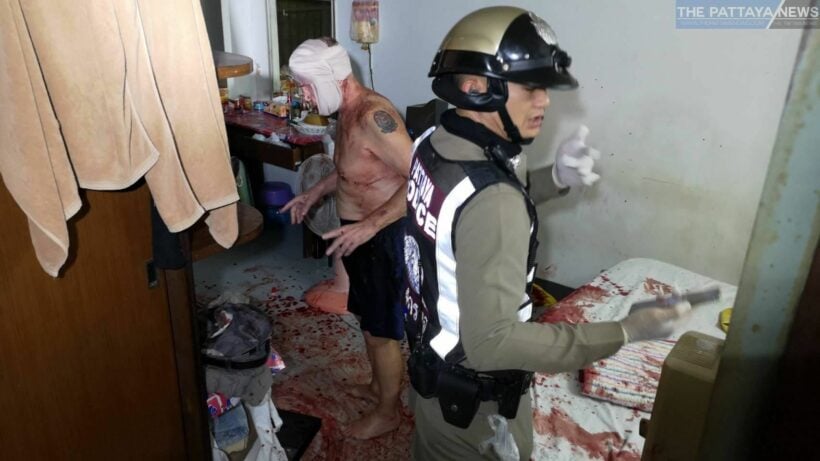 A British man and his Thai wife both suffered serious injuries in a violent domestic dispute in Pattaya in the early hours of this morning. Emergency responders and local media were notified of the incident some time after midnight. Medics arrived at the scene to find a 78 year old British national with serious slash wounds to his face and head. His 67 year old Thai wife had also sustained serious slash wounds to her hands. They were taken to separate local hospitals. Both of their names are being withheld pending a full investigation.
The wife told reporters that she was arguing with her husband before he allegedly pulled a knife and attacked her. She claims she managed to wrestle the knife away in self-defence, and fight back, which is he how he sustained his wounds.
Neighbours told reporters that alcohol was a major factor in the argument. Multiple open alcohol containers were present in the apartment.
Police are investigating further to decide whether to press charges.
SOURCE: The Pattaya News
Keep in contact with The Thaiger by following our
Facebook page
.
Chon Buri, Pattaya pass coronavirus milestones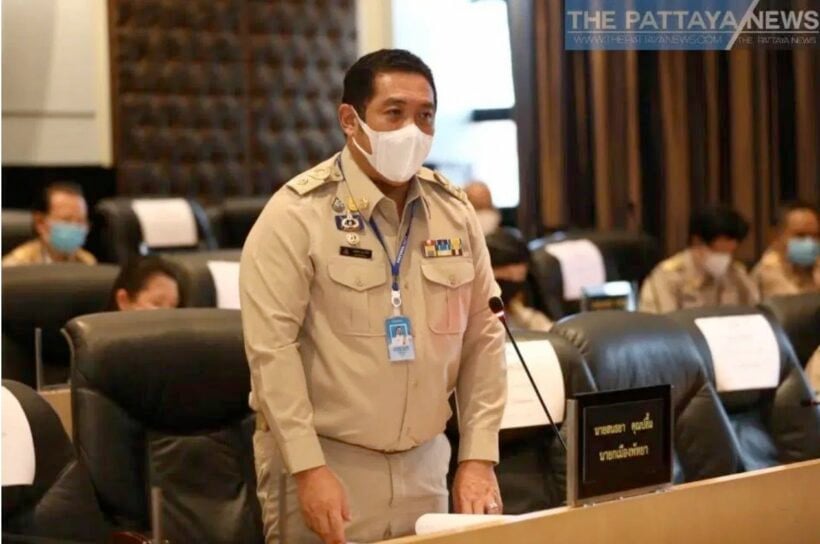 Chon Buri province passed a milestone today: 30 consecutive days without a new confirmed case of Covid-19. The Chonburi Communicable Disease Committee made the announcement this morning. Pattaya, which is part of the province, has reached 40 days. Not a single locally infected patient remains under treatment in the province.
There is a state quarantine centre in the province (Sattahip) for Thai nationals returning from abroad, which still has several people waiting to fulfil their 14 day mandatory quarantine. They arrived from overseas and were sent directly to the hospital and never mingled with the general population. They do not pose a health risk to the public, according to the Chon Buri government.
Chon Buri has had a total of 87 cases since the start of the outbreak, with 2 deaths. The deaths were both foreign nationals who were considered imported cases and had recently travelled from other provinces or countries.
Despite the case numbers, tens of thousands of businesses remain closed in the province, leaving thousands of residents out of work visiting food lines on a daily basis in Pattaya City and other parts of the province. This is due to the government's "one size fits all" reopening plan for businesses, regardless of the number of active cases of Covid-19 in the area.
Pattaya is famous worldwide for its nightlife and tourist industry and normally attracts millions of visitors a year. The vast majority of its businesses, in the hospitality and entertainment sector, remain shuttered by government order and their staff either trying to survive in the city or already headed back 'up country' to their family homes.
The Centre for Covid-19 Situation Administration has indicated that entertainment venues will likely be allowed to open, but with strict new rules, sometime in June.
SOURCE: The Pattaya News
Keep in contact with The Thaiger by following our
Facebook page
.
Chon Buri police hunting man for shooting ex's new partner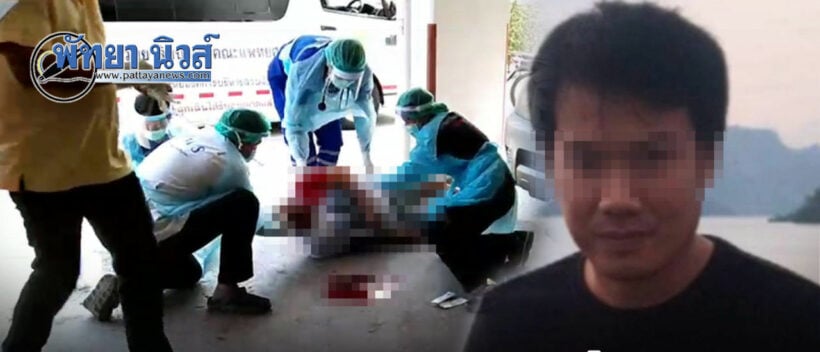 Police in Chon Buri province's Saensuk district say they've applied for a warrant for the arrest of 38 year old "Adisorn P." after he used a 9mm handgun to shoot his ex partner's new young lover in the head. The warrant is for attempted murder and weapons offences.
26 year old "Thanachok", the victim, is unconscious and fighting for his life unconscious in Burapha Hospital. Doctors there rate his survival chances at 50/50.
He was shot in the parking lot of a condo behind the Laem Thong shopping centre in Chon Buri's Muang district.
Police are seeking the addresses of the suspect's parents and siblings in an effort to flush him out, so far with no success, according to the Daily News. The investigation continues.
SOURCES: thaivisa | Daily News
Keep in contact with The Thaiger by following our
Facebook page
.
Pattaya hoteliers complain about alleged "quarantine kickbacks"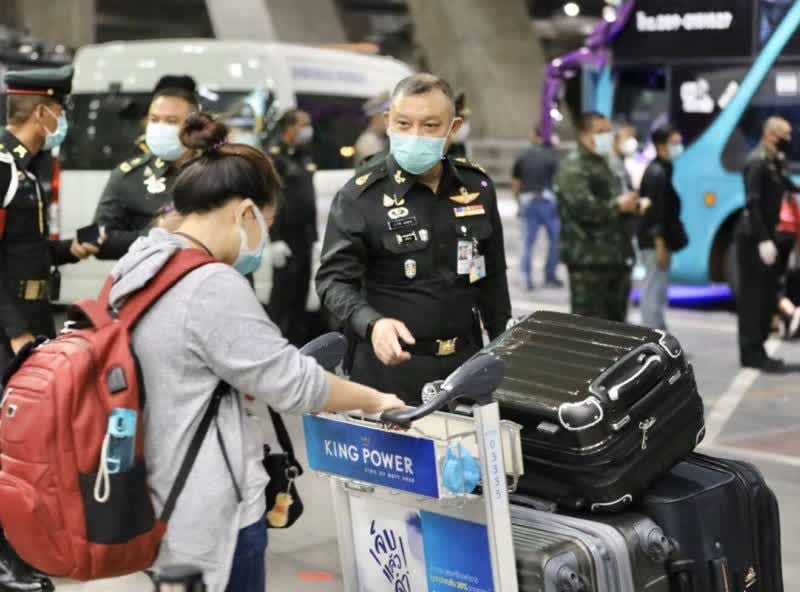 Hoteliers in Pattaya have made an official complaint about a group of people, claiming to be officials who can ensure their properties will be chosen as quarantine centres, are demanding kickbacks of up to 40%. They are urging the government to look into the issue, but officials have been quick to deny any involvement by legitimate authorities.
Government spokesperson Narumon Pinyosinwat said yesterday that PM Prayut Chan-o-cha has ordered an investigation into the allegations. He has promised to take tough action against anyone "taking advantage of people and business operators during this difficult time."
The assistant spokeswoman for the Centre for Covid-19 Situation Administration also said yesterday that the centre has never sent anyone to coordinate or demand "change" for turning a place into a state quarantine facility.
On Friday Manager Online reported that a "number of people" have been approaching hotel operators in the resort town, offering to ensure their properties are chosen for state quarantine if they pay them up to 40% of what they receive from the government.
The government will pay participating hotels 1,000 baht per person per day for hosting people during their mandatory 14 day quarantine periods. Around 80,000 Thai nationals who have returned from abroad have been placed in quarantine facilities nationwide as a precaution against the spread of Covid-19, some of them hotels..
State agencies choose quarantine sites based on a set of criteria that include hotel licences, a capacity of more than 200 non-carpeted rooms and separate air conditioners for each room. There are several hotels that meet the criteria in Pattaya, where about 10,000 rooms have already been used for the purpose. Since all hotels have been temporarily closed by government order, operators are eager to make any kind of deal that could earn them some money.
But the acting president of the Chon Buri chapter of the Tourism Council of Thailand says a number of hoteliers in Pattaya are reluctant to pursue the deal.
"Although they will be paid 1,000 baht per person per day for 14 days, costs of meals are included, not to mention staff and utility costs. Besides, accepting the deal will disqualify their employees from social security benefits."
He was referring to compensation their employees would receive from the Social Security Fund, which would end if they are re-employed, even for 14 days. The chapter sent a list of 20 hotels willing to turn their facilities into state quarantine centres, but they have not been inspected by authorities.
"Importantly, a group of people claiming to come from unidentified state agencies have approached us, saying they could make our hotels state quarantine places and we would get 1,000 baht per person per day. The catch? We'll have to pay them an 'operation fee' of 40%."
The chairman of the Pattaya Business and Tourism Association confirmed the kickback demand at rates between 30% and 40%.
"Even if a hotel does not meet the criteria, these people promised they could coordinate to make it happen. So it's possible this is teamwork."
A PBTA adviser confirmed several operators of large and mid-sized hotels had been approached but most had turned down the offer as they viewed it was not worth it to reopen their hotels.
SOURCES: Chiang Rai Times | Bangkok Post
Keep in contact with The Thaiger by following our
Facebook page
.