89 year old grandmother hurt by falling coconut branch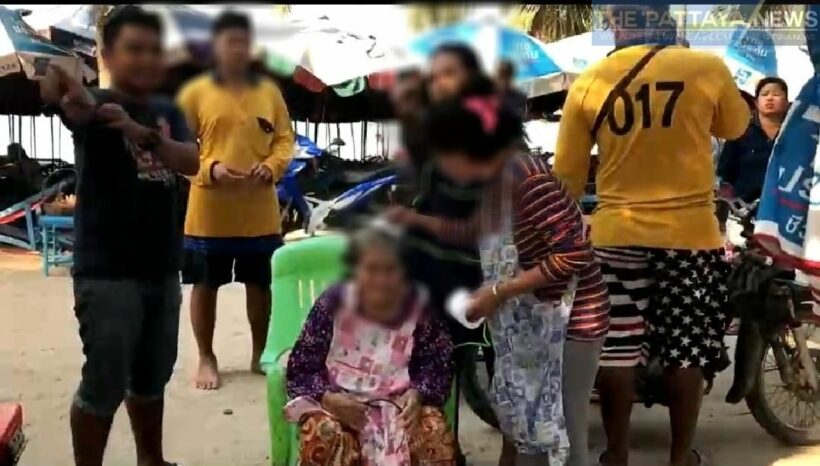 An 89 year old grandmother working as a food vendor at Chon Buri province's Bangsaen Beach, near Pattaya, was injured around 10:30 this morning by a falling branch from a coconut tree. Bleeding heavily, she was given medical care at the scene and rushed to a local hospital. She has since recovered and been released.
It's believed that a strong breeze caused the dead branch to fall off an strike the woman, identified asBai Po Suphapha. Other vendors at the beach complain they have told area officials many times to keep the trees trimmed and claim they warned that this would happen.
Vendors told the local press that they hoped this incident, while unfortunate, would serve as a warning to area officials to trim the many trees in the area.
SOURCE: The Pattaya News
Keep in contact with The Thaiger by following our
Facebook page
.
Chon Buri bans alcohol sales 6pm to 6am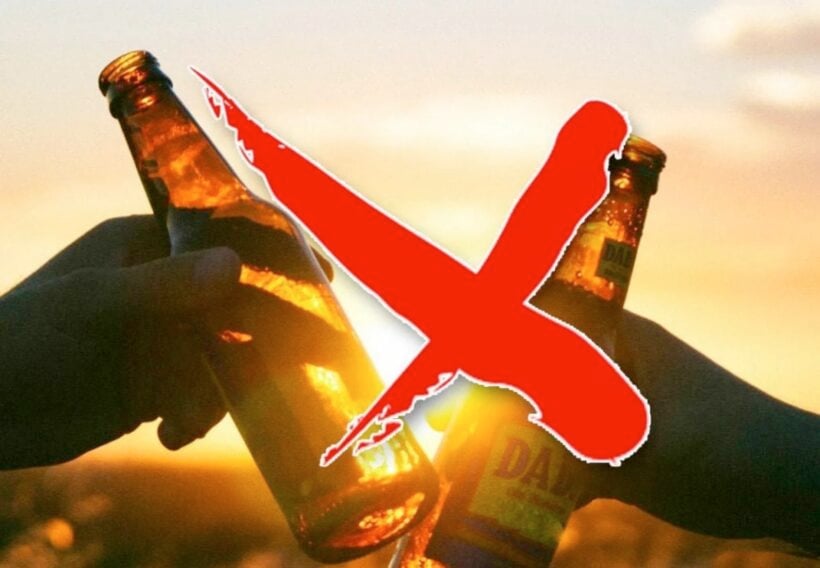 Chonburi's governor has banned the sale of alcohol in the province, including Pattaya, from 6am to 6pm, effective immediately, and restaurants are now only allowed to offer takeaways – all to fight the spread of the Covid-19 coronavirus. The order is over and above all other closures in the province over the past two weeks.
The provisions of the order are as follows…
Restaurants may be take away only with the exception of ones in hotels for registered hotel guests.
No alcohol sales between 6pmand 6am. In fact, since regular alcohol sales laws still apply, this means one can only legally buy between 11am and 2pm, and 5-6pm. There is no alcohol ban as was reported on social media yesterday. This restriction is to help prevent gatherings.
Gatherings in public are prohibited, especially in public places like beache, parks and public areas of residences, condos, etc. The order also basically asks people not to have private gatherings at home. This essentially means no gathering, drinking or socialising.
Beauty salons, private and public, closed.
Nurseries and daycare centers closed
Everything previously announced like bars, clubs, gogos, nonessential shops in malls, gyms, golf, movies etc. are "closed until the situation improves."
Koh Larn remains closed to nonresidents at least until April 10.
Hardware stores may reopen as they are considered essential.
All public and private attractions, including government tourist attractions, cultural or entertainment site are closed. If it is a tourist attraction, it must be closed.
Beaches remain open during the day, but the previous request for people to not be on the beach from 8pm to 6am stands. People on beaches must practice social distancing and have one to two metres between beach chairs.
There is no curfew or overall lockdown. People can come and go, but are subject to the checkpoints previously stated in Chon Buri.
There is no end date for this order. It is simply until the situation improves. It is effective immediately.
Keep in contact with The Thaiger by following our
Facebook page
.
Pattaya eyes hotel as quarantine area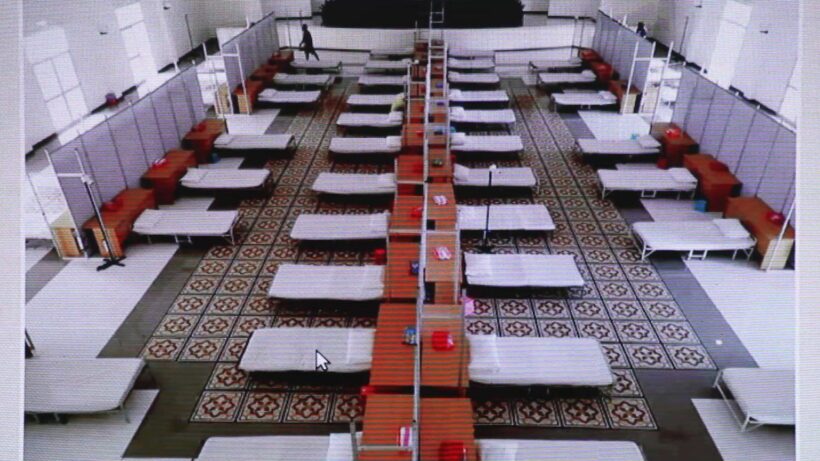 Pattaya's Committee for the Surveillance and Prevention of Covid-19 is proposing to use the city's Grand Bella Hotel as a temporary medical shelter for people under investigation for Covid-19 coronavirus symptoms.
Pattaya currently has 12 total cases, with a total of 16 in Bang Lamung and 53 in Chon Buri province. 105 people are currently being scrutinised for the virus in the province. A total of 952 people have been under investigation since the start of the outbreak there, with the vast majority testing negative.
If approved, the measure would separate people under investigation for Covid-19 from regular hospital patients at Pattaya and Chonburi hospitals, and use the Grand Bella Hotel as a temporary staging area for investigations of people who have not tested positive for the virus but are either awaitng results or being monitored for signs of the illness.
According to the members of the committee, the hotel has the facilities and resources needed to meet the needs of patients, doctors and staff.
A doctor at Pattaya City Hospital says that for the field hospital at the hotel, no more than 40 medical personnel would be needed, though nursing staff would be required, using a video call system to monitor patients 24 hours a day.
Bangkok Pattaya Hospital has also announced it's willing to help with the necessary medical supplies, sanitisers and other equipment. Grand Bella's management say they're happy to assist with the situation by offering their conference rooms and facilities. The proposal is expected to be sent to the Chonburi Governor for approval.
SOURCE: The Pattaya News
Keep in contact with The Thaiger by following our
Facebook page
.
Restrictions announced for Chon Buri, that means Pattaya too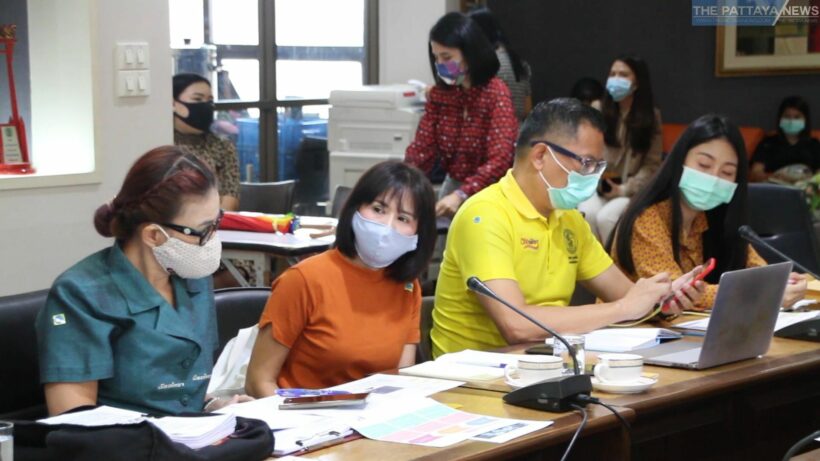 New restrictions are now in force in the eastern province of Chon Buri, due to the Covid-19 coronavirus outbreak. Chon Buri's governor and the Chonburi Committee for Communicable Diseases have come to several new resolutions regarding restrictions and closures…
Extensions on all entertainment venue closures, such as bars, nightclubs, spas, massage shops, gogos, etc. The anticipated end date will be "when the situation improves."
Removal of "eat in exceptions" for restaurants. Only takeaway will be available. This applies to all restaurants.
Restrictions on groups bringing food and drink into public areas such as reservoirs, parking lots, etc.
Hardware and construction material stores may reopen.
A few tourist attractions which remain open due to being in "grey areas" such as Nong Nooch Garden and the Floating Market will ordered closed "until the situation improves."
Private nurseries will be closed, such as daycare centers and kindergartens
The governor has promised the specific details will be released today.
SOURCE: The Pattaya News
Keep in contact with The Thaiger by following our
Facebook page
.