Thai Obama sings to a different tune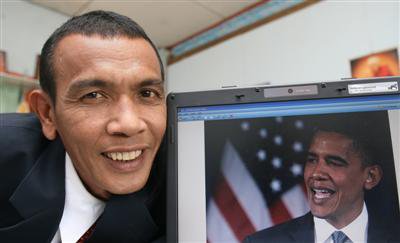 SARABURI: While your average Southeast Asian would struggle to make his way in the world as a Gerorge W Bush lookalike, America's dashing new president is providing some exciting new career prospects for some men across the region.

One Indonesian has already found fame in the Philippines owing to his uncanny resemblance to President Barack Obama. He was well compensated after being flown over to the Philippines to do a commercial for a stomach-ache remedy with a rather less-convincing lookalike of Filipino President Gloria Macapagal-Arroyo.

Now Thailand has its very own Obama in the form of 50-year-old Saraburi resident Suphoj Bunseupwong.

Like President Obama, Mr Suphoj will be spreading a message of hope – not through rousing speeches, but through cheerful luk-thung country music songs.

Mr Suphoj, or "Obama Thailand" as he is now known in his village, was until recently preoccupied with running the sports store he owns in Ban Mor District.

A sports fanatic, he shot to local fame after taking part in a football tournament where the announcer pointed out how much he looked like the new US president.

News travels quickly in a Thai village, and before long curious locals were calling in at his shop to see for themselves.

"At first I was a bit shy with everyone calling me the 'Thai Obama' all the time. Then I got used to it and changed from wearing my usual open-necked shirt to wearing a navy blue blazer with a neck-tie. At every event I went to, people turned to look at the Thai Obama," Mr Suphoj said.

Born in Ban Mor, Mr Suphoj is the second of seven children.

"Most of my brothers and sisters look like Indians or Muslims, but we are really 100% Thai Buddhists," he explained.

Apart from running his "Num Noi Sport" shop, Mr Suphoj also moonlights as a DJ on a local community radio station and sings and plays guitar in a band.

Through his radio work he met up with some composers and record producers who suggested he use his singing skills and striking resemblance to the leader of the free world to make a breakthrough luk-thung album.

Mr Suphoj is now working on 10 songs for his highly anticipated debut album. He says these will be cheerful luk-thung numbers that you can dance to and sing along with to forget your worries – not a bad formula in these trying economic times.

Thailand's Obama counts among his influences not left-wing radicals or fire-and-brimstone preachers, but popular Thai music artists such as Chatri Srichol, Sayan Sanya and Yodrak Salakjai.

The CD, which should be hitting the shelves in the near future, will be released under the artist name "Barack Obama".

It was not reported whether a complimentary copy will be sent to the White House.
Keep in contact with The Thaiger by following our
Facebook page
.
Man stung by scorpion hiding in bag of fruit
PHOTO: Wikiwand
A Bangkok man has taken to social media to warn fruit lovers to check fruit thoroughly before eating it, after he was stung by a baby scorpion hiding in a bag of langsat fruit.
Pennung Chaiyachit says he put his hand in the bag, which contained about 2 kilos of the fruit, when he felt a sharp pain as if his thumb had been cut.
Mr Pennung washed his thumb and poured some rubbing alcohol on it but, despite there being no visible wound or any bleeding, his pain began to get worse and he decided to drive to hospital.
While waiting to see a doctor, Mr Pennung did an internet search which revealed a breed of tiny scorpion that can live on langsat fruit and has particularly powerful venom.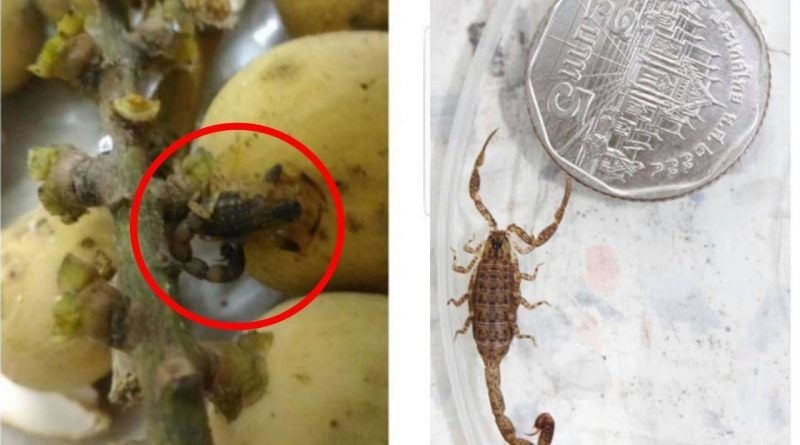 The doctor decided to keep Mr Pennung in overnight as a precaution, giving him antibiotics and administering pain relief through IV.
Mr Pennung documented his experience on Facebook as a warning to others, advising them to always check bags of fruit thoroughly and always wash fruit before peeling.
SOURCE: Thai Residents
Keep in contact with The Thaiger by following our
Facebook page
.
Pet leopard not a hit with neighbours in Chonburi, Thailand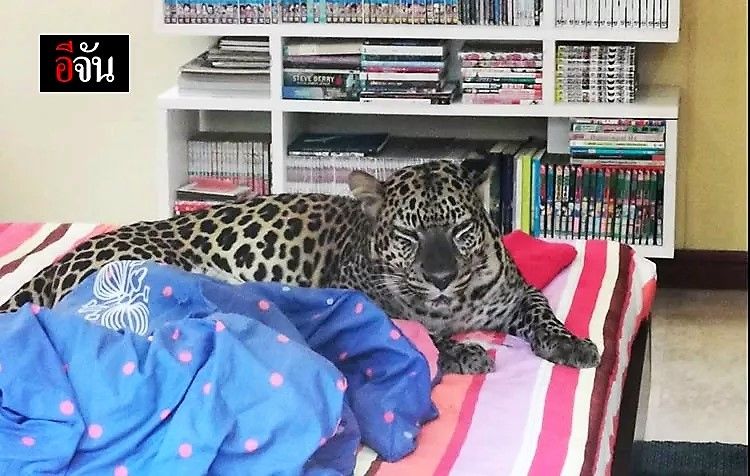 A couple in Chonburi, eastern Thailand, have not ingratiated themselves with neighbours after it was revealed they're keeping a pet leopard in their home.
It's understood that a Thai woman known as Nittiya, and her foreign husband, nationality unconfirmed, have just recently moved to the area from Chiang Mai, and news of their unusual pet has put neighbours very much on edge.
The couple have just had a visit from the Thailand Wildlife Enforcement Network (Thailand-WEN) after anxious villagers notified officials, saying they believed the leopard had been acquired illegally.
They added that the leopard was living in the couple's home and being treated as a pet, expressing concern that it could escape and attack people.
Yesterday, officials visited the home, which is surrounded by a 3-metre-high wall. Nittaya explained that the couple have had the leopard – named Typhoon – since it was born 4 years ago, producing the required documentation for inspection.
Officials agreed that the couple have the right to keep the leopard, but will need to apply for a new licence to keep it in its new location.
SOURCE: Thai Residents
Keep in contact with The Thaiger by following our
Facebook page
.
JetSki crashes into shop in Kamala, Phuket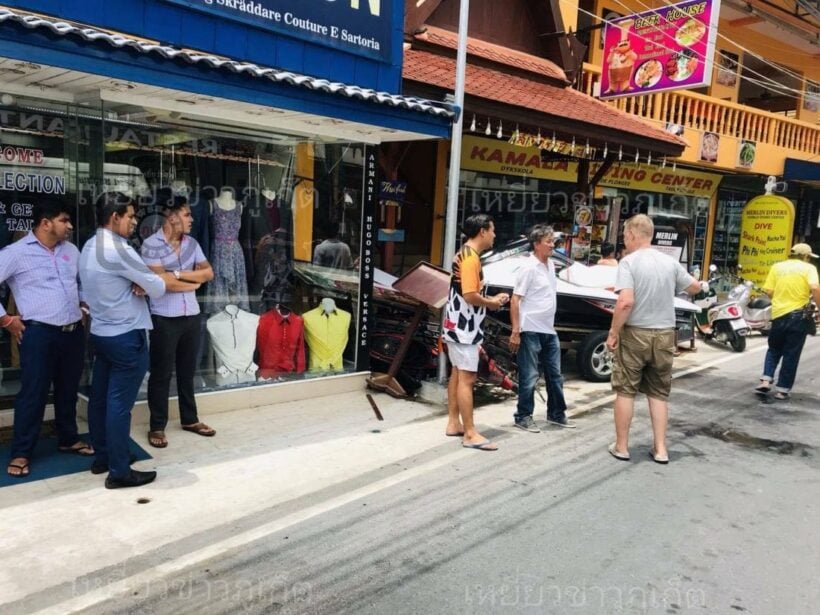 PHOTOS: Newshawk Phuket
Not often we get to write this headline… "JetSki crashes into shop in Kamala".
The jetski was being towed by a Saleng (motorcycle and side-car) through the streets of Kamala this afternoon when, for reasons we don't yet (probably brake failure), the whole shebang went AWOL and ended up running into the front window of some tourist shops.
The jetskis are a common sight going through the backroads of the various west-coast shopping areas at the start and end of each day, on their way to the beach to hire to tourists, usually in a convoy with the jetski staff riding shotgun on top.
This time it was a lone JetSki, being towed by a saleng, that somehow veered off the street and into the roadside Kamala shops.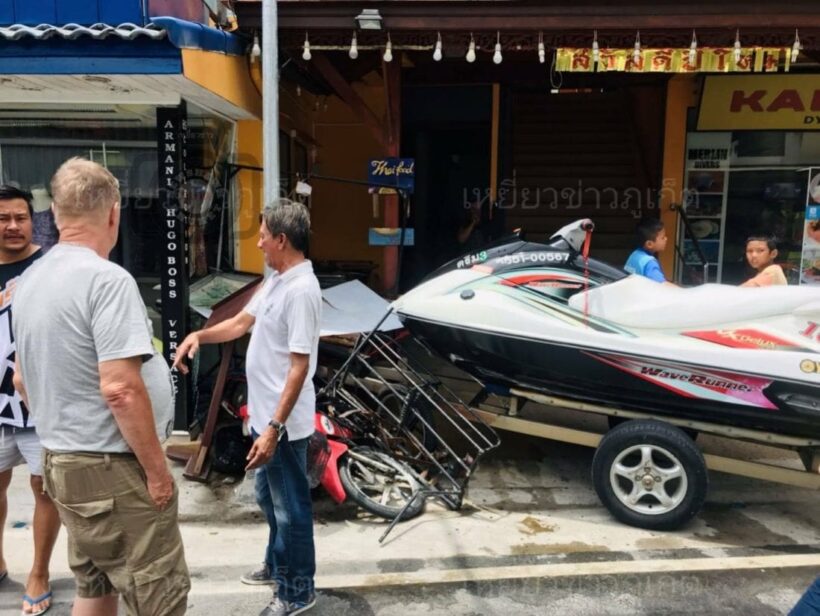 Keep in contact with The Thaiger by following our
Facebook page
.