Opinion
Phuket Opinion: Why not recognize honor at street level?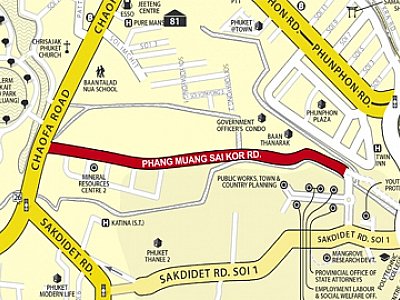 PHUKET: Phuket has launched a contest to name the new road that opened late in December. It connects Saphan Hin with Chao Fa East Rd on the outskirts of Phuket Town.
[See story, page 2, in the current issue of the Phuket Gazette. Digital subscribers click here to download the full issue.]
That a new name is needed would probably not be in dispute. The 50-million-baht thoroughfare has, since it's opening, been suffering the colorful designation "Urban Planning Road B" (Thanon Phang Muang Sai Khor).
The winner of the contest will receive 10,000 baht for coming up with the best name based on three factors: Principle, Meaning, and Geographical Relevance.
Given these three factors, the Gazette would like to submit "Winai Buathongkham Road".
Mr Winai was the 54-year-old security guard at a government housing complex situated along the road. He was gunned down by a gang of young thugs just before the road was officially opened.
Murder and other violent crimes have become so common in Phuket that thoughts of the most recent incidents tend to bury those that preceded them, but by all accounts Mr Winai had refused to accept threats from his killers after denying them access to the complex.
By clinging to his principles he exemplified the kind of integrity and professionalism that is so sadly lacking here today – particularly by those in government positions with far wider responsibilities.
The Phuket Town municipality deserves credit for allowing the public to participate in the naming process for the new road and we hope that other local administrative bodies will follow suit and do the same. These are public roads, paid for with taxpayers' money.
Many of the main roads in Phuket Town date back to the era when Phuket was the seat of power for a former administrative area, much larger than a province, known as a "monthon". Thus many of our streets bear the names of locales that fell under the monthon's authority: Krabi Rd, Phang Nga Rd, Thalang Rd, and so on.
During this era certain families were able to acquire huge landholdings on the island. As a result, many of the streets that followed these acquisitions carry the names of prominent clans who donated the land needed to complete the roads.
This is all fine, but perhaps it is time to recognize 'the little guy' as well. Few would seem better qualified for such an honor than Mr Winai.