Phuket Opinion: Why not recognize honor at street level?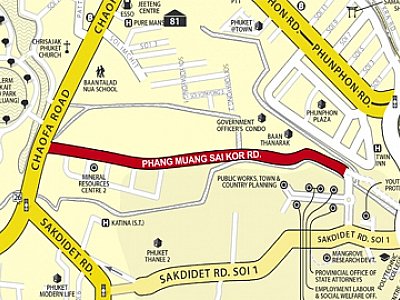 PHUKET: Phuket has launched a contest to name the new road that opened late in December. It connects Saphan Hin with Chao Fa East Rd on the outskirts of Phuket Town.
[See story, page 2, in the current issue of the Phuket Gazette. Digital subscribers click here to download the full issue.]
That a new name is needed would probably not be in dispute. The 50-million-baht thoroughfare has, since it's opening, been suffering the colorful designation "Urban Planning Road B" (Thanon Phang Muang Sai Khor).
The winner of the contest will receive 10,000 baht for coming up with the best name based on three factors: Principle, Meaning, and Geographical Relevance.
Given these three factors, the Gazette would like to submit "Winai Buathongkham Road".
Mr Winai was the 54-year-old security guard at a government housing complex situated along the road. He was gunned down by a gang of young thugs just before the road was officially opened.
Murder and other violent crimes have become so common in Phuket that thoughts of the most recent incidents tend to bury those that preceded them, but by all accounts Mr Winai had refused to accept threats from his killers after denying them access to the complex.
By clinging to his principles he exemplified the kind of integrity and professionalism that is so sadly lacking here today – particularly by those in government positions with far wider responsibilities.
The Phuket Town municipality deserves credit for allowing the public to participate in the naming process for the new road and we hope that other local administrative bodies will follow suit and do the same. These are public roads, paid for with taxpayers' money.
Many of the main roads in Phuket Town date back to the era when Phuket was the seat of power for a former administrative area, much larger than a province, known as a "monthon". Thus many of our streets bear the names of locales that fell under the monthon's authority: Krabi Rd, Phang Nga Rd, Thalang Rd, and so on.
During this era certain families were able to acquire huge landholdings on the island. As a result, many of the streets that followed these acquisitions carry the names of prominent clans who donated the land needed to complete the roads.
This is all fine, but perhaps it is time to recognize 'the little guy' as well. Few would seem better qualified for such an honor than Mr Winai.
Keep in contact with The Thaiger by following our
Facebook page
.
Never miss out on future posts by
following The Thaiger
.
What has the pandemic taught hotels about luxury. Is 'less' more?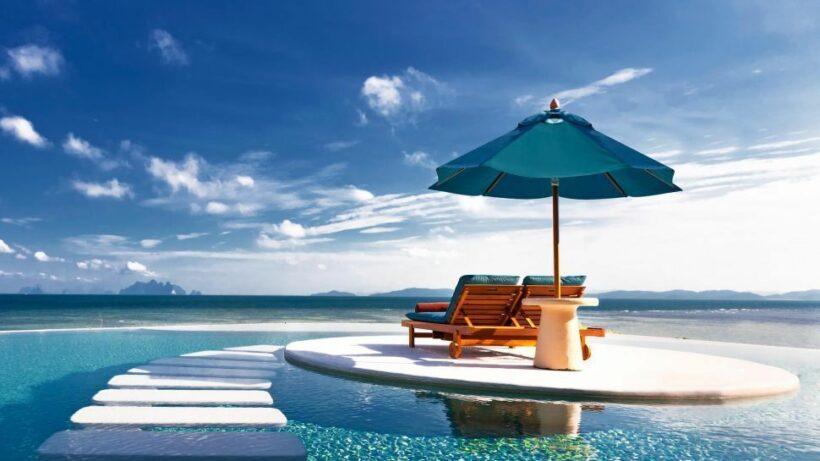 by Anthony Lark
"Let's say goodbye to all that stale pretence and manufactured pomp"
Until the collective nightmare that was 2020, many of the so-called high-end hotels had a reputation for trying to convince guests to pay for often dingy guestrooms lacking any real views inside an otherwise ornate structure with a storied, celebrated past, where the first impression was a check in often akin to applying for a bank loan. Defined as "luxury", in the good old days they got away with it.
Over the thirty years I spent running Amanpuri and Trisara on Phuket, I heard hundreds of people complain of feeling ripped off at "legendary" and "iconic" hotels by staff that rudely treated them as anything but guests.
How many of us did not tip the head waiter after dinner on the first night, to return the next evening and find ourselves stashed at a table by the kitchen door, or getting ushered past the prime and utterly empty deck chairs (with a book on them) by an indifferent pool boy rushing to count his bounty at the pool bar.
As we in the hotel business look towards vaccine jabs while collectively praying for people to start travelling again, let's say goodbye to all that stale pretence and manufactured pomp. Emerging from the darkness that was 2020, we hoteliers need to consider that life will not bounce back to all that, nor should it. Good riddance to the seller's market when hotels could charge like the light brigade for sub-par accommodations and indifferent service while expecting our guests will automatically keep coming back for more.
Merriam-Webster 'luxury' definition #1: a condition of abundance or great ease and comfort.
"There will always be people willing to pay," said the late, great Natale Rusconi of the Cipriani in Venice and Splendido in Portofino.The size of the room didn't matter, he observed, nor did the price of a cup of coffee, as long as they felt cocooned in an 'exclusive' world with an established reputation of being the "best."
A classic negroni or a plate of risotto on the terrace at Cipriani is luxurious, not so much because of the ingredients of the food and beverage (although it is the best), but because it's a rare experience.
Sonu Shivdasani, owner of Soneva resorts, hits it on the head when describing luxury.
He points out "Our external communication focuses much more on our brand proposition of "Inspiring a Lifetime of Rare Experiences".
For example, we touch upon the point of our guests being able to walk barefoot for a week. This is rare and hence a luxury.
Change is in the luxe-wind
There is definitely change in the post-covid wind. In virtual conversations with many wealthy, well-travelled former guests of mine living in the northern hemisphere, they are explicit about what they yearn for on the other side of their drawn-out lockdowns.
These people are the ones who every year asked me for the largest villa with the bluest views and the most kitted out yacht for a day on the Andaman Sea and now I sense they seek something distinctly less material. While I am not surprised to hear them in their Bel Air mansions and apartments overlooking the River Seine asking for deals, what they say next piques my interest. "Anthony, I don't need the presidential suite when we come back," they say without a whiff of disappointment to downgrade. They are increasingly asking not for the specs on yachts but for news of wellness offerings and rare, secret local experiences.
One company already excelling in this beyond luxury space is Six Senses, purchased in 2019 by the behemoth InterContinental Hotels brand but left to run relatively independently under CEO Neil Jacobs. In interviews and on panels throughout the pandemic, Jacobs has spoken often of his personal aversion to the very word 'luxury' as well as to 'exclusivity,' which he sees in direct opposition to Six Senses' holistic ethos.
Community engagement, he argues, is not only an aspect of the brand's sustainability guidelines but also critical to "the intrinsic value of the content around what is being offered" at each individual property.
Like Jacobs, I noticed even before Covid that bragging rights back home no longer focus solely on price-tagged acquisitions. Those same guests who regaled me during lockdown with tales from their past travels, talked about meaningful encounters with Bhutanese textile weavers, Portuguese sourdough bakers, Colombian coffee farmers or Thai fishermen with whom they shared meaningful encounters on immersive, often unexpectedly transformative journeys. Perhaps we all learned in lockdown that these memories endure far longer than we can linger on even the most decadent bed linens or the hotel's fluffy-as-a-cloud bathrobes.
Even before any of us had given a thought to wet markets in Wuhan, our industry was abuzz with these 'experiential' and 'transformational' travel offerings, and we see smaller, more nimble independent hotels and resorts luring guests away from staid grand dames of the past, while commanding higher rates.
I suspect we will now enter a new era, best described by Morris Sim, one of the smartest marketing minds I know.Travellers he predicts, will be embracing the idea that " luxury is the outcome of an experience, not a product."
Merriam-Webster luxury definition #2: something adding to pleasure or comfort but not absolutely necessary.
To be clear, this is not a rallying cry to spend amidst an economic crisis. Luxurious experiences may be as humble as a thoughtful gesture or act of kindness by a staff member. It's surprising our guests on their return to the hotel room to find their laundry cleaned, folded and tied with a beautiful bow, or that feeling of being cared for to discover one's toothpaste, sunscreen and deodorant arranged like tiny soldiers on the bathroom vanity.
Going forward, those hotels that also help guests to make meaningful, immersive connections with the surrounding culture and environment while also delivering unpretentious, anticipatory service with thoughtful human touches will redefine luxury.
Merriam-Webster luxury definition #2b: an indulgence in something that provides pleasure, satisfaction, or ease
Throughout the heady 1990s, we opened a new Amanresort every year or so. While now considered places of beauty that were undeniably desirable, they were initially revolutionary upstarts compared with the most famous resorts of the 70's and 80's where gold sink taps stood out against bathrooms laden with Carrera marble.
Into this arena where remote controlled toilets that blew air on your arse were regarded as luxurious, Adrian Zecha's vision for each Aman was unashamedly simple in design and utterly lacking in superfluous finishing's. The late architect Ed Tuttle, who mastered this design of understatement used to tell his team (including his lead designer Pin Tan, who now holds that title at Six Senses) and clients that "it's not about embellishment, it's about owning the space."By this he meant that humans are most at ease in spaces that function well when for them rather than for shelter magazines and marketing brochures.
As we look towards leaving hibernation behind, I strongly believe our guests will gravitate to uncluttered places where simplicity reigns, where they can look better and feel better about their emergent selves and where they can enjoy consequential encounters with fascinating strangers, after feeling cut off for so long.
At Trisara Phuket, the team here serves local residents and Bangkokians down for the weekend gourmet Thai-inspired lunches prepared by chefs under a Thai carved sala roof overlooking a charming lake at the resort's nearby working farm, engaging with locals tending the farm while keeping comfortably cool and exquisitely sated.
My personal view is that successful hotels must throw off any remaining shackles of our industry's past definitions of 'luxury' and pivot towards delivering authentically local guest experiences and anticipative service that surprises and delights.
Are we headed towards a new paradigm where our job is to nurture the "outcome of the experience" rather than the showmanship of counting threads of Egyptian cotton and embroidering initials on pillowslips?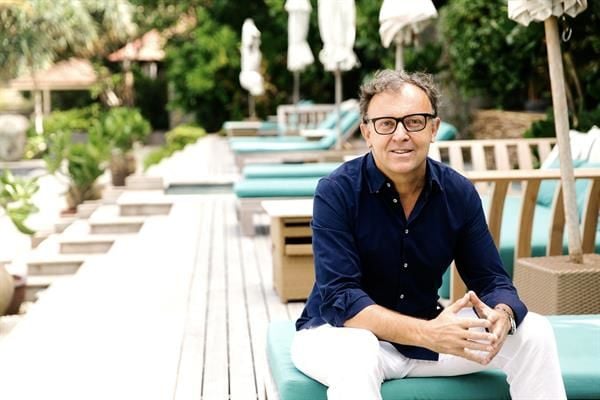 Anthony Lark is the founding and current president of The Phuket Hotels Association. He also runs his own luxury hospitality company focused on resort and residential villa design & master plan concepts, plus management auditing of existing properties as hotels prepare for a post-covid world.
Keep in contact with The Thaiger by following our
Facebook page
.
Never miss out on future posts by
following The Thaiger
.
No vaccine, no entry – the next Covid challenge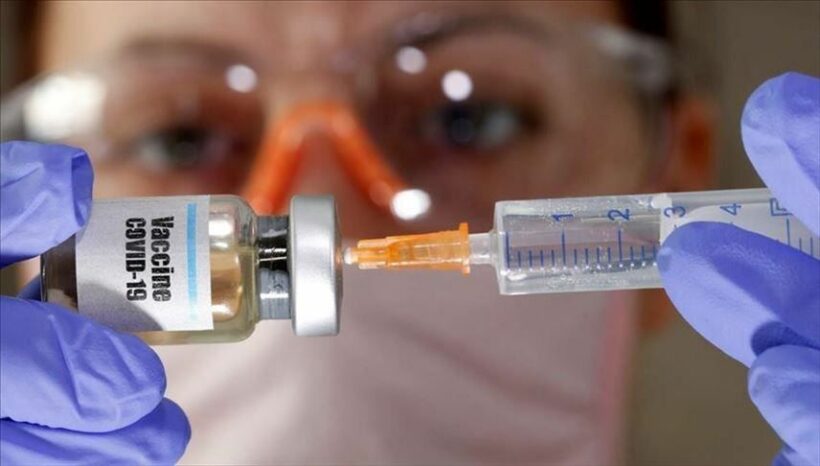 OPINION
UPDATE: Australia's national airline Qantas has already said it will impose "proof of vaccine" on all inbound and outbound international flights, a situation that IATA says they will follow. Read more HERE.
ORIGINAL POST: The approval of a reliable Covid-19 vaccine will be a game-changer. Over the past 2 weeks there has been several announcements, and a few bumps, about candidate vaccines that are now either in the latter stages of their Phase 3 trials, or now seeking approval from government health bodies. But a vaccine, and its roll out, brings the next Covid challenge…
What restrictions will be imposed on those people who don't have the vaccine, or even actively choose not to have the vaccine?
And more locally…
Will Thailand allow people to enter Thailand without first having the Covid-19 vaccine?
Given the Thai Government's low-risk strategy, well almost zero-risk strategy, and reluctance to take any chances with a second wave of Covid 19, it is highly likely there will be a stipulation that anyone entering Thailand will need a vaccine certificate or stamp in their passports. Initially they will also maintain a quarantine period as well until the efficiency of the various vaccines can be better understood.
Couple this with the Thai population's continued fear of allowing foreigners back into the country at this time, in poll after poll, and it's a safe bet there will be a "no vaccine, no entry" restriction imposed.
On a positive note, the Thai government may drop the 14 day quarantine for people that have had the vaccine (but not in the early days).
At this stage we know that most of the vaccine trials have had a 95% efficacy. We also know that the leading BioNTech/Pfizer vaccine needs an original jab plus a booster and has to be transported at extremely low temperature.
To complicate matters, there is not yet sufficient evidence that having had a bout of Covid-19, whether asymptomatic or not, guarantees you immunity. Or, if it does, for how long?
All these factors will mean that some level of quarantine will probably be in force as the Thai government slowly re-opens its borders to a wider groups of vaccinated travellers. This would remain in force until the world has a better knowledge of both the proven efficacy of the vaccine, or vaccines, and the re-infection rates.
So, even if we start getting groups of the world's populations vaccinated before the end of the year, and that's still a very big IF, there's a lot more water to pass under the bridge until a coherent, reliable vaccine strategy can be understood and implemented.
Then there will be a rump of people, either hard core anti-vaxxers, or others who are at least skeptical of a new vaccine, who will want to wait or not want the vaccine at all. Public education, some strong science and a successful roll out of the early vaccines will be a key to winning over a lot of the world's population.
Somehow governments and health authorities are going to have to wind back much of the disinformation floating around the internet about vaccines that is so factually out of whack with reality, it's going to be one of the greatest public health challenges of all time, to reassure people about the science of vaccines and vaccination.
All this, in the middle of a pandemic that, for now, is still on the ascendency as far as new cases and deaths are concerned.
But there is little doubt rejoining the world of international travel, even local travel, could become restricted to only those who are vaccinated. The rest will be stuck roaming around their own countries, or states, for… years with a raft of restrictions on their lives. Who knows.
Will shopping centres or public buildings also impose a "no vaccine, no entry" policy? Hotels? Public buildings? Job applications?
On top of the economic stress which has fallen on a lot of the world, with so many governments now facing the headwinds of deep recession, the vaccine 'haves' and 'have nots' will add even more public disquiet.
At this stage nobody is sure how the vaccine will be rolled out in Thailand. The Thai government has already signed up for several of the leading vaccine candidates and will most likely provide the vaccine for free to citizens under its public health system.
What does that mean for foreigners living here? If you are covered, with a work permit, under the country's public health, are you able to get the vaccine for free too? Will the thousands of foreigners on private health insurance be covered?
Surely the insurers will want its customers to be vaccinated. Sick customers cost them money. So, will insurance renewals be limited to only people who have been vaccinated? Will visas be renewed only if you have been vaccinated?
At this stage there are no firm answers to any of these questions.
Added to all this confusion, there is more than one vaccine, and some of the vaccines work in different ways than others. So do airlines and governments and shops and hotels and bowling alleys allow one vaccine through their doors but not another?
We're certainly now entering a new phase of this pandemic. New challenges, new questions. The rising numbers of cases throughout 2020 is only the first chapter of a book that will be many more years in the making.
Keep in contact with The Thaiger by following our
Facebook page
.
Never miss out on future posts by
following The Thaiger
.
Re-opening Thailand to tourism will be vaccine dependent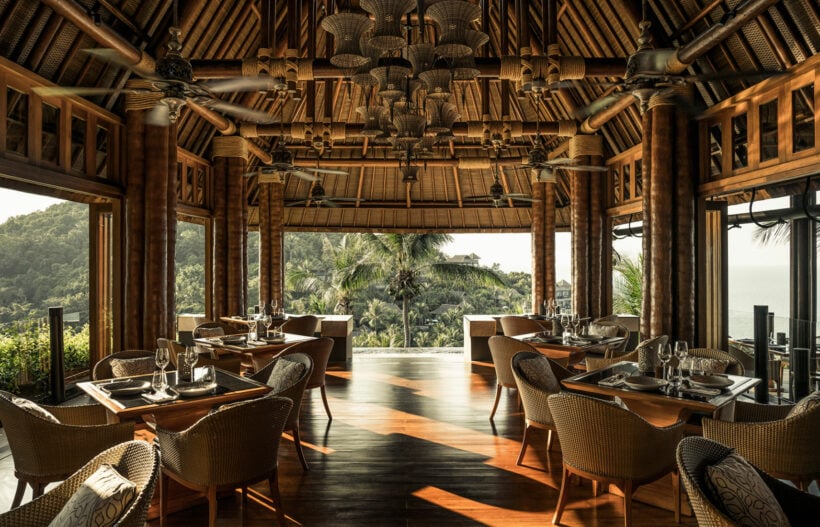 Bill Barnett from c9hotelworks.com continues to follow the difficult journey of the Thai hospitality industry. Traditionally, now would be the start of the country's highly profitable high season for the tourism industry. But not this year. Thai hotels find themselves in the middle of an existential crisis – either still closed, only partly open, or one of the few converted to limited ASQ traffic. The situation is dire, when you consider that between 15-20% of Thailand's GDP is linked to tourism.
In a speech this week Thailand's Prime Minster Prayut Chan-o-cha spoke clearly that only when a vaccine is approved, produced, and implemented, would the country open to substantial tourism. Given the current timelines and forecasts, this may not be likely until mid-2021 at the earliest, though subject to advancement if the process could be accelerated, which is unlikely.
For tourism and hotel stakeholders, the writing is on the wall that 2021, for the most part, will see a continued reliance on domestic travellers, and only in 2022 will there be a large-scale return in numbers of overseas visitors.
Given the winter spike in Asia, Europe, and North America of Covid-19, Thailand is not alone in relying on the vaccine to return tourism but the process will not be instant and the re-openings of borders will most certainly be staged.
HERE's a list of 113 Alternative State Quarantine hotels.
The business reality for Phuket and across Thailand is to plan for the worst in the coming six months and only expect 2022 to see a notable uptick.
Currently, the hotel sector continues to advocate to the Thai government and Central Bank for debt and financing relief measures and assistance in a social security supplement to retain staff.
While it's negative news, it at least allows for hotels to understand the challenges ahead, plan and adjust their operating models going forward. 'Survive the downturn' is the new mantra.
No vaccine, no entry. Read more HERE.
No vaccine, no flight. Read more HERE.
Keep in contact with The Thaiger by following our
Facebook page
.
Never miss out on future posts by
following The Thaiger
.