Opinion
Phuket Opinion: Thailand's lethal roads are not a secret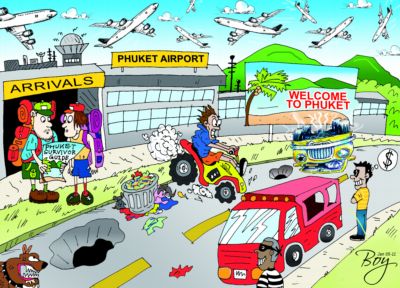 PHUKET: The UK's Channel 4 recently aired a documentary entitled 'The Undocumented Dangers of Thailand's Roads'.
The Phuket Gazette is grateful to Channel 4, as should be Phuket's tourism professionals, for putting the dangers of our roads in the minds of tourists precisely when needed: just before the start of the nationwide "Seven Days of Danger" road-safety campaign which ended last week.
However, it was disheartening to hear the account of Brighton-based solicitor Rachel Cooper whose son Felix perished in Thailand when the bus he was travelling in collided with a truck.
"We have looked at the guidebooks and we have looked at the Foreign Office website and there are just no warnings," Channel 4 News reported her as saying.
Sympathy must go to any parent who loses a child, but no one who has looked into the issue in depth could claim that the lethality of Thai roads is a secret.
The fact is that hardly a day goes by without the Gazette reporting the loss of yet another life on a Phuket roadway.
Likewise, the British Foreign Office reports the stituation with warnings about travel by road in Thailand. These are plainly posted in the Travel Advice section of its website.
As recently as November 18, British Ambassador to Thailand Asif Ahmad specifically called for Britons to be aware of Thailand's deadly roads.
Amb Ahmad could not have made his plea any clearer, starting his address with: "According to the Royal Thai Police, in 2010, there were 83,261 reported road traffic accidents in Thailand, resulting in 7,468 fatalities, plus 14,646 injuries and 3,544 serious injuries."
These are official police statistics of reported accidents only.
The Ambassador also noted that "In 2010 about 10% of all deaths of British nationals in Thailand were due to road traffic accidents. So far this year, 17 British nationals have died in road traffic accidents in Thailand and a further 36 have been seriously injured."
Little can be done to comfort a grieving mother, and few would deny Ms Cooper whatever catharsis she can find through her comments. The fact remains, however, that the warnings were there all along.
It seems that nothing short of widespread shock will bring the message home to people visiting Phuket – not just the British, but all nationalities.
No one expects the Tourism Authority of Thailand (TAT) to hang a billboard in our Airport Arrivals Hall depicting images of the sickening carnage suffered daily on Phuket's roads.
However, given the continuing onslaught and the fact that even a well educated solicitor in the UK says she saw no warnings of how dangerous it is to be on these roads, perhaps the time has come for the TAT to consider that billboard. It would be a fair and honorable thing to do – just as it certainly would have been had it saved a single one of the 7,468 killed in 2010.