'Wrong place, wrong time': Phuket axe victim's parents say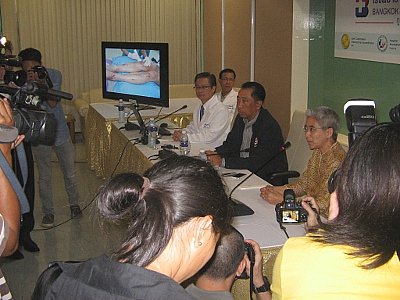 PHUKET: The parents of stabbing victim Vorasit "Pla-wan" Issara held a press conference yesterday to explain that their son was simply "in the wrong place at the wrong time" and lucky to survive multiple wounds inflicted by staff in a vicious attack at the Rachada Pub early Wednesday morning.
Meanwhile, police will widen their investigation and question additional witnesses – including a policeman who was outside the pub when the attack took place.
The press conference, held at Bangkok Hospital Phuket in Phuket Town late yesterday afternoon, began with a detailed description of the the injuries sustained by Mr Vorasit and three others who arrived at the hospital for emergency treatment at about 4:55am on Wednesday.
Although not named, one of the two who were released as outpatients is understood to have been Hollywood actor Jeremy Renner.
Mr Vorasit's driver, Noppadon Preechawai, was released from the hospital yesterday after treatment for a cut and swelling to the face and a shattered tooth, both thought to have been caused by an axe blow to the face.
Using a slide projector, Bangkok Phuket Hospital Deputy Director Badin La-aid and orthopedic surgeon Pongsak Vijitrutrujanapan showed horrific images of injuries sustained by Mr Vorasit, who underwent 12 hours of surgery.
The physicians estimated that Mr Vorasit lost between one and one-and-a-half liters of blood after the assault and during the surgeries that followed.
The most life-threatening injury was a deep gash to the left abdomen that penetrated into the large intestine. Given the nature of the wound, doctors think one of the assailants plunged a dagger-like weapon full force into the victim. Doctors managed to close the wound with stitches, Dr Pongsak said.
The puncture wound narrowly missed vital organs, including a ureter, he noted.
Also requiring major surgery:
A deep laceration in Vorasit's right shoulder that separated his clavicle and upper arm. Doctors managed to reconnect the bones at the joint, but the patient will be in a sling for a long time. The long-term prospects for recovery cannot be guaranteed, but the affected muscle and nerve tissue were in "good condition", he said.
A laceration to the left ankle that severed two tendons.
An axe wound to the left shoulder, with damage to the shoulder blade.
Five head wounds consistent with being hit by a sharp object.
Mr Vorasit remains in the ICU. Doctors describ his condition as "safe", but say they are monitoring his intestinal wound very closely.
"He is fully-conscious, even though he is still in shock and not yet ready for police questioning. He can eat soft food on his own," Dr Badin said.
After the doctors outlined the medical situation, Vorasit's father Songkran Issara reiterated his belief that his son did not instigate the violence.
"I think he was in the wrong place and time…The fact that a single broken whiskey glass nearly cost him his life shows just how bad our society has become," he said, while calling on officials to address such social ills.
"I would like to warn young people who go out clubbing at night that they are not immune and should always keep an eye out for possible trouble," he said.
He was satisfied with the police investigation "to a certain degree," but said that he intended to monitor developments closely.
Mr Songkran, 57, is the managing director of the Charn Issara Development PLC real estate conglomerate.
He said he would monitor his son's condition and consider sending him to Bangkok for further medical treatment, if required.
Also addressing the media was Vorasit's mother, Srivara Issara, also 57.
Recently returned from a trip to Burma, she said, "We are quite confident in our son's behavior and definitely don't think he could have instigated this fight. He is always nice and kind to all people," she said.
"I'm am still in doubt as to why these men set on him so viciously. This is a big lesson to our son about the dangers of going out to places and being surrounded by so many drunken people," she said.
"Pla-wan quite loves Phuket, but it's bad what has happened to him," she added.
Phuket City Police Deputy Superintendent Jamroon Playduong told the media after the press conference that investigators continue to track a few men involved in the fight who have yet to be questioned. A police officer who was in the front of the pub at the time will also be investigated, he said.
As the Phoon Phol area is not in a designated "entertainment zone", the official closing time for nightspots there is 1am. However, the area is one of many on the island where the law is seldom enforced. But following the highly-publicized fight, the club was ordered shut down for sixty days.
Despite all the outpouring of goodwill for the affable Mr Vorasit, uncertainty remains over what actually happened at the Rachada Pub on Wednesday.
Efforts by one of the six suspects arrested for the attack to give his side of events at a police press conference on Thursday morning were squelched by new Phuket Provincial Police Superintendent Chonasit Wattanavrangku, who pointed out that such statements could jeopardize the integrity of the ongoing investigation.
— Atchaa Khamlo & S. Fein
Phuket News

Join the conversation and have your say on Thailand news published on The Thaiger.
Thaiger Talk is our new Thaiger Community where you can join the discussion on everything happening in Thailand right now.
Please note that articles are not posted to the forum instantly and can take up to 20 min before being visible. Click for more information and the Thaiger Talk Guidelines.