Phuket Opinion: Let the taxis go free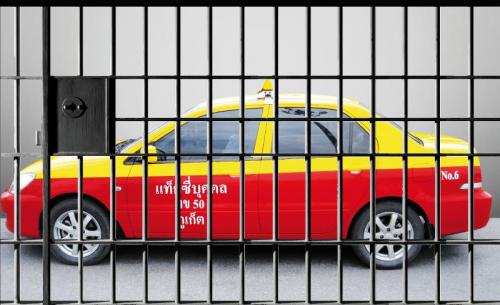 PHUKET: I saw many things of interest in Bangkok last week, including a woman riding a motorbike with a squirrel on her shoulder.
But the sweetest sights of all were the little red lights that peeped out here and there between tuk-tuks, trucks and cars on the busy streets of the capital.
They spelled out waang in Thai, or "free" in English, and they were on the dashboards of metered taxis.
In Bangkok, it is possible to see taxis in their native habitat, roaming the streets wild, foraging for customers.
The domesticated taxis of Phuket, for various reasons unable to look for sustenance themselves, live a captive lifestyle at the airport, big resorts and shopping centers on the island. Wherever they lurk, they find themselves hopelessly chained to groups.
With limited resources available, it's no surprise that the drivers of unmetered taxis are forced by their owners to charge exorbitant fares, and fights over customers break out.
And it's also no surprise that the drivers of metered taxis don't turn on their meters. Why should they accept the chains of a meter and be forced to earn less than their unmetered colleagues?
Worst of all, because the taxis all gather at the tourists' watering holes, they are not available on the streets of Phuket for travellers who need them.
The solution is clear. First, put a meter in every single taxi in Phuket. Serving the interests of no one, the two-tiered metered and unmetered system is simply unworkable.
Then apply a loitering law that prevents taxis from staying in one spot for long periods, fruitlessly waiting for customers. Let them run free and let them make money.
Imagine being able to step to the curb in Phuket Town and flag down a taxi to go anywhere on the island.
I'd use one to go to Central Festival, and avoid the struggle to find a space in the gridlocked car park there.
And if taxis were released into the wild, parking places at the airport would be freed up too.
Currently, tour vans and taxis of both kinds take up almost a third of the airport parking spaces, making it nearly impossible to find a spot, although I did once find a space there – at 5:45am. But when I returned from my trip, my car was blocked in by a tour van.
Last but not least, if taxis returned to the streets, with meters in place and turned on, the scam-factor would diminish considerably.
Free the taxis!
— Leslie Porterfield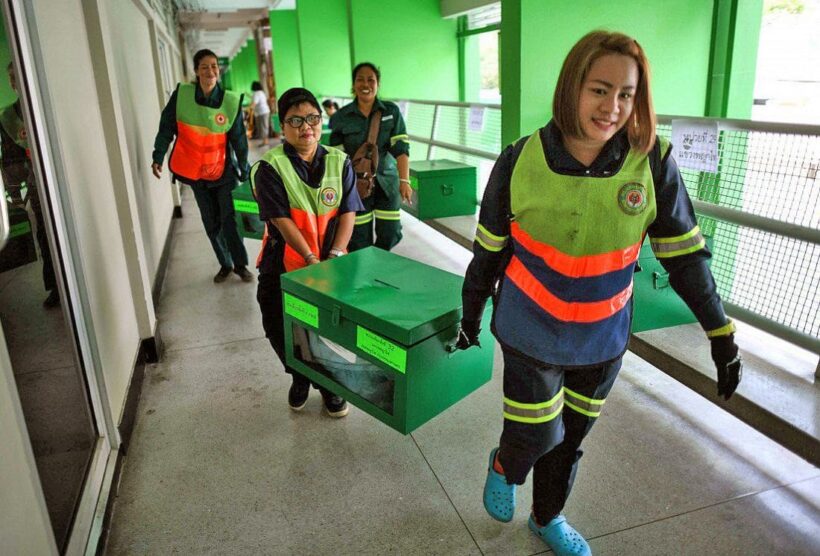 It's been 2,821 days between July 3, 2011 until today, March 24, 2019.
July 3, 2011 was the last time Thais voted in a general election.
That time Pheu Thai, led by Yingluck Shinawatra, won 265 seats in the 500 seat parliament.
It was only the second time in Thai history that a single party won more than half of the seats in the lower house parliament; the first time was in 2005 with Thaksin Shinawatra's Thai Rak Thai Party.
On May 22, 2014 the elected government was swept from power by the National Council for Peace and Order (NCPO), the country's 12th military coup since 1932 when the Kingdom of Siam became the Constitutional Monarchy of Thailand and elected a Parliament.
Now, here we are, 2,821 days later, on a hot, steamy 'summer' day around Thailand when Thais again get the chance to vote. But this time it is a very different political landscape with a result much more difficult to predict than in the past.
1. There are now seven million new voters, all between the age of 18 and 27. They are eligible to vote for the first time and appear to be motivated to have a say in the shape of the new government.
2. In early and absentee voting, along with polls asking the question, up to 90% of Thais will turn out to vote in this election (some voted last week as 'absentees', voting in another province from that which they are registered). In the last election in 2011 the turnout was around 75%.
3. There is a new Charter (constitution) which introduced a new proportional voting system which is thought to favor minor parties.
4. Apart from the 'old' Pheu Thai (pro-democracy, anti-military) and Democrat (pro-loyalist, anti-Thaksin) parties (and a few other proxies), there is now the Palang Pracharath Party, set up to continue the work of the NCPO and has the current PM Prayut Chan-o-cha as their prime ministerial candidate. There is also the youth-focussed and 'progressive' party Future Forward led by 40 year old auto-parts billionaire Thanathorn Jungrungreangkit.
All these separate issues make today's election difficult to predict.
Today's polls close at 5pm and the Election Commission says some votes at smaller booths will be out by 6pm, with a large chunk of votes counted by 8pm tonight.
Polls suggest, and maths proves, that no single party is likely to get a majority to form a new government. Although Pheu Thai is expected to win the highest amount of votes, it will fall short of a majority of seats to form a government or control the election of the next Prime Minister.
An actual result, as parties negotiate with minority parties to form a coalition, and the election (by both houses of Parliament) of the next Thai Prime Minister, could take a few weeks before an official result is announced by the Election Commission.
Today's election, 2,821 days since the last one, will just be a new beginning for a country that struggles with democracy. Whatever the result, it is unlikely to be the end of the two decades of polarised politics and tampering from the country's military.
Happy polling day Thailand.
No sign of concrete policies for conflict in the far South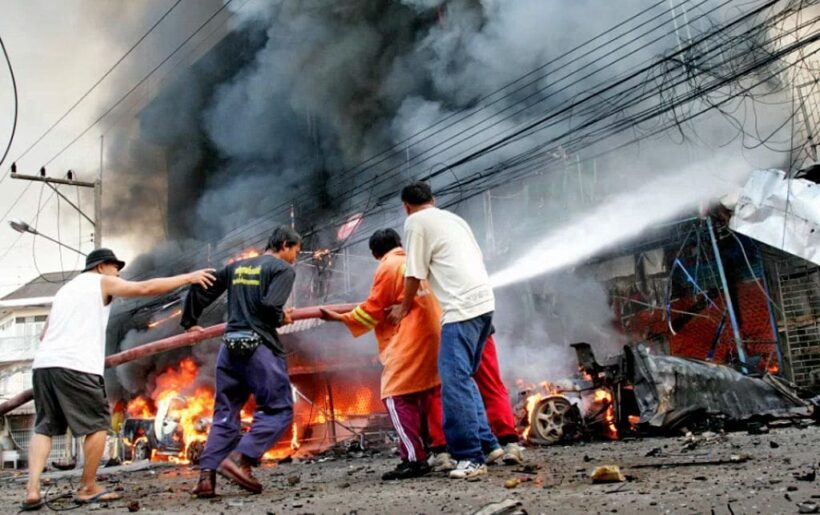 Parties offer few if any answers for a 15 year old deadly insurgency that successive governments have failed to quell.

Peace and conflict have never been significant parts of any political party platform in Thailand. This is because a sustainable solution calls for long-term commitment to a policy that could prove to be politically costly.

Lasting peace requires self-reflection on the part of both the state and society. Policymakers have to rethink the policy of assimilation that has so far been rejected by the Malay Muslim populace of the southern border provinces because it comes at the expense of their cultural and religious identity.

Full-fledged armed insurgency erupted in the far South in the 1960s, some 50 years after the signing of the Anglo-Siam Treaty that defined our current political borders.

There was a brief calm in the 1990s, but the absence of violence did not mean peace. A new generation of militants was being groomed by the Barisan Revolusi Nasional (BRN) and this time the separatists did not look to Arab countries for financial support and training, but developed their own resources at the grassroots level.

BRN fighters surfaced in 2001, only to be dismissed by then-prime minister Thaksin Shinawatra as "sparrow bandits". That characterisation changed on January 4, 2004, when scores of armed insurgents raided an Army battalion in Narathiwat and stole more than 350 military weapons.

Successive governments have been dabbling in peace initiatives, but none succeeded in getting the BRN – which gives all of the armed combatants their orders – to participate in talks.

At a recent public forum in Bangkok organised by Amnesty International, Pauline Ngarmpring, the Mahachon Party's transgender candidate for PM, spoke in terms noticeably absent from the Democrat and Pheu Thai speeches – mutual respect, peaceful coexistence and cultural diversity.

The Future Forward Party's representative blamed the 15 years of discord in the South on government mishandling and mistreatment of citizens. There is some truth to this, but it overlooks the fact that the Malays of Patani – the three border provinces – see themselves as having a unique identity that defies full assimilation.

The parties contesting Sunday's election have generally been careful about the issue as they seek to impress both Muslim and Buddhist voters.

Future Forward has risked campaigning for a reduced military presence in the South and insisted that the diplomacy of give and take be the guide in peace talks.

Canvassing for votes

Political canvassers can earn a lot of money in the far South. From shady warlords and influential figures to Muslim clerics and community leaders, the canvassers have particular attributes or profile in common. All they need to do to succeed is connect with the voters.

Future Forward has scorned the deployment of canvassers, though, dismissing it as part of the patronage system they vow to curtail.

In the 2011 election campaign, all parties but one promised to give the Malay-speaking region "special administrative status". The Democrats made no such pledge and still won 11 of the 12 available seats.

In this campaign, no one is repeating the promise.

The Pheu Thai Party promised special status in 2011 and won the national election, but then reneged on it once in government. It only served to convince the southerners that promises given them can be broken at no political cost to the one making the pledge.

Seeking cultural identity

Despite the obvious religious connotations, the conflict is still largely ethno-nationalistic in nature, though the authorities have often tried to get Muslim clerics to condemn the violence on religious grounds. The clerics who do so then face the wrath of the combatants. (There are, of course, also religious leaders who say the BRN is justified in taking up arms against the state.)

Prachachat, the so-called "Muslim party" led by Wan Muhammed Noor Matha, a wily politician and close ally of |Thaksin, has had both Islam and multiculturalism prominent in its campaigning. So far, though, there has been no elaboration on context or intent.

Nor has any party broached last year's hijab row at Anuban Pattani Elementary School, in which 20 Buddhist teachers walked off the job because Muslim girls came to class wearing headscarves.

About 85 per cent of the region's two million residents identify themselves as Malay Muslim, not Thai. The teachers seemed to wish to remind the Malays of Patani that they're a defeated people and must abandon traditions and assimilate as citizens of Thailand.

Thus espousing the common denominator remains the safest track to electoral victory. Politicians know that most voters respond to patriotic evocations of "Thainess".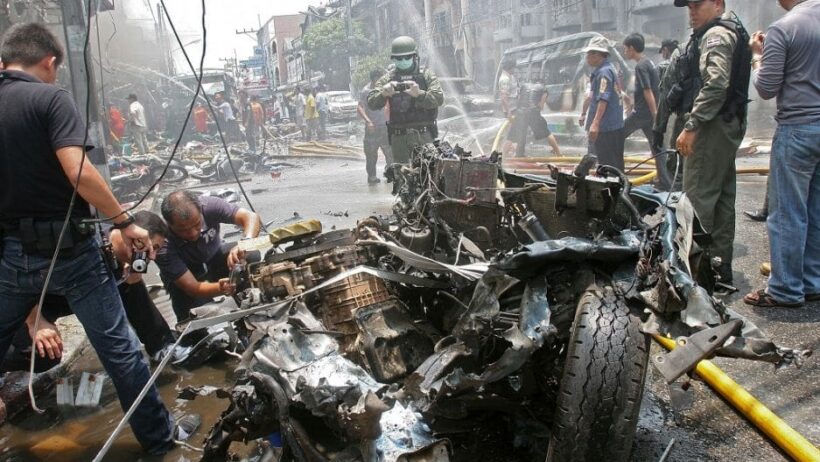 SOURCE: The Nation
Will it be same same but different after this Sunday's vote?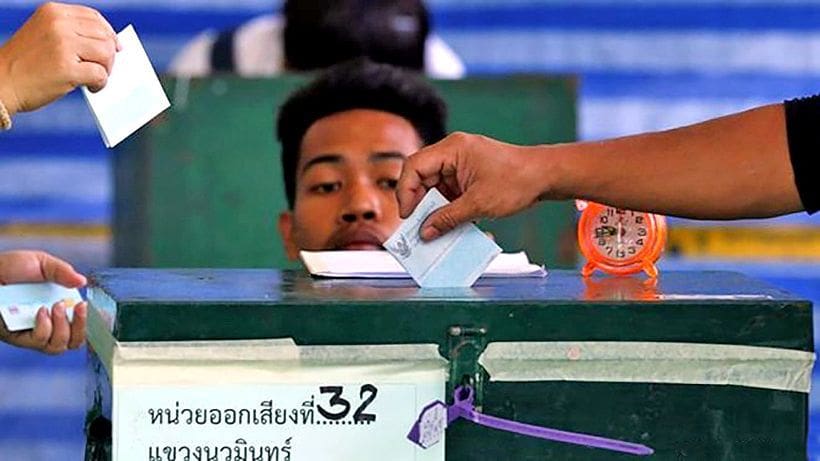 Thailand's military junta, which has ruled the Land of Smiles since snatching control in a coup in 2014, is now trying to bring its leader, Prayut Chan-o-cha, back as an 'elected' PM in next week's election.
The NCPO has cobbled together an ambitious economic plan that's rests on a 1.7 trillion baht (US$54 billion) spending spree to revive competitiveness in an economy that remains hamstrung by depressed business confidence and investment.
High speed rail links, an expanded economic corridor to the east of the capital, spending on airports and new infrastructure in the capital  – these are a few of the Junta's favourite things.
Economic growth is lagging its peers in the region, productivity has weakened and companies are reluctant to invest whilst the elephant remains in the room – political uncertainty and a whiff of military tampering.
The return of democracy this Sunday has its own risks. When the official results are eventually announced, perhaps weeks following the poll, there will be some sort of transition from military rule to civilian rule. If the Palang Pracharath party – pro-military and pro-Prayut – is able to convince voters to keep marching along, then the transition will be relatively simple.
If, however, and more likely, that a coalition of pro-democracy parties is able to form a majority in the country's lower house of Parliament, the transition may become 'messy'.
The new government will crow loudly that they have a mandate to unravel some of the long-term economic plans, and even the constitution, that was put in place by the NCPO during their half decade in power.
But the military-appointed upper house of review, the National Legislative Assembly, will likely quash any changes to the military's 'vision'.
And on we will go – more political uncertainty, more unrest, and potentially, more protests in the future.
Groundhog Day.
Thailand's establishment elites, principally based around Bangkok and parts of the south, have dueled for power with the populist alliances of former premier (and now fugitive) Thaksin Shinawatra for over a decade, a fault line that could bring gridlock to the next parliament.
Thaksin and his proxy parties have prevailed in each election since 2001, only to be unseated by the military or the courts each time, most recently in 2014 when the Yingluck Shinawatra government was kicked out of office.
The ongoing instability weighs heavily on Thailand's competitiveness and investment allure.
Thailand hasplunged 10 places on the World Economic Forum's global competitiveness index in the past 11 years, the biggest drop among South East Asia's top economies – to rank 38 out of 140 countries in 2018.
The index measures everything from the openness of the economy and quality of infrastructure to the strength of institutions and innovation.
But Prayut has cut red tape, making Thailand one of the 10 most improved nations in the World Bank's Doing Business 2018 rankings as it vies with neighbours such as Vietnam for investment.
Now it's the Thai voters who take the next step in this achingly slow politically drama that casts a long shadow over the future of Thailand.