Phuket Opinion: Drivers' carelessness causes traffic jams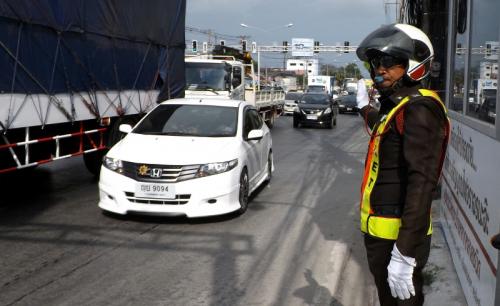 PHUKET: Phuket City traffic policeman Pol Sen Sgt Maj Boonliang Maneewong, 53, is from Sisaket province in the Northeast. He graduated from the Provincial Police Training Center Region 2 in Chon Buri province in 1984 and has been working with the Thalang Police since 1985.
He has been a traffic officer for 20 years, and for the last three years he has been posted at the Koh Kaew traffic lights. Here he talks about the Koh Kaew Intersection, one of the busiest on the island, and shares his ideas about how to improve traffic flow.
People stopping to buy items from roadside vendors causes some of the congestion around the Koh Kaew Intersection on Thepkrasattri Road. The other main issue in the area is people carelessly driving – they need to pay more attention to traffic instructions and regulations. If people took more care when they were driving, it would solve many traffic problems.
For example, drivers should not increase their speed when they see a traffic light turn yellow. Everyone knows that when the light is yellow you are supposed to slow down and prepare to stop.
People need to keep the traffic laws in mind and follow them. I think everyone knows what's right and what's wrong. They just ignore what's right sometimes to make their lives easier. They forget that other people are using the road too, and that they should be considerate.
The intersection on Thepkrasattri Road at Koh Kaew is one of the busiest on the island. Not only is Thepkrasattri Road the only route off the island, but it's the main road to the airport. In addition, there are businesses and residential areas along it in Koh Kaew, as well as a market. These make the area even busier. The traffic is the worst from 7 to 10am and from 3:30 to 6pm.
Traffic gets slowed down between these times mostly because of drivers' behavior and the size of the road. If the road were significantly wider, it would make a big difference. However, as it is, drivers must modify their behavior and obey traffic laws.
My job is to serve the people on the road, not arrest them. All my attention goes to making the traffic flow as smoothly as possible.
I don't have any secrets for doing the job well, I just try to do my best and use my judgment in deciding how to direct traffic. Sometimes I have to let motorists go through a red light to promote traffic flow.
Please understand that according to the law, if a traffic policeman is present, motorists must obey him, not the traffic lights.
The best way to solve the traffic problems would be to widen the road or rebuild it to improve flow. It's such an important and heavily used road. But I don't know when that will happen.
In the meantime, I'll just do my best to keep traffic flowing.
— Chutharat Plerin
Keep in contact with The Thaiger by following our Facebook page.
Never miss out on future posts by following The Thaiger.
Like a rolling stone (2 decades and counting). My home, Phuket.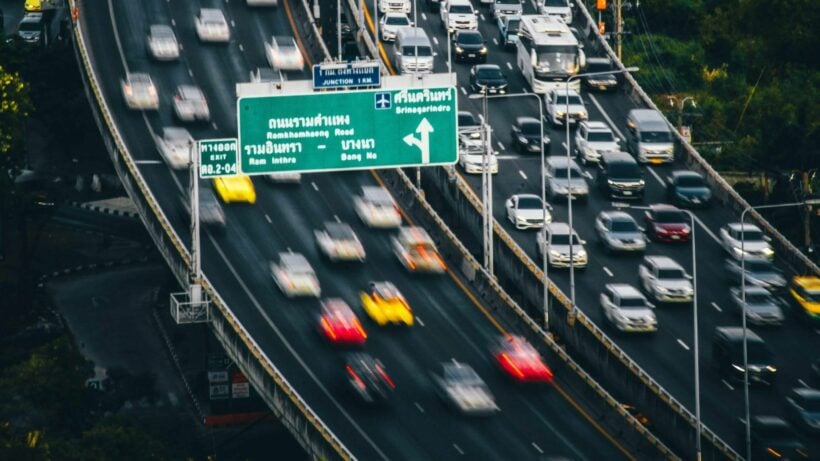 by Bill Barnett from c9hotelworks.com
Driving down a seemingly endless winding road on the warm tropical island of Phuket, I glance up and see a sign indicating a left turn, shouting out in big bold letters 'Welcome to Days of Future Past.' Reading between the lines, let me state that we have landed headfirst like crash test dummies into the uncertain days of 2021.
I've managed to pass the last 2 decades (20 years or thereabout) in Phuket. In a life spent more outside my own country of birth than inside, my nomadic travels and work have cut a rather expansive swarth all over Asia, the Pacific and far, far beyond. Countries lived in once I start counting, well let's say I run out of fingers on both hands while reciting the roll call.
Despite the seemingly endless list, what defined the revolving trip before landing here could best be summed up in the words of Bob Dylan "how does it feel? To be on your own, with no direction home. A complete unknown, like a rolling stone." I never really managed to stick anywhere for so long, except right here on a small island in Thailand.
So how does it feel? After all this time and despite the bad, sad craziness of 2020, I have to say my heart remains full of love for this place we call Phuket, which has become my own home town. The gap time, the fringes at the end of a year, and beginning of a new journey are always a fine time to reflect. And this I shall do, so bear with me.
Covid-19 in some way has learnings and out of the worst of times, can come green shoots, so here are mine. When I look at Phuket, it's not with rose-colored shades and I certainly see the litter by the roadside, cracked and peeling paint, and the painful price of a taxi, if only you can find one. Yes, it can be chaotic, funky and frustrating at the worst of times.
But looking past the frayed ends what comes home to roost is the absolute sense of community the pandemic has created from physical lockdowns to emotional rollercoasters. I can look back at the amazing generosity of locals and expats to feed the poor during the closures, or those amazing people who give of themselves to worthy causes from educating Burmese kids, to small informal schools or saving dogs, cats, elephants, and just random acts of kindness at the worst of times.
While most tropical islands tout their natural attractions, what makes Phuket special is the people, the spirit and most importantly how it keeps moving ahead with its own flaws and imperfections. I'm not a big believer in religion, what we have today is pretty much it, and those pictures of saints in the sky are way too vanilla for me.I'd never get into heaven in a black t-shirt. In a life marred by some good and other very, very bad decisions, the only way forward has had a hell of a lot of bumps in the road. But what a ride.
And as I hit my turn signal to indicate a left turn into 2021, my thoughts arrive at the simple conclusion there is no better place to be than Phuket. We all need a little adrenalin in our lives, it's the best reminder that we are alive and Covid-19 has and continues to provide just that. It's the unknown.Our only way forward is with faith, community and belief that this too, as in all things, will also pass.
I'm looking forward to seeing Phuket on the other side of this debacle and believe its best days are yet to come.Tourism will return. I believe this island sandbox remains a place of magic, promise and generous souls.So how does it feel, you might ask? It feels just fine. Thank you Phuket for bringing me home.
Keep in contact with The Thaiger by following our Facebook page.
Never miss out on future posts by following The Thaiger.
The case for temporarily closing hotel and restaurant operations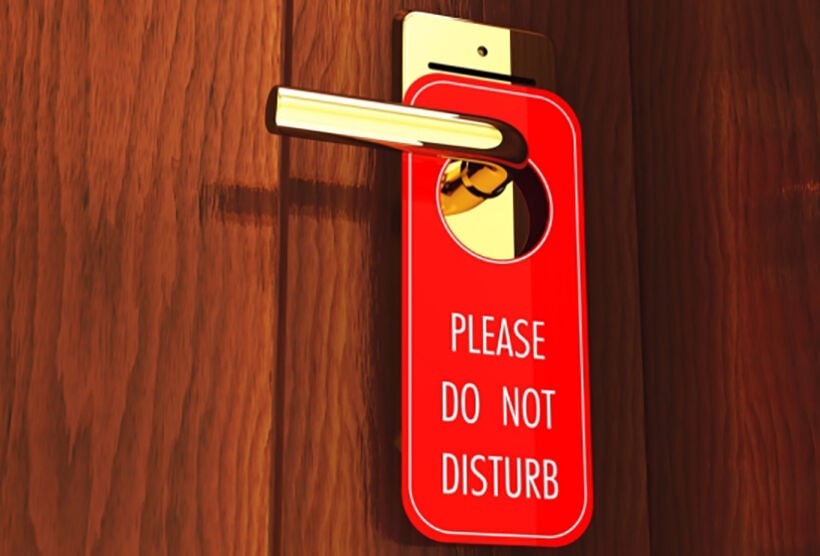 OPINION by Bill Barnett
As the final days of disruptive 2020 come screeching to an erratic end, hotel, and restaurant owners are peering into an unpredictable year ahead. Here in Thailand over the past week, the tourism industry has been shaken to its core over an uptick in Covid-19 cases and backroom speculation over fears of another round of lockdowns.(Restrictions, but not full lockdowns, have already been applied by a number of provincial governors, including in parts of Bangkok, Rayong, Nonthaburi and Pattaya)
With domestic tourism being the only operating segment at present, the market reality is that the lag in vaccinations could take 9 to 12 months in 2021. We are now facing a situation that it's highly unlikely a significant reopening of international travel will effectively gain traction until 2022. What's more worrisome for hotels that have been trying to survive low-levels of occupancy over the past 6 months is that the combination of anti-travel sentiment and volatile restrictions could see a worsening of trading conditions next year for an extended period.
No need to put on rose-colored glasses for tourism businesses here and the most relevant concern is how to survive, stay afloat, and manage cash flow. While every situation is different, there is a case for some enterprises to temporarily close and hibernate next year until borders are broadly open again. Did I hear a groan? Yes, reality bites. But the key messaging here is there is no point planning long term if you can't fund up mounting losses for much of 2021.
Hotels and restaurant owners in particular now need to assess the situation on the ground. If you have been losing money over the past six months, can you continue to fund cash flow next year,month after month?The traditional tourism season in Thailand has shifted, and domestic holidays and weekends are the only real opportunities to claw back revenue.
Looking at hotels, big-box types versus smaller properties with decentralised systems are entirely different when looking at the viability of closures. Take into account fixed and variable costs and try to come to grips with break-even scenarios and cash resources. If you are in the red, are you prepared to fund up another 12 months of losses?
Moving into the New Year, the expected drop in travel in January onward is looming so it's critical to do the numbers and decide what strategy is best for the businesses. If bank financing is in place, it's time to start talking to lenders and if needed secure additional funding.
In 2020 Thailand's hotel and tourism industry has stood tall and optimistic. I share the long-term optimism but the prospect that next year could swing downward more is a clear and present danger. Given hotels and restaurants are service-related, the ethics of retaining jobs is critical and has to be a primary focus, but if the operating losses result in later permanent closure, owners have not done anyone a favor by swimming against the current.
Let's be clear, I am no in any way advocating the entire industry to temporarily close and retire to a dark room for zoom conferences and endless Netflix episodes. But the message here is if you are losing money now, and likely to be unable to fund a longer period of losses, take action now. In a passionate foray like hospitality, it's imperative not to let a false sense of pride or fight take over reason and business sense.
My end of year messaging is just that, be prepared for worse days to come. It's painful to write but if you plan, strategise and understand there is light at the end of the tunnel but you have to get to the end of the tunnel first, that is what matters. Look at your options in 2021 and I look forward to seeing all of you on the other side.
Keep in contact with The Thaiger by following our Facebook page.
Never miss out on future posts by following The Thaiger.
Thailand tourism is changed forever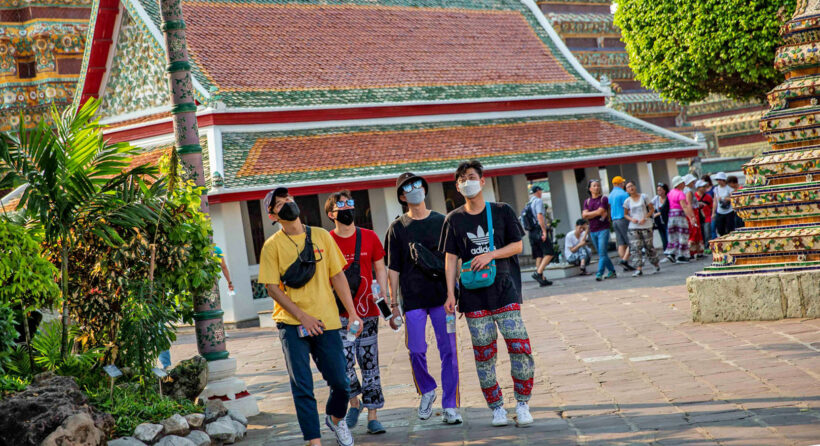 OPINION
by Andrew J Wood
Last week the Thai government Minister's speech shows me that tourism will never be allowed to recover to previous levels. The writing is definitely on the wall, windows and front door, that there has been a major policy shift in government thinking by PM Prayut Chan-o-cha's cabinet.
In a deeply worrying development for Thailand's massive Travel & Tourism industry, which last year generated a huge 2.2 trillion baht of income (US$ 55.2 billion), and accounted for 20%t of GNP and 10% of all jobs in Thailand, the deputy PM Supattanapong Punmeechaow said that the country relied too much on tourism and that this was unacceptable.
This must be as worrying for property developers as well as investors. If the 39 million tourists that Thailand received last year in 2019, is never to be repeated, why do we need to continue building and investing in new hotels?
According to Thailand's The Nation, deputy PM Supattanapong Punmeechaow admitted that the Covid-19 outbreak had exposed cracks and faults in the Thai economy.
"The Covid-19 outbreak that hit Thailand since April has exposed the fragility of the economy and shed light on the fact that we rely too much on export and tourism."
This is certainly a departure from what the Minister was saying back in August. The deputy PM, who also holds the Energy portfolio, announced then the formation of a new economic panel, and boasted that the new economic committee will boost tourism and employment. He said the panel agreed to increase subsidies for local tourists and create 1 million jobs in the near future to combat growing unemployment.
Supattanapong Punmeechaow the deputy PM is cleary worried about putting too many eggs in one basket and spreading the risk. However it maybe too early to start walking away from tourism when other industries are simple not ready to take up the slack. Infrastructure improvements; legal reforms, changes in corporate ownership regulations and reduced bureaucracy are just a few of the changes the chambers of commerce have been asking for and must be in place BEFORE we start to cook the goose that lays gold bullion on the floor of the vault in the bank.
The deputy PM who was speaking last week at the "Restart Thailand 2021" dinner talk held at Siam Paragon shopping complex in Bangkok said… "The outbreak has had an especially heavy impact on small and medium businesses, prompting the government to spend over 800 billion baht on SME aid measures including postponing debt repayment worth over 6.8 trillion baht for 12 million SMEs.
"However, from July onwards, economic indicators have been pointing toward an improving trend thanks to cooperation from all parties in outbreak prevention, despite some minor impact from the political situations."
"The tourism industry has shown improvement, with about 30 per cent occupation, jumping from just 6 per cent in April, thanks to the government's economic stimulus campaigns such as the 'Let's Go Halves' shopping subsidy."
"Through the Thai Credit Guarantee Corporation, the government is also planning to provide an additional 150 billion baht in loans to help small and medium businesses.
"The battle against Covid-19 is not over yet. The government still has many projects in the coming year to boost the economy, attract foreign investors and build infrastructure for future expansion."
"These projects include the construction of 14 Skytrain lines in Bangkok covering 500 kilometres in the next four to five years, larger than London's Underground, and the infrastructure projects in the Eastern Economic Corridor to support digital technology, 5G and robotics industry.
"It is unacceptable to let Thailand slide back to the period before Covid-19. Since the global economy is changing we must be more proactive in attracting foreign investors, and the agencies responsible for this are the Board of Investment Office and Eastern Economic Corridor Office," Supattanapong said.
"The next step will be to put Thailand on the list of top 10 countries with ease of doing business, which is a goal proposed by five countries who are our major trade partners."
The deputy PM further explained that next year the government will focus on investing in new industries that will help reduce reliance on export and tourism.
"Bangkok will be the centre of regional offices of multinational companies, while Thailand's automotive industry will focus on the manufacturing of electric vehicles (EVs). EVs will create other related industries such as smart equipment manufacturing and electricity generating from renewable energy. This will create a great opportunity for Thailand to further invest in community power plants, as well as biomass and solar power plants in Laos."
ANDREW J WOOD
Andrew J Wood was born in Yorkshire England, he is a professional hotelier, Skalleague and travel writer. Andrew has 48 years of hospitality and travel experience. He is a hotel graduate of Napier University, Edinburgh. Andrew is a past Director of Skål International (SI), National President SI Thailand and is currently President of SI Bangkok and a VP of both SI Thailand and SI Asia. He is a regular guest lecturer at various Universities in Thailand including Assumption University's Hospitality School and the Japan Hotel School in Tokyo.
The content of this article reflects the writer and does not necessarily reflect the editorial stance of The Thaiger.
Keep in contact with The Thaiger by following our Facebook page.
Never miss out on future posts by following The Thaiger.