Opinion
Phuket Opinion: Consuls could help break the choke hold on tourism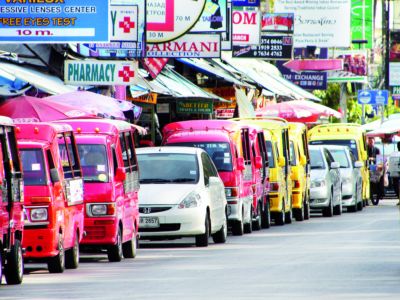 PHUKET: The latest meeting of Phuket's honorary consuls with provincial authorities was rather unremarkable, but as the gatherings remain the only official forum for tourists and expatriate residents of Phuket to have their concerns presented directly to the people in charge, they need to continue.
[See 'Tourists beaten, cheated and cursed', current issue of the Phuket Gazette. Digital subscribers click here to download the full newsper.]
Australian Ambassador James Wise, who attended the sixth consuls' meeting on Monday, was correct to instruct the consuls not to get too discouraged over the lack of progress in tackling the many issues currently dogging Phuket.
Unfortunately, some of the most serious problems, such as the tolerance for road mayhem and the collusion in the public transport sector, are deeply entrenched and are not going to disappear until the culture supporting them disappears as well.
That taxi and tuk-tuk drivers stand up for their self-proclaimed "right" to overcharge for services is not disputed. As many local businesses have pointed out, repeatedly for at least a decade, the transport collectives have been successful in keeping the tourism industry in a sustained choke hold.
Their actions cripple an industry that otherwise operates on free-market principles and offers a wide variety of good value-for-money products and services – if tourists can afford to get to them.
One would almost surely be hard pressed to find another tourist destination anywhere in the world where a half-hour ride in a cramped and dangerous open-air vehicle costs more than a night's stay in a clean and comfortable guest house – and three times more than the cost of renting a new motorbike for a whole day.
The authorities are quick to encourage people not to drink and drive, but personal financial constraints, combined with the widespread fear of, and contempt for, local public transport, force many 'under the influence' to climb aboard motorbikes and ride to a grisly death.
A watershed moment in this narrative came over a decade ago when a newly-launched songthaew (pickup truck modified for public transport) linking Patong and Karon lasted only a few days before the driver was hauled out of his cab and beaten senseless by a group of you-know-whos.
Ever since, the concession for the route has remained available for any party willing to take it. But, of course, none has.
Given this fact and the particular circumstances that apply to Phuket, we believe it is time for a state agency such as the Tourist Police to launch a civilized public transport service using their own personnel to provide on-board security, much in the same way that air marshalls do aboard international airlines.
But solutions like this need not be presented to authorities who have been 'bought off', or who are otherwise not in a position to implement them. So the consuls, with access to both the highest-level provincial authorities and their own ambassadors in Bangkok, are in a unique position to spearhead reform. Let us hope that they will not squander the opportunity.