Island View: Banning climbing and scuba diving will not prevent stupidity [video]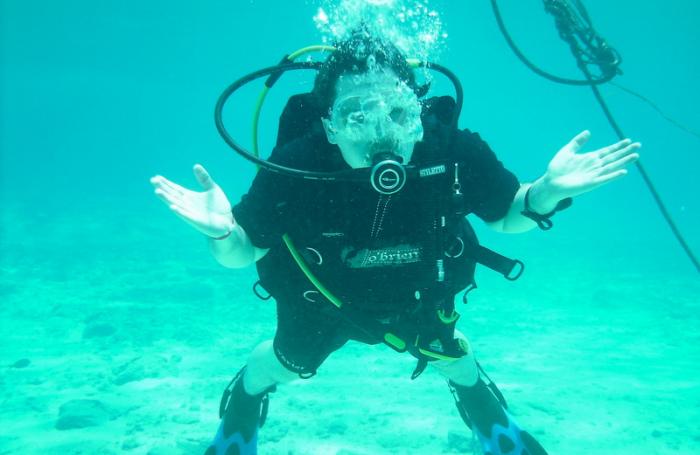 PHUKET: We are all capable of stupidity; for some it is easy, for others – myself included – the stupidity starts when the dawn breaks.
Whether it's walking into doors, tripping over cats, sticking the car in reverse instead of drive, or falling off mountains, none of us intends to do these obviously stupid things… but they still happen.
Which makes me wonder why Phuket officials appear to be attempting to outlaw stupidity. Not trying to stop people being stupid – which is beyond anyone's abilities – but trying to make it illegal to be where stupidity might occur.
The recent bans on rock climbing on Koh Yao Noi and in Phi Phi's national park have been introduced because after years of no one falling to their deaths, the sport has been deemed too dangerous by the park chiefs. So, because something stupid might happen, no one is now allowed to climb those magnificent rock formations.
Now Phuket's Ministry of Tourism and Sports (MOTS) is threatening to ban private scuba diving, forcing anyone who's into this sport to go through a well-insured tour agent. Note to the MOTS: insurance does not negate stupidity.
Beyond the obvious impossibility of enforcing a private Scuba ban, what will happen if someone does get into a stupid situation while committing underwater stupidity? Will the authorities refuse to rescue them?
In neither rock climbing nor Scuba diving, do people undertake the adventures without some form of training and practice. I would not, for instance, strap a tank to my back and jump into the Andaman, because I'm not one for Scuba. Nor would I climb the rock faces of Phang Nga or Phi Phi, because I am very efficient at falling.
Tour companies do, however, put people in the sea who cannot swim (or cannot swim as well as they think they can), thereby enabling stupidity. In the past year, at least 16 Chinese tourists have drowned while snorkelling, most of whom were in tour groups. In fact, most of whom should not even have been in the water to begin with.
MOTS is making moves to better regulate Phuket's tour companies, but penalizing the small groups of visitors who enjoy independent adventures because stupidity might occur, further damages the island's already weakened FIT tourism base. Not only does it unfairly penalize small tourism-reliant businesses such as longtail drivers, local restaurants, bars and guesthouses, it also diminishes officials' capacity to properly administer the rules that need to be enforced.
There is a miserably small number of officials – including just ten volunteers – to enforce the new MOTS rules regarding tour operators. How can they take care of tens of thousands of tourists if they are busy running around after a few dozen climbers and Scuba enthusiasts?
Of course, no one sets out to do something stupid (other than Nicole Kidman and Robbie Williams), but sometimes it just cannot be avoided, or in this case, legislated out of us.
Park officials and MOTS would serve the island's tourism industry better by focusing on the stupidity that can be controlled, not that which has not even happened yet.
— Alexander Maycock
Opinion

Join the conversation and have your say on Thailand news published on The Thaiger.
Thaiger Talk is our new Thaiger Community where you can join the discussion on everything happening in Thailand right now.
Please note that articles are not posted to the forum instantly and can take up to 20 min before being visible. Click for more information and the Thaiger Talk Guidelines.