Used-car dealer, entire family dead in mass suicide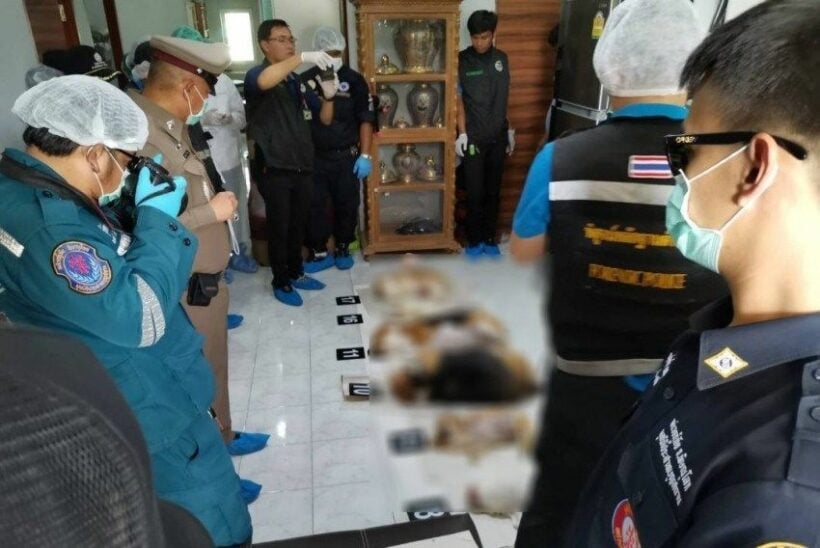 A used car dealer and his entire family in the northern province of Phitsanulok have been found dead, in an apparent mass suicide. Even the family dogs were not spared. The family were found asphyxiated, with a lit charcoal stove in the room. Police were called yesterday after relatives found the bodies. There were five dead people and six dogs in a bedroom, and a still-warm charcoal stove.
The victims were identified as Kanthaphon Paenwong, owner of Kanthaphon Auto car tent; his mother Sunisa Paenwong; his elder sister Suthiporn Paenwpong; his wife Yodkhwan Paenwong and their 13-year-old son Rachatha.
Kanthapong reportedly had debts of over 10 million baht. Two notes, dated February 12 and 16, were found in a mobile phone belonging to one of the victims. Police say the notes were about money the family owed in order to remain in business. They had tried everything they could, but to no avail, the notes said. They were "at a deadlock."
A source says it appeared the five family members took tranquilizer pills and placed the charcoal stove inside the bedroom.
The Bangkok Post reports that a relative told police he had been in contact with the family at around 11pm Wednesday, but had been unable to raise them since.
He became worried and yesterday he and other family members went to the house to find the door locked. He asked his nephew to climb through a window and open the door. All the rooms inside the home were open, except for one bedroom, which was locked. The relative said they forced open the door and found the family and their dogs dead inside.
If you or anyone you know is in emotional distress, please contact the Samaritans of Thailand 24-hour hotline: 02 713 6791 (English), 02 713 6793 (Thai) or the Thai Mental Health Hotline at 1323 (Thai).
SOURCES: Chiang Rai Times | Bangkok Post
Keep in contact with The Thaiger by following our
Facebook page
.
Never miss out on future posts by
following The Thaiger
.
150 Thai workers ask to be allowed home from Myanmar's virus-hit Tachilek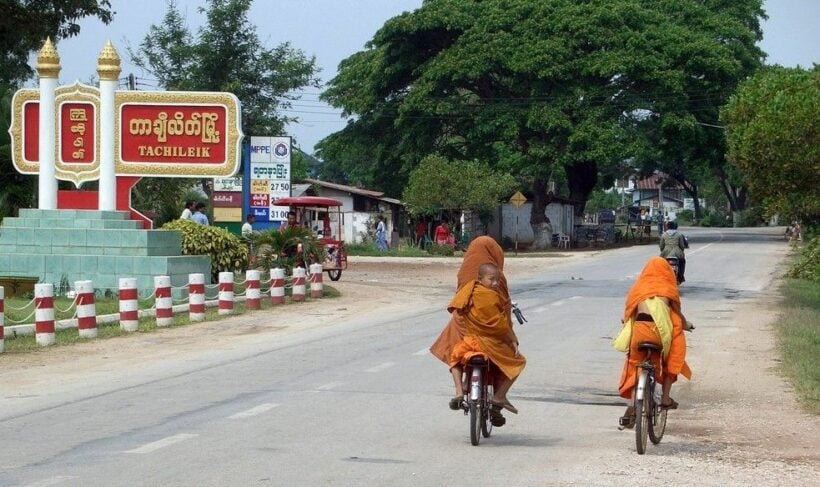 The Department of Disease Control says up to 150 Thai nationals have applied to return from Tachilek, as Covid-19 cases rise in the Burmese border town. The requests come as health officials attempt to trace hundreds who came into contact with a number of Covid-infected Thai women who crossed into the Kingdom illegally, bypassing health checks and quarantine. A man in Chiang Rai who had contact with the women has since tested positive for the virus.
A total of 10 women, all of whom were carrying the virus, are believed to have made the illegal crossing. 2 of them subsequently boarded flights to Bangkok and Phitsanulok. It's understood most of the women worked at a hotel and nightlife complex in Tachilek, called 1G1. Nation Thailand reports that around 180 Thai nationals work at the establishment.
Thai health officials say over 1 million volunteers are now being deployed to homes in border areas, to check for anyone who may have entered the Kingdom illegally. The Thai military is working with other relevant agencies to block the border crossing at the second Thai-Myanmar Friendship Bridge, in the Mae Sai district of Chiang Rai. At least 80 officials, accompanied by additional troops, are being deployed to check illegal border crossings.
Tachilek has reported 15 new cases of Covid-19, with the total number of cases in Myanmar now over 95,000.
SOURCE: Nation Thailand
Keep in contact with The Thaiger by following our
Facebook page
.
Never miss out on future posts by
following The Thaiger
.
12 people arrested for allegedly illegally crossing Thai-Myanmar border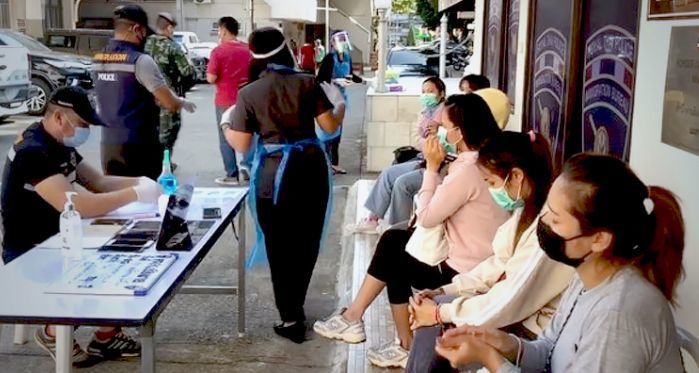 12 Thais were arrested by Chaing Rai Immigration Police for allegedly illegally crossing the Myanmar border back into Thailand. The arrests follow a small coronavirus outbreak in Northern Thailand while Myanmar reports hundreds of new Covid-19 cases each day.
Over the weekend, a 29 year old Thai woman tested positive for Covid-19 in Chiang Mai after visiting the hospital with flu-like symptoms. She recently returned to Thailand from Myanmar where she worked at a bar in Tachileik. 2 other women, ages 23 and 26, worked at the same bar tested positive for Covid-19 after returning to Thailand, Chiang Rai public health officials reported today.
Of the 12 people recently arrested for illegally crossing the Thai-Myanmar border, 4 of them were arrested yesterday after a woman made a post on Facebook saying her and her friends used a natural route to cross into Thailand. They allegedly told police they were working illegally in Myanmar.
8 other Thai women were arrested today for illegally crossing the border from Tachileik into Chiang Rai. They allegedly told police that they each paid 6,500 baht to Myanmar traffickers to avoid border checks.
The women told police that most Thais returning home from Myanmar were in the country working at entertainment venues.
SOURCE: Nation Thailand
Keep in contact with The Thaiger by following our
Facebook page
.
Never miss out on future posts by
following The Thaiger
.
Young monk killed by wild elephant while meditating
A young Buddhist monk was found dead on a mountain in the Northern province Kamphaeng Phet. Reports say the 21 year old was killed by a wild elephant while he was meditating.
The monk walks down the mountain everyday at 6am to receive his daily alms, according to the village headman Kraiwan Nontibut in the Saeka district. When the monk didn't show up, Kraiwan and villagers searched for him and found him dead with serious injuries that appeared to be caused by an elephant.
"He did not show up this morning , so I walked up the mountain… I was shocked to find him dead."
SOURCE: Thai Residents
Keep in contact with The Thaiger by following our
Facebook page
.
Never miss out on future posts by
following The Thaiger
.