VIDEO: Seven injured – Surin Fair fireworks goes wrong

A 47 year old Thai man sustained serious burns and six others suffered minor injuries when fireworks, being lit near a pond in Wat Jumphon in Surin's Muang district as part of a local festival, exploded into the audience last night.

The Nation reports that the seven victims were watching stage performances at an outdoor cinema at the fair when the fireworks were lit to mark the end of the performance.

Check out the video here…

However, some fireworks didn't shoot skywards but exploded horizontally into the audience, sending the crowd scrambling to safety.

Police suspects the fireworks were not anchored correctly and fell over during detonation. Earlier, during the fair, Surin Industrial Office presented certificates to 109 individuals for their contributions as "the pillars to society" in Surin.

ORIGINAL STORY: The Nation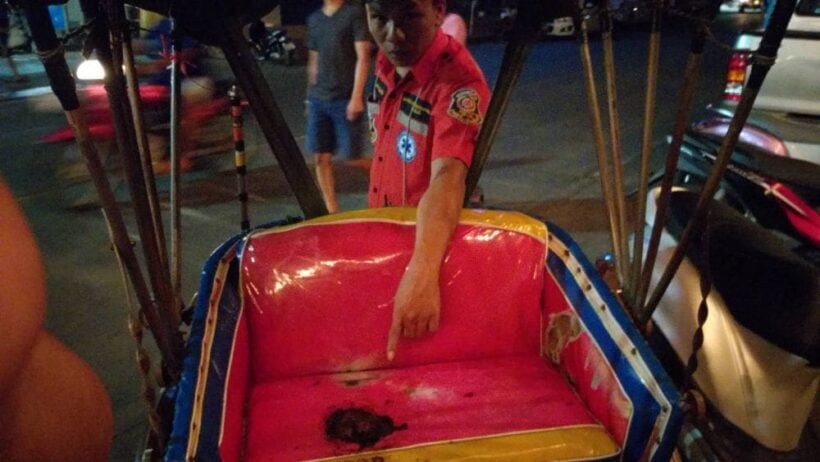 Read more headlines, reports & breaking news in North East Thailand. Or catch up on your Thailand news.

Prawit hands back seized assets from illegal money-lenders

PHOTO: The Nation
Deputy PM Prawit Wongsuwan has presented 2,012 debtors in the Loei province, in far north-east Thailand, assets valued around 3.4 billion baht. The hand-over includes 1,773 land-title deeds held as collateral in dodgy loan scams.
Many people, holding documents to their chest, couldn't hold back tears of joy over getting the assets they thought were lost due to "unfair contracts" with illegal moneylenders.
Prawit – in his capacity as deputy PM supervising police affairs – presided over a ceremony at Loei Pittayakom School in Muang district. This is the fifth time that a big ceremony has been held to help people get their assets back from off-system moneylenders.
The deputy PM said the north-east appeared to have the highest number of people – 560,000 of 900,000 nationwide – who have fallen victim to illegal moneylenders, so the authorities will do their best to help them with this issue of high-interest off-system debts that keeps people poor.
Prawit thanked all state agencies for helping solve problems and enforcing the law. He said this and the previous ceremonies had seen assets worth more than 13.7 billion baht returned to the people, including 9,526 land-title deeds covering 31,838 rai (5,100 hectares) nationwide.
The deputy PM has presided over all five large-scale ceremonies of this type, with similar smaller events held simultaneously by police in other provinces.
The north-east provinces provide a key role in next year's national election. The centralist 'yellow shirt' parties are keen to attract voters in the country's populous agricultural sector.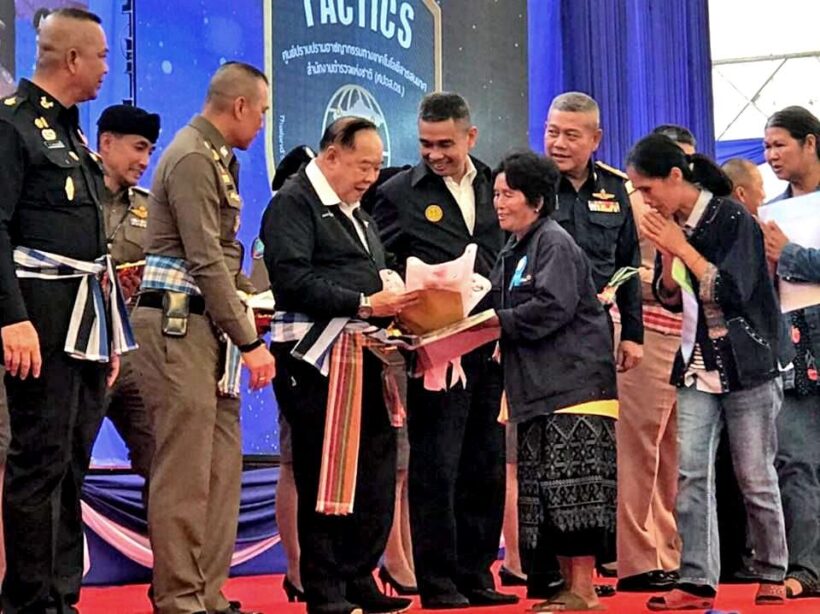 SOURCE: The Nation
96 year old perishes in Udon Thani house fire

A 96 year old, bedridden woman has died in a locked room at her house in Udon Thani's Phen district on this morning. Fire swiftly and completely engulfed the building according to neighbours.
The fire spread from the home of Phan Manee and also damaged a neighbour's house. Fire-fighters spent about an hour extinguishing the blaze before Phan's body could be recovered.
Her daughter Saeng Manee and son-in-law Boonseng Chaokla were not at home at the time.
Neighbour Joi Janthana, whose house was also damaged, said he heard an explosion from the direction of Phan's house and saw the flames.
He ran to attempt a rescue but found her ground-floor bedroom locked. He shouted for help but the fire spread too quickly.
Police suspect a short circuit among ageing power cables could have sparked the fire.
STORY: The Nation
Man thought he could now sell marijuana legally. Aah, no!

"He thought he could sell it legally."
A man has been arrested for advertising marijuana for sale on YouTube.
With all the news about legalising medical marijuana in Thailand, he says he believed it was now legal to sell cannabis in Thailand.
The Nation reports that, after police were alerted that a man was cashing in on cannabis on the YouTube channel, "SamunphirSpp.law 168", officers arrested 31 year old Rangsan Wisetlinthng at a house in Bueng Kan's Muang district on the Laos border in Thailand's north-east.
Police found 3 kilograms of dried, compressed marijuana, three bottles of marijuana powder, and 161 marijuana seeds in the house.
Rangsan, who is from Nakhon Ratchasima, said he packed and mailed marijuana to buyers when they made orders on his YouTube channel.
He claimed that he read a report that a law has been passed to allow possession of marijuana so he thought he could sell it legally.
Just yesterday, the National Legislative Assembly passed the first reading of the bill to allow use of marijuana for medical reasons. The bill has yet to be vetted and deliberated in the second and third readings.
STORY: The Nation