New restrictions for buses travelling over Patong Hill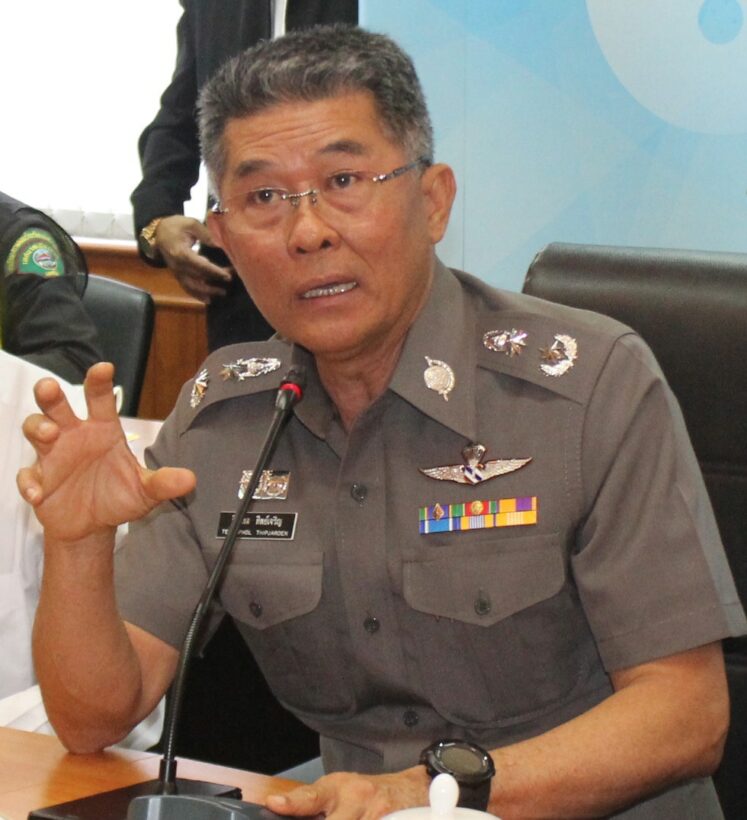 Phuket Police, the Land Transport Office and Highways Department have met for an emergency conference to discuss possible solutions to help prevent more bus accidents on the notorious stretch of road leading into the island's most popular tourist town.
The meeting concluded that the first priority is to limit access for buses and large vehicles that have been the main cause of accidents. The meeting also noted that most of the accidents happen in the evenings, especially around sunset when the setting sun was right in the eyes of people driving down the hill.
The first solution, that the Governor says will be fully enforced, relates to a previous regulation prohibiting buses travelling over Patong Hill between 4pm and 8pm. This has now been extended an additional three hours up to 11pm at night. So buses will not be allowed to drive up the hill, in either direction, between 4pm and 11pm, on any day. Officials say the new restrictions will be activated within a week.
Concerns remain if the bus companies will modify their transporting arrangements from coastal locations such as Karon and through Kamala to avoid Patong Hill and the impact that will have on the coastal roads. The Governor says there will be 15 day period of experimentation with the new restrictions over Patong Hill and if the results prove satisfactory there is a possibility that officials may also enforce the same restrictions on the road from Surin through Kamala as well as across Kata Hill.
The Land Transport Office are also saying there will be discussions with bus companies about changing the size of transport vehicles, including buses, over Patong Hill in the future, encouraging them to plan for smaller and newer buses and vans. Transport and bus companies largely agreed with the suggestions to upgrade their vehicles but say it will take some time to change and they will need to consider the costs associated with the upgrades.
PIC: Pol. Maj. Gen Teerapon Tipchareurn
Keep in contact with The Thaiger by following our
Facebook page
.
Never miss out on future posts by
following The Thaiger
.
Koh Pha Ngan and Chiang Mai win gongs in the latest Condé Nast Traveler Awards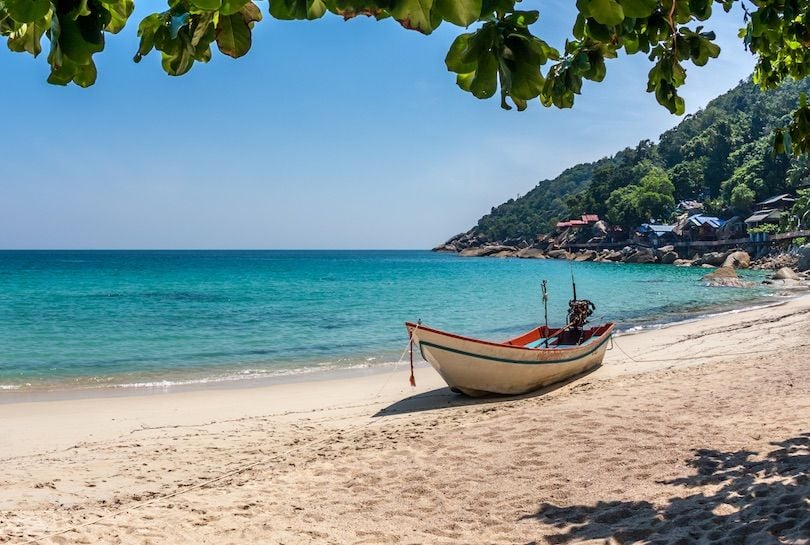 Koh Pha Ngan, a short ferry ride from Koh Samui off the coast of mainland Surat Thani, is the 'third best island in Asia', according to a vote in the readers' choice awards by Conde Nast Traveler. Thailand also ranked in 7th place in the 'Top 20 Countries in the World list.
Topping the 'Best Asian islands' list were Cebu & Visayas, Philippines and Sri Lanka. Koh Pha Ngan, at 3rd place, is the home of Rin Nok beach where party-going tourists gather for the monthly full moon parties. But they've been shut down since April when Thailand shut its borders. Two other Philippine islands – and Siargao and Palawan – made up the top 5.
But Surat Thani's governor Wichawut Jinto maintains there is more to Koh Pha Ngan than its full moon parties.
"The island boasts a blend of nightlife and beautiful natural scenery. The beach is a perfect cove flanked by mountains."
"Koh Phangan also has other beautiful beaches such as Thong Nai Pan, Khuad and Yao beaches. Apart from the beaches, Than Sadet waterfall is also a landmark attraction."
In other Condé Nast Traveler Awards, Chiang Mai was placed 2nd on the 'Top 10 Best Small Cities'. Who was number 1? San Miguel de Allende, Mexico. Bangkok, often a contender in the Best Big Cities Awards, didn't even figure in the Top 10 on the Condé Nast list this year. Kyoto, Japan, scored top spot in the Big City list this time.

Of course the TAT Governor Yuthasak Supasorn, seized the opportunity.
"We are always proud to see Thailand on this list, but in this challenging year when the Covid-19 restrictions are affecting international travel, it is indeed a very special honour."
"We would like to extend our sincerest appreciation to the readers of Condé Nast Traveler as well as travellers from across the globe for their confidence in Thailand. When all difficulties from the Covid-19 pandemic have improved, Thailand will certainly be more than ready to welcome international tourists once again."
But this year's Condé Nast Traveller Awards were announced at a time when much of the world isn't travelling. The magazine says the names in this year's edition were the ones that "brought voters comfort", that they "still connected with" long afterward and got them through the months without travel.
"These are the enduring gems that can withstand the test of time and the vicissitudes of circumstances. So while it is always an honour to be on this list, in this strangest of years, it is a special honour, indeed."
"Many readers have told us that when we emerge from this pandemic, they want to turn their attention to the classics, whether that means personal favourites or places they know have brought joy to others."
For more information on Condé Nast Traveller's Readers' Choice Awards 2020, check the full list HERE.
Keep in contact with The Thaiger by following our
Facebook page
.
Never miss out on future posts by
following The Thaiger
.
France and Germany back in lockdown amid resurgence of Covid-19 in Europe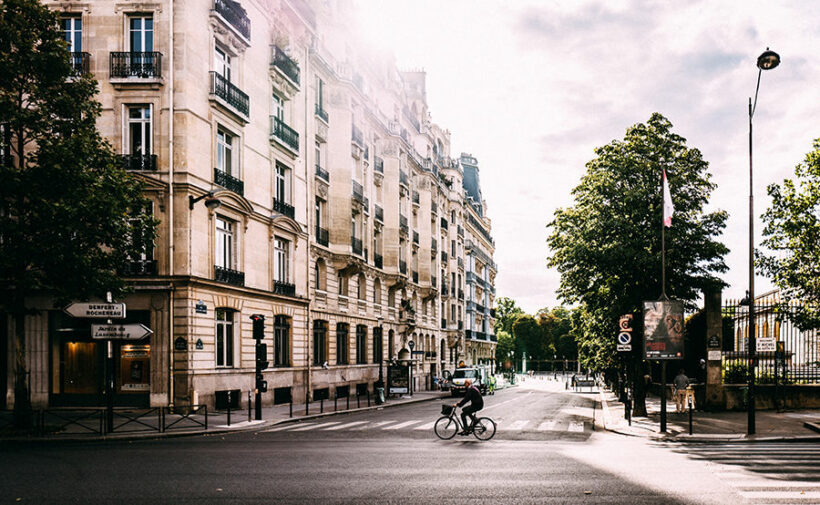 The leaders of France and Germany are once again having to introduce national lockdowns as the Covid-19 virus continues to surge across Europe. France is now recording over 36,000 new cases a day, while Germany, which fared slightly better than other European countries during the first wave of the virus, is now seeing a dramatic rise in cases as winter approaches.
In announcing the new lockdown in France, President Emmanuel Macron warned that the country faces a second wave that could be worse than the first. Strict measures come into effect from tomorrow, with people not permitted to leave their homes unless it is to seek medical attention, purchase essential items, or to exercise for a maximum of an hour a day. However, schools remain open and people can still go to work if it is not possible for them to do their job from home.
"The virus is circulating at a speed that not even the most pessimistic forecasts had anticipated. Like all our neighbours, we are submerged by the sudden acceleration of the virus. We are all in the same position: overrun by a second wave which we know will be harder, more deadly than the first."
Meanwhile, in Germany, Chancellor Angela Merkel has confirmed that from November 2 – 30, all bars, restaurants, and theatres will close. Schools will remain open and shops will be permitted to operate under strict conditions. The chancellor warns that the measures are vital to protect the country's healthcare system.
"We need to take action now. Our health system can still cope with this challenge today, but at this speed of infections, it will reach the limits of its capacity within weeks."
Confirmation of lockdowns in Europe's biggest economies caused stock markets around the world to plummet, with European markets closing at their lowest level since late May. The S&P 500, which measures the performance of the 500 largest publicly traded companies in the US, was down 3%.
Meanwhile, with just 5 days to go before the presidential election, the US continues to set records with its rising numbers of virus cases. President Trump, however, is not deterred, as he continues to hold public rallies, with many supporters not wearing masks.
SOURCE: SBS News
Keep in contact with The Thaiger by following our
Facebook page
.
Never miss out on future posts by
following The Thaiger
.
Koh Phi Phi marine park dive site closed off for the next 2 years after karst island collapse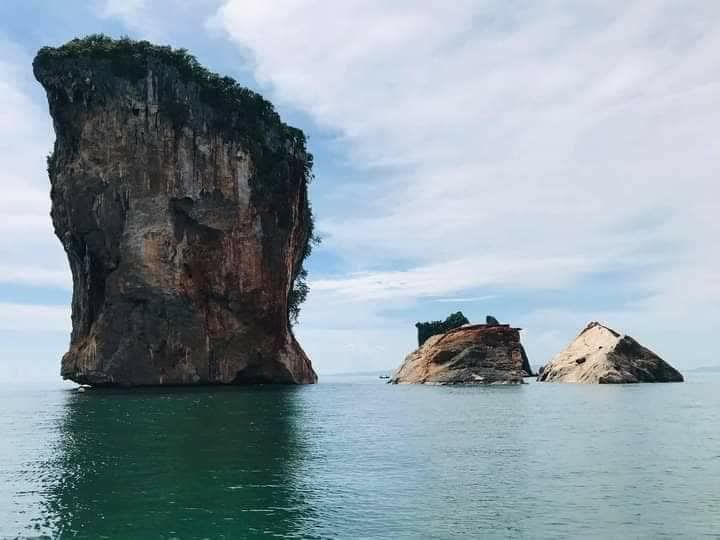 A popular dive site in the Koh Phi Phi National Park will be closed off for the next 2 years after 30,000 tonnes of rock broke off of a karst island, falling into sea and onto a coral reef.
Koh Mae Urai is a karst formation between Koh Phi Phi and the Krabi mainland. A large chunk of the rock formation collapsed last week and broke into 2 pieces, damaging the coral reef at a popular dive site known for its 2 underwater tunnels lined with soft and hard corals.
Chief of the national park, Prayoon Phongphan, says 300 square metres of the reef is damaged. A project is in the works to help recover the reef.
"These include staghorn coral, big star corals, ring corals, floral corals and brain corals, among others."
The area was recently inspected by divers and national park officers as well as geologists from the Ministry of Natural Resources and Environment. Prayoon says they'll close off the area for the next 2 years.
"The area where the island collapsed will be sealed off for 2 years for the safety of local fishermen and tourists. It is possible that more of the island will break off… Officials have already installed buoys and red flags to make sure no one enters the area. Park officers will also regularly patrol the area."
SOURCE: Phuket News
Keep in contact with The Thaiger by following our
Facebook page
.
Never miss out on future posts by
following The Thaiger
.