Will he or won't he? Thai PM will announce his intentions soon.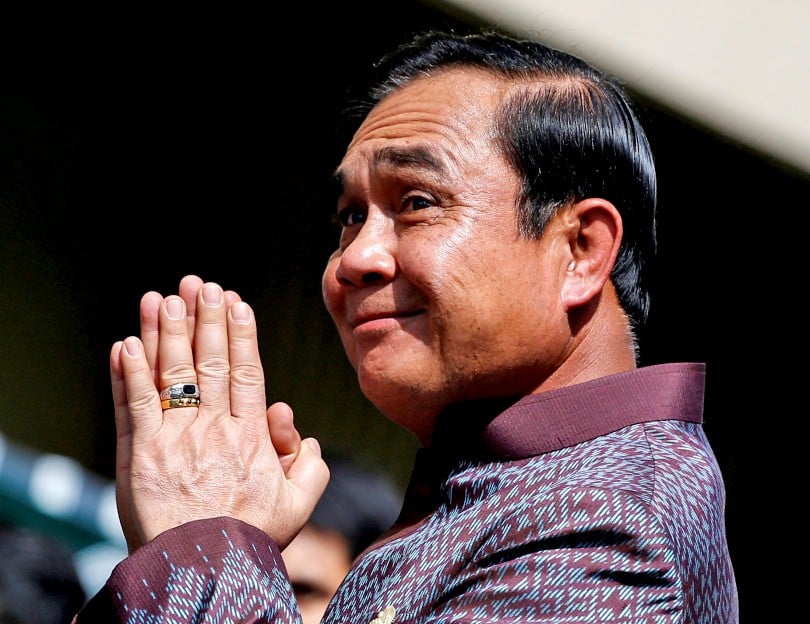 PHOTO: The Nation
The election looms but, at this stage, there is no confirmed date and the elephant in the room – will General Prayut turn politician and run for a seat in the new Government – is yet to be addressed. Pressed yesterday he repeated his past ambiguous remarks.
The PM yesterday reiterated his promise to clarify his political future next month, saying that he first has to decide if he will stay in politics before he announces which party he will choose to join.
The junta leader said he would decide which political party he would join only after deciding whether to remain in politics.
"I told you I still don't know if I should stay [in politics] or not. I have to see why I should stay," Prayut said. "More importantly, if people do not vote for the party I join, how can I come [back to politics]?"
When pressed for an answer about his political future, the head of the ruling junta National Council for Peace and Order (NCPO) said: "You don't have to ask me today. I will say it myself in September."
He also said that political restrictions would be eased by that time.
When a reporter joked that she would ask him about his decision on the first day of September, he replied: "Whatever day in September. Let's focus on tackling the country's problems now."
During his trip to the UK in June Prayut said that he would disclose his decision about his political future in September.
Amid political issues, the NCPO plans to "do political unlocking" by authorising the Election Commission (EC) to start preparing for the next election and keep up with a poll timeline that has been repeatedly delayed.
Prayut said that while the NCPO meeting yesterday did not touch on the election, more clarity should be seen once the MPs election bill and the Senate selection bill are published in the Royal Gazette.
"You will see more political clarity in September. There's no need to ask me about it now," he said.
Prayut said the legal process "should head to election" once the MP election bill draft, one of four organic laws that must be passed before holding an election, is published. The election bill, even if published, still needs to wait for another 90 days to come into effect as stipulated by the junta-appointed legislators.
Meanwhile, the junta leader was upset yesterday over a joke video clip that dubbed over his first single "Return Happiness to Thailand" as a song full of lies.
In the video clip, posted in June by a Facebook user, a boy asks his father: "Which song tells lies in every verse?"
After his father made a few unlucky guesses, the boy started singing the famous "Return Happiness to Thailand" written by Prayut more than four years ago after the 2014 coup. The lyric says: "We will keep our promise. Just give us a little bit more time."
Government spokesman Lt-General Sansern Kaewkamnerd said yesterday that Prayut had expressed concern that some individuals with ill intentions had made such a video to attack the government by accusing it of failing to keep its promises.
"General Prayut assures he is not delaying the election. Everything follows the road map. We all know that soon the organic laws will be promulgated," Sansern said.
The spokesman went on to say that the PM flagged the video clip for dragging a little kid into politics and making him a political tool.
"General Prayut said that this is not nice at all," he said. "They are just kids. They deserve to be raised right and taught things good for them.
Here's the original 'Returning Happiness To Thailand' clip, written by the PM
STORY: The Nation


Read more headlines, reports & breaking news in Thailand. Or catch up on your Thailand news.
Summer storms leave 6,900 homes damaged this month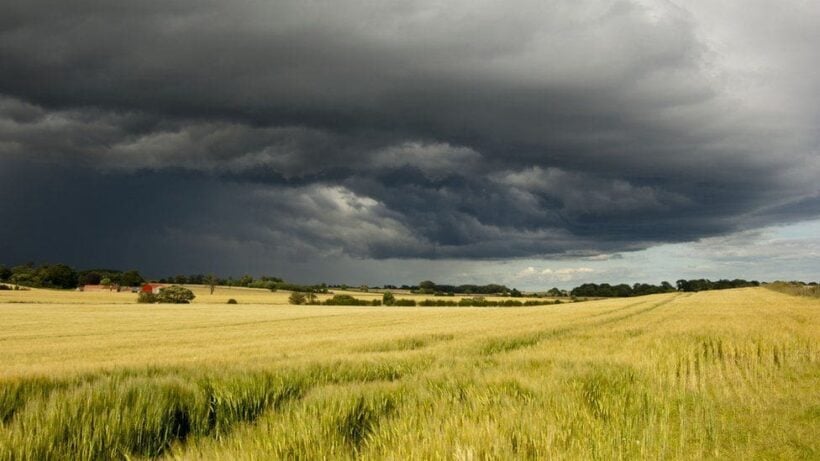 More than 6,900 houses, mostly in a patch through the central-north regions of Thailand, have been hit by summer storms since the beginning of April, according to the Disaster Prevention and Mitigation Department.
Chayapol Thitisak, the director-general, says the department has received reports that 6,940 houses in 1,010 villages in 307 tambon of 115 districts had been damaged by storms since April 5. Twenty-nine provinces have been affected.
He said nine villagers were reported injured during the period as a result of storm damage.
Chayapol said his department has coordinated with Army bases and government agencies concerned to provide help to the affected villagers.
The summer storms, quickly developing tropical storm-cells, are prevalent this time of the year, usually when cooler air from China starts to interact with the rising south-western monsoon. They can be quite violent, sudden and bring strong winds, torrential rain and even hail.
Forecast drought will weaken the Thai economy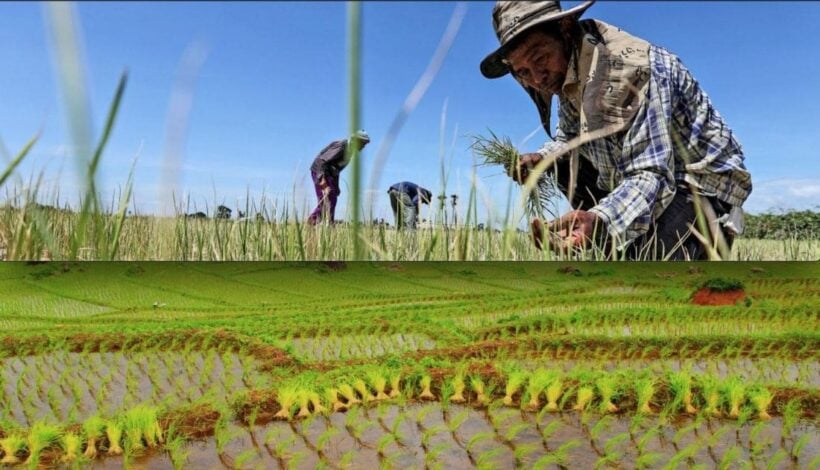 Thailand suffers calamities at both ends of the annual weather spectrum – both drought and flood. But as the demands on agriculture grow, with a growing population and the rise of tourists and development, the effects of these two extremes are becoming more apparent.
Which leads us to this year's outlook of lower rains which is exposing the poor management of the Kingdom's water resources. Greater development and growing population bases hasn't been met with more or larger water catchments.
So Thai farmers are expected to face a tough 2019 as forecasters say the drought will be more acute than usual, lowering the water levels in reservoirs in the central and northeastern provinces especially.
Int eh south, Phuket, Thailand's largest island and surrounded by water, has an acute water shortage as of Songkran and, without adequate monsoonal rain between now and November, will be facing a water crisis if it has to rely on its own island resources.
The Director General of Department of Agricultural Extension Samran Saraban says the drought this year is exacerbated by El-Nino weather cycle which causes temperature to rise 1-2 degrees higher than normal and cause the water levels in major reservoirs to drop to worrisome level. Higher temperatures mean more evaporation and more usage of reserves.
The Thai PM Prayut Chan-o-cha has called for farmers not to grow off-season rice as drought is predicted to spread into northeastern and eastern regions. That there will likely be a new administration coping with political instability will not help leaders focus on the country's looming water shortage.
The long dry season will lower certain farm outputs, pushing up their prices. However, an overall farm income is set to decline because the drought will leave other negative affects to farmers who are also the consumers as well. This will affect the purchasing power of farm households, which account for one-third of Thais.
Etc, etc, etc.
Economists estimated the damage from the drought on the economy this year could be high. Kasikorn Research Center estimate the drought could cost at least 15.3 billion baht. Whilst Anusorn Tamajai, Dean of Economics Faculty, Rangsit University, estimates the drought to cost even more – 20-30 billion baht -because it would affect the outputs of off-season rice, sugarcane and tapioca.
"It will dampen the purchasing power of farmers in the second quarter."
Siam Commercial Bank's Economic Intelligence chief Yanyong Thaicharoen said that the lackluster farm income can slash the growth rate of domestic consumption this year to 3.5% versus 4.6% growth last year, in addition to other factors, namely, high household debt and slower demand for durable goods.
Spending power from farmers, according to SCB, is crucial to sustain the growth of the economy. However, the grassroots economy is bracing for negative outlook this year.
There will be intense pressure on this season's management of Thailand's valuable water resources, through the remaining hot season and as the catchments gather water during the monsoon.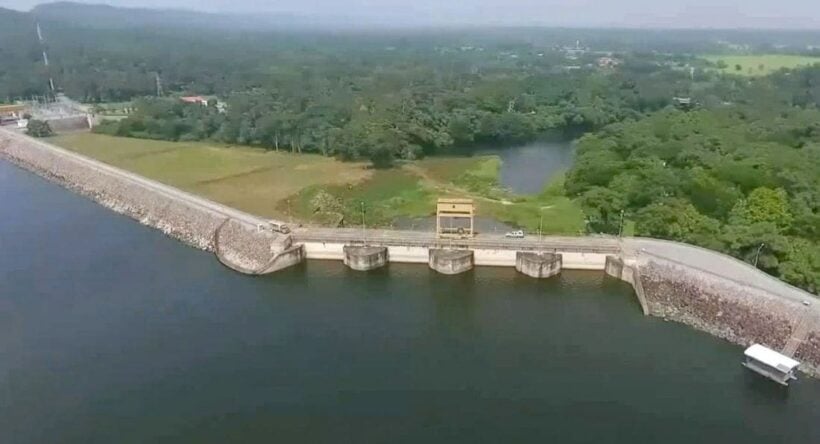 SOURCES: Thai PBS | The Thaiger | Wikipedia
Infamous 'large' passenger dies in Koh Samui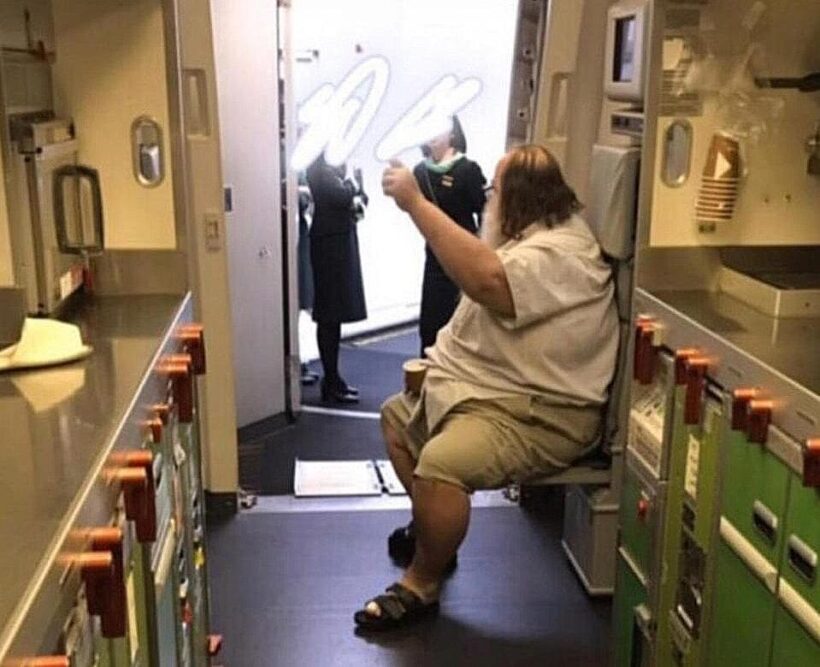 PHOTOS: The Sun
A 200 kilogram tourist, who forced flight crews to wipe his bum as he moaned with pleasure in January, has died on Koh Samui.
The American, who hasn't been named, died whilst staying on the Gulf island due to an undisclosed illness. But he has left an indelible memory in his wake.
At the same time, as the news emerged about his demise, EVA Air were putting plans in motion to ban the oversize traveller from flying with their airline ever again.
The man shocked readers is January when he was accused of forcing cabin crew to strip him in a cramped airline toilet (remember this guy weighed 200 kilograms) and wipe his bum while he "moaned with pleasure".
The incident occurred on an EVA Air long-haul flight from LA to Taiwan's Taoyuan Airport and was covered extensively on world media.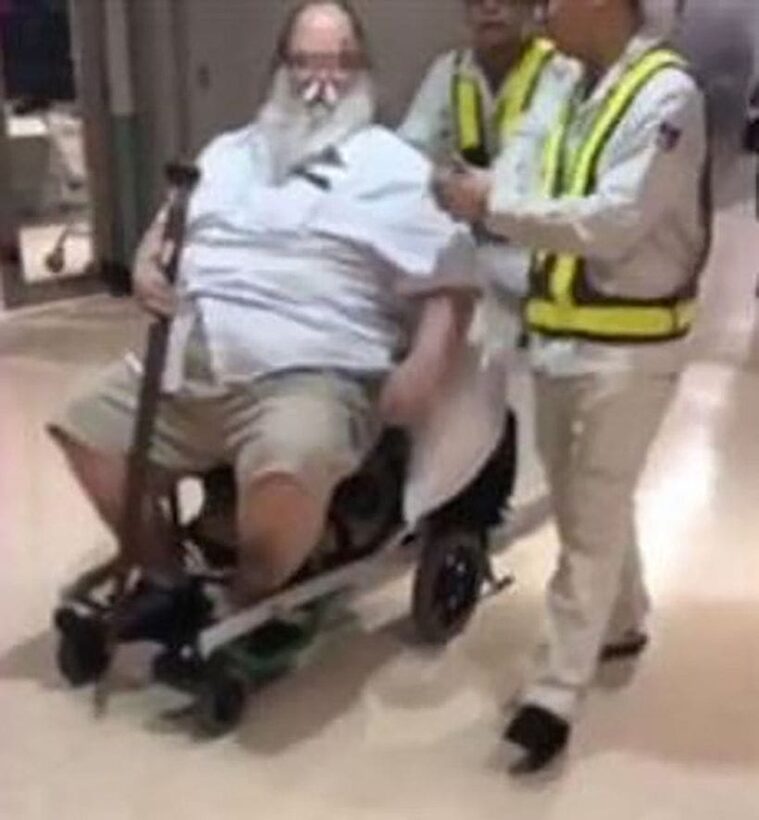 A flight attendant, who on the same flight, described how the passenger boarded the plane in a wheelchair and then insisted on having three adjoining seats in economy class due to his size. He then demanded to use the plane's business class lavatory, as he couldn't fit into the economy toilets.
But (put down your food if eating) while in the toilet, he demanded cabin crew strip him down so he could relieve himself, saying he had an arm injury that prevented him from doing it himself.
"I told him we couldn't help him, but he started yelling. He told me to go in there immediately and threatened to relieve himself on the floor. As the passenger's genitals were now exposed, one of my colleagues brought a blanket, which I used to cover his modesty."
"But he very angrily slapped my hand away, saying he didn't want it and only wanted me to remove his underwear so he could use the toilet."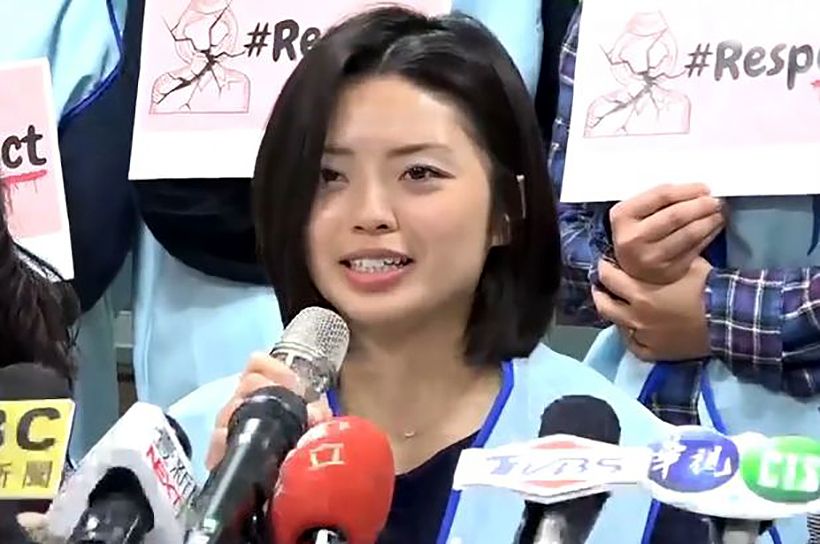 The flight attendant who 'assisted' the man should be awarded lots of medals and a lifetime supply of latex gloves
The passenger then asked crew to wipe his bum for him leading him to groan as the chief attendant fulfilled his request while wearing three pairs of latex gloves.
"He said: 'Oh, mmm, deeper, deeper,' and then accused my chief attendant of not properly cleaning his backside, requesting that she do it again," recalled the attendant, who was holding onto the passenger to keep him steady.
She said the attendant repeated the action three times before the man said, "You can pull my pants back up now."
The two female flight attendants involved, who both said they were traumatised by the incident in January, are both on extended paid leave.
The Sun.co.uk, reporting this story, says that "Party island Ko Samui – the second largest island in Thailand – is known for its prostitution and seedy nightlife."
Despite the source, the incident has been widely reported by 'respectable media' on January 20 this year, and the large man has indeed passed away on Koh Samui.
SOURCE: The Sun

'The Sun' confuses Koh Samui with Walking Street