Why Thailand's election will be a win for the military – International coverage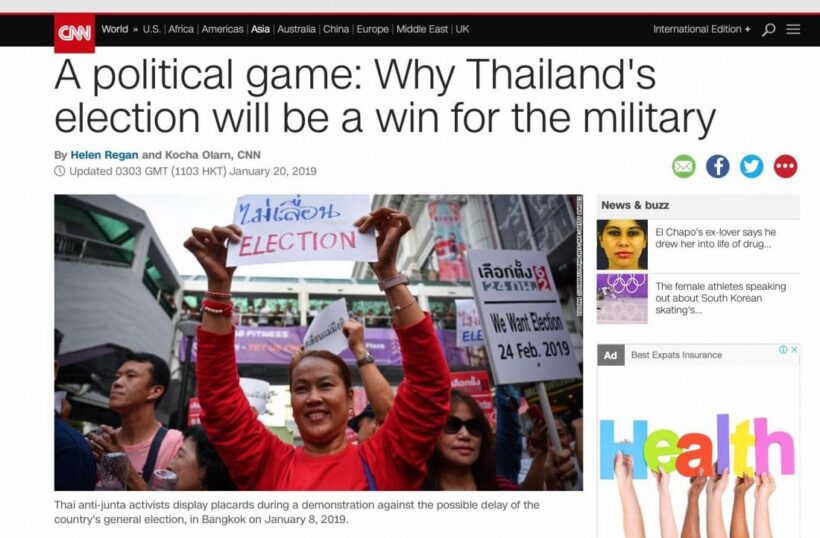 "When Thailand officials hinted that scheduled elections to end military rule would be postponed for the fifth time in almost as many years, anger and frustration rippled through the country."
The story of Thailand's election stumbles and rumbles is making headlines around the world, especially since the February 24 election date, mooted as THE date for most of 2018, has now been scuppered and a Royal Decree announcing a date is nowhere in sight. This is some of the CNN report….
"The hashtag #delaymyass has trended on Thai Twitter in recent weeks, with a series of small but significant protests also taking place – a poignant show of opposition during a period in which free speech advocates have been prosecuted and face years in prison.
A small demonstration took place again last Saturday.
"The junta are playing a game," Netiwit Chotiphatphaisal, a 21-year-old student activist told CNN. "If the election is a trick on the people, Thais will march and not accept it."
While public outrage has not reached levels seen before the coup in 2014, violent street protests between rival political factions have been common in recent years.
Mass violent confrontations in 2010 paralyzed the capital Bangkok and an ensuing military crackdown killed 90 people and injured more than 2,000.
Elections will be the first official poll the country has seen in eight years and are widely considered to be a vote between a form of democracy and legitimized authoritarian rule."
Read the rest of CNNs report on the Thai election HERE.
Keep in contact with The Thaiger by following our
Facebook page
.
Never miss out on future posts by
following The Thaiger
.
No vaccine, no entry – the next challenge of Covid-19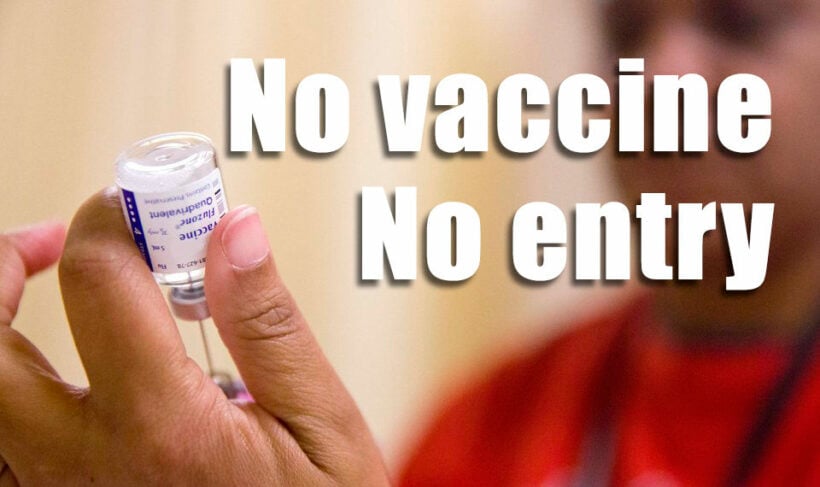 OPINION
With the announcements this week about several vaccine candidate trials, either being completed or at the end of their Phase 3 testings, and the applications to government bodies for 'emergency approval', we now have to face the next question.
What restrictions will be imposed on those people who don't have the vaccine, or even actively choose not to have the vaccine?
And more locally…
Will Thailand allow people to enter Thailand without first having the Covid-19 vaccine?
Given the Thai Government's low-risk strategy, well almost zero-risk strategy, and reluctance to take any chances with a second wave of Covid 19, it is highly likely there will be a stipulation that anyone entering Thailand will need a vaccine certificate or stamp in their passports.
Couple this with the Thai population's continued fear of allowing foreigners back into the country at this time, in poll after poll, and it's a safe bet there will be a "no vaccine, no entry" restriction imposed.
On a positive note, the Thai government may drop the 14 day quarantine for people that have had the vaccine (but not in the early days).
At this stage we know that most of the vaccine trials have had a 95% efficacy. We also know that the leading BioNTech/Pfizer vaccine needs an original jab plus a booster and has to be transported at extremely low temperature.
To complicate matters, there is not yet sufficient evidence that having had a bout of Covid-19, whether asymptomatic or not, guarantees you immunity. Or, if it does, for how long?
All these factors will mean that some level of quarantine will probably be in force as the Thai government slowly re-opens its borders to a wider groups of vaccinated travellers. This would remain in force until the world has a better knowledge of both the proven efficacy of the vaccine, or vaccines, and the re-infection rates.
So, even if we start getting groups of the world's populations vaccinated before the end of the year, and that's still a very big IF, there's a lot more water to pass under the bridge until a coherent, reliable vaccine strategy can be understood and implemented.
Then there will be a rump of people, either hard core anti-vaxxers, or others who are at least skeptical of a new vaccine, who will want to wait or not want the vaccine at all. Public education, some strong science and a successful roll out of the early vaccines will be a key to winning over a lot of the world's population.
Somehow governments and health authorities are going to have to wind back much of the disinformation floating around the internet about vaccines that is so factually out of whack with reality, it's going to be one of the greatest public health challenges of all time, to reassure people about the science of vaccines and vaccination.
All this, in the middle of a pandemic that, for now, is still on the ascendency as far as new cases and deaths are concerned.
But there is little doubt rejoining the world of international travel, even local travel, could become restricted to only those who are vaccinated. The rest will be stuck roaming around their own countries, or states, for… years with a raft of restrictions on their lives. Who knows.
Will shopping centres or public buildings also impose a "no vaccine, no entry" policy? Hotels? Public buildings? Job applications?
On top of the economic stress which has fallen on a lot of the world, with so many governments now facing the headwinds of deep recession, the vaccine 'haves' and 'have nots' will add even more public disquiet.
At this stage nobody is sure how the vaccine will be rolled out in Thailand. The Thai government has already signed up for several of the leading vaccine candidates and will most likely provide the vaccine for free to citizens under its public health system.
What does that mean for foreigners living here? If you are covered, with a work permit, under the country's public health, are you able to get the vaccine for free too? Will the thousands of foreigners on private health insurance be covered?
Surely the insurers will want its customers to be vaccinated. Sick customers cost them money. So, will insurance renewals be limited to only people who have been vaccinated? Will visas be renewed only if you have been vaccinated?
At this stage there are no firm answers to any of these questions.
And then there is the SARS Cov2 virus (Covid-19) itself, a living virus which has the ability to mutate and adapt. Will these new vaccines be effective against all mutations? Again, this is all ahead of us.
We're certainly now entering a new phase of this pandemic. New challenges, new questions. The rising numbers of cases throughout 2020 is only the first chapter of a book that will be many more years in the making.
Keep in contact with The Thaiger by following our
Facebook page
.
Never miss out on future posts by
following The Thaiger
.
Thailand News Today | Dinosaurs in BKK, BOT tackles Baht, Special K isn't special | November 23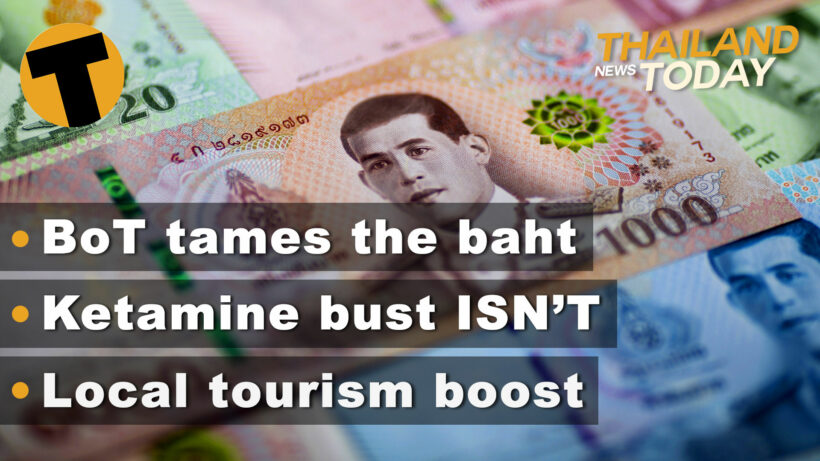 Start of the week, a busy day of news around Thailand with Tim Newton.
Bank of Thailand takes action to curb Thai baht's strength
The Bank of Thailand is moving forward measures, originally meant to begin early 2021, but most of which will now take effect from end of this month.
The end result is that the new rules will make it easier for Thais to shuffle money overseas and invest in foreign assets. It will also make is easier for Thai citizens to hold foreign currency in local banks. The new rules will also require the registration of local and overseas bond investors.
Last week the Bank of Thailand assessed that the Thai baht's recent rapid gains could affect the country's "fragile" economic recovery. The Thai government has called on the central bank to do its best to use what tools it has at its disposal to restrain the baht to protect exports.
Protests go west, up to 2,000 gather in Thonburi
The protests headed west over the weekend. A smaller but symbolic rally. There was also a rally held in central Bangkok on Saturday.
Fit for the end of a 4 day long weekend, the protest road show headed west yesterday, to a far western district of Bangkok, an hour's drive from the city centre. It turned into more of a festival than a political rally where up to 2,000 people gathered. A similar rally was held at the same location by then pro-government, pro-Thaksin, red-shirts one month before the May 2014 Army coup.
#ByeByeDinosaurs – Jurassic Park comes to Bangkok's streets
Meanwhile Jurassic Park clashed with Thai politics on Saturday. Some students attending yesterday's Bad Student protest in Bangkok dressed in dinosaur costumes to represent Thailand's establishment. The high school-aged students joined the calls for the Thai Prime Minister Prayut Chan-o-cha to resign and reform of the Thai monarchy. They are also demanding reform of Thailand's education system and an end to sexual abuse and harassment from the teachers and school officials.
The next protest will be This Wednesday outside the Royal Household Bureau.
Ketamine seized last week in "biggest drug bust ever" contains only chemical cleaning agents
That huge Ketamine bust in Chachoengsao province last week, some 11.5 tonnes (yes tonnes!) of the drug, has turned out to not be quite what it seems.
Originally drug officials seized 475 bags, each weighing 25 kilogram. 66 of these bags were tested. What was inside the bags wasn't Ketamine, as claimed by police, but trisodium phosphate instead.
TSP is used as a cleaning agent, builder, lubricant, food additive, stain remover, and degreaser.
It's certainly not Ketamine. The fact that the bags had great big labels saying TSP might have been a big clue the local drug squad had made a big, and embarrassing, mistake.
Phuket sees 300 million baht boost over long holiday weekend
The Tourism Authority of Thailand says that Phuket has received a much-needed 300 million baht boost over the 4 day long weekend with around 54,000 tourists flocking to the island.
The average expenditure per visitor was about 5,500 baht, which was higher than the average spend for a Thai tourist to Phuket 2 years ago. Random checks on hotels showed that occupancy rates climbed to about 35%, with most guests staying 2 nights. But most of Phuket's hotels still remain closed.
Some good tourist numbers were also reported in Chiang Mai, parts of Pattaya, Hua Hin and the north east. Bangkok, on the other hand, was very quiet.
German parliament clarifies its stance on HM the King's stays in Bavaria
The Bundestag, Germany's federal parliament, has announced that Thailand's King may face challenges if he wants to continue to conduct affairs of the Head of State from the German state of Bavaria.
Thailand's King Maha Vajiralongkorn could be expelled from Germany if he continues to conduct national business whilst staying in his Bavarian villa, a popular oversees stay for the Thai monarch. HM the King's long stays in Europe have come under scrutinyand criticism during the current spate of pro-democracy protests.
The German Parliament says that Thailand's King Maha Vajiralongkorn enjoys diplomatic immunity during his extended stays in his Bavarian hotel, but that the state does have the power to expel him from the country if it believes he is conducting affairs affecting Thailand during his extended stays.
On November 1, during a public audience following a ceremony, HM King Vajiralongkorn described Thailand as "the land of compromise" as thousands of people chanted "Long live the King" in front of the Royal Grand Palace. He was responding to a question posed from the crowd by a British Channel 4 journalist.
Keep in contact with The Thaiger by following our
Facebook page
.
Never miss out on future posts by
following The Thaiger
.
"Bad Medical Student" group takes to Twitter to discuss downfalls of medical industry in Thailand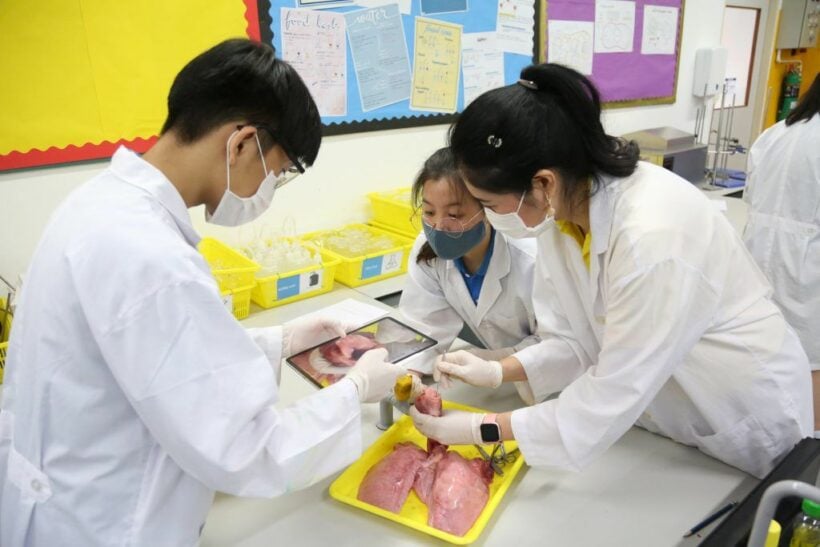 A new group, inspired by the Bad Student protesters, has taken to naming itself Bad Medical Students, as it stormed Twitter to reveal the downfalls of studying medicine in Thailand. The hashtag #นักศึกษาแพทย์เลว (Bad Medical Student), has now gained over 86,000 Tweets after the Assistant Dean of the Faculty of Medicine at Chiang Mai university encouraged the group to voice their take on the industry. Dr. Manoch Chokchamsai, posted on his Facebook page:
"Let's hear some noise from the Bad Medical Students. Talk about the things the [medical] faculty wouldn't want to hear."
The message gained over 670 comments and was shared by 3,400 people on Facebook. Now, it is the top trending topic on Twitter, prompting many medical students, interns and residents to expose what they say is the toxic work culture in the Thai medical industry. Such allegations range from sexual harrassment, abusive workloads, verbal and emotional abuse, gender discrimination and many more. One Twitter user says she was discriminated against because she was a woman.
"Some professors treat med students with double standards. The management was the same, but I was verbally abused and looked down upon because I am not a man… yep."
"I was screamed at by a medical staff right in the middle of the ward and told to go jump off a building and kill myself. I didn't, because I didn't want to die and just didn't want to see their face."
"We should not be romanticizing working beyond human powers as sacrifice, such as being on call for 24 hours and working for another right. This practice is probably held at every hospital, because I have witnessed it everywhere."
Thailand's medical education industry has long been rumoured to be toxic, but the issue has never been publicly addressed apart from news reports that have shone a light into what happens behind closed doors, which has prompted some students, residents, and interns to take their own lives.
SOURCE: Thai Enquirer
Keep in contact with The Thaiger by following our
Facebook page
.
Never miss out on future posts by
following The Thaiger
.