Water shortage warnings in 22 provinces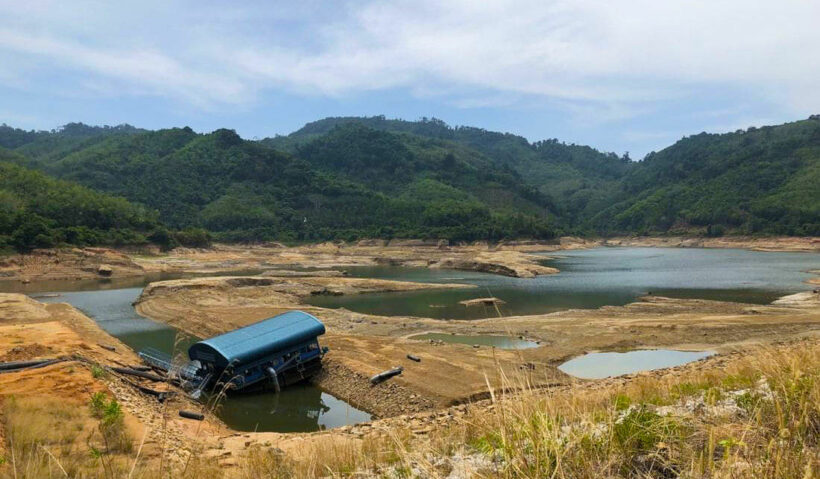 People living in 22 Thai provinces are being warned to prepare for shortages of drinking water during the upcoming dry season, due to start on November 1. The warning was issued by the National Water Resources Office, citing low levels in reservoirs, which are the main sources for tap water production waterworks in 22 provinces.
Areas at risk identified by the office are in northern, north-eastern, eastern and southern provinces.
In Phuket the three main reservoirs have been slowly filling up in the recent month but none of them are near full and fears persist for an acute water shortage on the island at some stage during the coming high season of tourist traffic. The average rainfall on the southern island has been less than half the average rainfall for August, September and October.
Measures have been adopted by agencies charged with dealing with water shortages. including dredging water channels to allow greater volumes of water to flow into reservoirs, drilling underground wells, enlarging storage ponds and the purchase of water to supply to those in urgent need.
The Royal Irrigation Department has announced that people should use water sparingly.
There are currently about 6 billion cubic metres of usable water in reservoirs in the affected provinces, with 5 billion cubic metres reserved for consumption and ecological preservation, leaving only 1 billion cubic metres for use in agriculture.
This means farmers in the Chao Phraya river basin may not be able to grow a second crop of rice this year.
SOURCE: thaipbsworld.com
Keep in contact with The Thaiger by following our
Facebook page
.


Are you considering a medical procedure abroad? With Thaiger Medical you can research hospitals and doctors, choose a destination in Thailand or abroad, and book an appointment today.

Read more headlines, reports & breaking news in Thailand. Or catch up on your Thailand news.

'Watching the Thais' – understanding Thai culture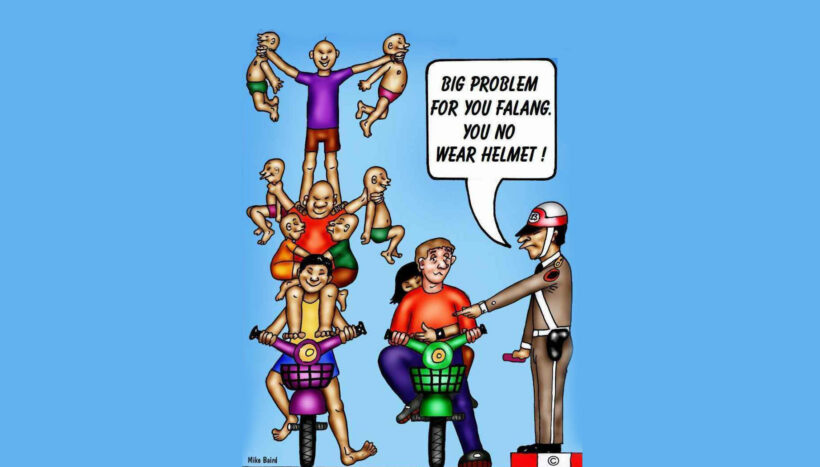 Why does a Thai smile at you after crashing into the back of your car?

 Why do Thais deplore walking?
The heat, the heat.
What about the weather? 

 Why is everything done as a pack? 

What is all this 'face' stuff about?
Lies?

 Confrontation? 

Sleeping and shopping?
Just what is it with the Thais? 

What's it all about?
Author and academic Tom Tuohy answers all these questions and much more in his new book about the Thais and all their quirks. I wish I had read it before I learned the hard way.
"The psychology and general atmosphere whilst using public transport in Thailand is also interesting to think about. When you happen to find yourself on, for example a regular Thai bus, some general considerations need to be noted.
"The same driver will invariably drive as if he has a prior appointment (which he's only just remembered), with some mysterious benefactor who is going to alter his and his family's life radically. It is apparently for this reason that he will proceed to slam hard on the brakes at every juncture.
"It amazes me how these drivers wait till the last second to do this, instead of gently easing on the brakes when approaching a junction. What results is a collective surge of passengers moving forward en-masse like an unintentional human, as opposed to Mexican Wave: grandma on her weekly visit to feed the ducks in Lumpini Park gets a new seat on the floor; Somchai, the 7-11 employee gently and apologetically extricates himself from the cleavage of Navaporn, the cute SCB teller; students from nearby colleges hang on for dear life, hoping their hair isn't messed up and make-up isn't smudged when they collide with the stainless steel handrails.
"The unflappable ticket-collector, almost always a woman, moves slowly down the bus, click-clacks open and shut her klaxon-like metal pencil case full of five- and one-baht coins, and carries on collecting the money as if nothing ever happened. 'Mai pen rai!' the elderly gentleman mumbles in the corner. 'Amen brother' I say quietly to myself as I pick myself up off the floor!"
(Watching the Thais, Chapter Three, Thais and Movement , Keep on Walking, Johnny Walker)
If you are one of the forty million or so expected visitors to Thailand this coming year, or an expat interested in moving to the country, this book is a must for you. The book is divided into ten chapters, each one detailing some of the virtues as well as common misconceptions about living and working in Thailand.
Common questions asked by visitors are also dealt with: why do Thais walk so slowly? Why do they like spicy food? Why are they always smiling? Why does nothing seem to upset them?
Towards the end of the book, a series of blogs discuss deeper aspects of living and working in Thailand e.g. the state of Thai education, cross-cultural communication, the Thai floods, marriage to a Thai, and the way the Thai riots in 2010 were presented by the foreign media. If you are planning to spend any length of time in the country and really want to understand the Thai modus operandi, this book will give you a great insight into the uniquely Thai way of thinking and being.
"This is a book I wish I'd read before I went to Thailand for the first time (although it hadn't been written then). Even now, 23 years later, it taught me things I didn't know."
(Timothy Hallinan, author of the Poke Rafferty and Junior Bender series of books)


"Watching the Thais" is a great resource for anyone with an interest in the magnificent kingdom of Thailand. A great read – informative and entertaining.
(James Newman – Author of Bangkok Express and The White Flamingo)
"Though he doesn't yet qualify as an Old Thailand Hand with two decades in residence, he has lots of personal impressions of the Land of Smiles. Tom, Ajarn Tuohy, is well read on the subject."
(Bernard Trink, Nite Owl columnist for the Bangkok Post)
To buy the book, click HERE or HERE
Keep in contact with The Thaiger by following our
Facebook page
.
No monkeying around: coronavirus fears mean monkeys in the South are going hungry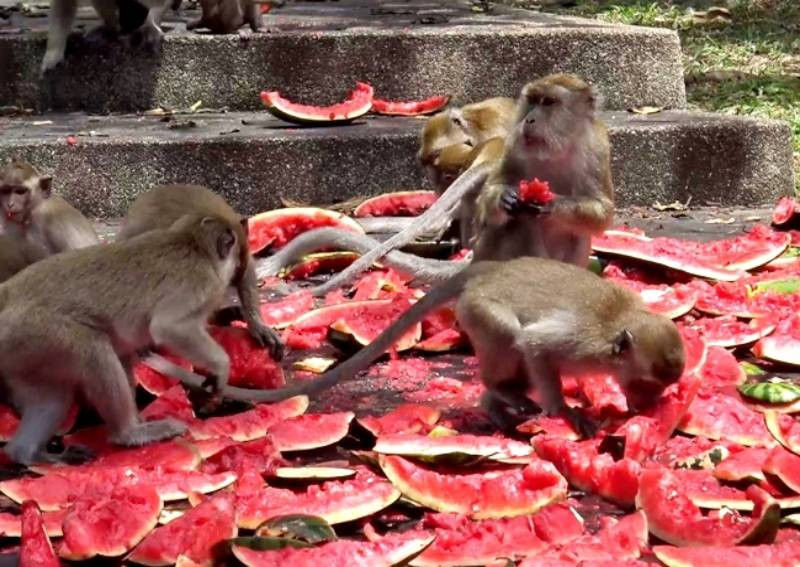 It's not only humans being affected by the COVID-19 coronavirus outbreak; monkeys in the southern province of Songkhla, usually dependent on food from tourists, are facing a shortage. Tourists from Singapore and Malaysia, normally abundant in Songkhla, are cancelling tours amid worries over the outbreak, resulting in far less daily food for the monkeys there.
Local fruit vendors, taking pity on the starving critters, have begun giving them watermelon and tomatoes. Thai tourists tend to give them corn.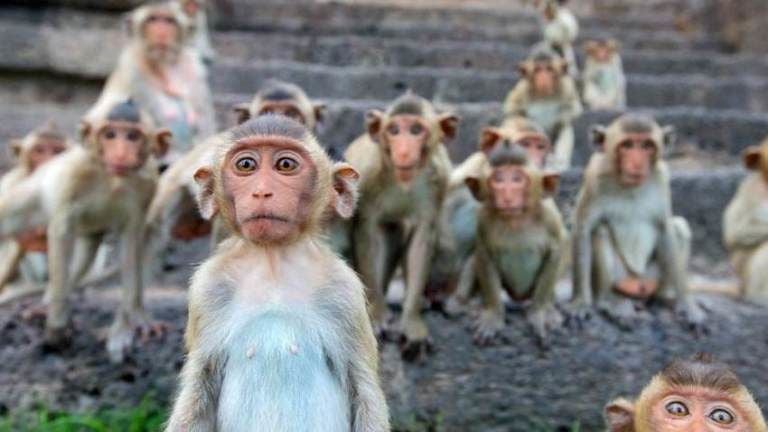 "Health is quite a sensitive topic, especially when we are facing the global spread of a deadly disease, which has a psychological impact on potential tourism."
According to Asia One, the locals have asked the Songkhla municipality to take care of the monkeys, as they are one of the most popular tourist attractions generating income for the province.
Thai tourism businesses are taking a beating from the effects of the virus. The Tourism Authority of Thailand (TAT) yesterday cut its estimate for 2020 international arrivals to 33 million, down 3 million from the latest target of 36 million, and 6-7 million short of the 2019 total of 39.8 million.
Domestic tourism is down as hoteliers experienced weaker demand, largely from meetings and seminars that have been cancelled as fears of the virus escalate.
SOURCE: Chiang Rai Times
Keep in contact with The Thaiger by following our
Facebook page
.
National police get tough on… hair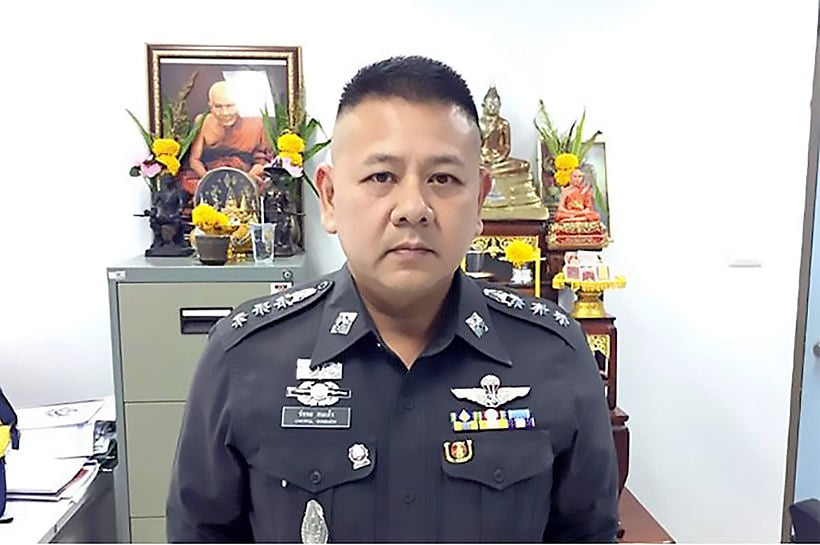 Thailand's National Police Command said yesterday it will inspect its ranks at random to ensure that the new haircut regulation is strictly followed. Spokesman Kissana Phathanacharoen said the buzz cut, with the sides and back of their heads shorn and only a small patch of hair on top of their scalps,must be adopted by "all officers except those working undercover."
Even then, undercover officers must comply sport the new haircut if they publicly represent the police force in any official capacity. Kissana said each police unit will be subject to a weekly unannounced inspection to look for violators.
Police officers will also be required to change their social media profile photos to reflect the haircut, widely known by its nickname "khao sam daan," or three white sides.
The new hair style, originally enforced among the ranks of royal bodyguards serving under King Vajiralongkorn, was imposed on the police and army in 2017. In early 2018, at least 40 policemen were slapped with disciplinary action after they failed to adopt the haircut.
SOURCE: Khaosod English
Keep in contact with The Thaiger by following our
Facebook page
.