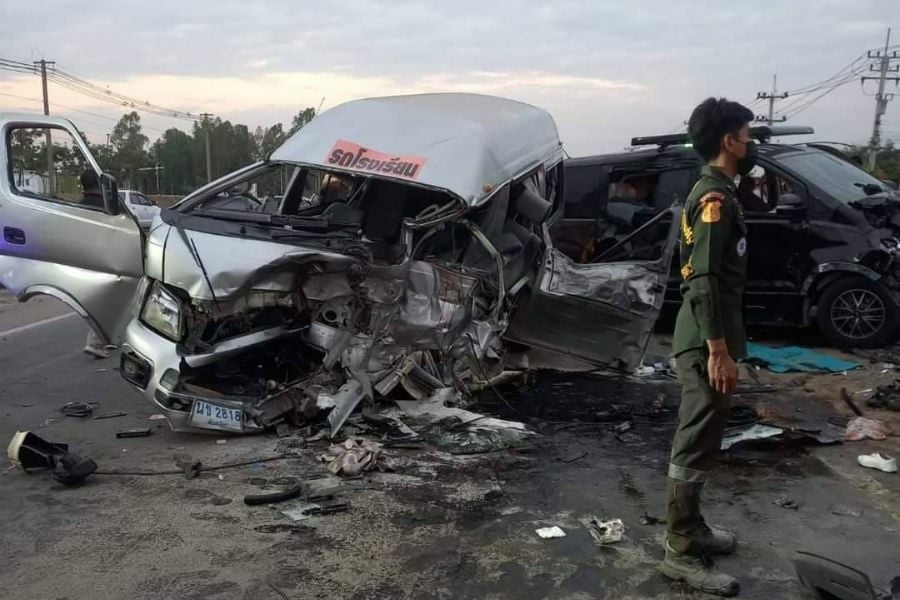 Two 10 year old schoolchildren were killed and another 19 were injured after a reckless sedan driver crashed into a school bus. The smash caused a collision between a school bus and a minibus on a road in the northern province of Phichit.
The incident happened on the Phichit-Saklek Road in the Mueang district of Phichit at 5.30pm yesterday, January 9. A 44 year old female sedan driver, Kesorn, caused chaos when she tried and failed to overtake a school bus.
The school bus driver tried to avoid the crash with the sedan and turned to the right lane. Unfortunately, he swerved into another black minibus.
The three vehicles were destroyed. The drivers, students, and passengers of the school bus and minibus were trapped inside the vehicles. The sedan driver's car was destroyed but she escaped the pile-up unharmed.
A rescue team rushed to the scene to attend to the trapped victims, taking over an hour to cut them out of their vehicles. A fire sparked as rescuers tried to get the last victims out.
A fire truck, fortunately, arrived just in time but the road was closed for hours until every victim was sent to be treated at nearby hospitals.
Two 10 year old boys died. They were Jeeraphat Petra and Natthakorn Nateyim.
Nineteen other people were injured, including 17 students, a school bus driver, and a minibus driver. They suffered from broken arms, broken legs, head injuries, etc.
Four students were seriously injured and are in critical condition in hospital.
The sedan driver, Kesorn, admitted to police that it was her fault and she is willing to take responsibility.
The media reported that Phichit-Saklek Road has four driving lanes but two were closed for maintenance.
The investigating officer revealed he will look into the case in more detail, adding the roadworks might have played a part in the incident too.
No charges have been issued against the sedan driver for now.