Thieving Suvarnabhumi cabbie nabbed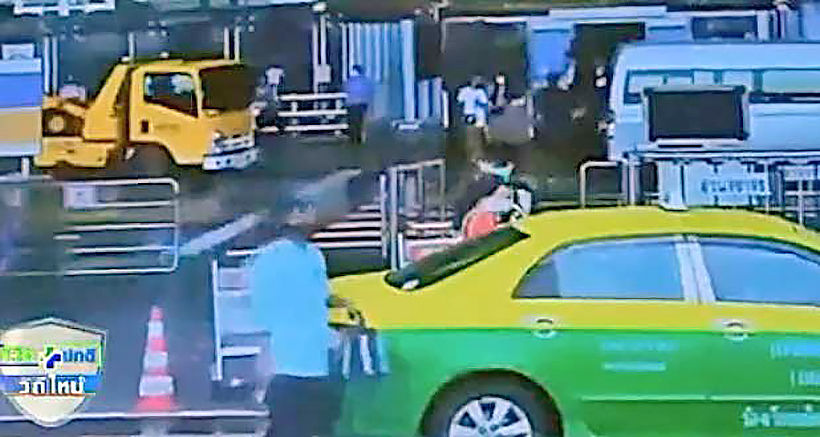 A shifty taxi driver made off with a bag that a previous passenger had left on a trolley at Suvarnabhumi airport. CCTV footage shows a man entering an orange cab with several bags but he forgetting a small backpack left dangling on a trolley. After a green and yellow cab arrived its place and some passengers had loaded up their possessions, a woman noticed the forgotten bag and handed it to a security guard.
But after a brief exchange, the driver took the bag himself and left with his passengers. Later, a 66 year old man reported the lost bag to authorities, saying it contained valuables worth 10,000 baht.
Investigations led to 42 year old driver Suradech or "Wally"surrendering to police.Video of the incident can be seen here.
All items were recovered and handed back to the owner. Suradech says he told the security guard that the bag belonged to a previous passenger.
The driver was charged with theft from an airport.
Keep in contact with Thaiger by following our Facebook page.
Never miss out on future posts by following Thaiger.
Many Thais 'skipping' Songkran due to the recent clusters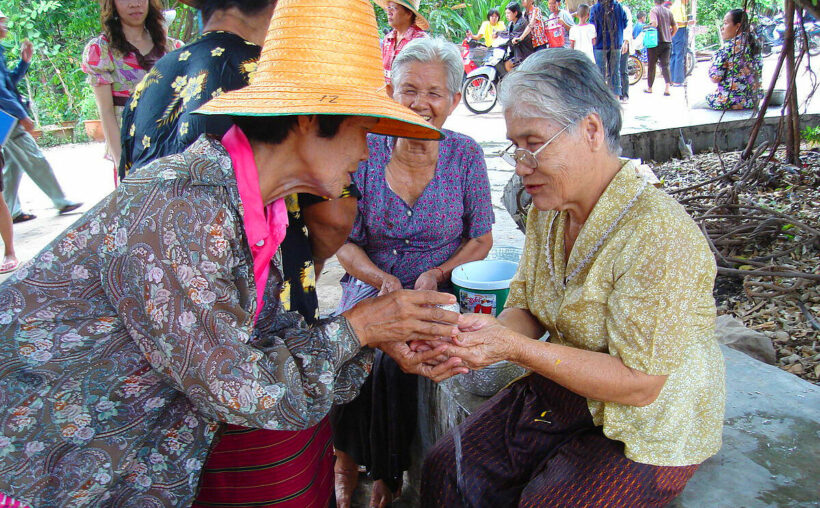 It's Songkran, but not as we know it. This weekend Thais start to head back home for this year's extended national holiday. Last year the celebrations were cancelled altogether, amid Thailand's initial lockdowns. So this year, partly aided by the mid week dates of Songkran, the government added extra days, that are topped and tailed by weekends. So, many Thais have fernangled a 10 day break, or even longer, this year.
But this year's Songkran was already hobbled by a risk-averse government that banned water splashing, banned Songkran events and parties and urged people to continue to take precautions during the holiday. So it was going to be a more traditional, and less overly festive, Songkran this year.
That was until recent weeks when small clusters broke out, focussed around Bangkok's nightlife venues. The quick spread of what Thai virologists confirmed as the more contagious B117 variant, aka. UK variant, of Covid-19 from these venues, suddenly made the 2021 Songkran a potential super-spreader event. Songkran is the busiest time for Thais to travel each year.
A recent Suan Dusit poll shows that 43.9% say they won't get involved in local Songkran activities this year, or aren't certain. 1,324 people were surveyed between April 3 – April 9 in the poll.
In other responses, 64.8% say they would perform the traditional Songkran ceremony for senior in their family, 63.3% say they will stay home and spend the time with their family; 53.7% will make merit by giving alms to monks; 52.5% would wash their own Buddha statues, 37.6% will observe Thai traditions, according to Bangkok Post.
SOURCE: Suan Dusit Poll | Bangkok Post
Keep in contact with Thaiger by following our Facebook page.
Never miss out on future posts by following Thaiger.
7 Thai dogs find a new home in California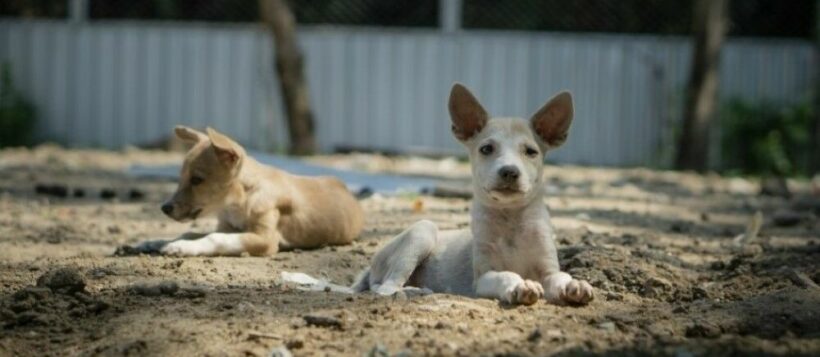 7 stray dogs from Thailand have immigrated to the United States as one California woman attempts to rescue as many Thai dogs as possible. Melissa Bacelar is the owner of The Wagmor Luxury Pet Hotel and Spa, along with its offshoot pet adoption service, Wagmore Pets. Located in Studio City, a neighbourhood in Los Angeles bordering Hollywood, the pet hotel just checked in the 7 Thai dogs.
They were street rescues that the Soi Dog Foundation helped prepare for their move to America. Soi Dog Foundation, a non-profit organisation dedicated to helping stray dogs and cats, is based in Phuket and operating throughout Thailand. They have recently been hosting vaccination and neutering on Koh Samui.
Following 2 days of air travel across the world, the dogs are settling into their new country, safely landed in Los Angeles. Melissa has a passion for rescuing dogs from Thailand because of the tough life they lead here, and the tragic end many face. Some die on the streets, others are poisoned or bludgeoned when they become burdensome to people in the area, while others are slaughtered and sold for meat.
"The dogs on the street often end up in different meat markets in the area; they're just dying on the streets. So it's important to get them out of there and find them homes."
These 7 dogs have escaped that dark fate and have been rescued, rehabilitated, trained and vaccinated by the Soi Dog Foundation in Thailand. Melissa is hopeful that they will find new homes easily as they are fully prepared and ready for adoption. The Thai dogs are surely looking forward to starting their new lives as American dog citizens.
SOURCE: MSN
Keep in contact with Thaiger by following our Facebook page.
Never miss out on future posts by following Thaiger.
Chon Buri: 141 new Covid-19 infections, 54 linked to nightlife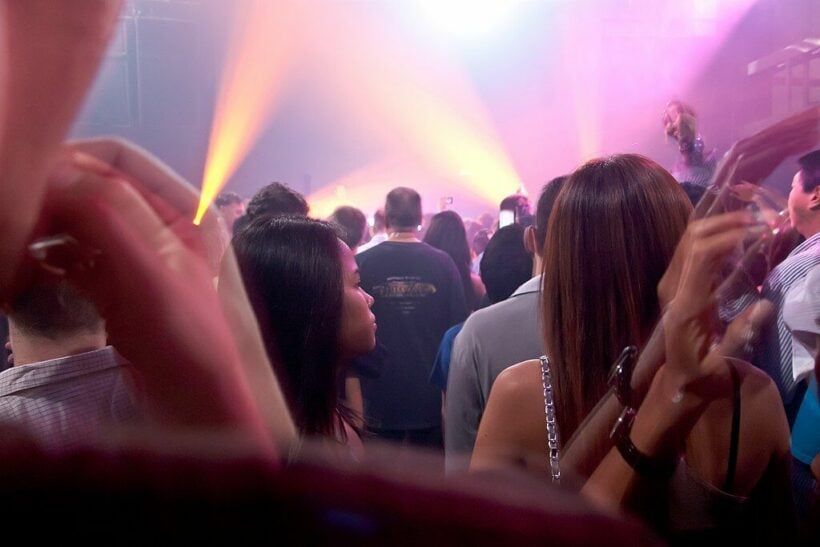 Chon Buri now has 264 confirmed Covid-19 infections this month after the Chon Buri Public Health Department announced that today brought 141 new infections. Many of the new cases stem from exposure from evening entertainment venues. 54 of the new cases are from an outbreak cluster at the Flintstones Pub in Mueang Chon Buri, bringing the total number of Coronavirus cases linked to that one pub to 90. Other infections were found in Chon Buri area venues including Class 99 Pub, Bone Pattaya, Na Pa, Symphony Pub, plus cases from nightclubs in Bangkok and Samut Prakan. 5 of the infected people were actually from other provinces who came to Chon Buri for treatment, while over 60 cases are still being investigated to determine their source.
The infections that were identified locally are:
53 in Mueang Chonburi
30 in Banglamung
8 in Si Racha
7 in Panthong
4 in Panat Nikhom
3 in Ban Bueng
1 in Nongyai
6 from other provinces
Another 2,410 tests have been administered from contact tracing the infections, but results have not been announced yet. Some are suspected to be infected, while others are just proactive cautionary testing for people who may have been exposed in or around the entertainment venues listed above. While the Thai government has shut down all bars and nightclubs in 41 provinces including Chon Buri, local officials are also reminding people to follow Covid-19 precautions. They are requesting everyone in Chon Buri wear masks, maintain social distancing, and avoid crowded places. Officials want to avoid a panic, but do want people to be vigilant to prevent an even bigger outbreak.
SOURCE: The Pattaya News
Keep in contact with Thaiger by following our Facebook page.
Never miss out on future posts by following Thaiger.