Thailand News Today – Thursday, June 4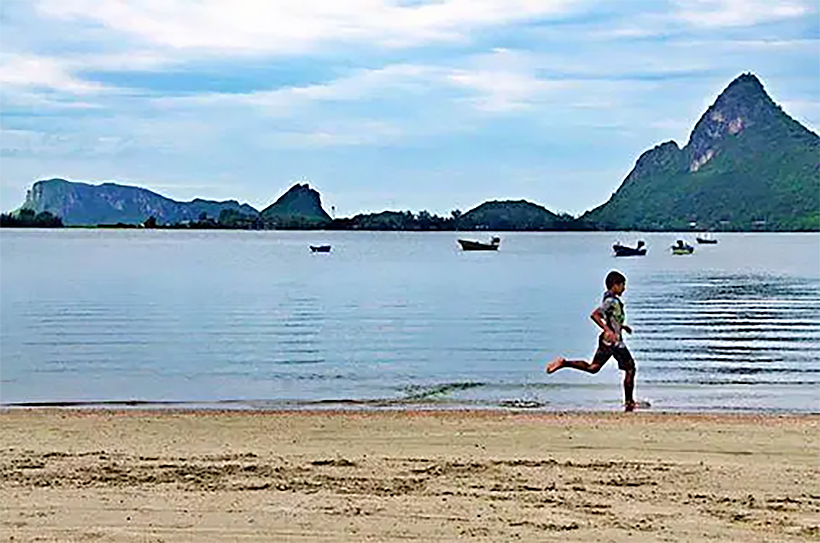 17 new Covid-19 cases in Thailand, all repatriated citizens from Middle East
Today the Centre of Covid-19 Administration reported 17 new cases of Covid-19 infection. All the cases were repatriated Thai personnel returning from the Middle East. Most the returnees were asymptomatic and were confirmed as infected after a second test.
• 13 of the new cases had returned from Kuwait, 12 were men aged 31-56, and the other was a 44 year old woman.
• 5 were put into state quarantine in Bangkok while 8 are now housed in Samut Prakan province.
• 2 patients were a male and a female who had returned from Qatar on May 22.
• 2 cases were males, aged 28 and 29, who had returned from Saudi Arabia on May 21 and May 25.
TAT will use domestic tourism as dress rehearsal for international returns
The TAT has publicly declared that it will be using the current re-introduction of domestic tourism as a dress rehearsal for how a return to international tourism might look.
Due to the current ban on international arrivals, extended several times and now in effect until at least July, the Tourism Authority of Thailand has created a strategy to support domestic tourism and "learn from the experience", as it eases into the inevitable challenge of luring back international tourists.
In a feature posted on its website earlier this week, the TAT said it had identified some basic truths; one of them being that the tourism sector will continue to be stifled by disease control measures until a Covid-19 vaccine is developed.
"This will affect and change all behaviour and patterns of traditional travel and tourism activities starting with the aviation experience."
The so-called "new normal," which is actually highly abnormal for Thai tourism, will concentrate on less travel, smaller gatherings and avoiding crowds.
Pattaya's mayor responds to video of black water gushing into the sea
Last Monday, filthy black water was seen gushing into the Gulf of Thailand right next to Pattaya's famous Walking Street.
The video, from the 'We Love Pattaya' Facebook page showed filthy water pouring into the sea from a pumping station near the entrance of the infamous tourist magnet.
Pattaya's mayor tried to explain away the video, saying it wasn't sewage but muddy storm runoff, intentionally released into the sea rather than remain on the streets to flood homes and businesses.
"In times of heavy rainfall, the system can't keep up and water backs up and floods homes, so engineers have the option to open filter gates and allow rainwater to run directly into the sea."
He insisted the dark colour of the water was sand and sediment, and not sewage.
As Thailand's beaches reopen, crowds flock back
Yesterday was the Queen's birthday and a public holiday, so many of Thailand's popular beaches heaving with visitors as they reopened for the first time since their closure by the Emergency Decree in March.
People across the country took advantage of the easing of inter-provincial travel restrictions that took effect from Monday. Not the least to Chon Buri's Bang Saen beach was very popular as visitors flocked to its sandy shores.
The crowds caused traffic jams in the area up to 2 kilometres long, such that municipal officials had to close down the beach for a short while again, in an effort to control the numbers.
Major makeover proposed for Pattaya's Walking Street
Images on the Facebook page of Pattaya City reveal plans for a major re-imagining and makeover of one of the resort's most notable, and notorious, landmarks – Walking Street.
Gone is the grotty road, broken pavements and lurid signs and frontages, and in their place will be an easy to navigate walking area fit for families.
But the nicely drawn artistic impressions didn't get much love from netizens that said it looked more like a swish shopping avenue than the organic red light district that had inhabited the street for the past three decades.
Many commented that they preferred the old atmosphere and the girls in hot pants leaning out of the noisy bars.
The designs were presented by the city's engineering team to Pattaya's mayor and his deputies on Tuesday, to an apparently "lukewarm" reception.
Keep in contact with The Thaiger by following our Facebook page.
Never miss out on future posts by following The Thaiger.
Another drug bust near the Mekong River, 500 kilograms of cannabis seized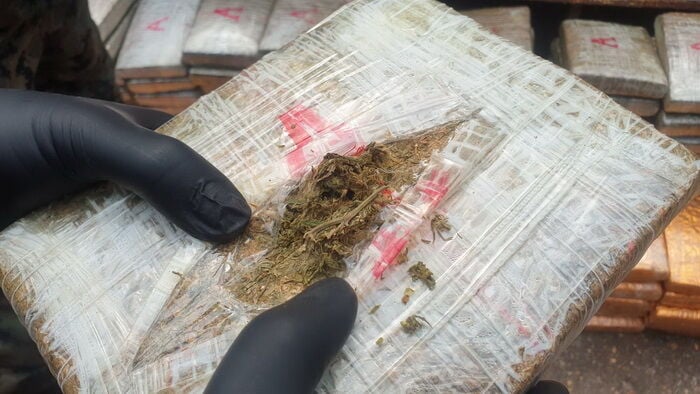 In another drug bust in Northeastern province Nakhon Phanom, police arrested a man and seized 500 kilograms of compressed cannabis. Just yesterday, border patrol police in the province seized 920 kilograms of compressed cannabis from a boat on the Mekong River. In both cases, police suspect the cannabis came from Laos, just across the river.
Police say they searched a black Nissan Navara pickup around 1am in the province's Na Kae district. Police opened the truck's bed cover and found 12 sacks with 500 packages of dried, compacted cannabis. Each package of cannabis weighed 1 kilogram, similar to the previous bust on the river.
28 year old Saravut Butngam was arrested. Saravut previously worked in construction, but has recently been unemployed. He allegedly told police that a man called him with an opportunity to make 50,000 baht. He was told to drive the pickup truck from a petrol station in the Na Kae district to a specified location in the neighbouring province Sakon Nakhon, police say. From there, another driver would take over.
Border police commander Sippanan Sornkhunkaew says he suspects the cannabis seized in the province was trafficked from Laos across the Mekong River. He says he believes the cannabis was planned to be trafficked to Southern Thailand and then smuggled across the border, possibly to Malaysia.
On Sunday morning, police confiscated 920 kilograms of cannabis from a boat on the Mekong River. When police approached the boat, men jumped off onto a smaller boat and fled the scene. The dried, compacted cannabis was wrapped in 1 kilogram packages.
SOURCE: Bangkok Post
Keep in contact with The Thaiger by following our Facebook page.
Never miss out on future posts by following The Thaiger.
How to Wai like a Thai, with Som | VIDEO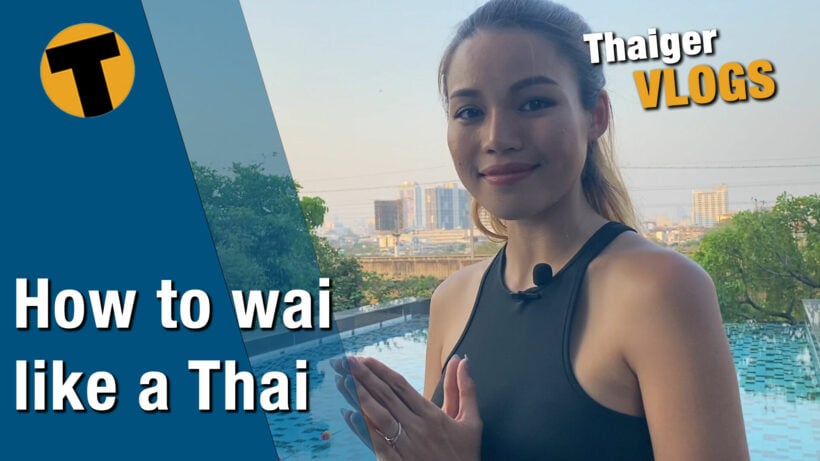 The wai, the polite gesture Thais use for greetings, farewells, prayers and even apologies, dates back to the 12th century, where both hands clasped together in front proved that you weren't holding a weapon. That's the folklore anyway.
Recently, the greeting has increased in general popularity around the world as a anti-Covid 'safe' replacement for the western handshake. So, how, when and with whom should you wai? Here's a few easy tips to learn how to wai. Today Som teaches us some of the basics of the lovely Thai 'wai' (pronounced 'why').
As a foreigner you don't look Thai, dress Thai and you probably can't eat full-strength Thai curry either. So this means you're exempt from Thailand's most nuanced courtesies. There's a lot of subtlety in the Thai wai so, chances are, you're not going to get it right. But your best efforts will be appreciated.
How to wai when you're uncertain? At a minimum, when someone wais to you, return the gesture with a kind smile and an acknowledging nod. In restaurants and shops: You'll often receive a wai from shop and restaurant staff. It's not necessary to wai in return to anyone providing you with a service of this nature. Instead, a nice (grateful) smile is plenty. To children / those younger than you:
Also, there's no need to wai to a child or anyone who's clearly younger than you – so, baby boomers, you're increasingly in the clear! The wai is a mark of respect to elders.
Keep in contact with The Thaiger by following our Facebook page.
Never miss out on future posts by following The Thaiger.
Thailand News Today | Bangkok protest fallout, northern fire bans | March 1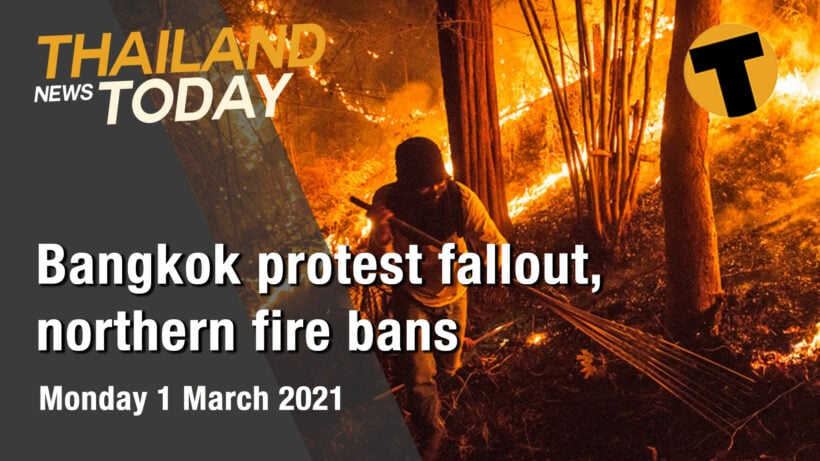 Coming up today… the fallout from yesterday's latest protest violence in Bangkok, the first vaccine in Thailand who got it, and a major drug haul along the Mekong.
But first we'll start up north where Lampang Province is joining other northern provinces todday by putting a total fire ban in place from today, March 1, until the end of April. Chiang Mai also started a ban on all deliberately lit fires from today and Lamphun, just south of Chiang Mai, already has one in place.
The bans are timely after a horrid weekend of air pollution in many of Thailand's provinces over the long weekend, even as far south as the tourist destination of Phuket where visibility was down to about 1 kilometre and the smell of smoke was noticeable.
Whilst up in the north… 4 Thai women were arrested at a security checkpoint in Tak's Mae Sot district after they illegally crossed the border from Myanmar into Thailand.
Illegal casinos and fancy hi-so massage parlours in Myanmar in areas near the border, have attracted wealthy Thais and Burmese. The establishments have also attracted plenty of Thais looking for well-paid work across the border.
In a major bust along the Mekong River, a notorious hotzone for drug trafficking, border patrol police seized 920 kilograms of dried, compacted cannabis from a boat along the Nakhon Pathom riverbank, bordering Laos.
Now to the weekend violence as the protests resume where they left off last year…
At least 22 people were arrested during the major Bangkok protest yesterday. It turned violent as pro-democracy activists marched toward the Thai PM's residence. It's been reported that one officer died during the rally, reportedly due to heart failure.
At least 33 people were injured… that includes 23 police officers. The clashes happened in front of 1st Infantry Regiment barracks on Vibhavadi Rangsit Road and involved around 1,500-2,000 activists from the Restart Democracy movement, part of the Free Youth group. The group has been protesting against the government and calling for reform of the country's constitution and monarchy since protests began in July of last year.
And Thailand's Covid-19 vaccine campaign started with Public Health Minister Anutin Charnvirakul who received the first of China's Sinovac vaccine yesterday. PM Prayut Chan-o-cha was initially planned to be the first to kick off Thailand's immunisation plan with the AstraZeneca vaccine, but due to problems with paperwork, the PM's injection was postponed.
Keep in contact with The Thaiger by following our Facebook page.
Never miss out on future posts by following The Thaiger.